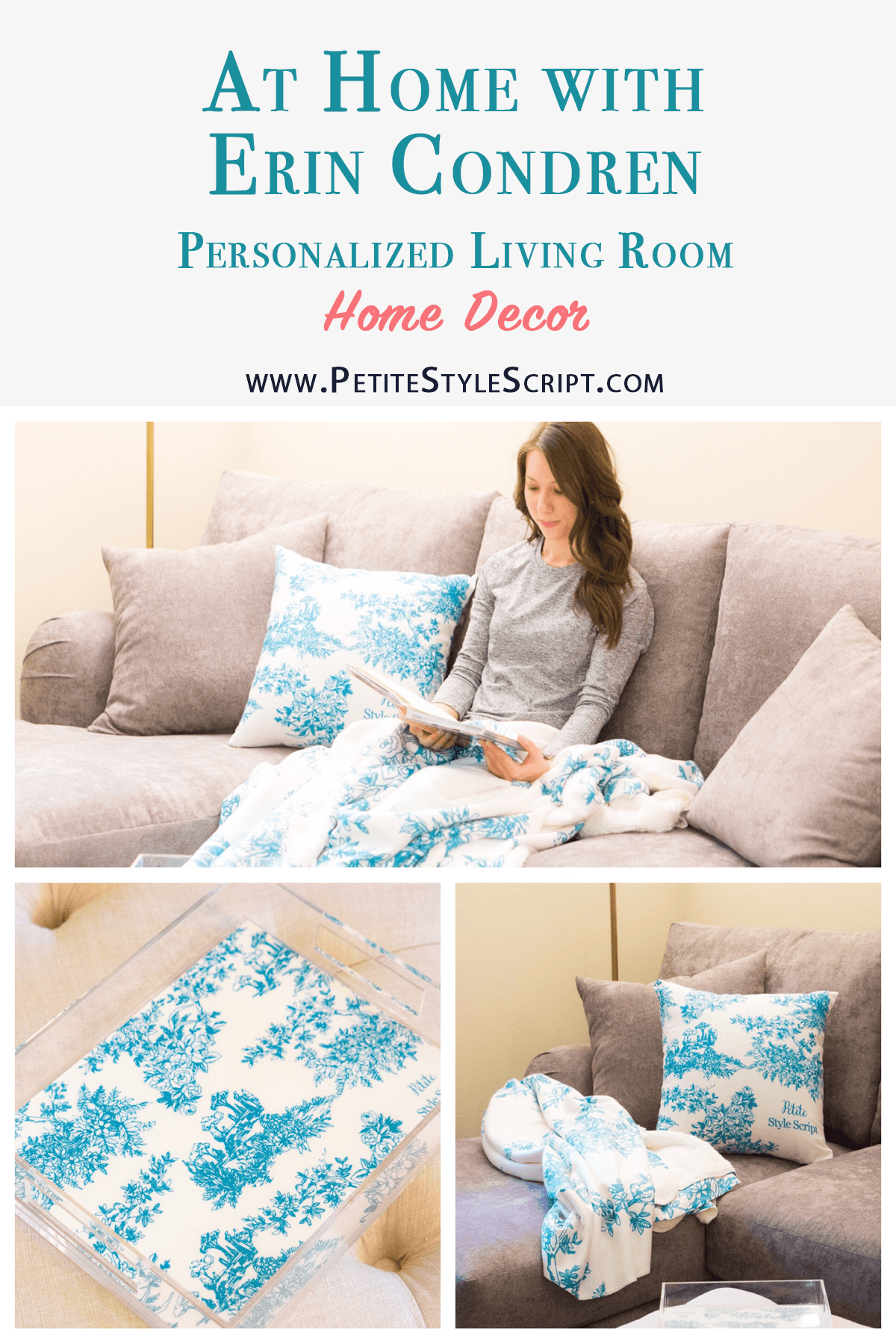 At Home with Erin Condren: Personalizing my Living Room
You requested it and I'm bringing in a special blog post talking about home décor today! I'm excited to showcase a few pieces from a brand I already love: Erin Condren! You may recognize the name as the #1 planner company along with their home office organization tools, but they also have expanded into home décor and accessories to personalize more possessions that spark joy in your life!
*Update through November 26th: 30% off on Erin Condren! 
See my previous Erin Condren blog posts: Planner Review, How to Stay Organized while Traveling and How to Increase Productivity
Note: This post may contain affiliate links; full disclosures HERE. This means, purchasing an item through one of my links may earn me a small commission without affecting your own purchase. Thank you for supporting Petite Style Script & helping it continue as an educational resource.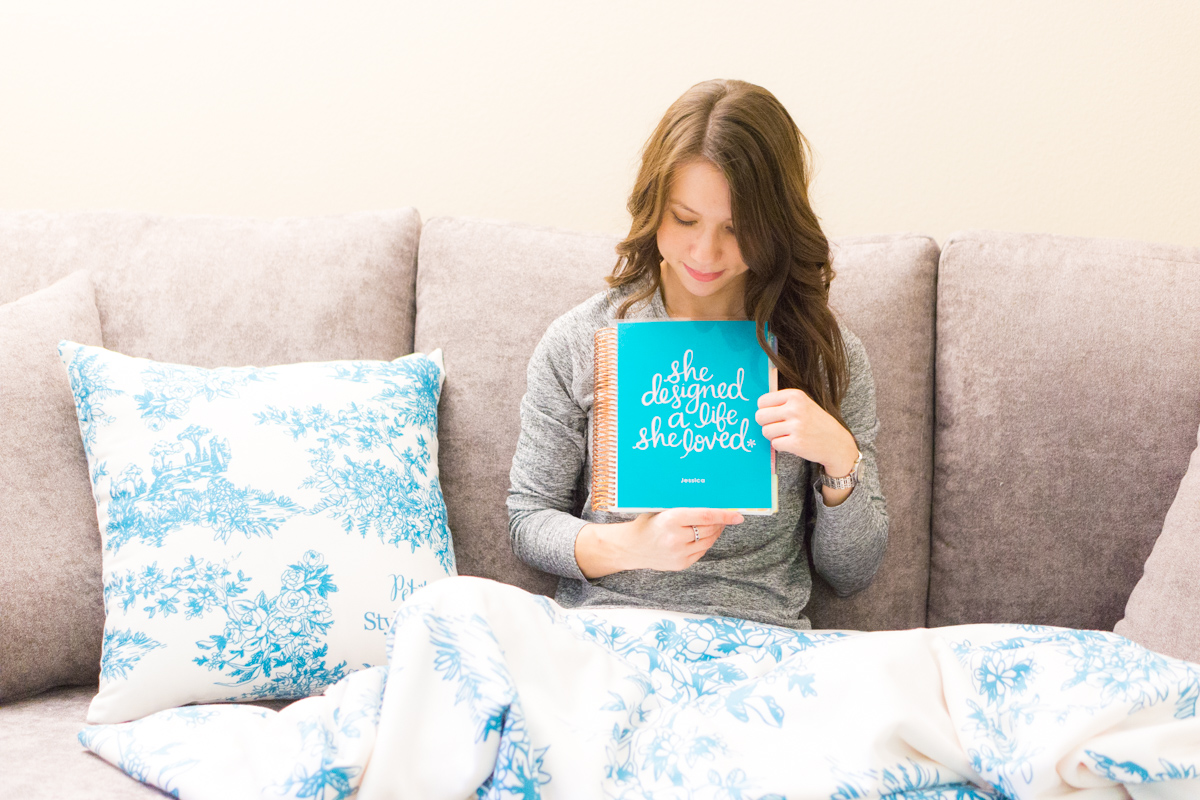 I've been working on redecorating several rooms in our home and was excited to find pieces from Erin Condren to incorporate into our living room. Here's a few of my thoughts on how to personalize your own home with Erin Condren products.
Shop the Post (click image):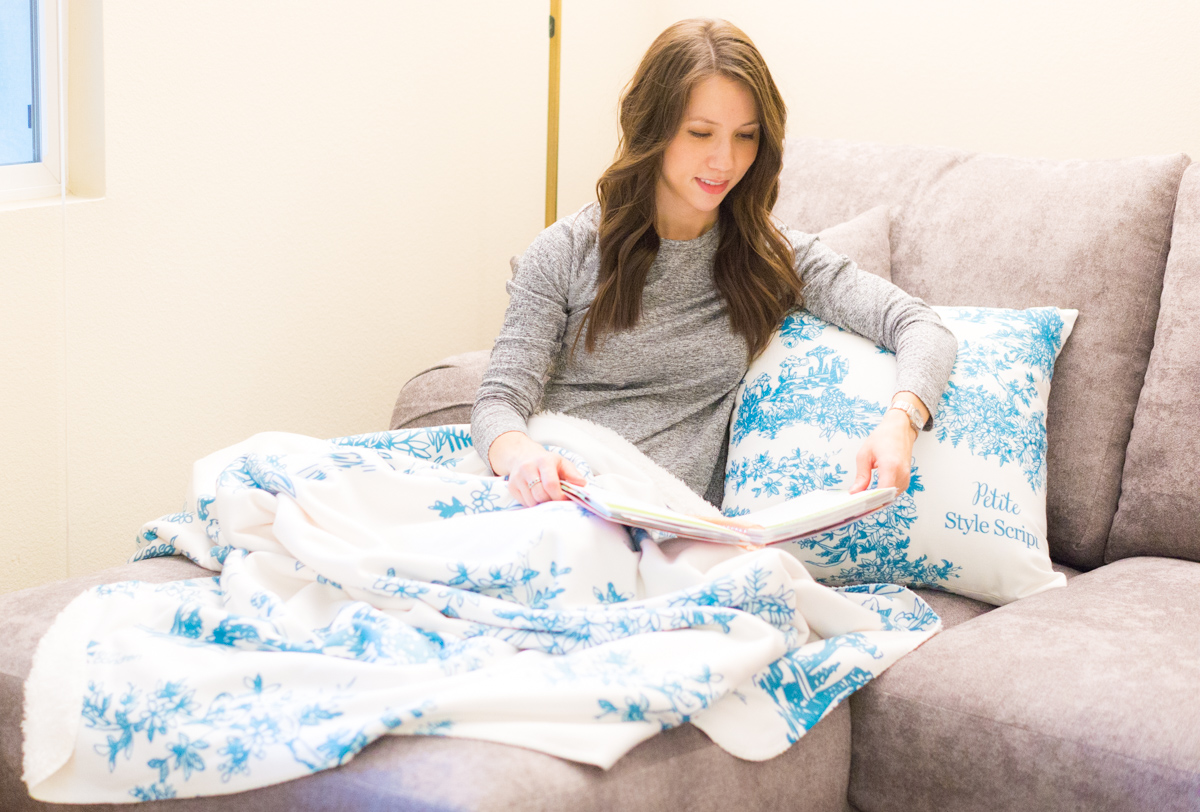 Outfit details: Erin Condren Throw/Pillow/Tray c/o; FIGS longsleeve tee XXS c/o (my review with 20% off discount code); FIGS Jogger Pants XXS c/o; Baublebar necklace; Burberry Watch
Color:
Because nearly everything can be customized with your color scheme and even initials/company name, first think about your room's colors and accent colors.
Our general color scheme has a main color of gray (neutral to appeal to both of us) with accents in teal green and gold.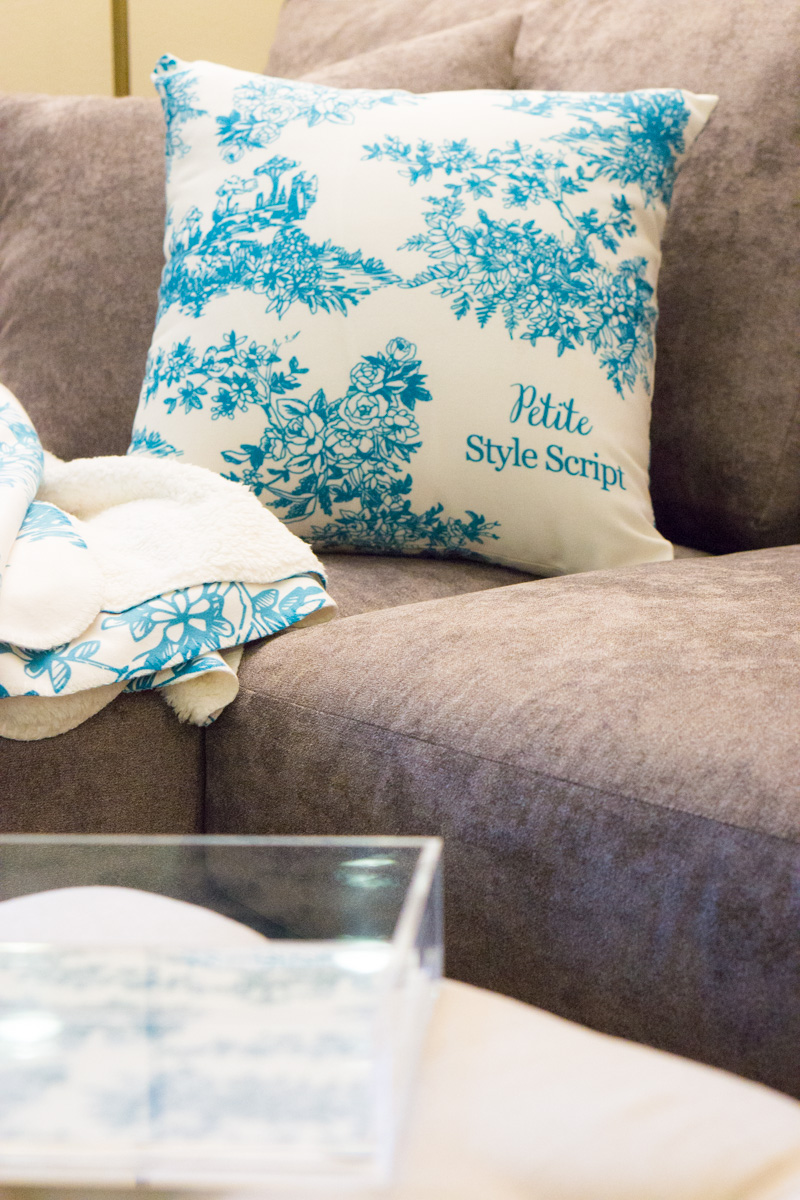 Home Décor Items:
Think about what items you need in your home.
We had limited furniture after I sold much of it during our last move and decided to start fresh. We ordered a custom couch for our living room in a medium-gray tone.
To help add color to the room, accent pillows were a must for the couch.
Because I'm always cold, a nice throw blanket for the couch was also high on my list (for those who know me, I keep a heater on nearly year-round!)
I also added a gold bar cart to our room and wanted a serving tray for the cart along with our new ottoman to place drinks on. Our ottoman comes in 3 colors and 2 wood styles – shop it on sale here.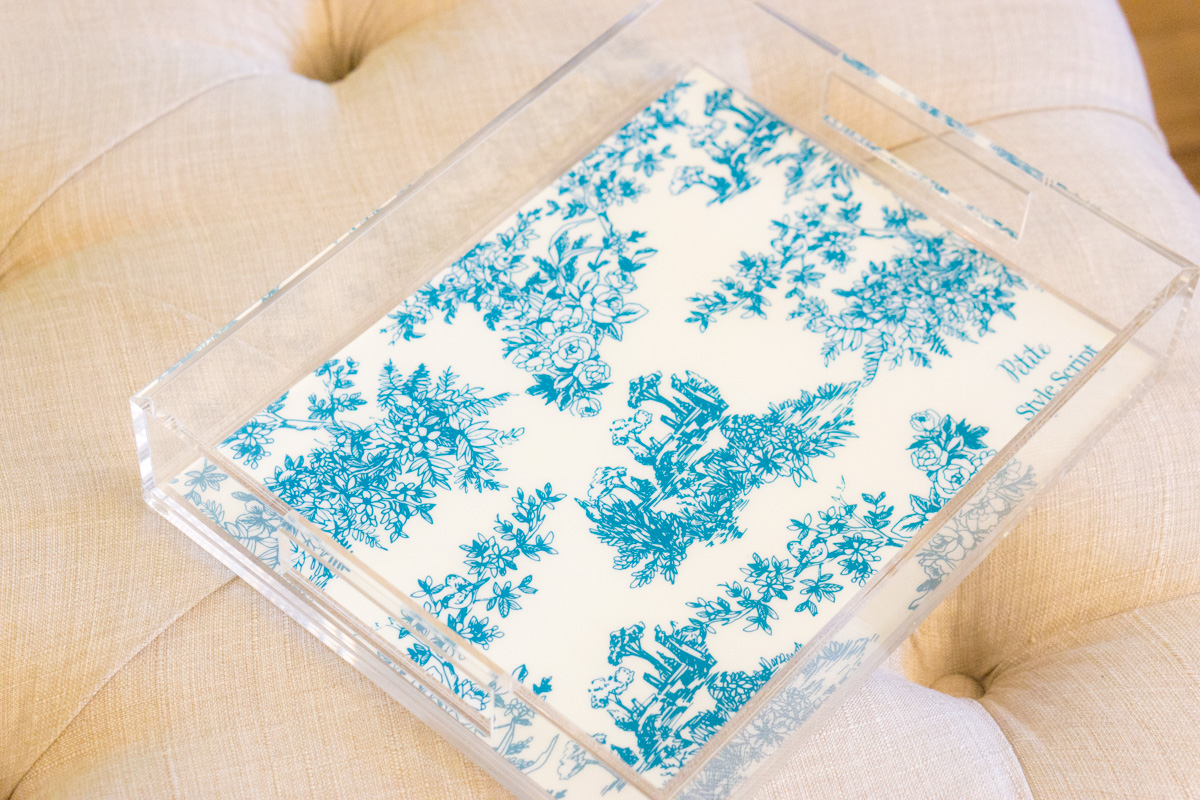 Pattern and Prints:
Erin Condren offers an array of patterns in their fabrics and planner designs.
Think about how you want to incorporate patterns into your home décor design ahead of time. Then see if Erin Condren has patterns/prints to match your preferences.
I like classic styles and this toile y'll print immediately caught my eye. It's a timeless design and I knew it would work well to add interest (and color) to the room.
Putting it all together:
I took my love for teal green and combined it with the toile y'all print for my Erin Condren home décor accent pieces! I ordered the accent pillow (large size, 20″ x 20″), Sherpa throw blanket (large size, 60″ x 80″) and acrylic tray insert (medium insert) in these designs. Because the acrylic trays were out of stock at the time, I opted for a less expensive acrylic tray found here to place the inserts in. I'll also change out the acrylic tray inserts from season-to-season and place them on our dining room table as well.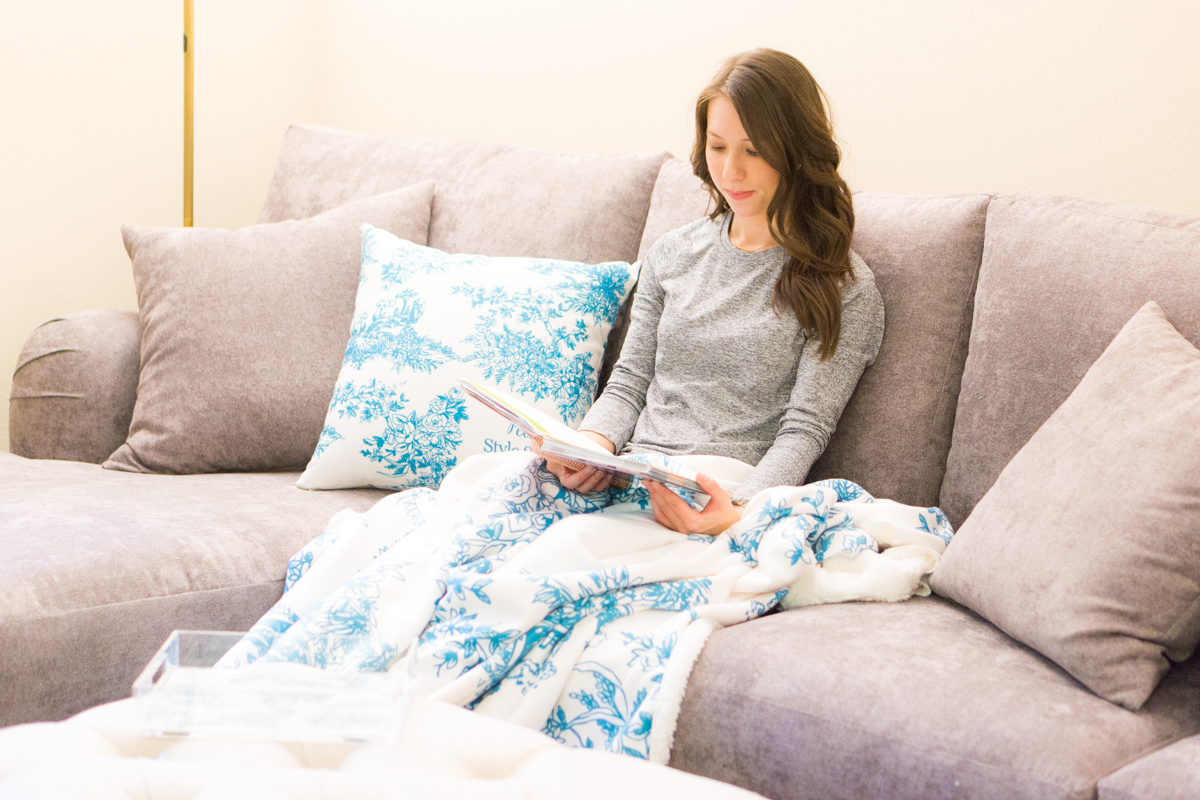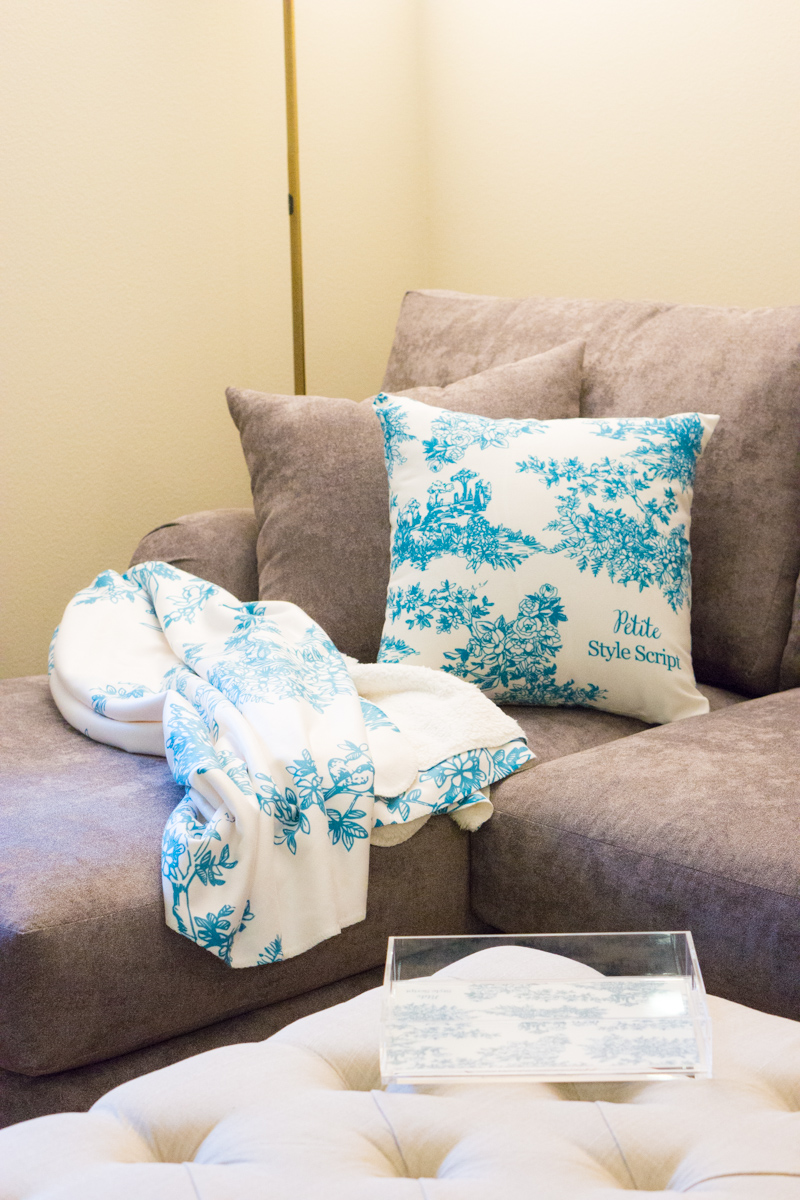 What home décor items do you love from Erin Condren?! Don't forget to add them to your holiday wishlist and shop her products this holiday season for friends and family!
---
Thank you for reading! My goal is to reach 1,000 more women by the end of 2017. Help me achieve this goal. Share this post using the teal buttons.   
Follow my updates on Social Media & Subscribe to Emails
Twitter | Facebook Page | Instagram | YouTube | Pinterest
Sign up to get my 2018 Winter Style Challenge // 25-Piece Winter Capsule (it's free)