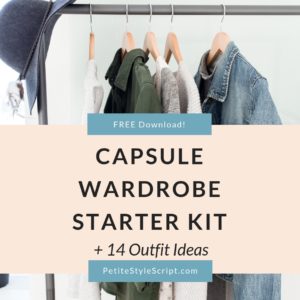 How to Start a Capsule Wardrobe | Starter Kit + Shopping List
Hi everyone! Today I'm coming in to talk about a favorite topic of mine – Capsule Wardrobes. Ok, the term 'Capsule Wardrobe' is not my favorite but the concept is. Let me introduce you to my take on a starting a capsule wardrobe + give you a Starter Kit to get you started right away!
You may be surprised by my opinion on capsule wardrobes…
When I first started Petite Style Script, my intention was to incorporate my love for Marie Kondo's "KonMari" Philosophy into all my teaching and educational resources…well, my blog posts didn't always reflect my believe in her philosophy. So, today I'm taking the time to truly highlight this concept with this introduction on How to Start a Capsule Wardrobe. Yes, this is just the introduction. I'll be adding to it in an intentional manner throughout the year.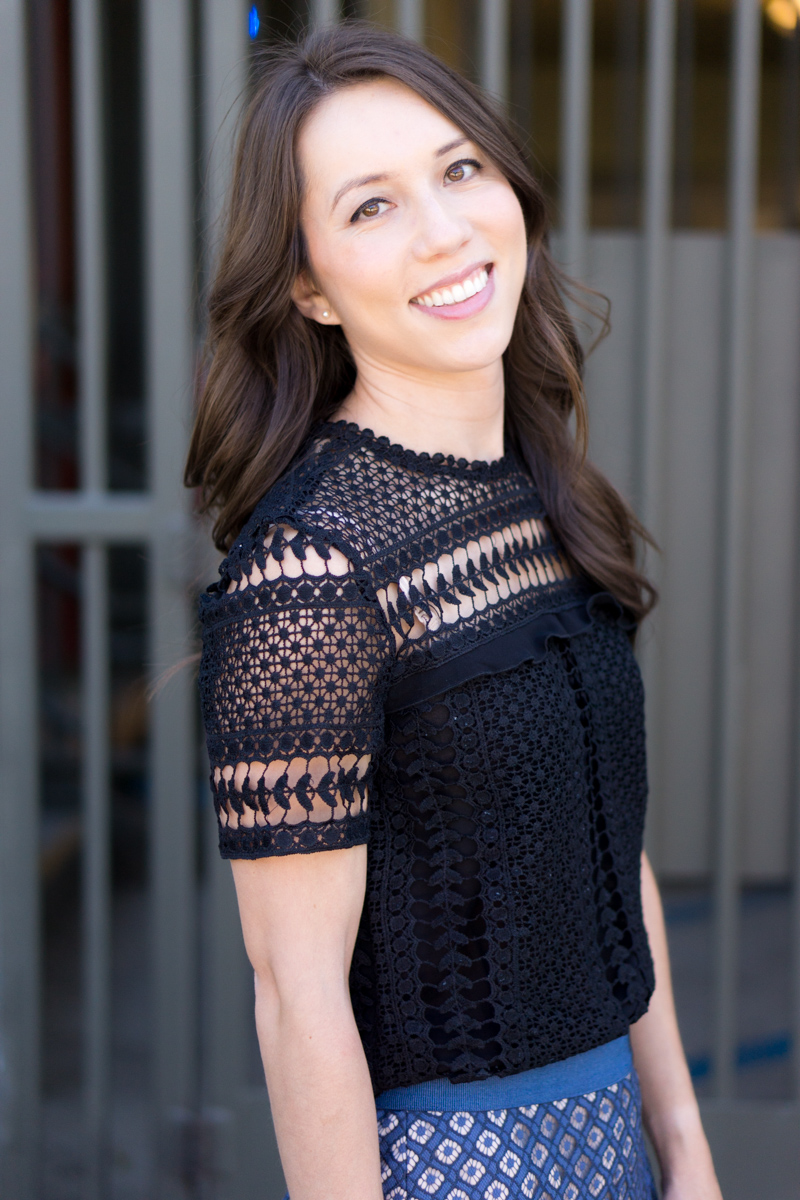 First step – read my START HERE page about Marie Kondo's philosophy.
The KonMari philosophy ties in well with starting a capsule wardrobe. It is about sparking joy in your life and being mindful and intentional in the process. We can easily apply this to our wardrobe and outfit choices and this petite fashion and style blog.
Before we get started, can you answer these questions:
Are you overwhelmed by closet chaos?
Do you spend 10-15 minutes standing in front of your closet each morning not knowing what to wear?
Are you constantly purchasing new clothing items and finding they don't combine well into a cohesive outfit?
Have you lost the motivation to dress well each day?
3 Reasons to Build a Capsule Wardrobe:
Spark joy in your life and determine what matters most. If you are overwhelmed by "stuff" in your life, it's easy to lose focus on what matters most to you. How do you like to spend your free time? How do you like to spend your finances? Are you investing in things over activities and relationships? Living and dressing with less clothing helps you reconnect with what sparks joy in your life. It will help you make mindful and intentional decisions.
Reduce decision fatigue. We all have it. It's all around us in this fast-paced world. We are faced with many decisions each day…why do you we want to complicate things further by taking valuable time and mental energy each morning deciding between hundreds of clothing items?! You won't need to try on several different outfits in the morning – you'll have a smaller curated wardrobe to choose from. No more daily decisions on what to wear. You'll always wear your favorite items every day!
More time, energy (and money) for the things you love. After determining what matters most in your life and reducing decision fatigue, you'll free up more time and mental energy to focus on what you love. You may want to write down why you want to dress with less and how you'll use your reallocated time/energy/finances. Setting goals along the way will help in this process.

It's time to step into your best self and spark joy in your life with your wardrobe! 
How to get Started with Your Capsule Wardrobe:
First go through reducing what you have. I highly recommend following Marie Kondo's step-by-step process from your books – purchase here. We don't want to keep items that are not sparking joy in our lives.
Next we will begin building our Basics List of Wardrobe Essentials. I've included 20 items in this Starter Kit for our basics. I'm going to start by highlighting 20 items. These 20 items can then create 20 different outfits and they will continue to form your essentials in your closet.
Final step, we will continue to update our Capsule Wardrobe. I'm not the type to say "You must only own ____ number of clothing items". That is not my philosophy. I think that capsule wardrobes help you in a step-by-step process form wardrobe essentials that you then add to season after season. That means, as Winter approaches, we add a few pieces to our basics wardrobe to freshen it up and add a few trends to our wardrobe. These are intentional purchases each season that fit within our defined wish list and budget.
How do we Shop to Start our Capsule Wardrobe Basics?
#1 rule – don't go out and purchase items just to fill your first 20 items on your capsule wardrobe basics. These items need to be intentionally added to your wardrobe and you MUST love them! That means it may take a few months to find the pieces you absolutely LOVE and that fit you amazingly well. It also means it may take trial-and-error to get you through this initial process. I know I searched for years to find a black leather jacket that fit me and I still haven't invested in one yet. I won't add just any jacket to my wardrobe – because this causes regret buying habits and items that I really don't love —translation I don't wear!
The fit is the most important part of each and every piece of clothing in your closet. That is one of the reasons I started this blog – because petite sized clothing could be challenging to find and locate.
Remind yourself, it's not about giving up clothing, it's about truly loving each and every piece of clothing you own.
How am I doing with my own Capsule Wardrobe?
This is a great question! I put together my wardrobe basics awhile ago. I continue to add a few basics to this list and search for them intentionally month-to-month. I know I may not find some of these items for awhile and I'm ok with that. Each season, I add a few new clothing items to my wardrobe. These may be from my basics list or they may be seasonal ones to freshen up my outfits and bring in a trendy pieces. If you've followed me for awhile, you know most of my outfit choices are classic styles or have classic undertones so they are not too trendy that they will be out of style the following year (because who wants a closet full of clothes that you can only wear for one season?!).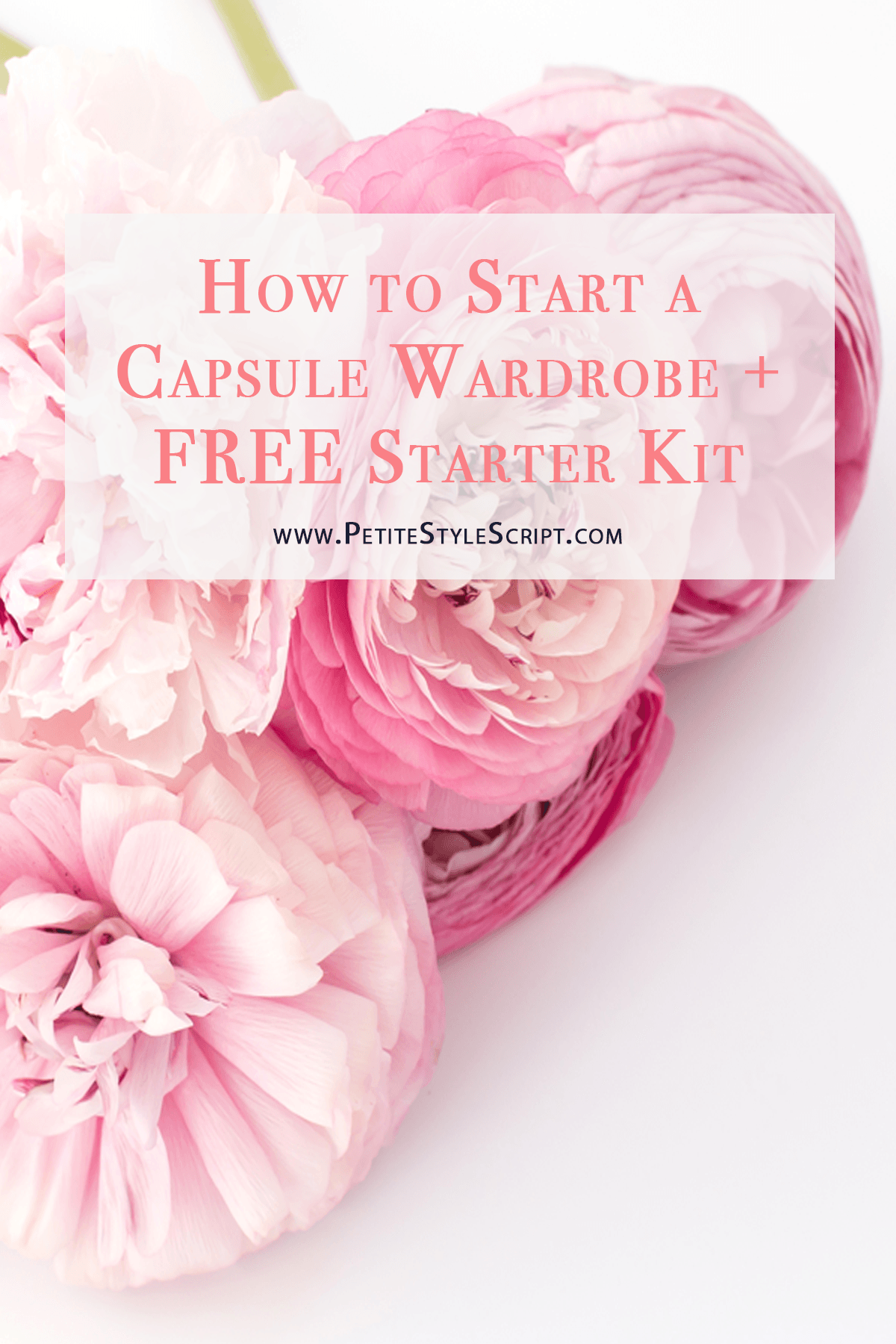 Ready to get started?
Here is my Starter Kit with 20 items and outfit inspiration. Download it for FREE today by filling out the form below.
---
Sign up for 20-Piece Capsule Wardrobe Kit + 14-day outfit ideas (it's free!)