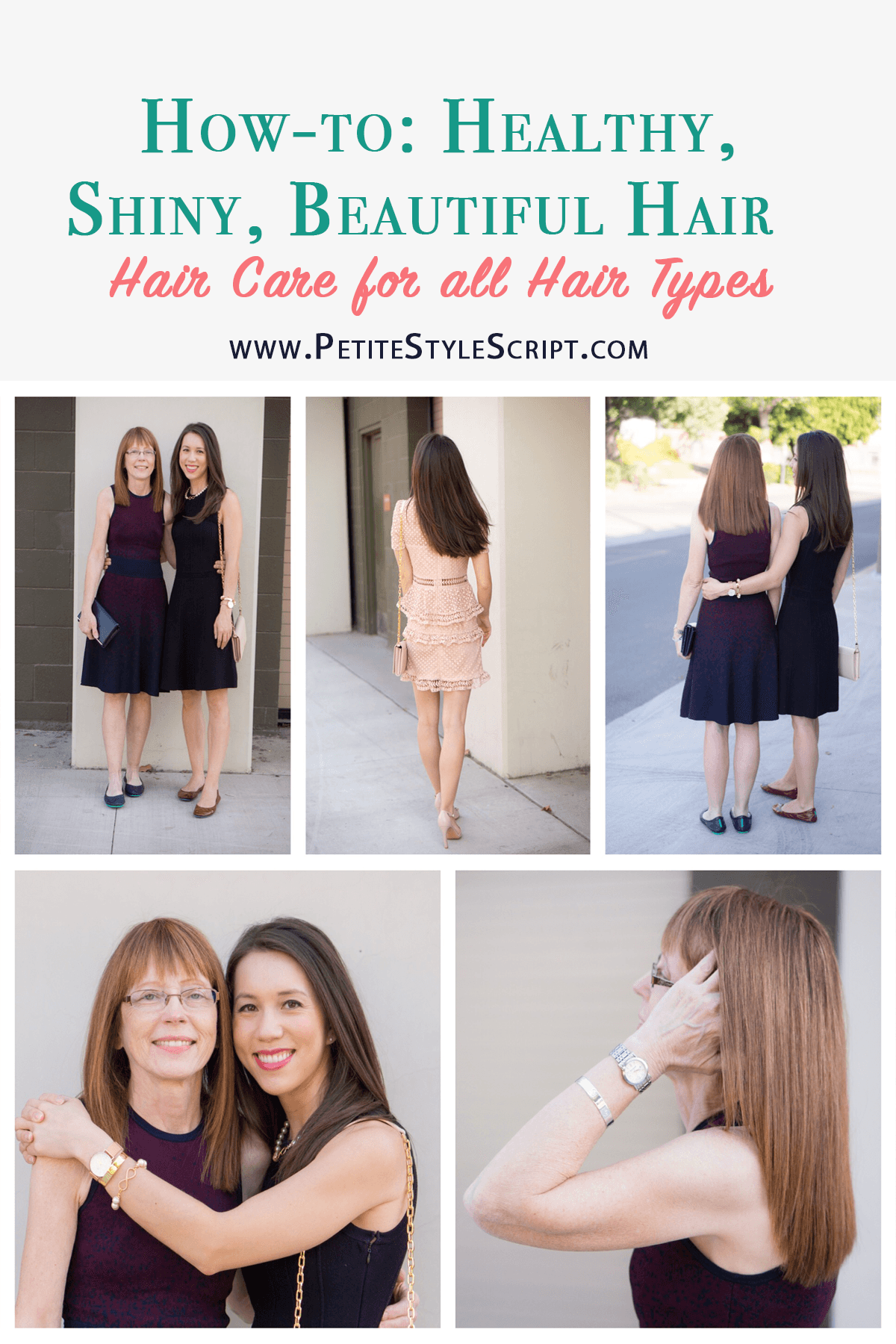 How I Keep my Hair Healthy, Shiny & Beautiful + Products for all Hair Types (with my mom!)
Honest Aveda Hair Care Review & Spoke & Weal Salon Los Angeles
I'm excited to talk today about my haircare routine. If you've followed me for a while (especially on Instagram), then you probably have a guess what products I use…I've been a loyal Aveda Hair Care Customer for over 20 years! Yes, you read that currently…I've been using Aveda since I was a young child and have never used another haircare brand!
What's my secret to keeping my hair shiny & beautiful?! Well…it starts with the best haircare products. Combine that will healthy hair hygiene and regular haircuts/trims and you'll have shiny and beautiful hair all year-round!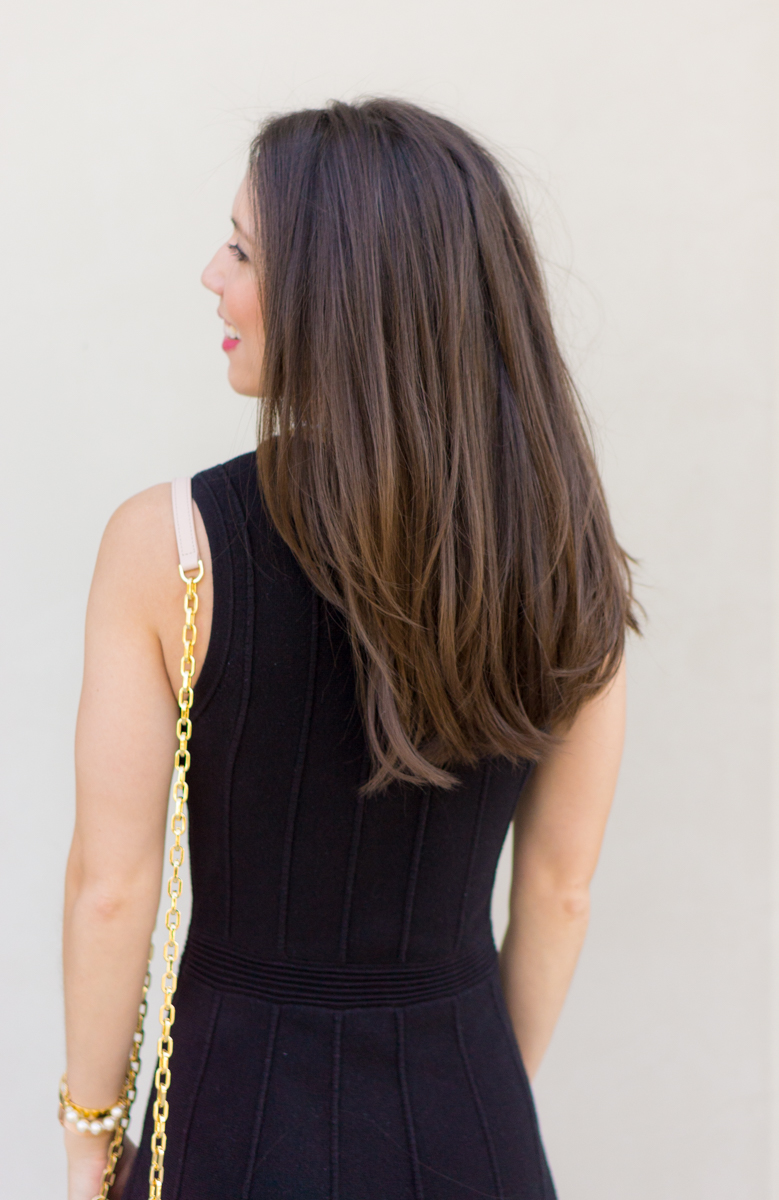 Outfits: Ann Taylor Sweater Dresses on both of us (old); Pieces of Me bracelet cuffs (10% off with code 'JESSICA'); Tory Burch Wallet Clutches (my blog post); KJP Bracelet (my blog post); Tieks ballet flats (our blog post together); Sheec Socks (20% off with code 'PSSVIP20')
Before we get started discussing haircare, let me answer a question many of you have asked… I have Chinese-American hair. I would say I'm lucky because I LOVE my hair…but this was not always the case. As many women I've talked to, we usually dislike our own hair! Styling it differently than its natural form and coloring it…I've never colored my hair and I don't plan to anytime soon. I love my hair color and let the sun give me slight hints of highlights. But I used to dislike how fine and thin feeling my hair was compared to my twin sister…I even went through a few loose perms to get my hair a little wavy to style! I haven't done any treatment to my hair in years and have learned to love it just the way it is!
Note: This post may contain affiliate links; full disclosures HERE. This means, purchasing an item through one of my links may earn me a small commission without affecting your own purchase. Thank you for supporting Petite Style Script & helping it continue as an educational resource. 
Shop my Recommendations on my HAIR CARE tab or click image below:

What's my secret to healthy and shiny hair?
Not washing it every day. I usually try to wash my hair every other day. Washing it more often can make it dry and brittle.
Protecting my hair from heat styling products. I use Aveda's heat protectant on my damp hair – favorite style prep product is Brilliant Damage Control and use high-quality styling tools – my favorite are Harry Josh Pro Tools – Dryer, Flat Iron, Curling Iron & Brush Set
Finishing my hairstyle with shine fluid: Light Elements Smoothing Fluid
Getting my long layers trimmed every 8-12 weeks. Of course at an Aveda Salon! My last few haircuts have been with the talented Patrick at Spoke & Weal Salon in Los Angeles. See below for more information.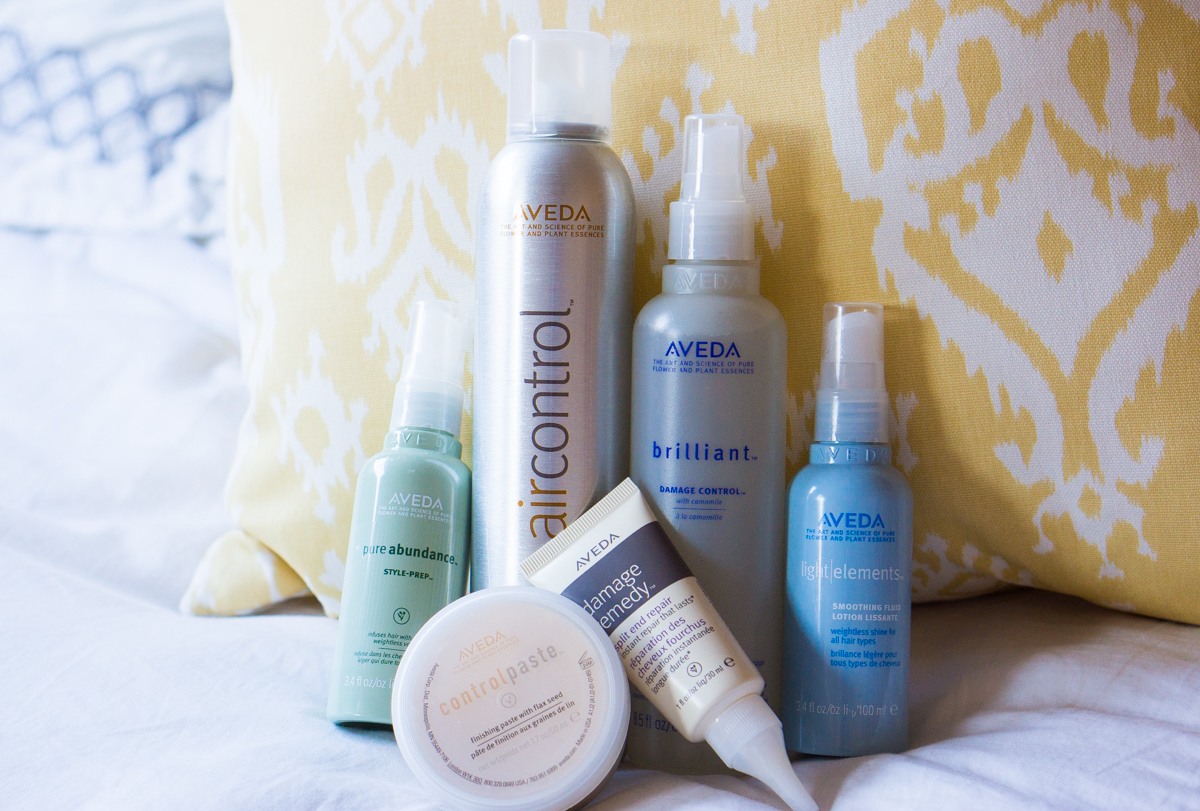 So…what products do I use on a daily basis? Just like my skincare regimen, I have quite the arsenal of products. I mix them up depending on how the day or week but in general, here is my daily regimen.

What about different hair types?
The best example to discuss different hair types is bringing my mom into this post! My mom has VERY different hair compared to me. Unfortunately, she went gray at age 30 and has colored her hair every 4-6 weeks for the past 30+ years. With all the color treatments, her hair can remain dry and/or damaged in appearance.
My mom's hair journey is a little different than mine. Although she prompted my Aveda loyalty at a young age, her hair became difficult to treat with older versions of Aveda color. Therefore, she switched to Goldwell color for many years…fast forward to 2017 and my parents joined me in California! That finally meant I could slowly transition her back to my beloved Aveda brand!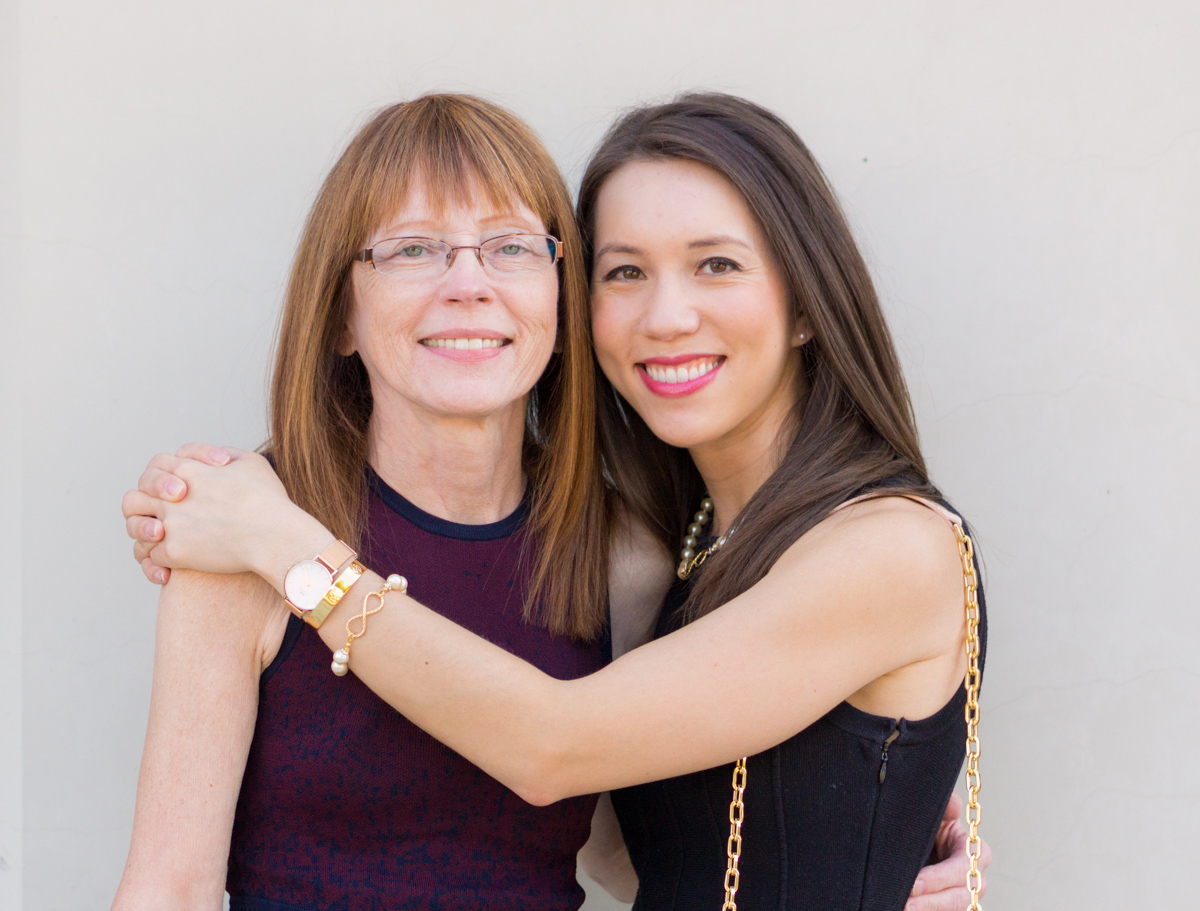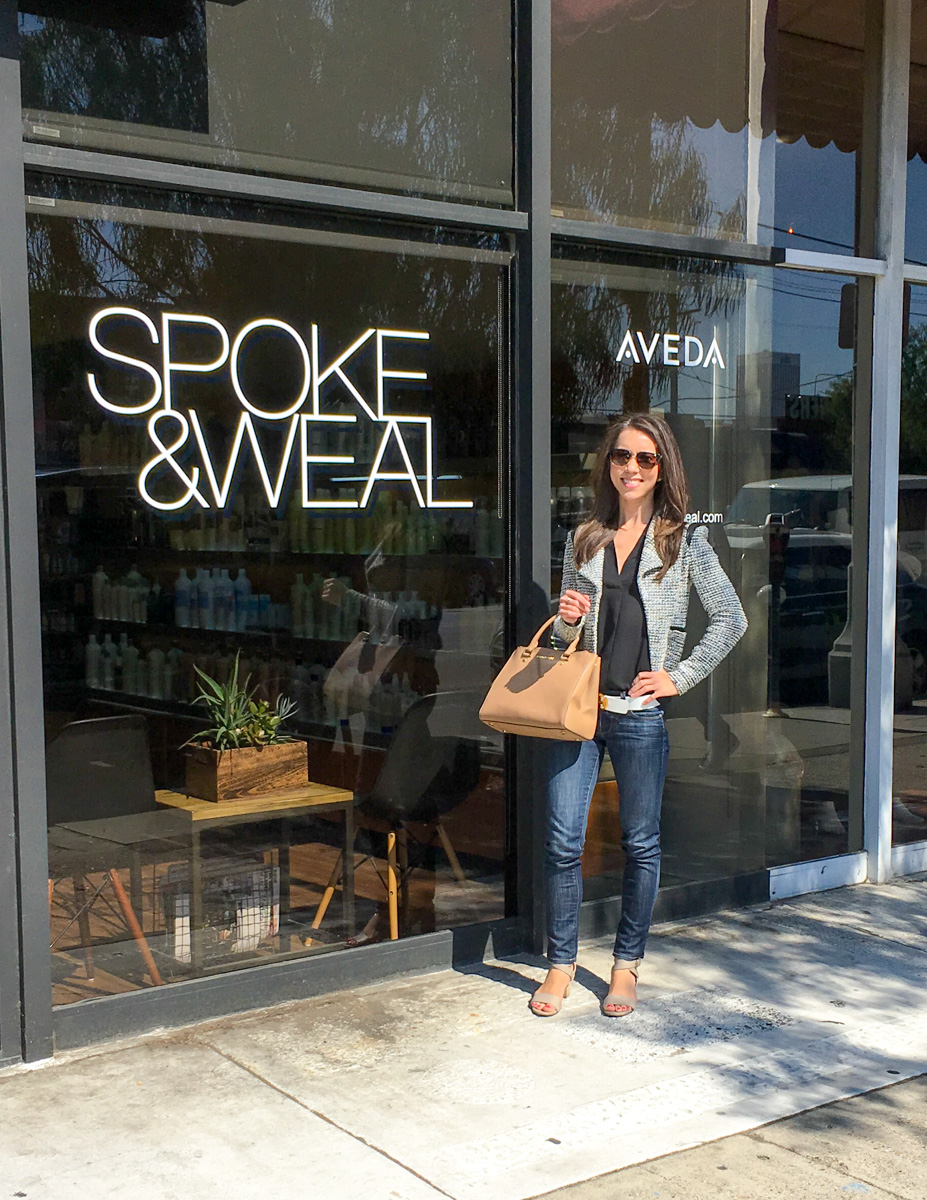 My mom joined me at Spoke & Weal Salon in Los Angeles this month! I received my usual haircut from Patrick – going with long layers this time and cleaning up the ends of my hair. My mom was understandably nervous for her haircut and color. She had a negative experience at a non-Aveda Salon recently and was not happy with the color of her hair (too dark of a red color for her). Patrick, an expert Aveda Color Stylist, listened to her concerns and helped ease them with his plan to lighten her hair and add a few highlights to blend the color more naturally.
Fast forward a couple hours and my mom's hair turned out gorgeous! Patrick recommended she switch back to the Aveda Dry Remedy product line and re-nourish her hair. He also put plans in for her future color treatments.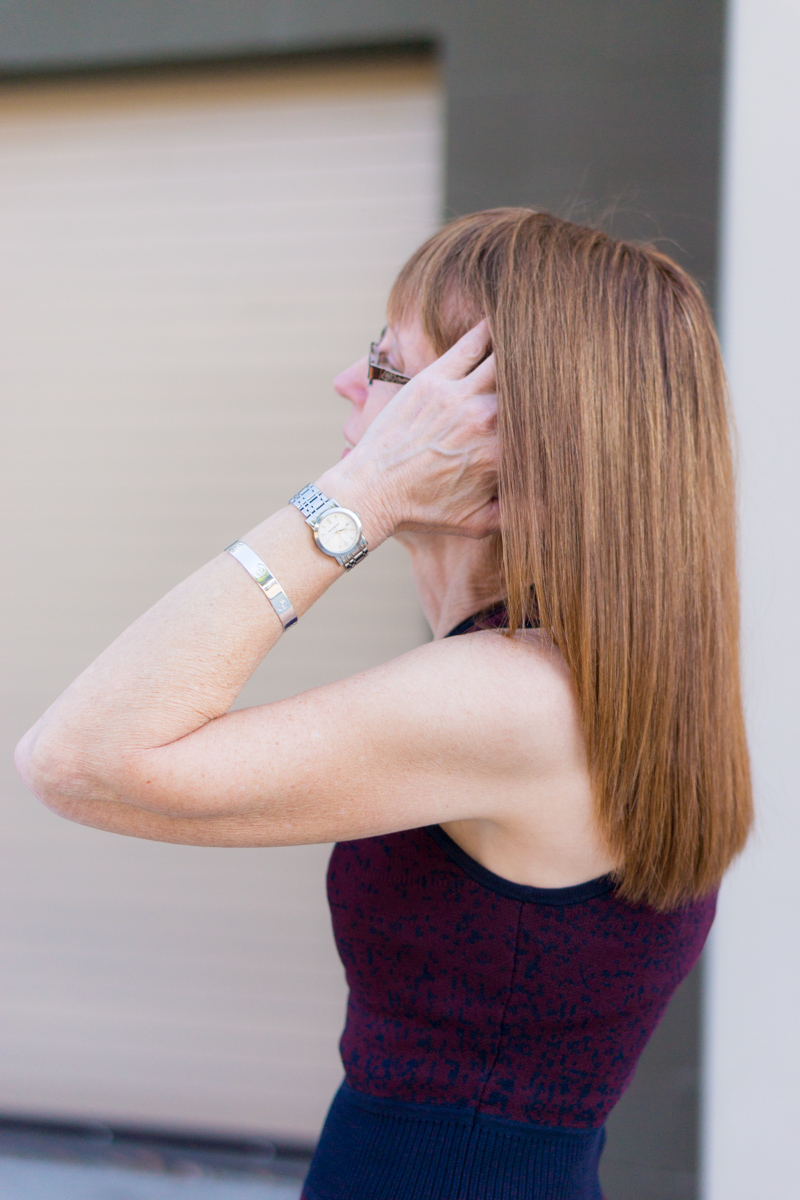 My mom's thoughts on her Aveda experience and why she's switching back to Aveda Color Treatments and Products?
Despite how nervous she was during her salon appointment, my mom LOVES her new hair color and cut! She was pleasantly surprised how well her hair took the color of the Aveda Color Treatment line – likely because the color products have been significantly updated since her last experience with them 10+ years ago! She also noted that she didn't have any chemical smells from the color treatment the following 2-3 days after her appointment and no dye washed off on her towels after taking her first shower after the color treatment – 2 things that happened after her Goldwell Color Treatments.
What products will my mom use on her color-treated and dry hair?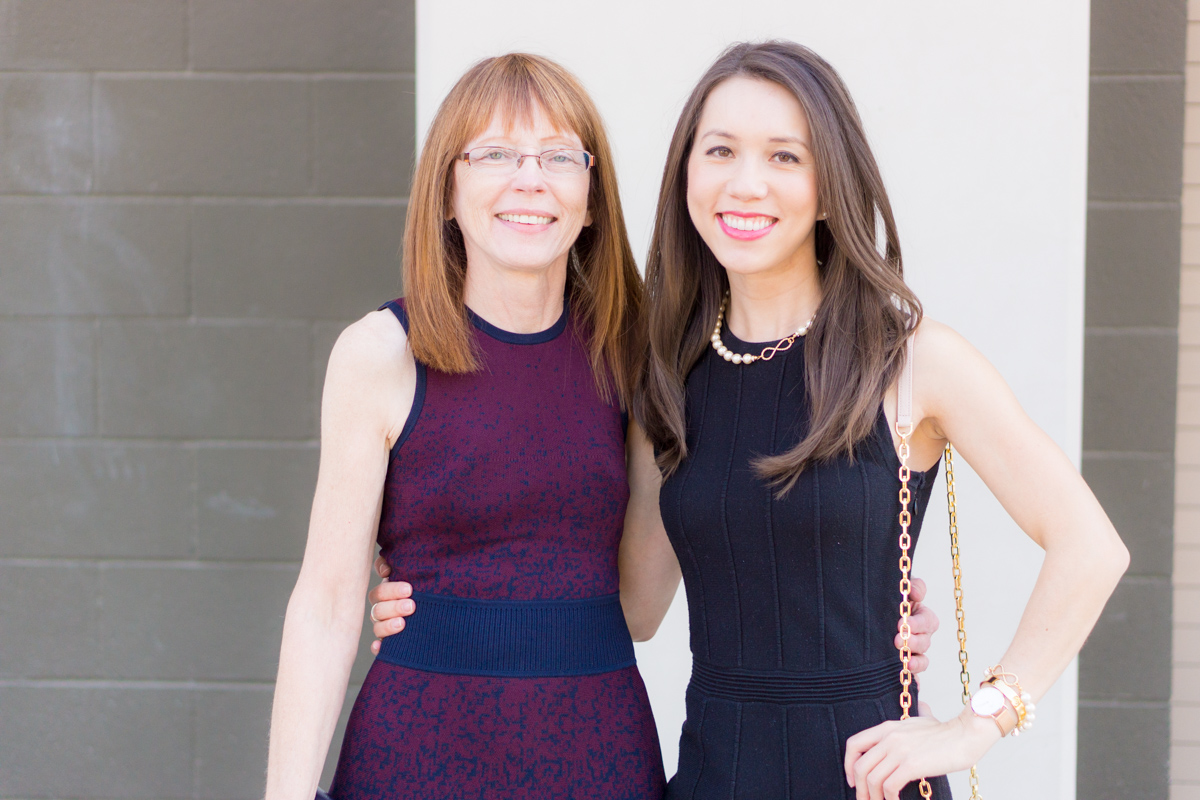 You can check out Aveda's new product – Texture Tonic with a video on how I love it for creating waves that last all day long!
What should you use on your hair?
Take advantage of Aveda's amazing website and service to find the best products for your hair type and hair concerns. You can also visit an Aveda Concept Salon or Authorized Retailer for help.
As you can see, Aveda haircare products offer customized regimens for all hair types and all ages! We are loyal Aveda customers because of their high-quality and commitment to customers.
Don't forget to check out Aveda's support for Breast Cancer Awareness Month by purchasing their Limited Edition Hand Crème – $4 donation to cruelty-free research for BCAF! I use this hand crème daily and own several full-size and travel-size tubes to have with me all the time!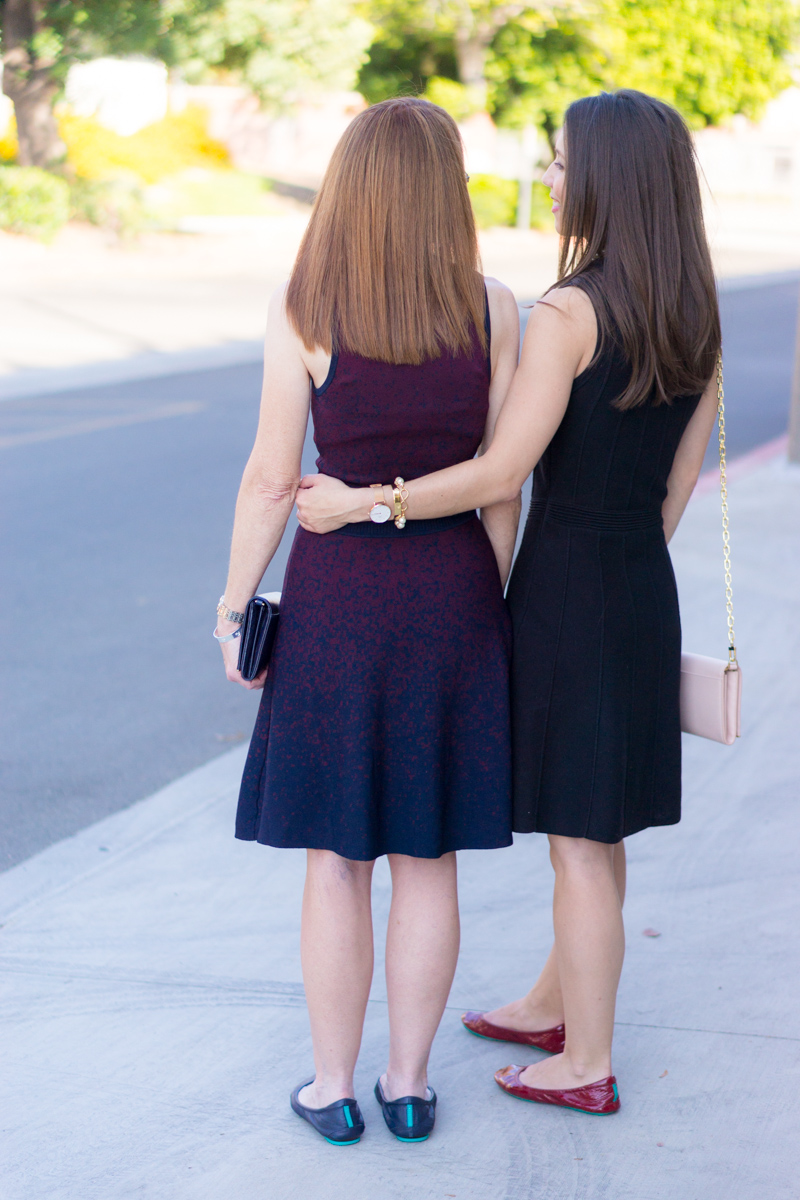 ---
Thank you for reading! My goal is to reach 1,000 more women by the end of 2017. Help me achieve this goal. Share this post using the teal buttons.   
Follow my updates on Social Media & Subscribe to Emails
Twitter | Facebook Page | Instagram | YouTube | Pinterest
Sign up to get my 2018 Winter Style Challenge // 25-Piece Winter Capsule (it's free)