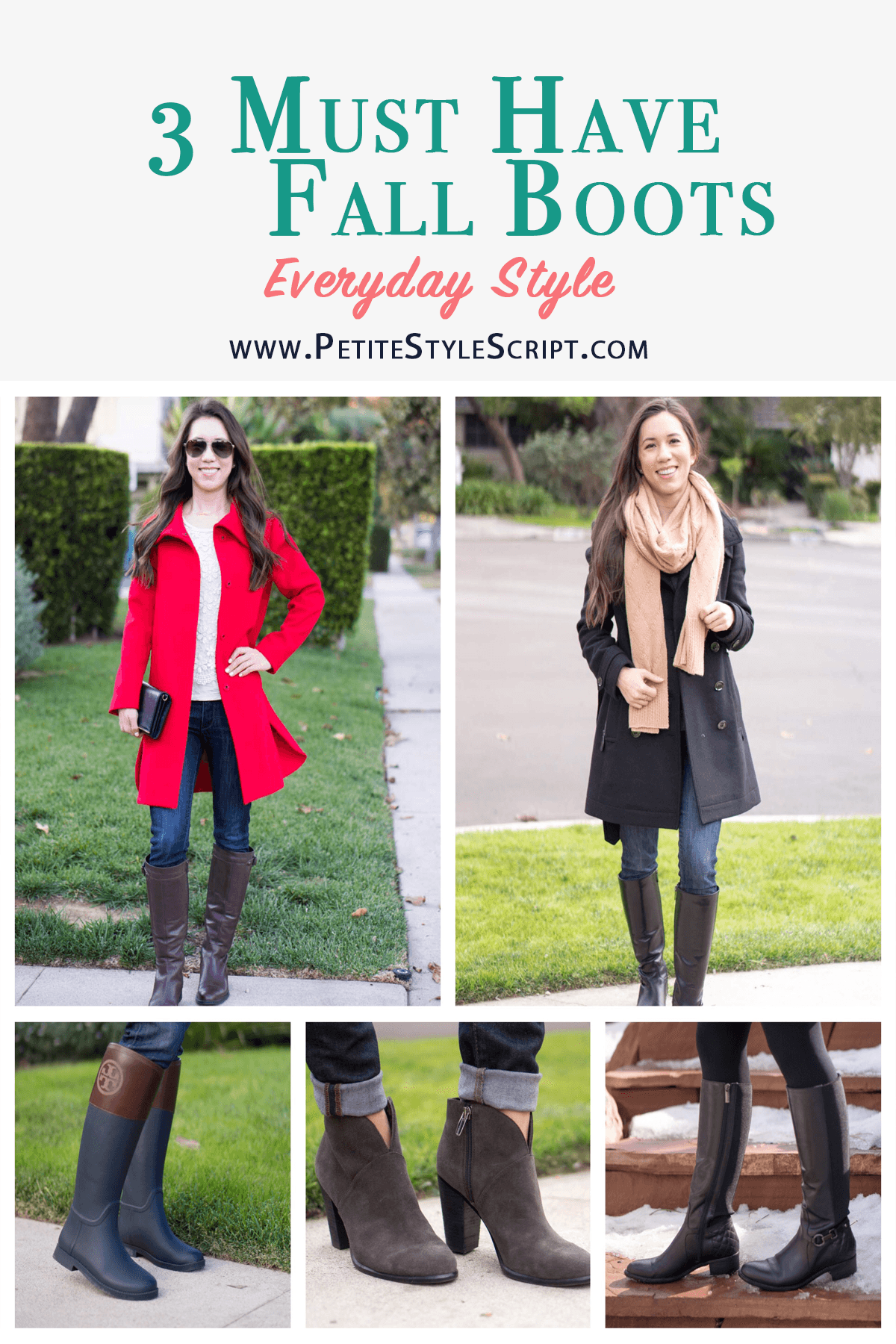 3 Must Have Boots for Fall 
With the fall season now upon us, it's time to start talking about fall wardrobe essentials. Our fall boots are definitely essentials – protecting our feet from rain, snow and chilly temperatures. Despite living in Los Angeles, I own a few essential fall boots and wear them both in Los Angeles and while traveling to areas with 4 seasons and chilly winters. We all need a little snow in our lives, right?!
Note: This post may contain affiliate links; full disclosures HERE. 
*Update: Friends and Family Sale with 25% off going on now at Vince Camuto – love their boot options. Shop it here.
Shop My Outfits: 

My Must Have Boots for Fall: 
Rain Boots
Tall Riding Boots
Ankle Booties
Rain Boots
A rainy day can either bring a smile or a frown to many people's faces. No matter what side you are on, let's agree that stylish, comfortable and functional rain boots can lift our spirits! My favorite rain boots are from Tory Burch. They fit my petite-foot well and are the appropriate height to hit right under my knee. I opted for a navy color in these as a neutral tone to match many outfits.
I've also heard wonderful things about Hunter rain boots and gave these a try both in the Kid's sizing and Women's sizing. Unfortunately, I thought the rubber was thinner and not as comfortable as the Tory Burch rain boots. However, it is personal preference and I do wish I had rain boots that folded more easily for travel. Instead, if I take them with me on a flight, I try to wear them onto the plane (tip: always wear your bulkiest or heaviest shoe on the plane to free up space in your suitcase).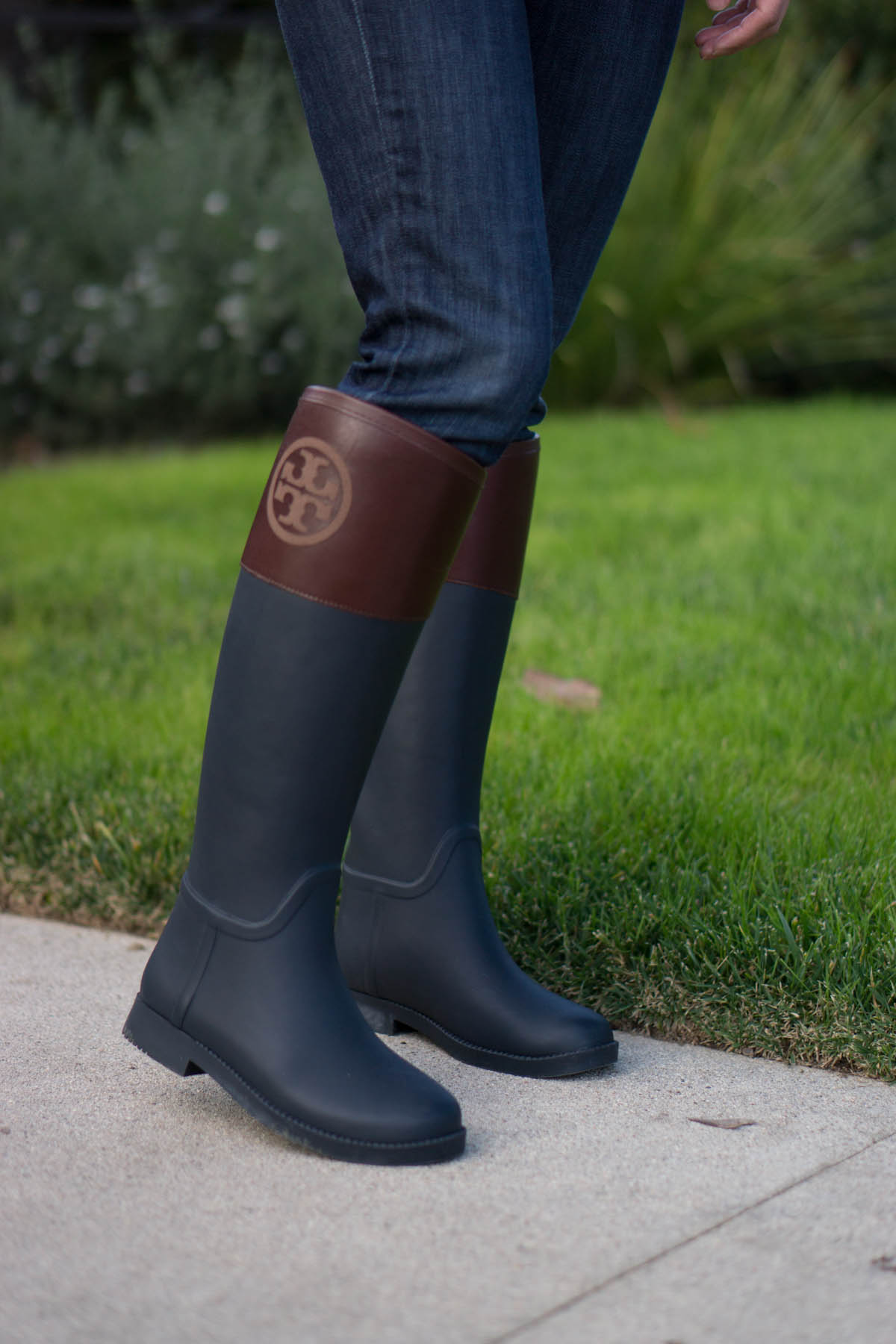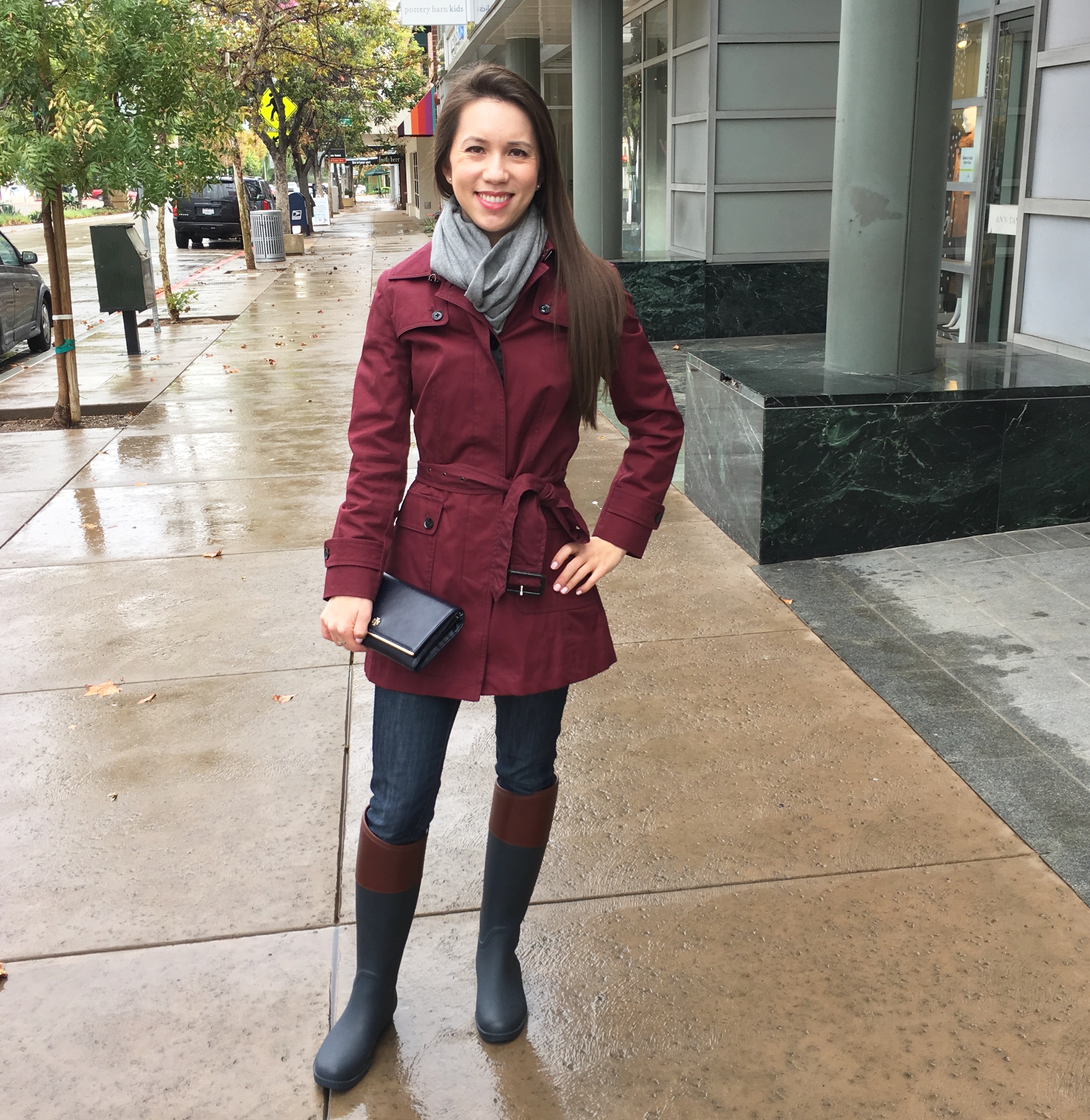 My Outfit: Tory Burch Rain Boots Size 5.5; Banana Republic Trench (my blog post); Nordstrom Scarf; Paige Denim 23; Tory Burch Clutch (my blog post)
More Rain Boot Options I Recommend (click image): 

Tall Riding Boots
Tall riding boots are classics in everyone's wardrobes. I love how they can be styled many different ways. Personally, you'll see me in tall boots with leggings, tights or jeans. They are a great option for transitioning dresses into the fall and winter season – add opaque tights and tall boots and you now have a new outfit!
For colors, I like classic black in tall riding boots or cognac brown colors. I opted for both a classic black and chocolate brown in the 2 pairs I own. My riding boots are from Aquatalia – a company that takes great pride in their craftsmanship and quality along with their waterproofing process on the leather. This leather should withstand wet and snowy climates very well. Obviously, since I don't live in a snowy location at the moment, I don't have firsthand experience with this but the reviews are quite convincing.
One pair of my Aquatalia boots was purchased from TheRealReal at a great price and condition (excellent pre-owned pair). I highly recommend looking for investment pieces on their website – they certify these luxury designer brands so you can be confident they are authentic. I'll post more about this company soon! Send in any questions you have!
(I'm wearing these boots in Salt Lake City for some photos – my home away from home where I trained for residency + learned how to ski)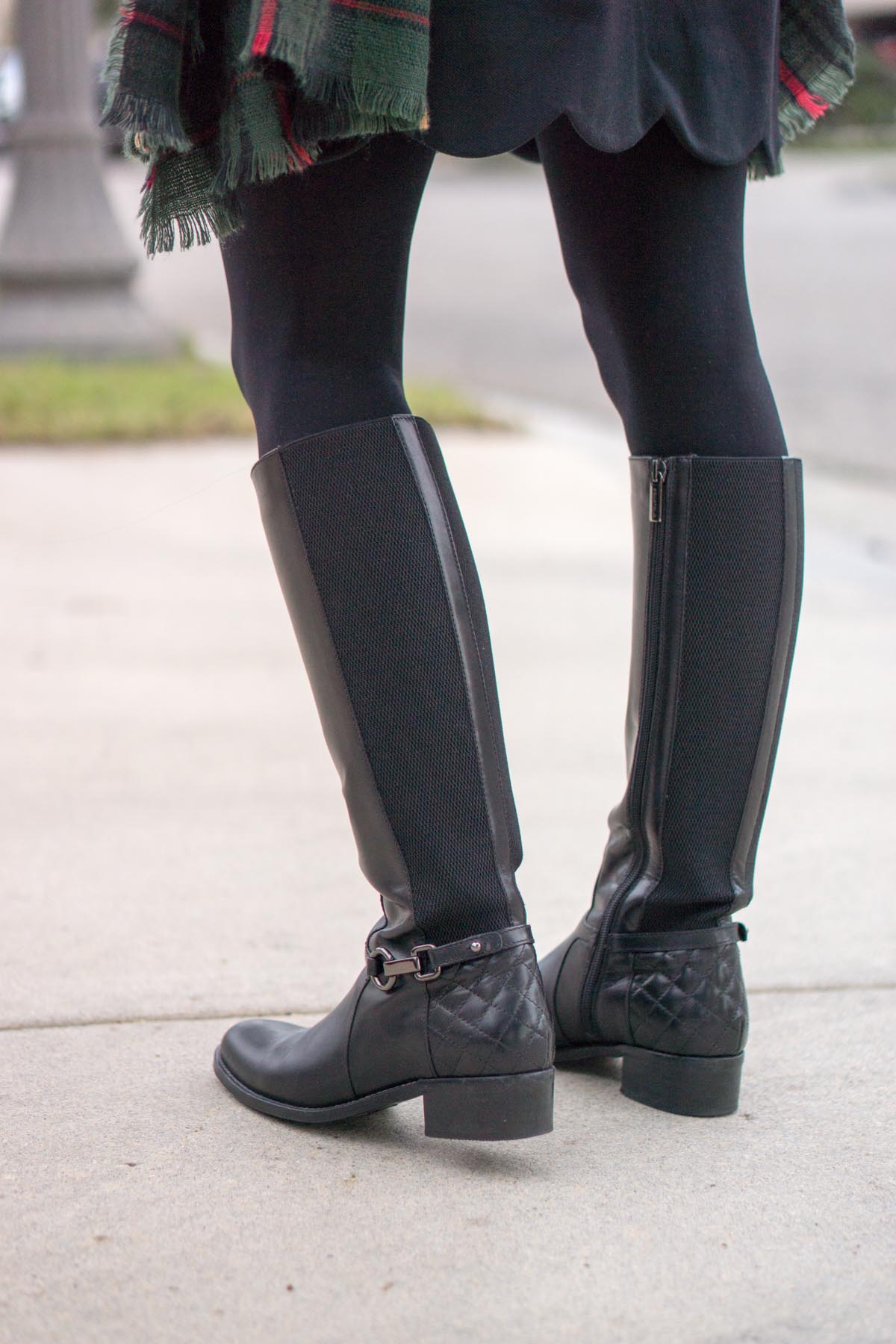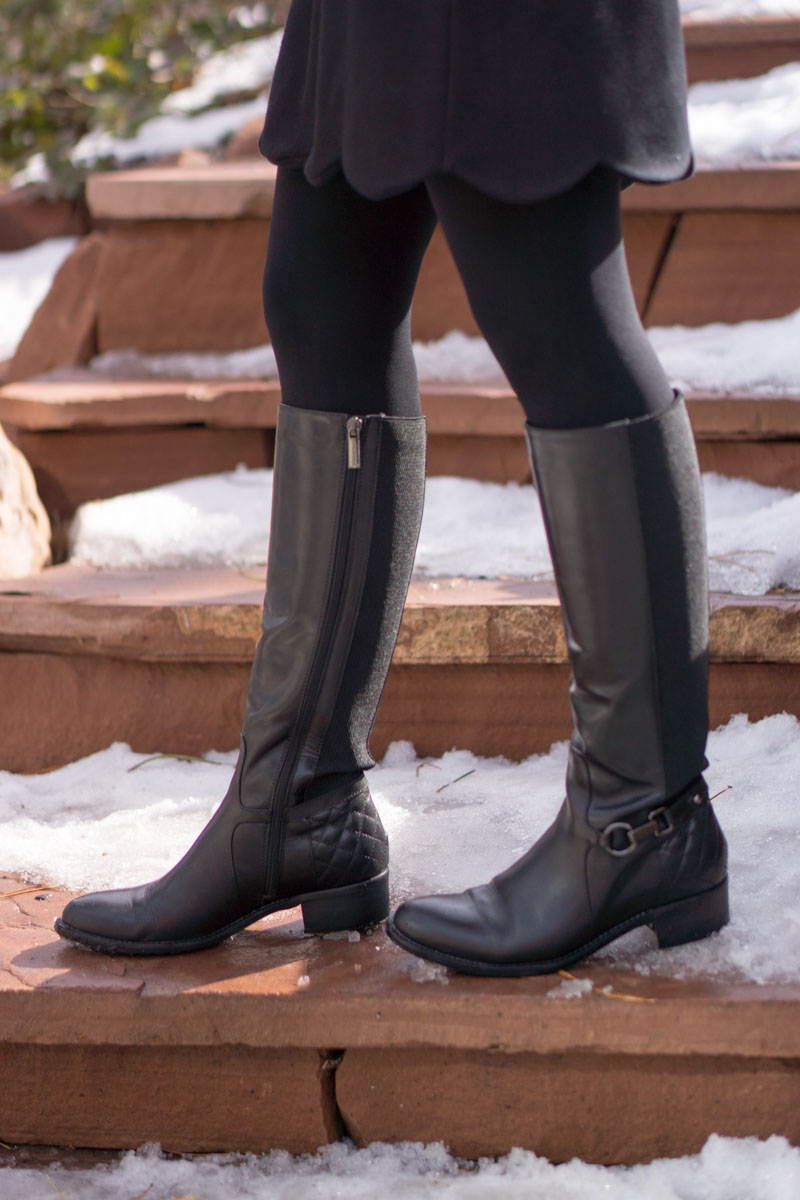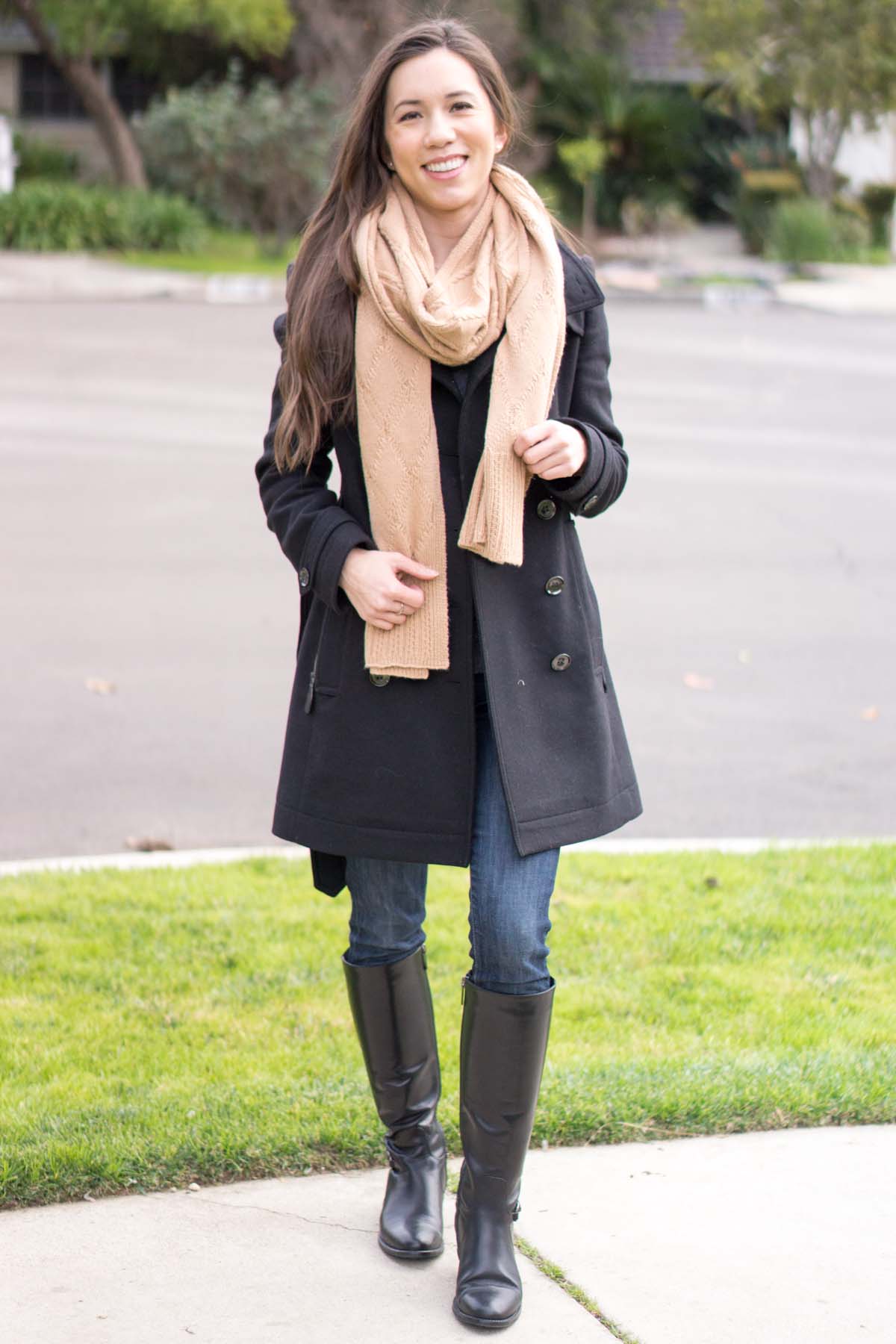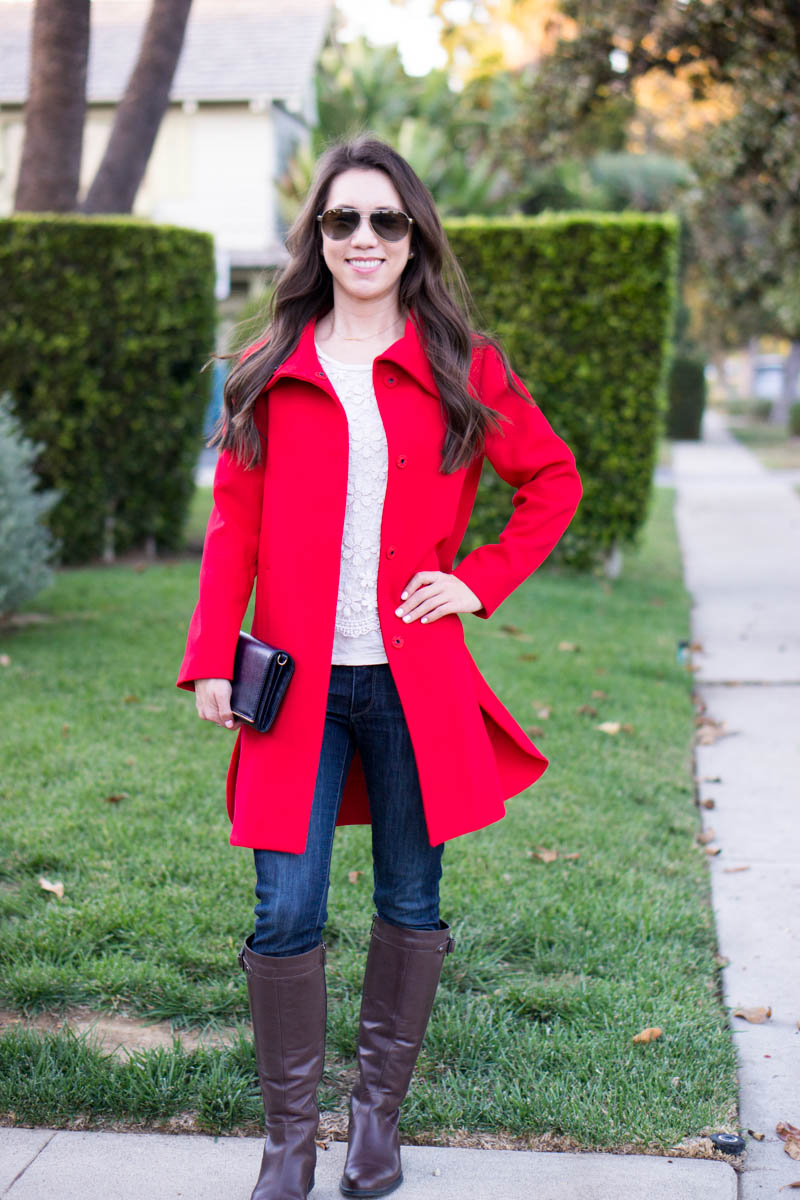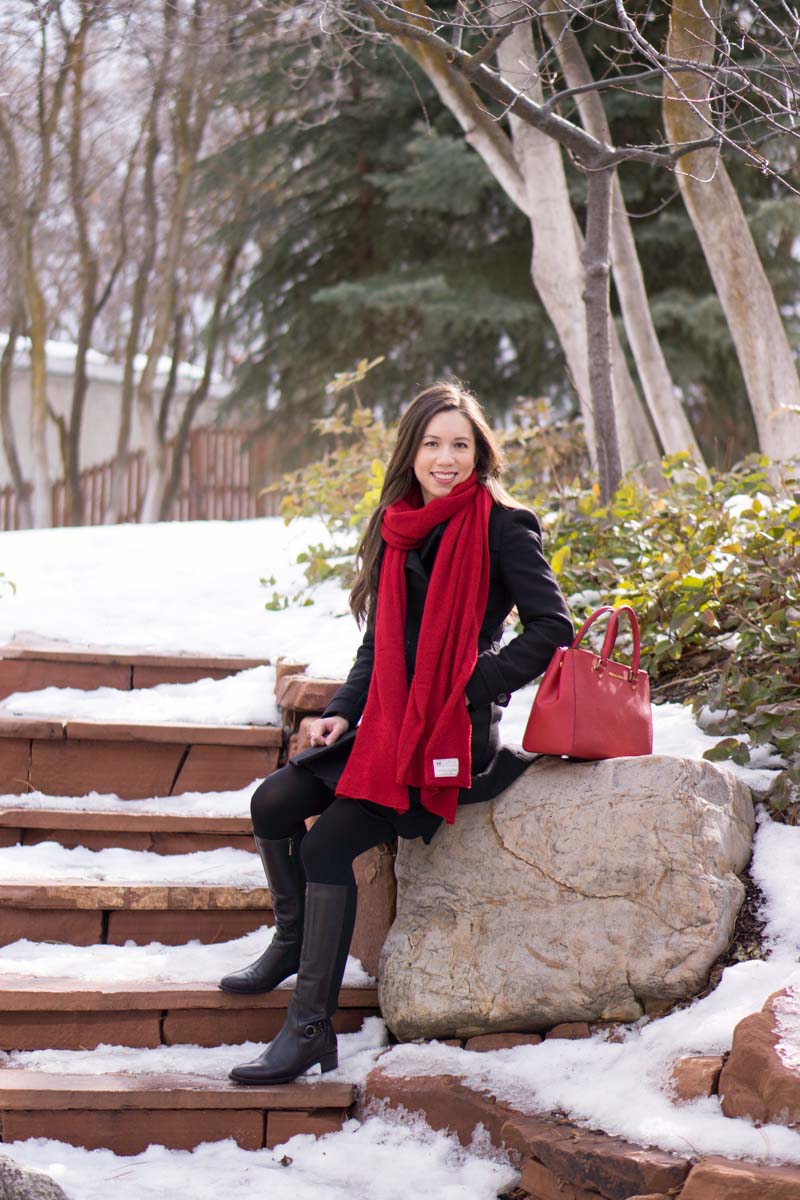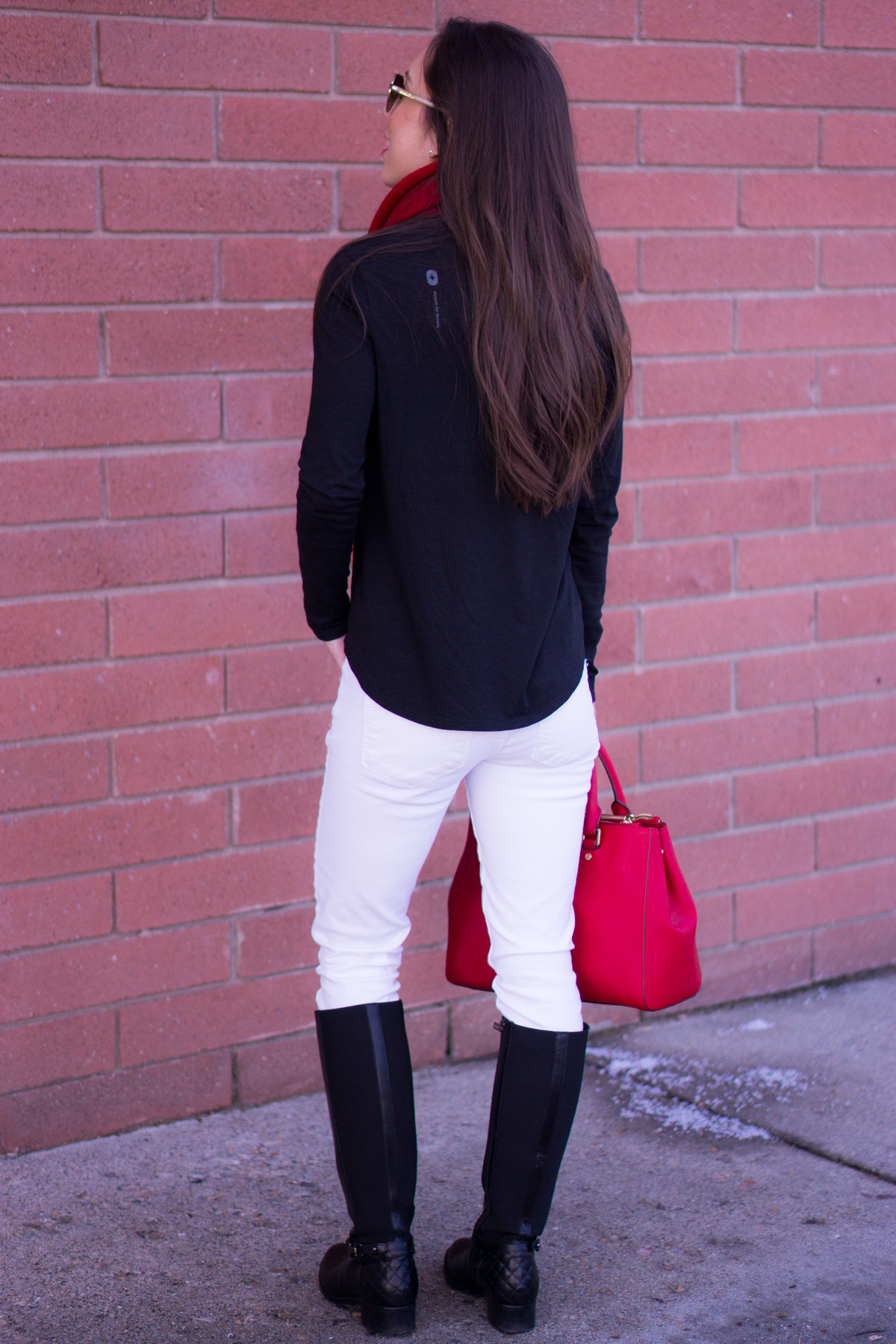 Outfit Details: Aquatalia boots Size 6; Burberry Wool Coat Size 0 (my blog post); Paige White Denim 24 (my blog post); FIGS tee (my blog post + coupon code); Krochet Kids Scarf (my blog post); Banana Republic Scarf
More Tall Riding Boots I Recommend (click image):

Fall Ankle Booties
Of course who can't resist talking about fall ankle booties! You've probably seen me in these before from previous posts and I LOVE a great ankle bootie. I will say it was difficult to find one that was petite-friendly and elongated my legs so when I did find one, I purchased it in 2 color options.
Fall ankle booties come in a variety of colors, textures, and heel heights. I recommend purchasing the one that best suits your lifestyle. Are you most comfortable in flats? Then pick booties that are flat and have no heel. Are you more comfortable in block wedge heels to keep you balanced? Can you do the skinny and taller heel on an ankle bootie? With colors and textures, decide if you want leather or suede (the 2 most common types) and what color best compliments your wardrobe. I think neutrals are great additions but if you already own a lot of neutrals, go for something fun – maybe a burgundy for fall!
Speaking of different textures, don't forget to use leather or suede protectant on your boots! My favorite is these one (I purchased the 3-pack so I don't run out!). I use the leather/suede shield spray when I first purchase the shoes and then each season as an update before rain or snow comes. I also use this spray on all my leather handbags. Remember to use outside and allow it to dry in an open space.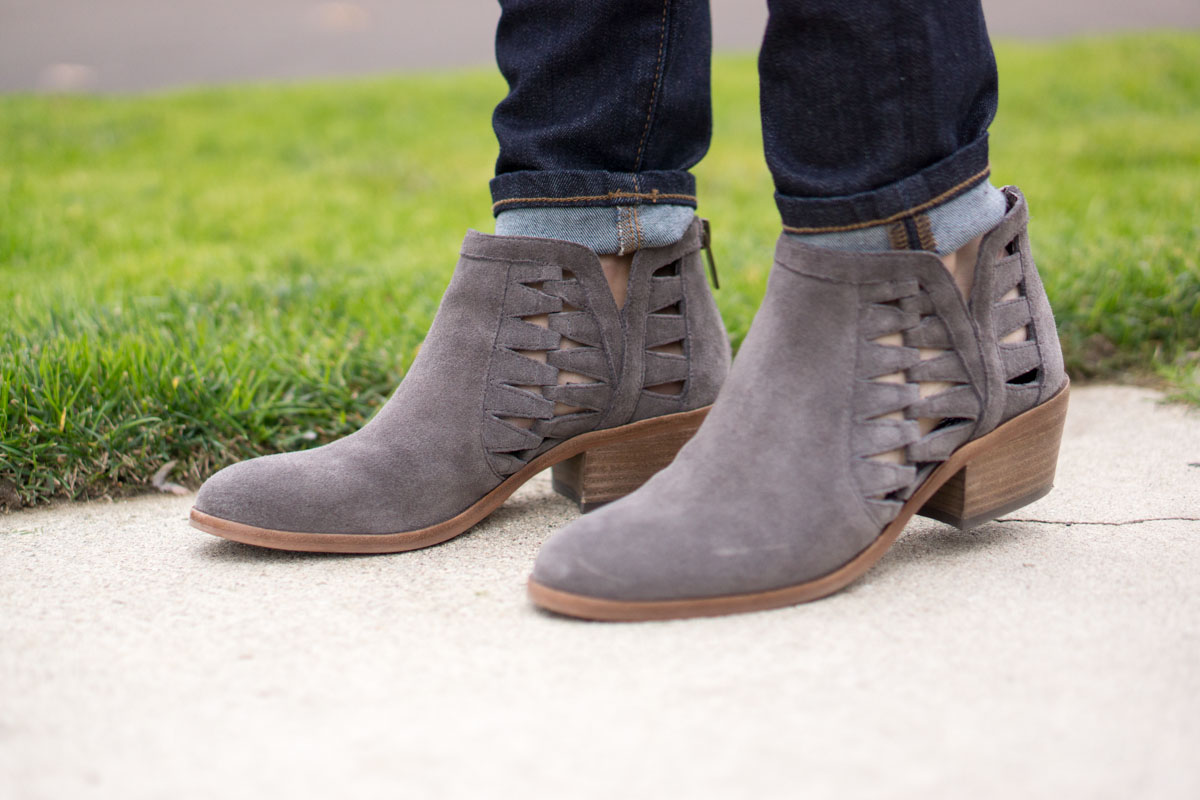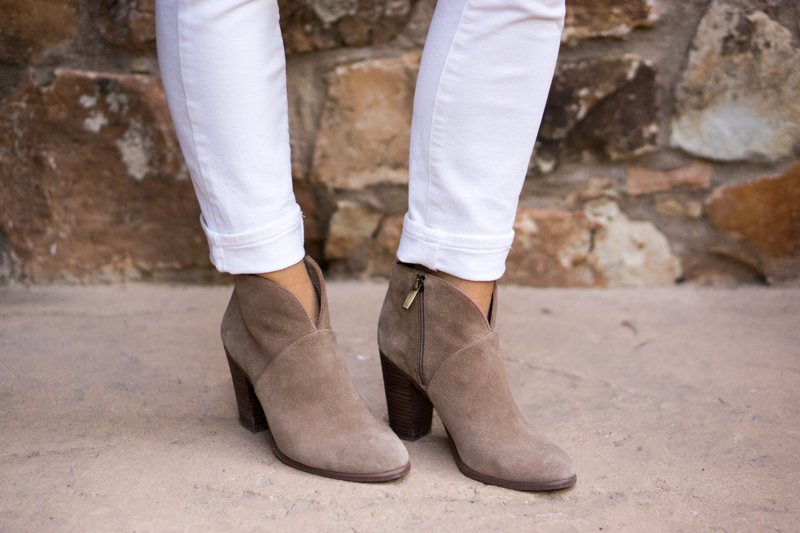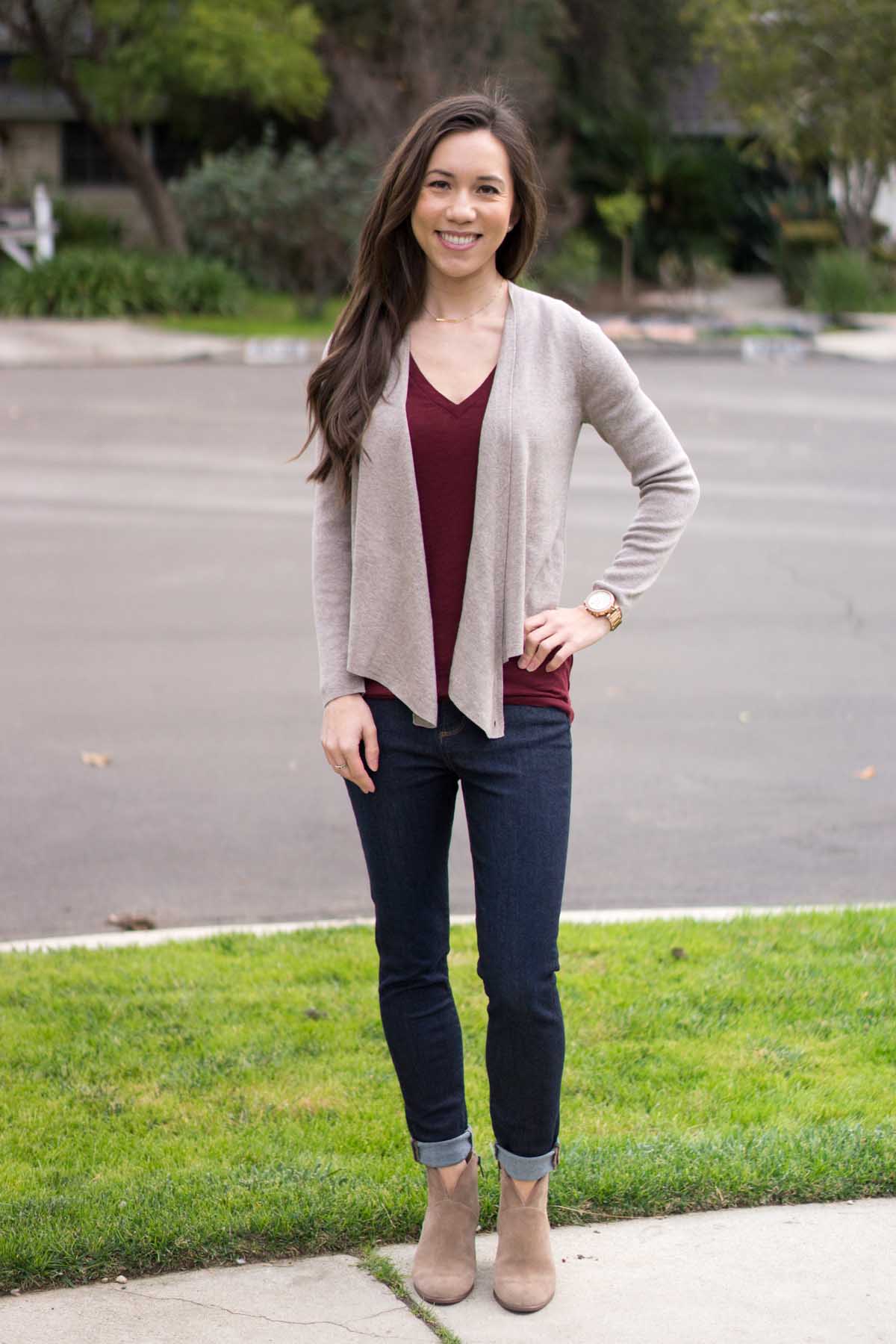 Outfit: Vince Camuto Franell Size 6 (my blog post, similar HERE, HERE or HERE); J. Crew Tee XXS; NIC+ZOE cardigan Petite P (my blog post with video); Banana Republic Jeans 24; Sheec Socks (my blog post + coupon code)
More Fall Ankle Booties I Recommend (click image): 

Don't forget to head over to my No-Show Socks Post to learn more about the Sheec socks I wear with each of these boots or ankle booties! (+ a coupon code!)
Thank you for reading! My goal is to reach 1,000 more women by the end of 2017. Help me achieve this goal. Share this post using the teal buttons.   
Follow my updates on Social Media & Subscribe to Emails
Twitter | Facebook Page | Instagram | YouTube | Pinterest
Sign up to get my 2018 Winter Style Challenge // 25-Piece Winter Capsule (it's free)