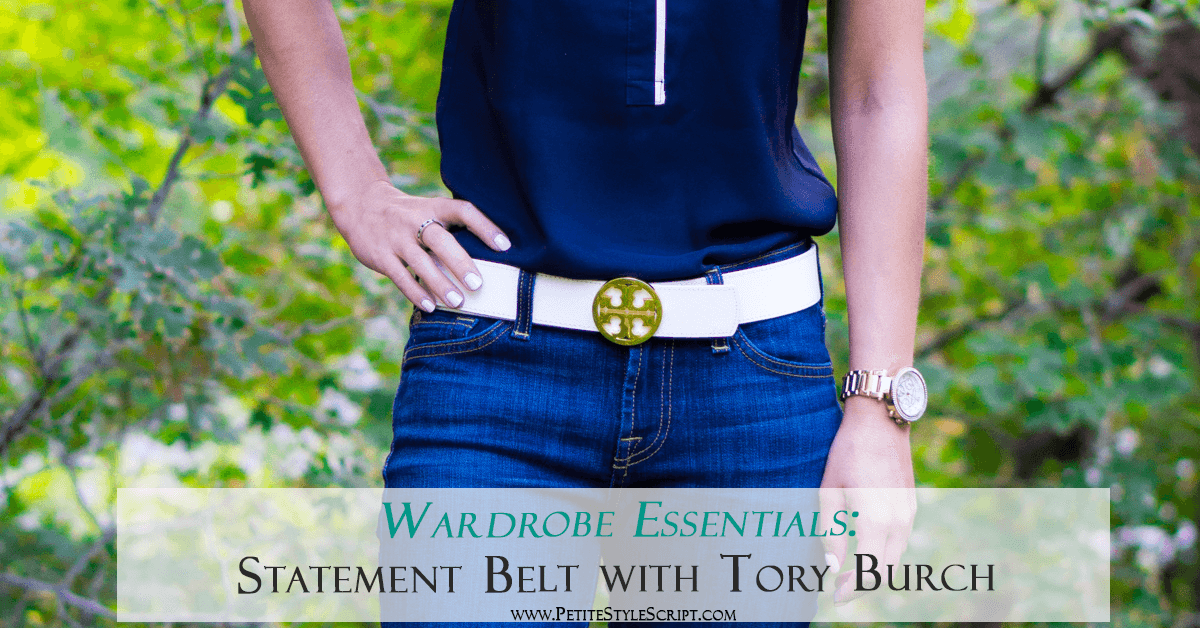 Wardrobe Essentials: Statement Belt with Tory Burch 
Today I'm excited to talk more about Wardrobe Essentials. You've seen me in versatile accessories time and time again. And today I am finally talking in more depth about statement belts! My favorite one? The Tory Burch Reversible Belt! I've also linked up others below for more options. Today I will discuss Wardrobe Essentials: Statement Belt with Tory Burch! 
A statement belt is essential; I already talked in depth about one of my other wardrobe essentials with a classic, everyday belt – Talbots Reversible Belt (review HERE) – and now I want to bring in another belt style into our wardrobe essential series.
Let me discuss 3 reasons why I love statement belts and why you often see me in my Tory Burch Reversible Belts!
Note: This post may contain affiliate links; full disclosures HERE.
Why a statement belt is a wardrobe essential!
Click To Tweet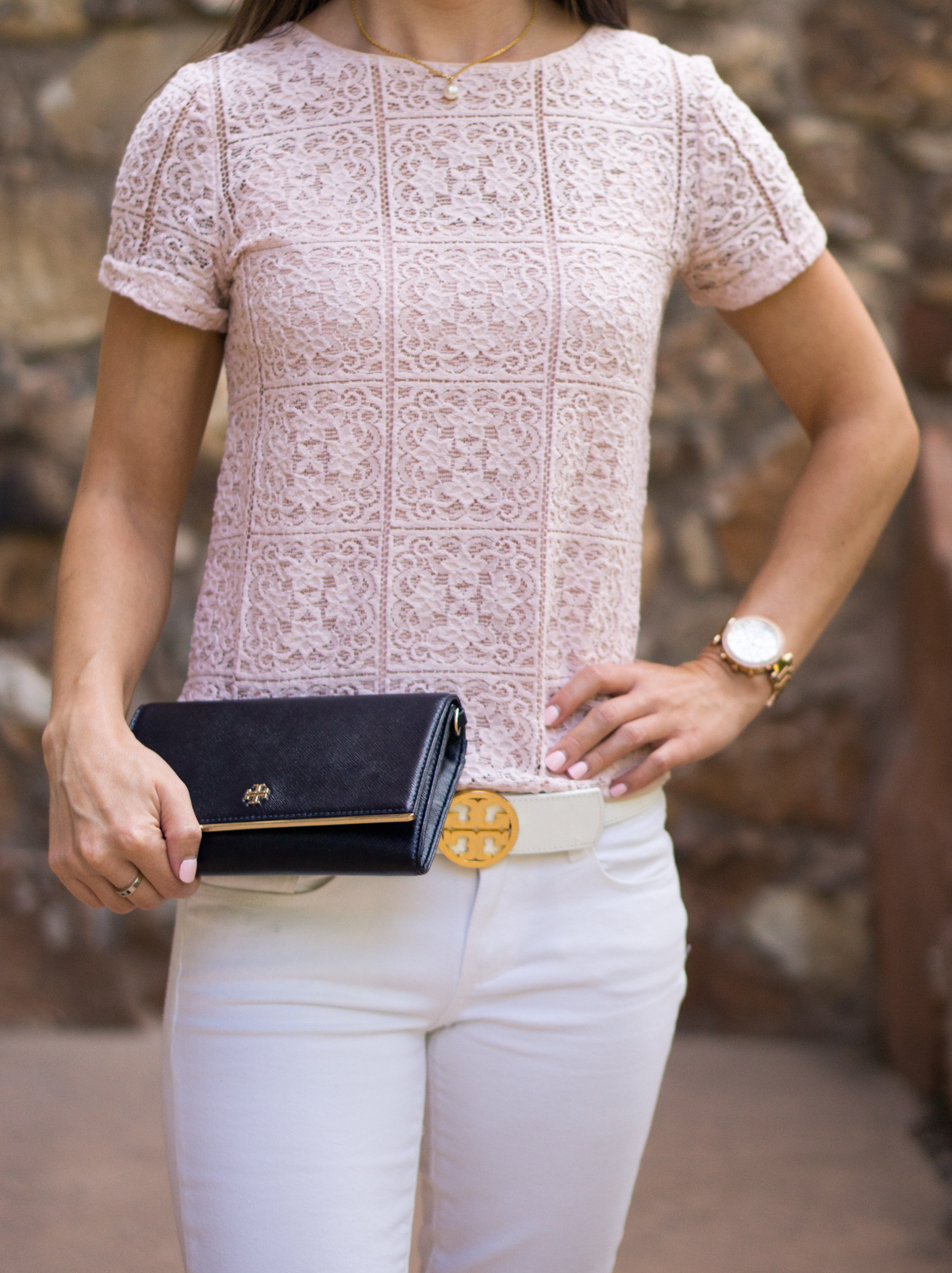 Outfit: Tory Burch Reversible Logo Belt Size XXS; Tory Burch Robinson Chain Wallet or HERE (my review HERE); Paige Denim Size 24; Ann Taylor Lace Top Petite XXS (old)
3 Reasons Why a Statement Belt is a Wardrobe Essential
Versatility: A statement belt easily transitions an outfit from work to evening wear or casual wear! It can be paired with work pants such as my favorites from Banana Republic (the Sloan version) or denim jeans. The statement belt breaks up the outfit – creating visual interest and also allowing you to tuck in your top to accentuate your waist!
Classic: A statement belt is a classic item in your wardrobe – as with all wardrobe essentials, a piece should not go out of style with passing trends or fads. Belts in general are classic items that make excellent wardrobe staples. Purchasing a statement belt in neutral colors and hardware – such as a gold buckle – helps keep it classic.
Practical: You may not realize that I don't only wear belts for style, they are very functional. For example, I'm very petite and recently lost more weight in my waist/thigh area (thank you Orange Theory Fitness for your cardio classes!) and now my work pants are a little loose in this area. A belt is an everyday must for me now! No one wants their pants sliding down at work! (full details on my size measurements on my About Page – currently wearing size 23 in jeans, 00P work pants)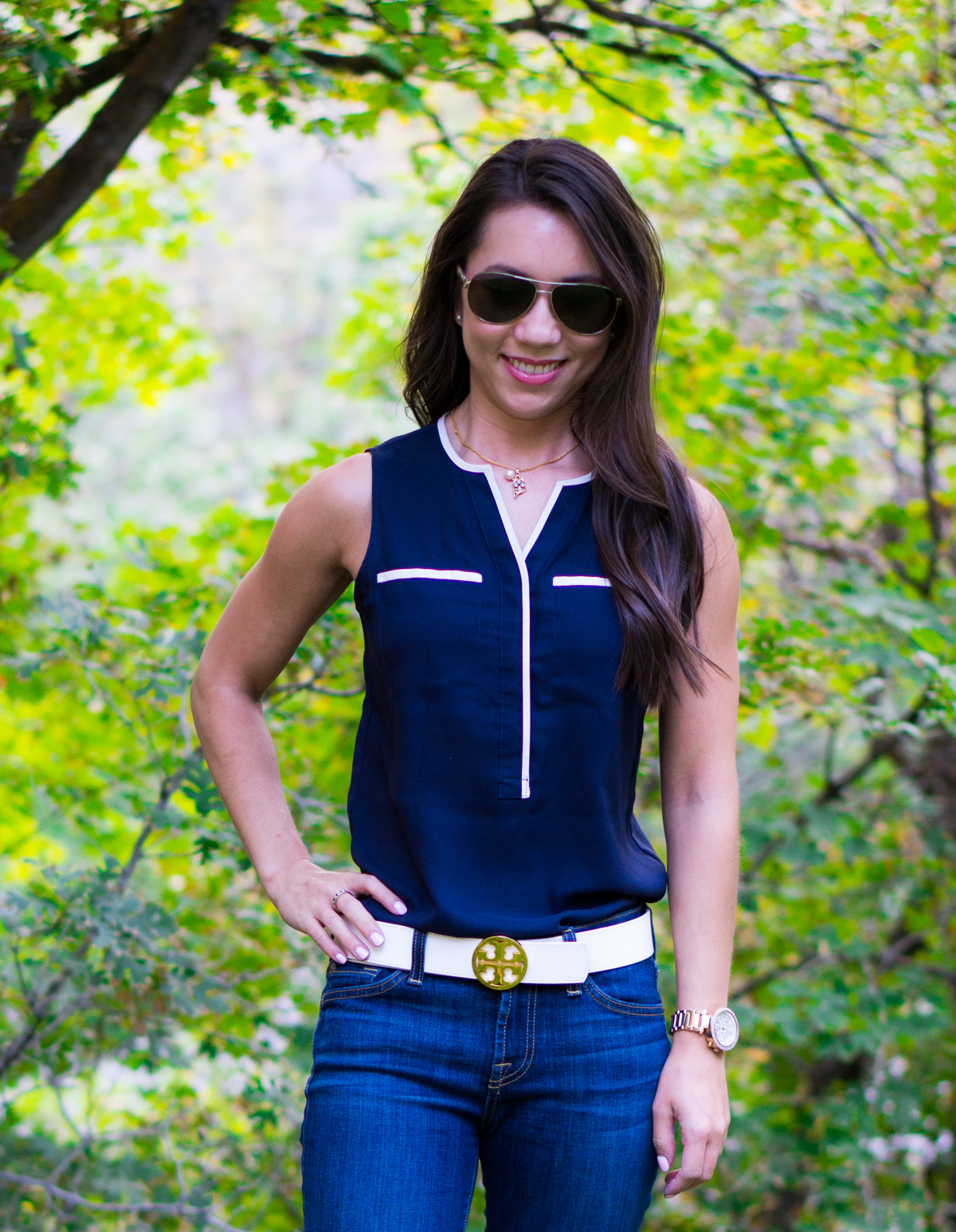 Statement Belt Options: 

Why I love the Tory Burch Reversible Logo Belt
Petite-friendly: Of course, I have to mention this! I was able to purchase the XXS size and it did NOT require more belt holes to be added! YAY! Please note, I do NOT wear this Tory Burch Belt at my natural waist though – I wear it with pants which mostly sit lower on my waist. Natural waist would mean I use this belt to cinch dresses – I prefer skinny belts for this purpose
Reversible: A reversible belt is SO practical! Many of my belts are reversible (yes, you see me in the Talbots Reversible Belt often and those are all reversible. Who doesn't like getting 2 belts in 1! The 2 I own are: white and tan/taupe/khaki color and camel and pastel blue color.
Gold Hardware: I love the gold logo hardware on this Tory Burch Belt! I think it looks much better than silver hardware and also continues to coordinate well other Tory Burch accessories I own – such as my very versatile Tory Burch Robinson Chain Wallet – reviewed HERE or video HERE.
Many options available: There are many color options available along with an extended size range and belt width range that Tory Burch offers! I opted for the 1.5 inch width but the 1 or 1.25 inch ones are just as amazing!
Classic: As I stated above, this is a wardrobe essential and classic piece. Tory Burch continues to bring this reversible logo belt back season after season. There are minor updates sometimes and more color options!
Who doesn't like 2 belts in 1?
Click To Tweet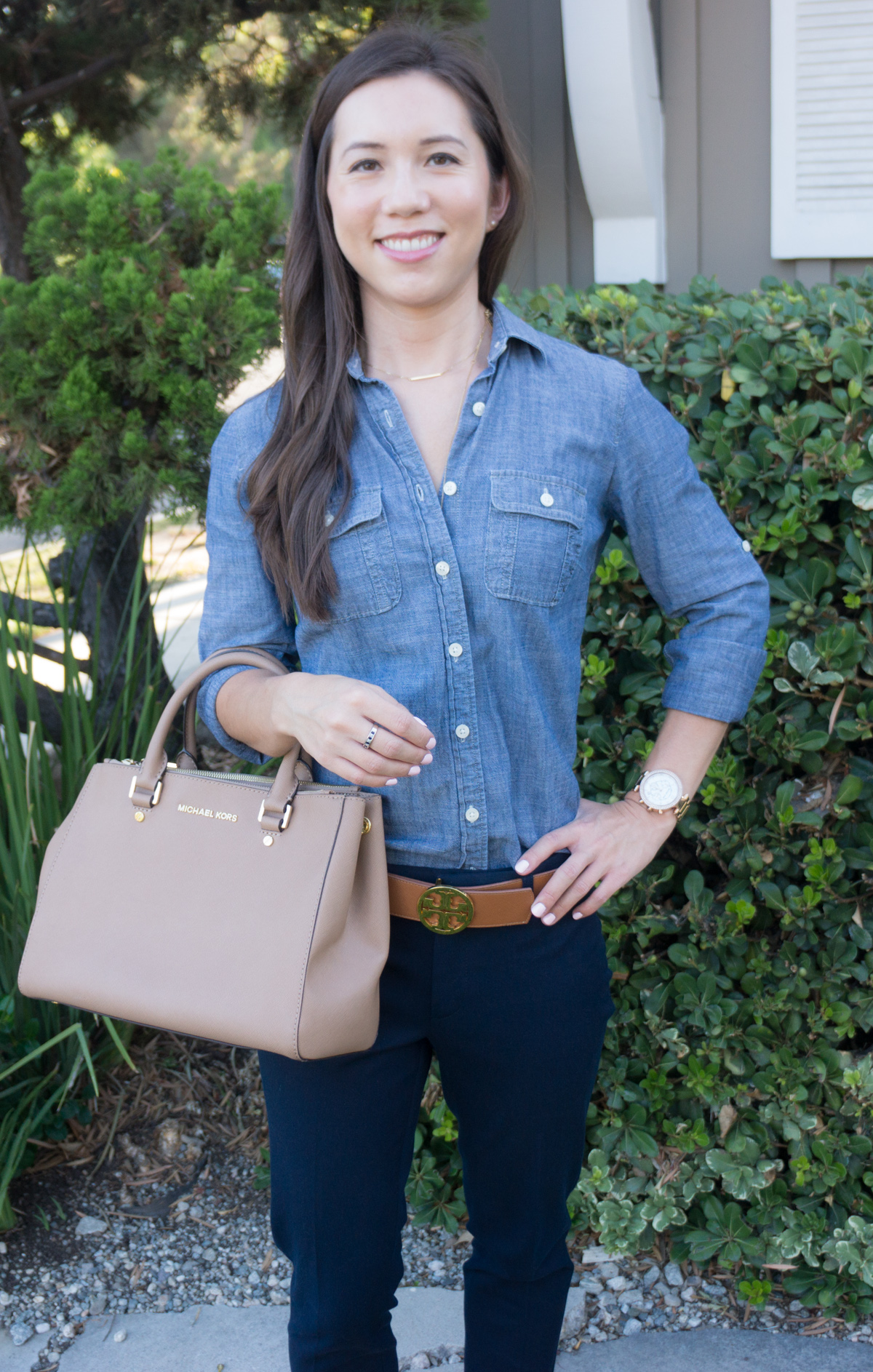 Do you own a statement belt? If so, what color and brand is your favorite?  Please leave a comment.
And if you think your friends would find this post helpful, please click to share via my teal Social Media Buttons! As always, thank you for reading.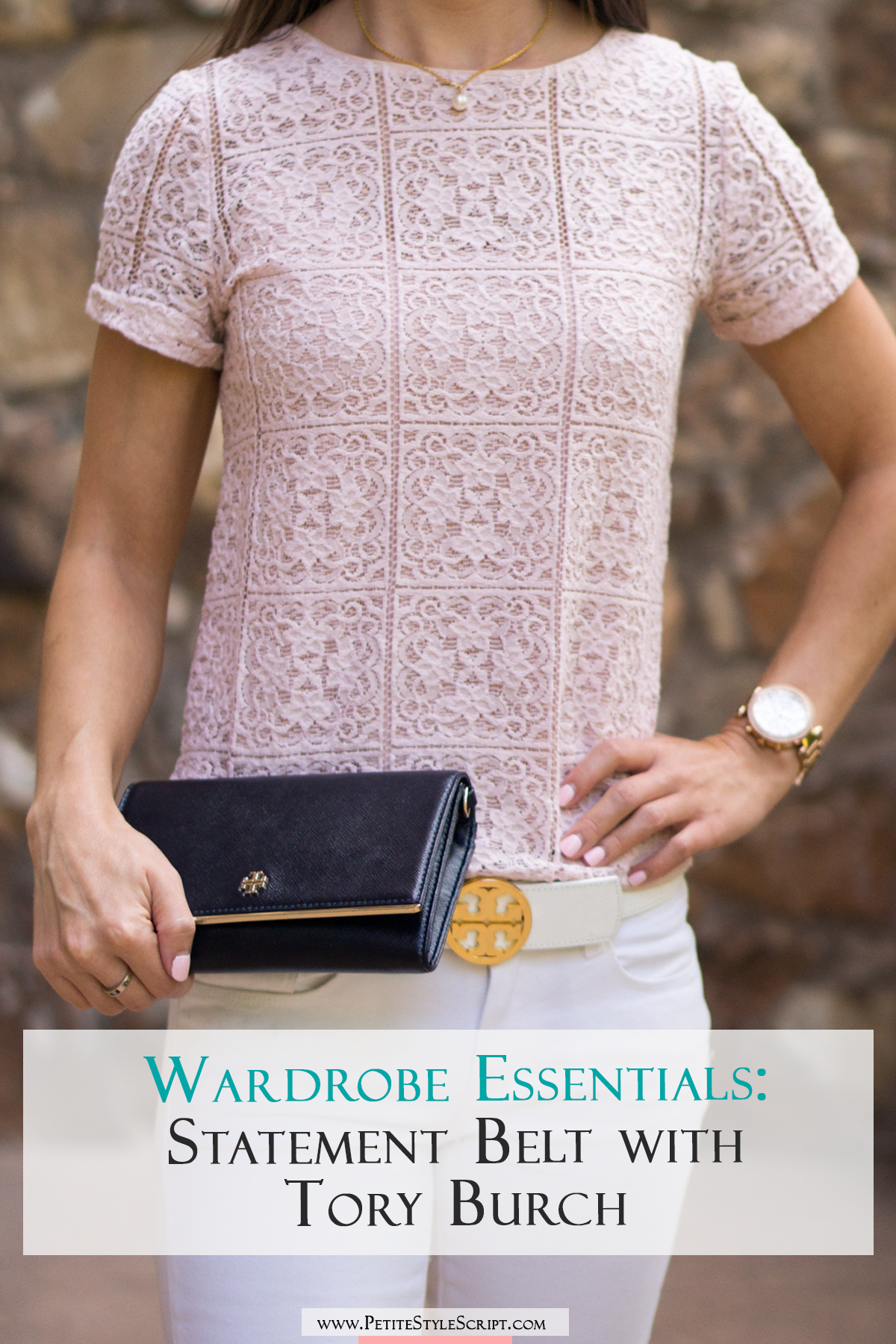 Sign up to get my 20-Piece Capsule Wardrobe Starter Kit + Shopping List (it's free!)