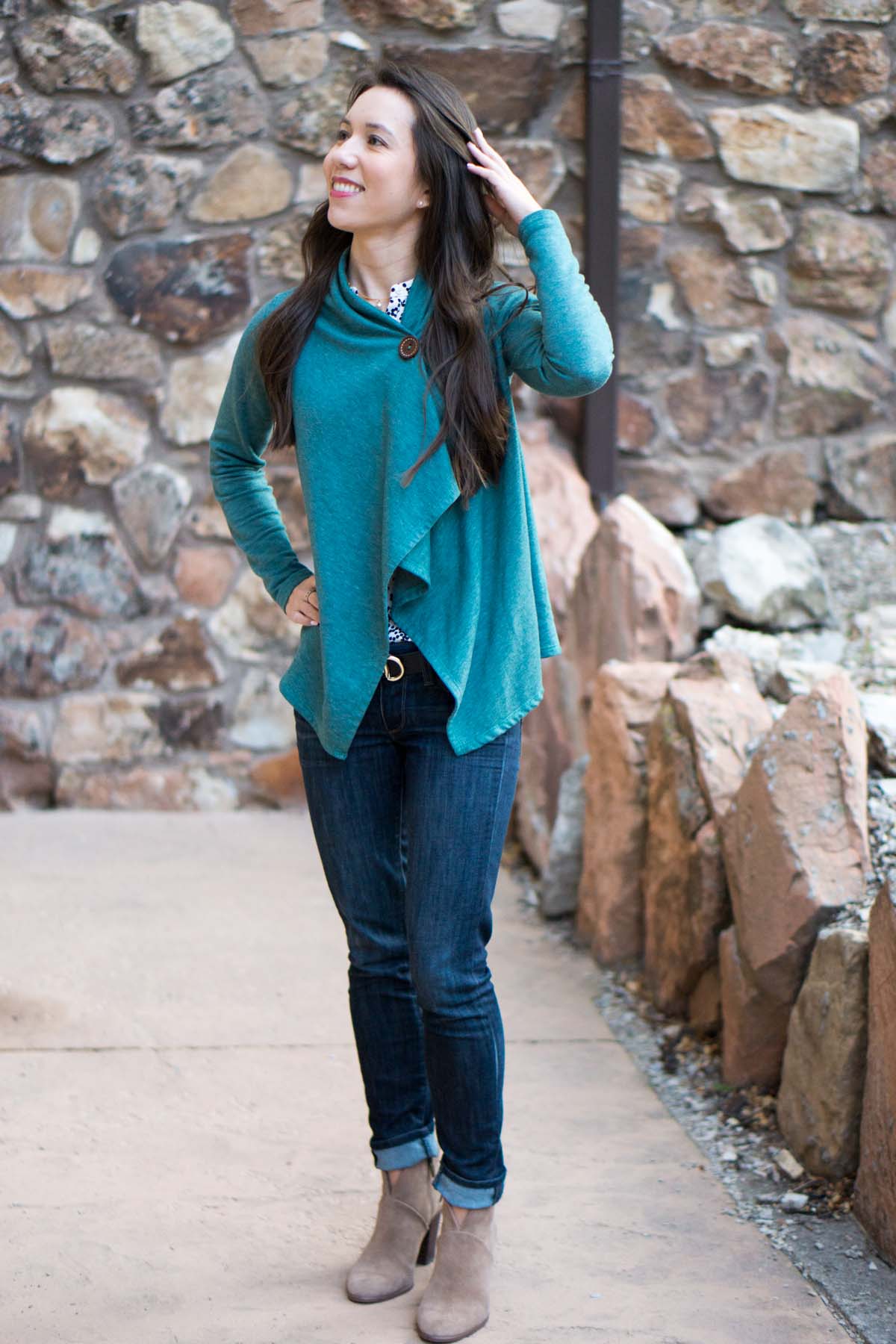 Wardrobe Essentials: Bobeau Fleece Cardigan Review
Today I'm excited to talk more about Wardrobe Essentials. You know I love versatile pieces and classic items that are also practical. That is why a layering cardigan is a must! As weather fluctuates throughout the country right now, where else do I turn but my go-to fleece wrap cardigan! Today I will discuss Wardrobe Essentials: Bobeau Fleece Cardigan Review.  
A cardigan is essential; I already talked in depth about one of my other wardrobe essentials with this NIC+ZOE 4-Way Convertible Cardigan and how I wear it 4 ways in my previous post HERE! This Bobeau One-Button Fleece Wrap Cardigan is another wardrobe staple that functions a little differently than the NIC + ZOE cardigan. Let me discuss why I love it!
Note: This post may contain affiliate links; full disclosures HERE.
The perfect fleece lined wrap cardigan; perfect for any season!
Click To Tweet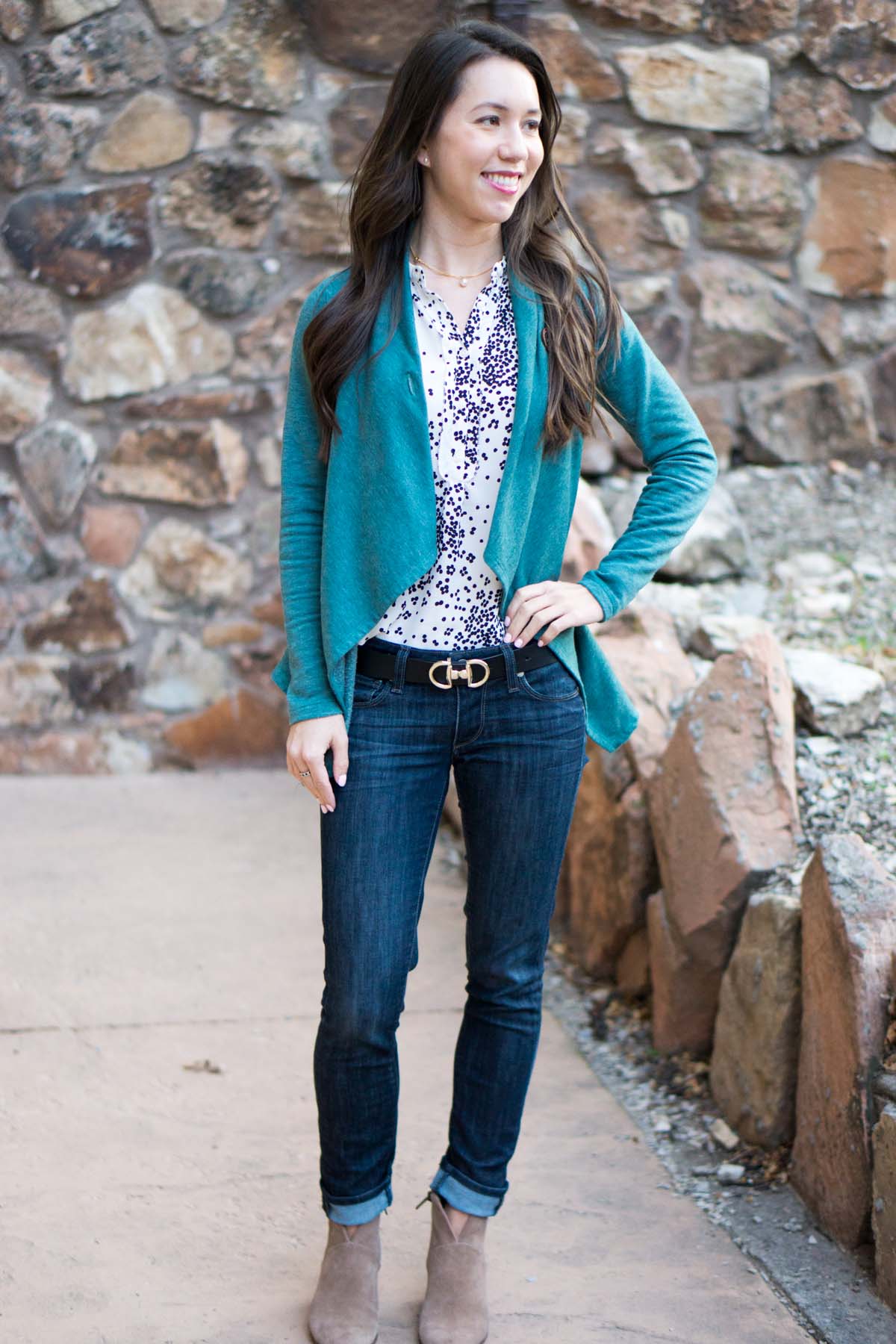 Outfit:  Bobeau One-Button Fleece Wrap Cardigan (Petite XXS); Ann Taylor Floral Sleeveless Blouse Petite XXS; Paige Denim Size 23; Vince Camuto Franell Booties Size 6 (my review HERE); Talbots Reversible Belt XS (my review HERE); BaubleBar Slim Pendant Necklace
Why I love the Bobeau Fleece Cardigan
Fleece Lining:

 One of the best features to keep you so cozy! I love knowing that this Bobeau wrap cardigan will keep me warm all-day long with this fleece lining. It is super soft too!
Petite-Friendly Fit: This wrap cardigan comes in regular and petite sizing. I am wearing the Petite XXS size and it fits very well. No alterations or tailoring required! The cardigan fits well in the shoulder width and arm length – big wins for us petite ladies! See my full measurements on my About Page.
Color Options: Available in 20+ colors! That is incredible! No matter what your favorite color is, Bobeau has you covered! I opted for a classic neutral color with the "mink" color and a beautiful green color. My sister also owns the "blue mazarine" that is gorgeous.
Work or Casual Wear: I initially thought I would only wear this cardigan for casual outfits outside of work. I have worn it to work a few times and think that it transitions nicely. This is in a more business casual environment. It also helps since I'm always cold at work & even use a heating fan in my office to keep warm! The fleece lining is  so cozy at work!
One-Button: The design of this cardigan is so unique! You can either wear it open or buttoned and it drapes nicely for a loose fit.
Who else makes a wrap cardigan in several color options, petite-friendly sizing, and o so cozy fleece?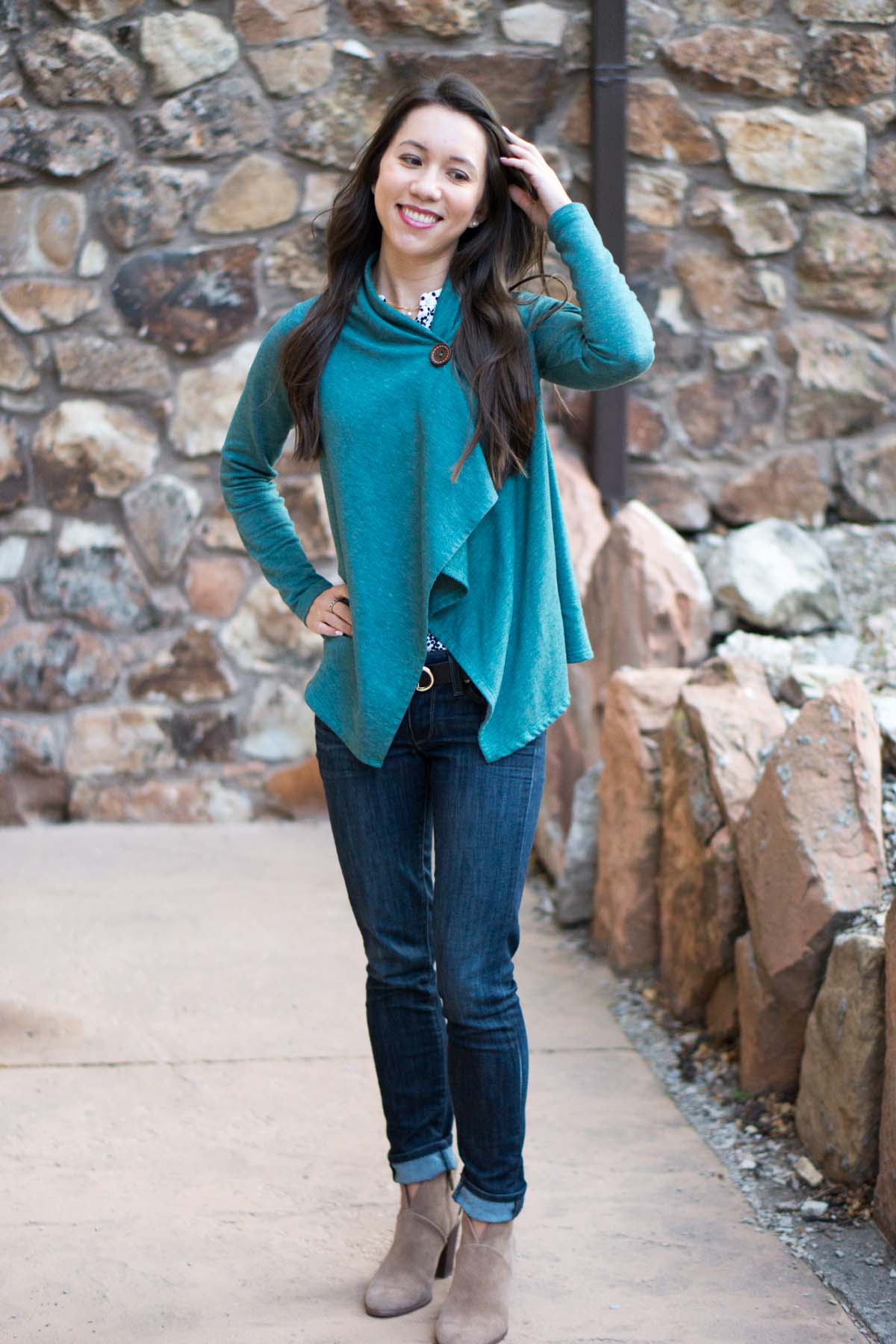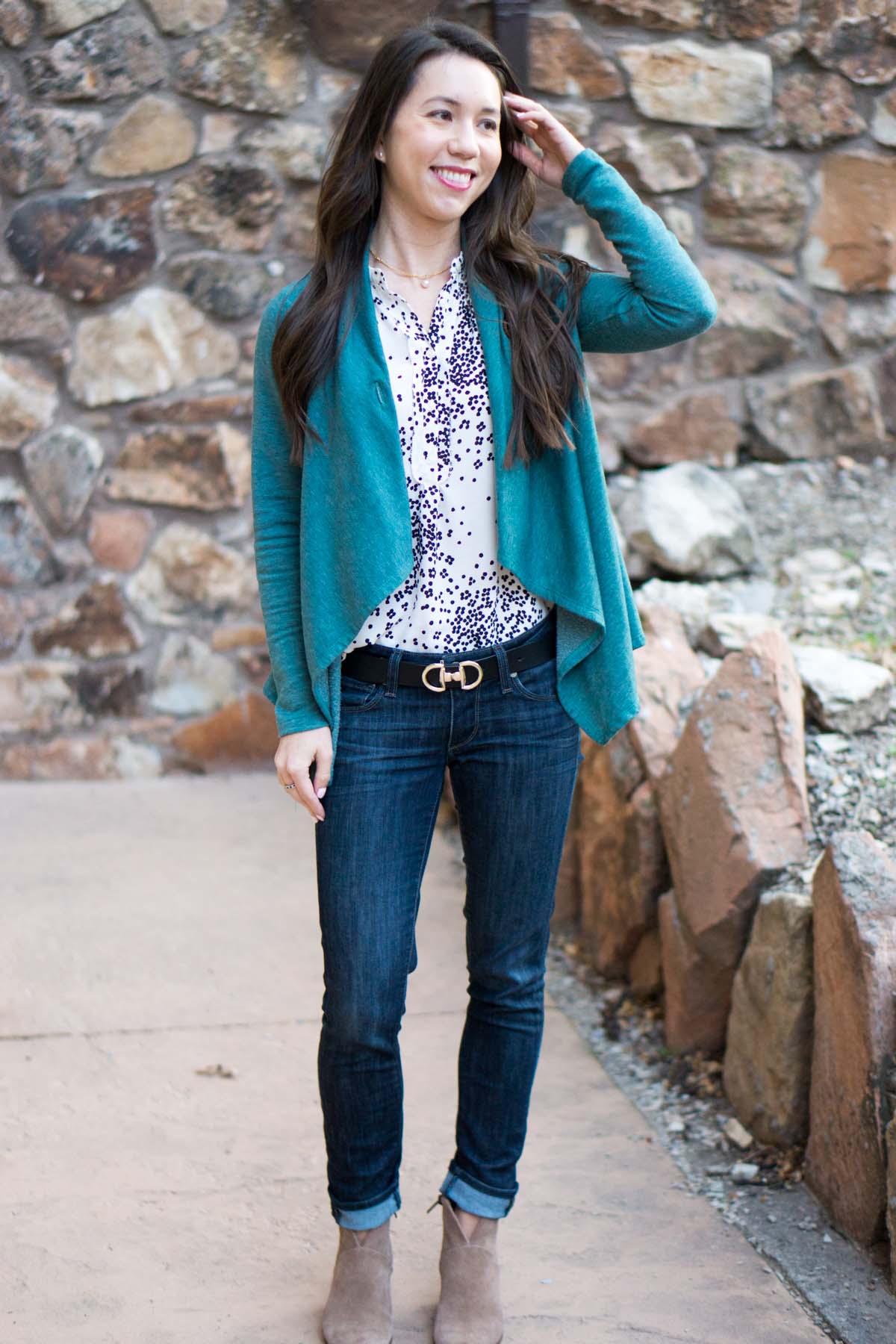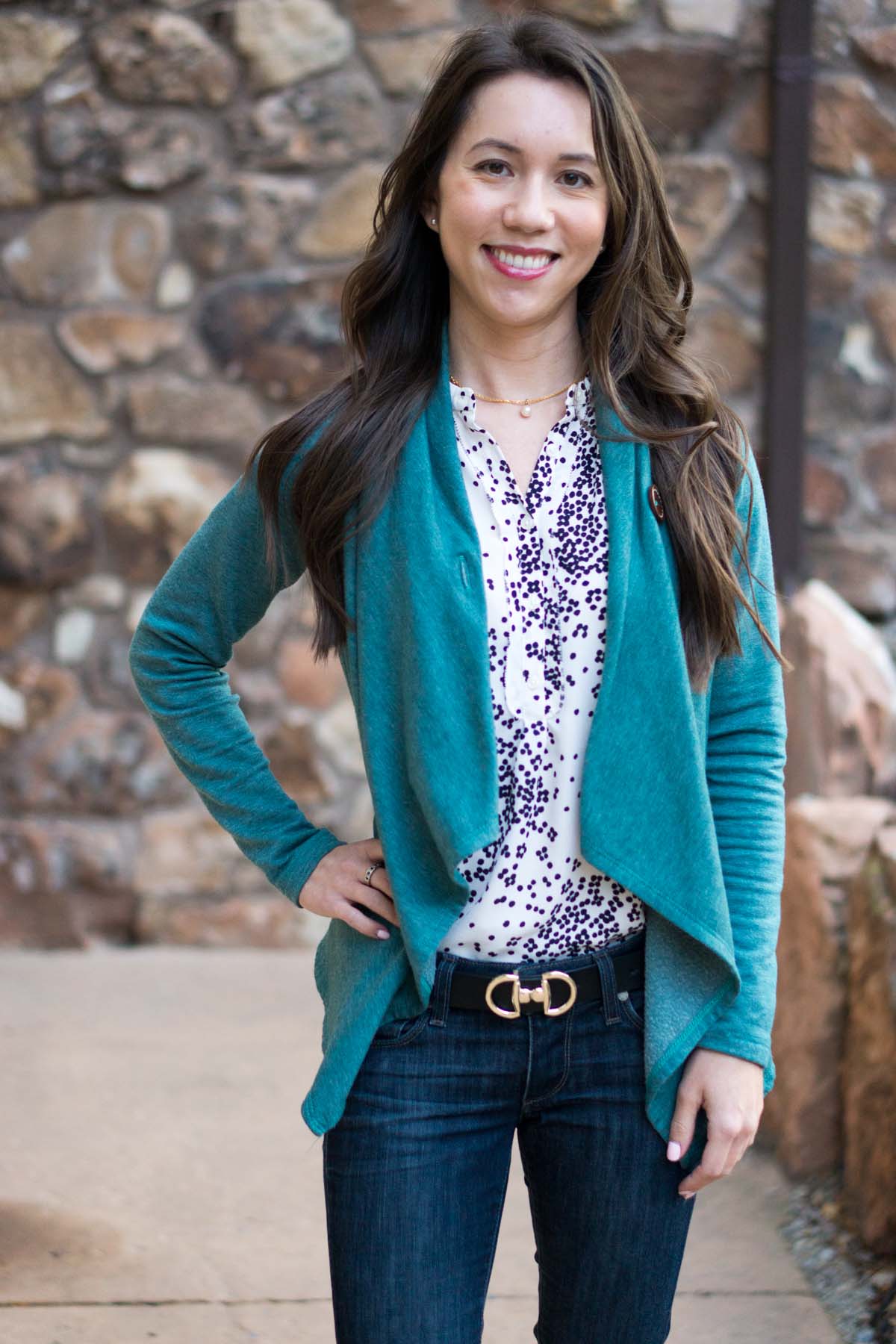 What is your favorite color Bobeau Fleece Wrap Cardigan?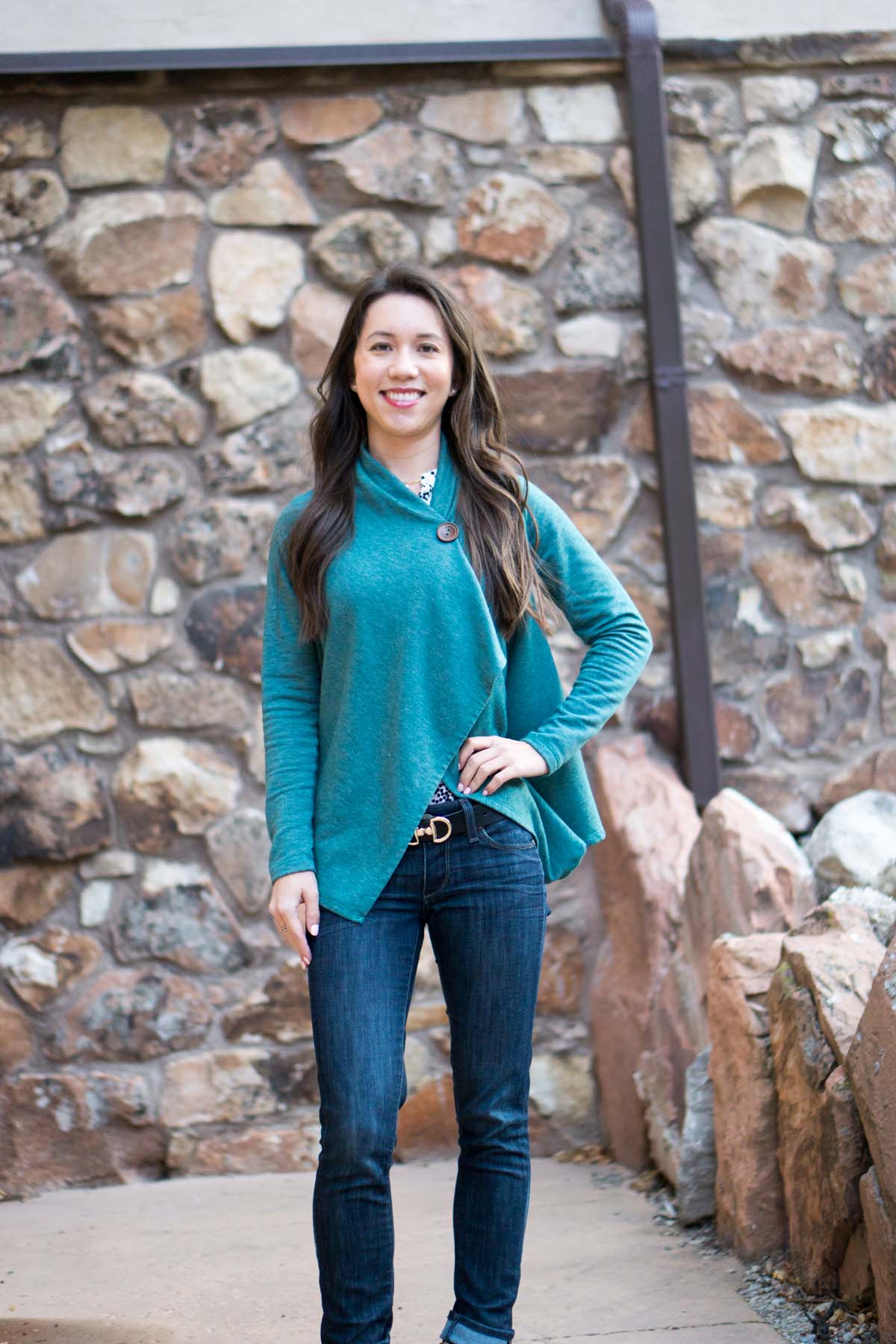 Sharing is Caring! Please consider sharing it with friends via my Teal Social Media Sharing Buttons!
Be sure to sign up for my email list BELOW for future updates & other style advice! Don't worry, I'm not into spam and you'll have access to subscriber-only content, style tips and freebies.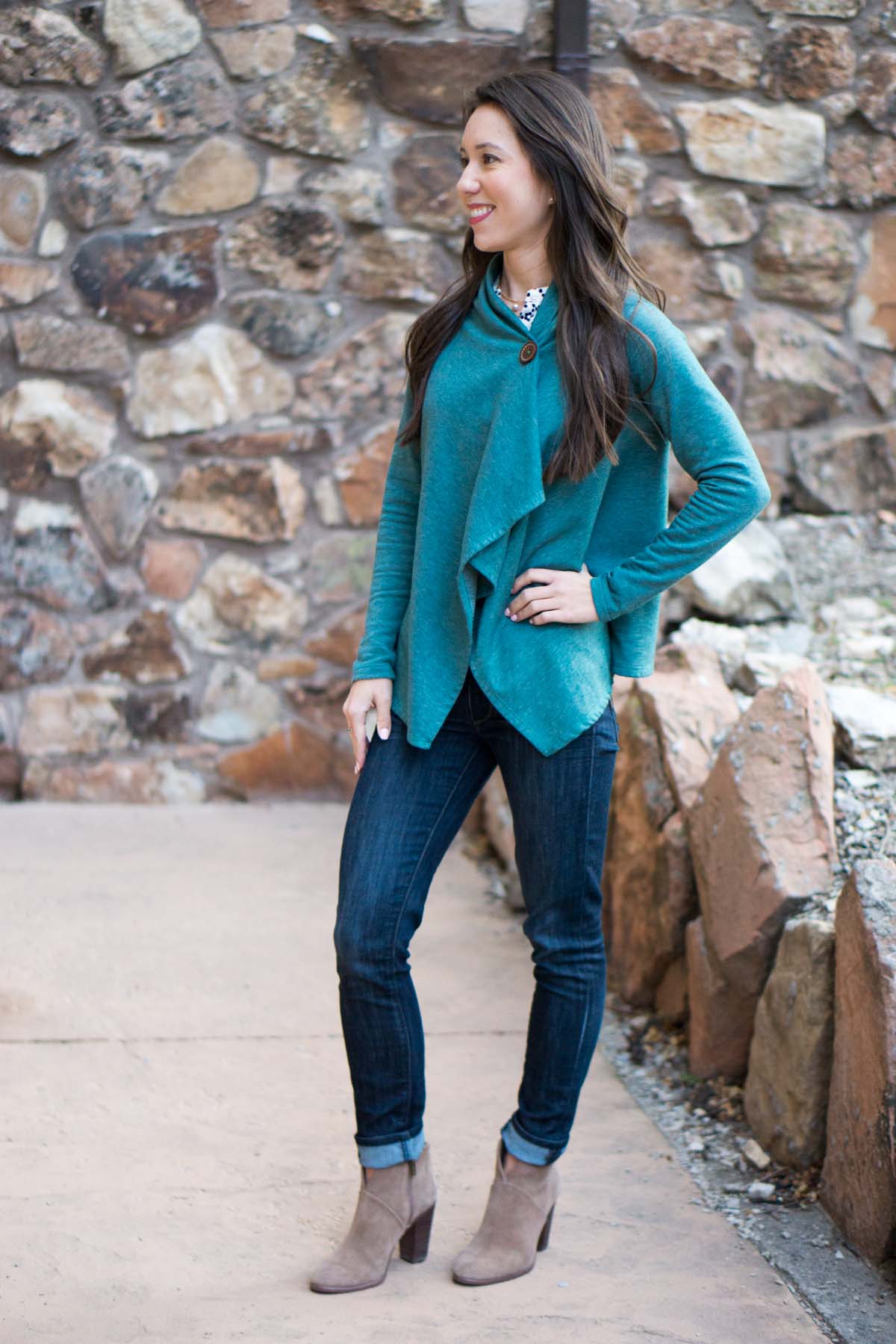 Sign up to get my 20-Piece Capsule Wardrobe Starter Kit + Shopping List (it's free!)