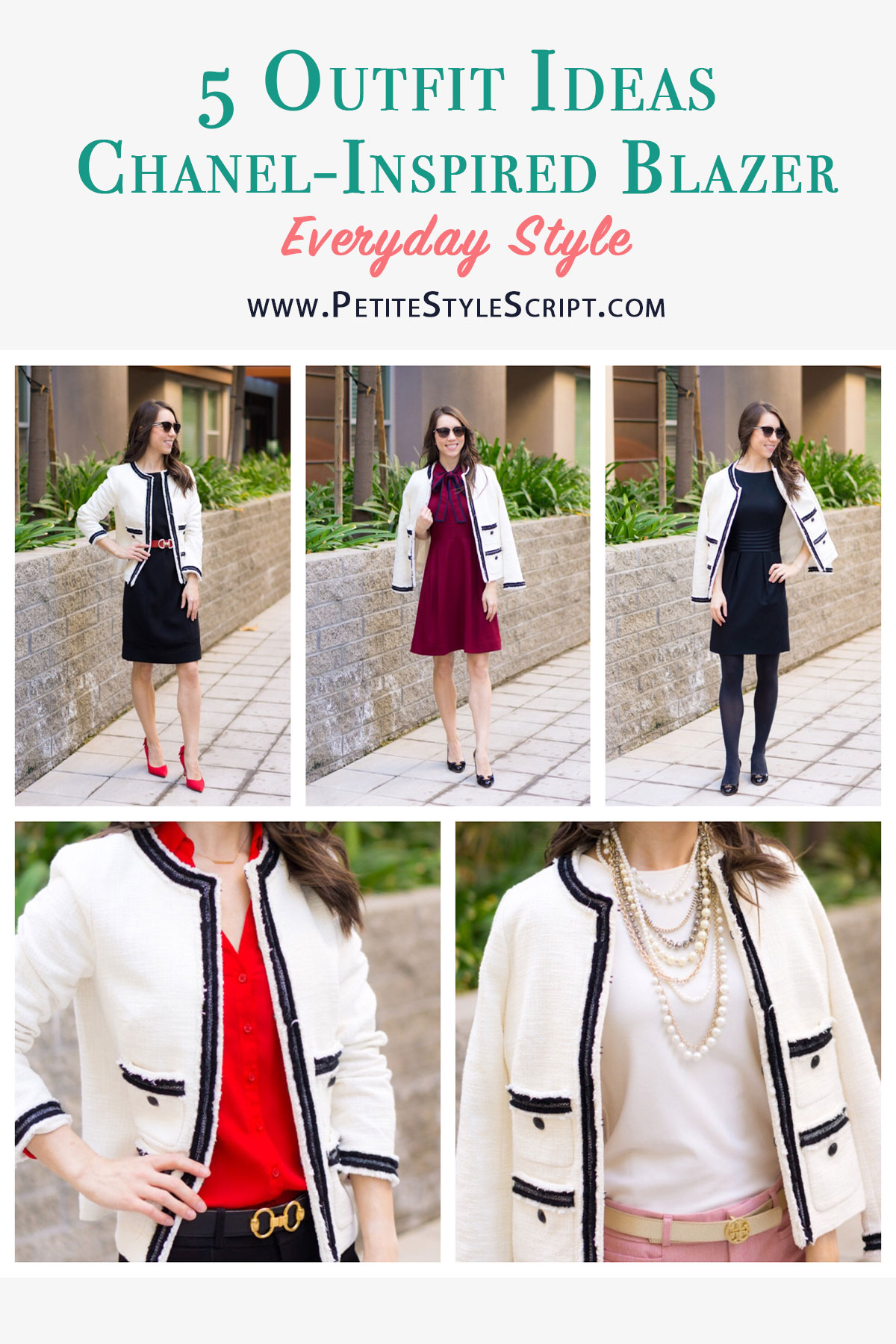 Inspired by Chanel | 5 Outfit Ideas with Chanel-Inspired Blazer
As a busy professional, putting together a variety of work outfits is a must. I love classic styles and finding items that will be versatile workhorses in my wardrobe. I've always been inspired by Chanel and their classic items, particularly their classic blazer. When I finally found a similar one at a fraction of the price, I immediately picked it up! Let's talk about how to use a classic blazer like this one to put together 5 different Work Outfit Ideas!
I'm styling work outfits ranging from business casual to business formal today.
Note: This post may contain affiliate links; full disclosures HERE. This means, purchasing an item through one of my links may earn me a small commission without affecting your own purchase. Thank you for supporting Petite Style Script & helping it continue as an educational resource. 
Shop the Post (click image): 

This Chanel-inspired blazer has been selling out fast – it is more than 50% off if your size is still in stock! Here are a few more that I recommend that fit me well in petite sizing – option 1, option 2, option 3.
Classic Black Dress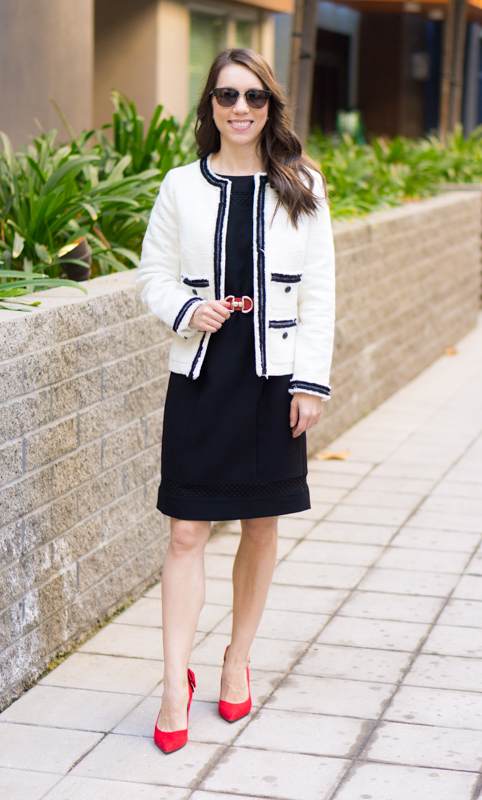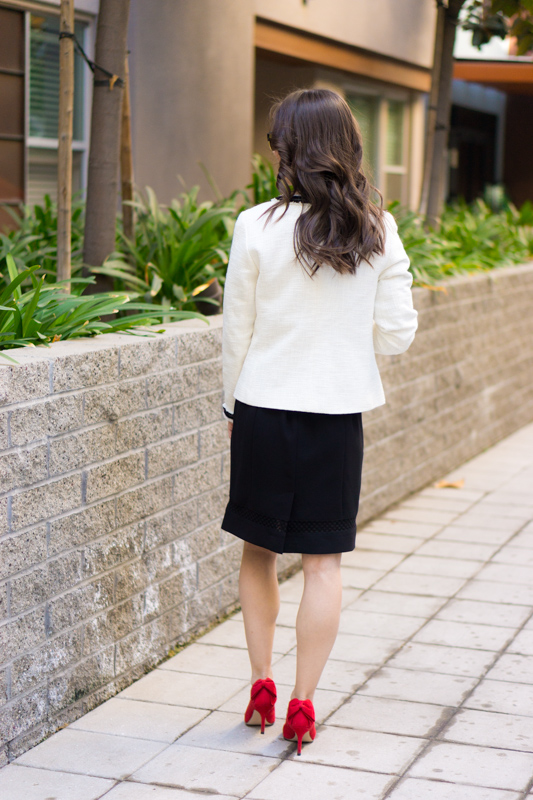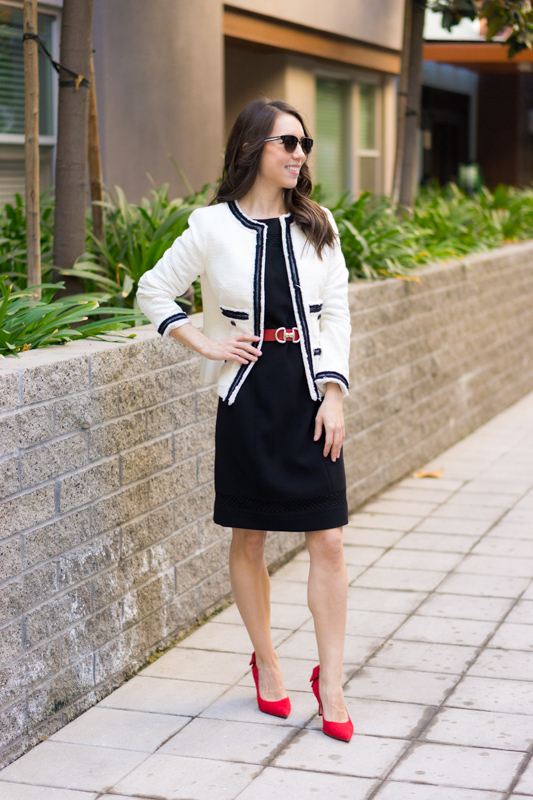 A classic black dress is a staple in all wardrobes and this one is a favorite sheath design from Talbots. I love adding a little color to an outfit and accented my waist with a red belt and red bow heels. This Chanel-inspired blazer was the perfect finishing touch to the outfit.
Shop the Outfit: 
Blazer: Talbots 0P c/o (exact or similar)
Dress: Talbots 2P c/o (exact or similar, my blog post on how to style 3 ways)
Belt: Talbots Size XS (exact)
Shoes: Talbots Size 5.5 c/o (exact)
Sunglasses: Tory Burch c/o (exact, more from this blog post) 
A Touch of Pink and Ivory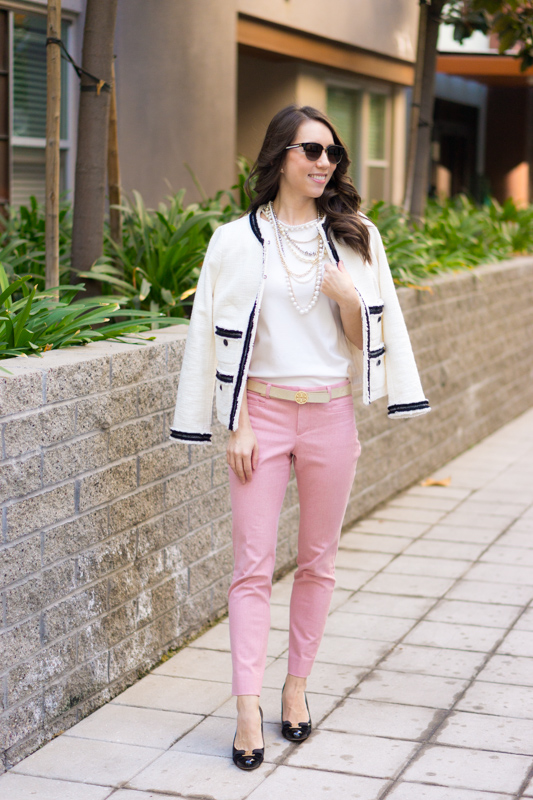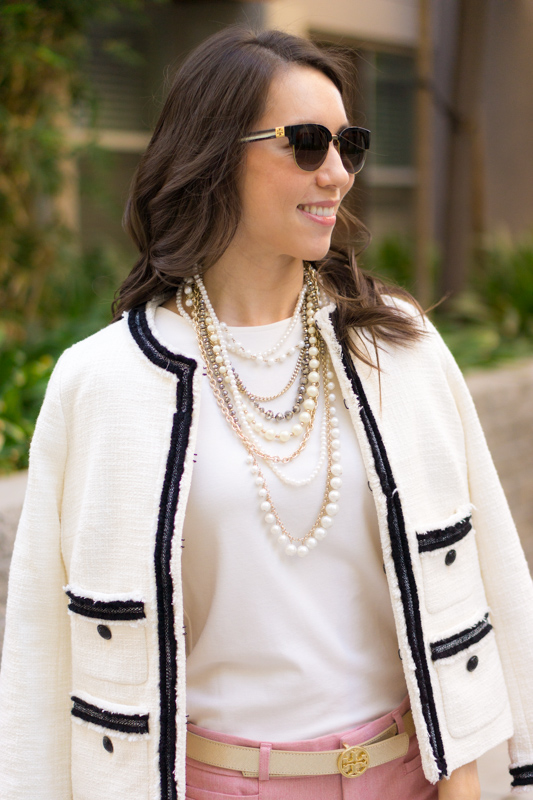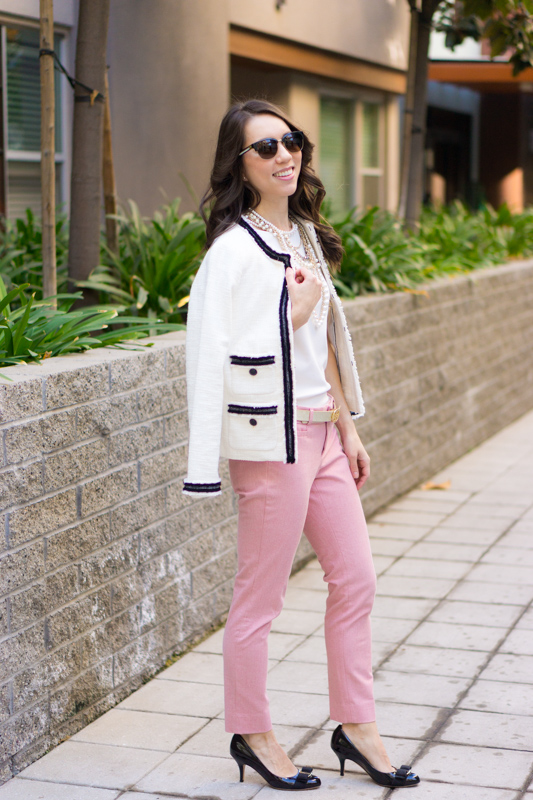 I love classic neutrals paired with a touch of color. These pale pink pants are the perfect pair to style with a simple ivory top. I accented this outfit with a pearl statement necklace, gold belt and black bow heels. The blazer tied the ivory and black elements of my outfit together perfectly.
Shop the Outfit: 
Pants: Banana Republic 00P (exact)
Top: Ann Taylor XXSP (similar) 
Belt: Tory Burch XXS (exact)
Shoes: Salvatore Ferragamo 5.5C (exact, my blog post)
Necklace: Ann Taylor (similar)
Burgundy Bows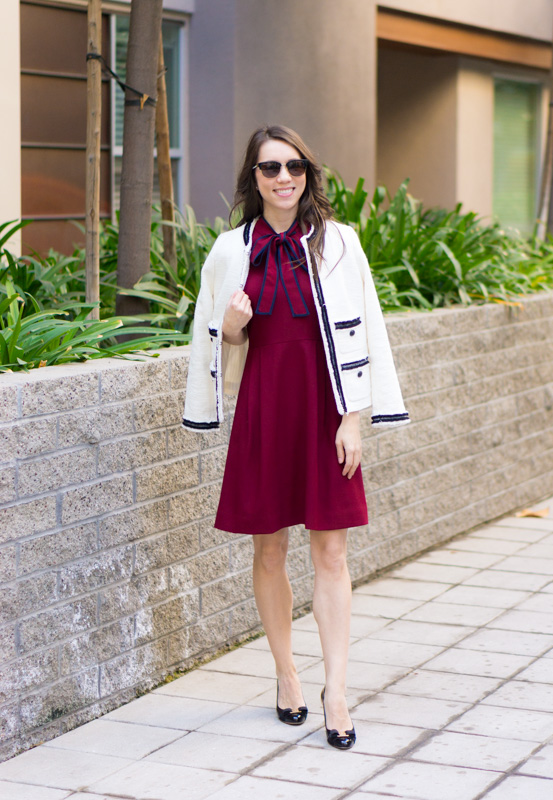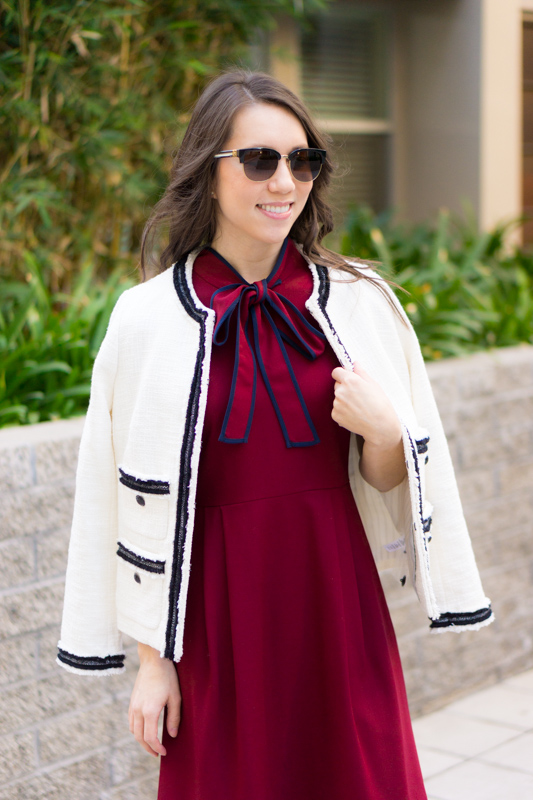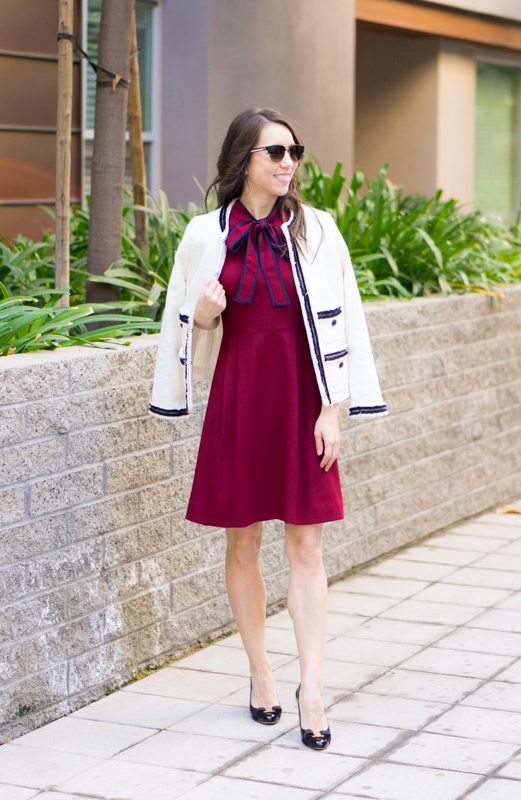 A fall color inspired this work outfit. I love wearing burgundy in fall and winter and the bow-tie neck accent on this dress elevates it to a more professional work outfit. I kept it simple by pairing this Chanel-inspired blazer over it with classic bow heels.
Shop the Outfit: 
Dress: J. Crew 00P (exact and similar, my blog post) 
Shoes: Salvatore Ferragamo 5.5C (exact, my blog post) 
Business Professional for Winter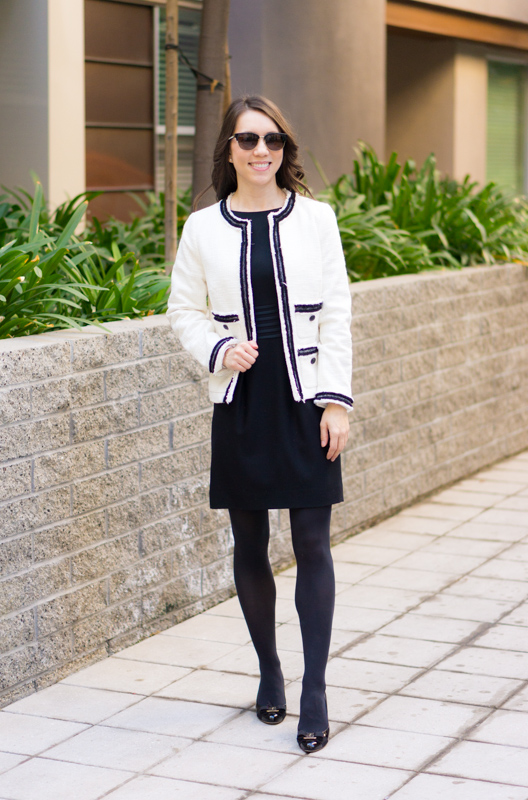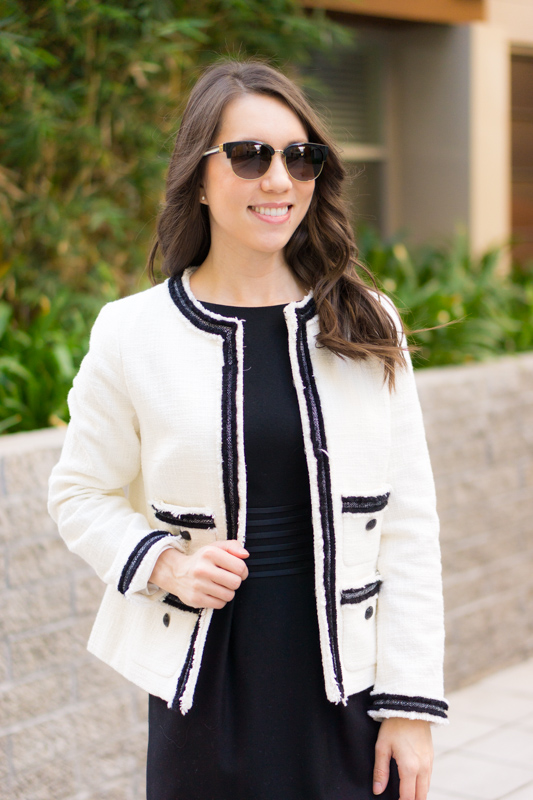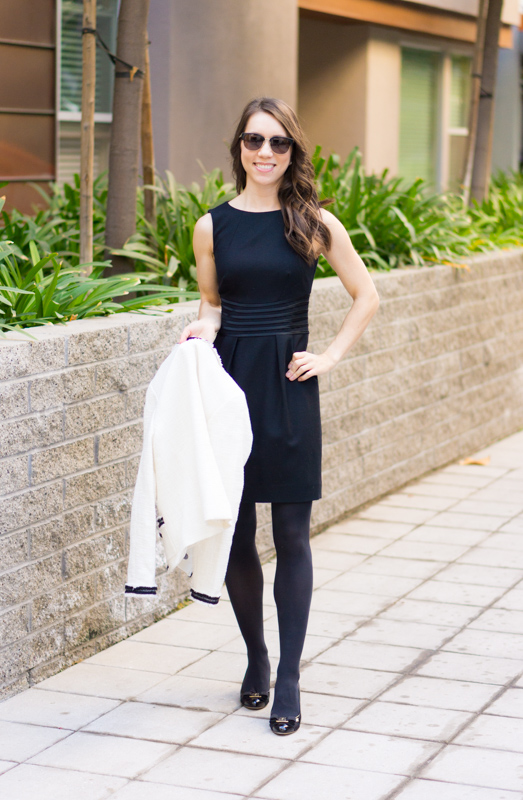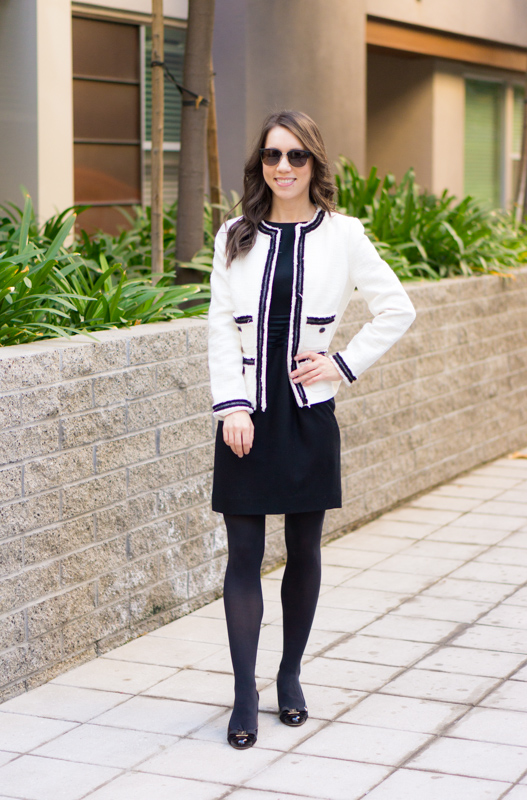 I know many of you are fighting cold temperatures right now and tights are a must with dresses! This inspired my next look with a classic black dress, black opaque tights (also come in fleece-lined version) and black heels. This is the ultimate chic work outfit and sure to turn heads at the office!
Shop the Outfit: 
Dress: Banana Republic 00P (similar here or here under $60) 
Tights: Talbots (exact and fleece version)
Shoes: Salvatore Ferragamo 5.5C (exact, my blog post) 

Say it in Red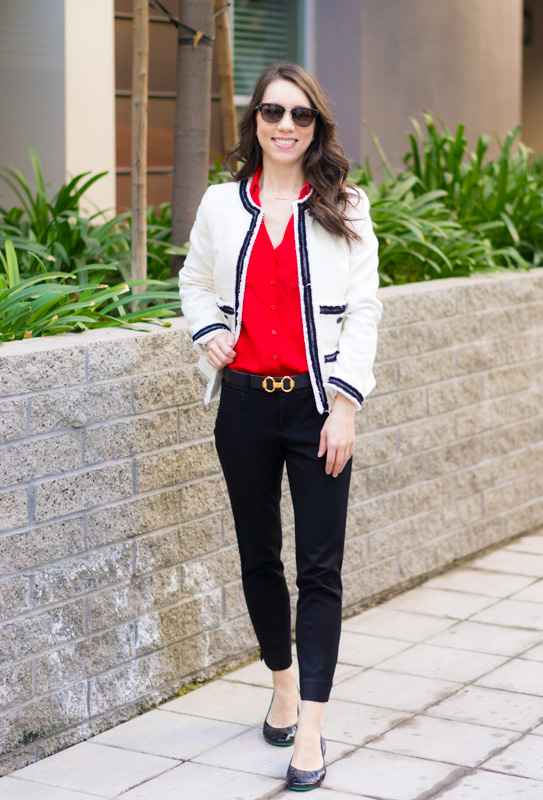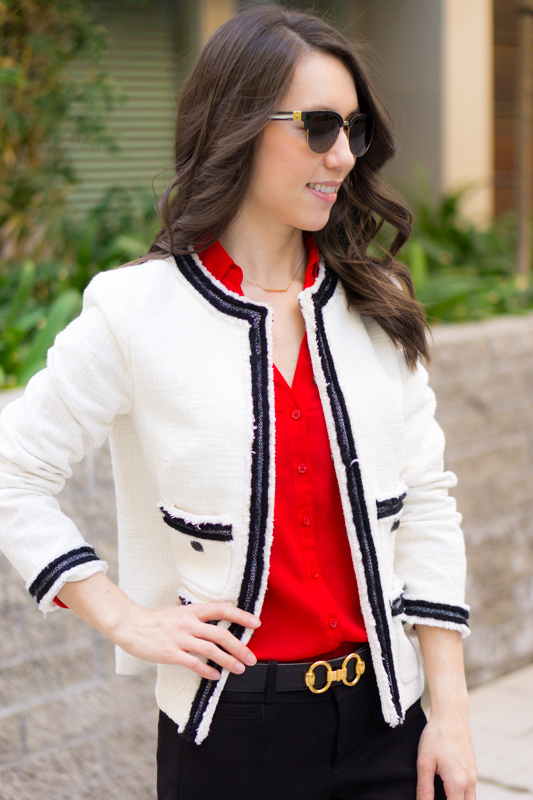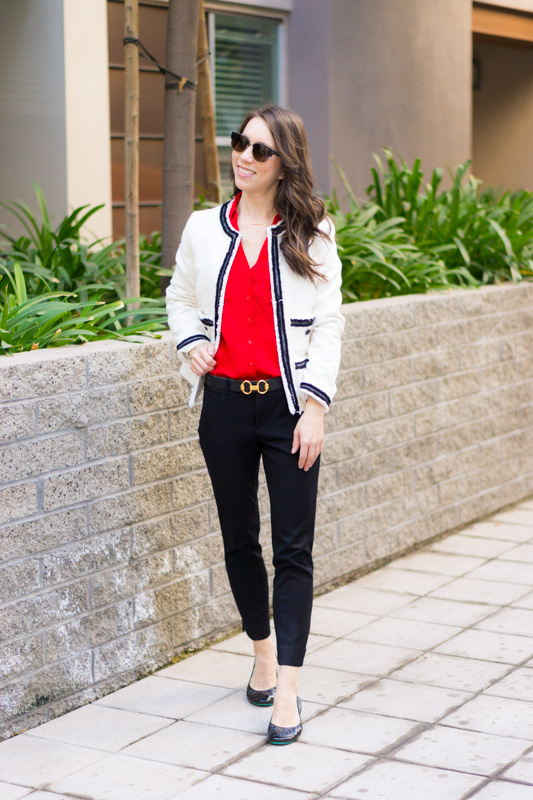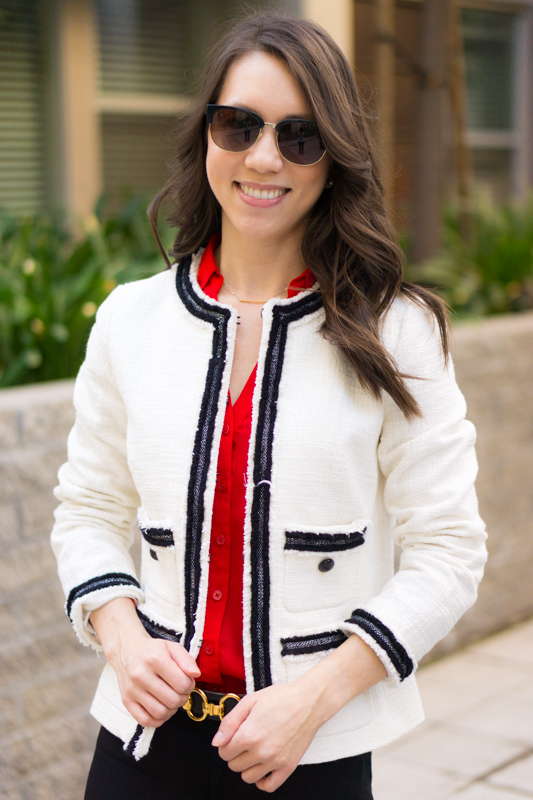 Can you tell I like adding in pops of color?! This outfit was inspired by the holiday season recently and what better way to accent your work outfit then a bold red color. A mentor always told me, wear red to all your interview outfits and go in there with confidence! I usually add in red ballet flats for this reason but opted for a bolder look with a red blouse. I toned it down with classic black pants, black ballet flats and a black belt accented in gold.
Shop the Outfit: 
Top: Express XXS (exact) 
Belt: Hermes belt (similar, my blog post) 
Shoes: Tieks by Gavrieli size 6 (my blog post + How to wear them in comfort) 
---
What work outfit is your favorite? Comment below and tell me if you own a Chanel-inspired blazer! 
Found this post helpful? Click the teal sharing buttons to share with a friend today!
My goal in 2018 is to reach 10,000 new women to inspire them to feel confident each day! 
---
Follow my updates on Social Media & Subscribe to Emails
Twitter | Facebook Page | Instagram | YouTube | Pinterest
Sign up to get my 2018 Winter Style Challenge // 25-Piece Winter Capsule (it's free)