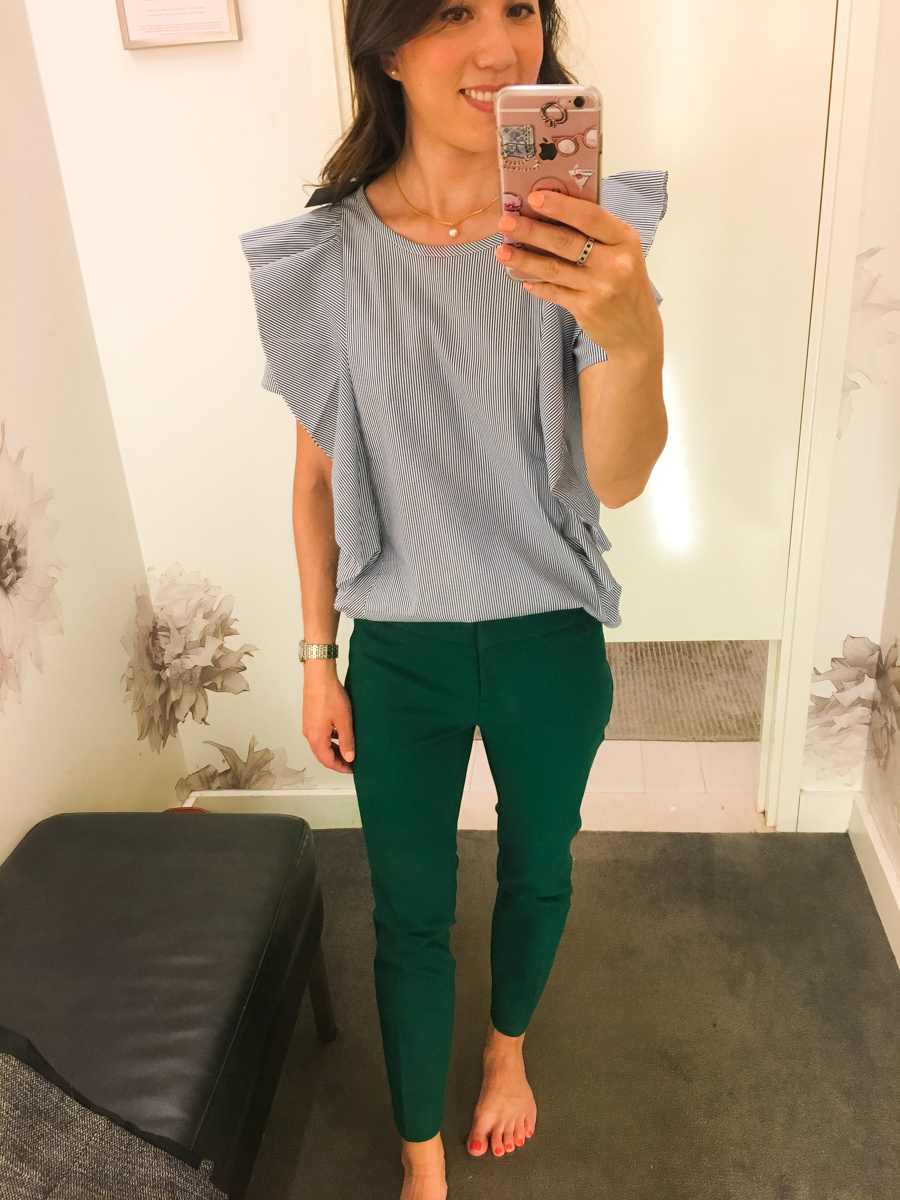 Petite Fit Reviews 
Ann Taylor & LOFT Work Outfits & Casual Outfits 
I'm continuing my popular Fit Reviews today with work outfit and casual outfit inspiration from the new lines at Ann Taylor & Ann Taylor LOFT. As you know, these are 2 of my favorite stores because of their petite-friendly fits right off the rack, quality materials, classic styles and affordable prices.
To prepare for back-to-school outfits for students or others like myself (I'm an Assistant Professor), I picked out several pieces that caught my eye to try on. Here are the fits and my opinion of each item.
---
*Updated: Loving this new Moto Jacket – video here on fit

*Sale Alert:
LOFT 50% off
Ann Taylor 50% off code MYSTERY50
Banana Republic 40% off everything + extra 10% off with code "BRCARD"
Note: This post may contain affiliate links; full disclosures HERE. 

Ann Taylor is one of my top stores for work outfits – size 00P and XXSP – almost always fits without alterations! Here are some items that I tried on from the late summer and early fall collection.
Outfit: Poplin Cascade Top in Petite XXS with Devin Pants Petite 00
Thoughts: This was one of my favorite outfits! The cascade top fit well & was true-to-size. I preferred it tucked in. I liked both colors but the white top was a little see-through with no lining in it (a camisole may be necessary which I do not have . on in these photos).
The Devin Ankle Pants fit amazingly well – I love the Banana Republic Sloan Ankle Pants (my review here) and I haven't found Ann Taylor work pants to be superior before now – plus they are machine washable! Although BR pants say Dry Clean Only, I have machine washed them before but it is nice to find work pants that are clearly marked machine washable!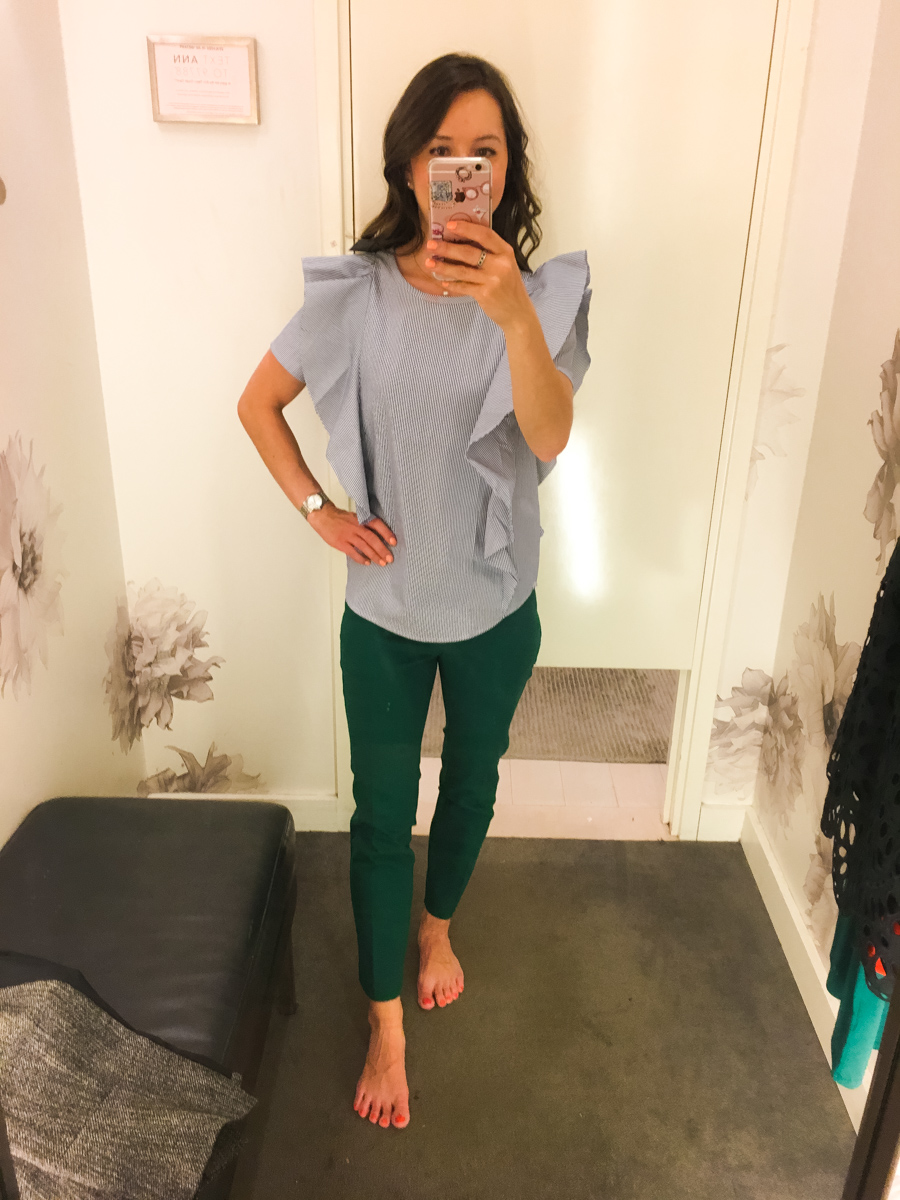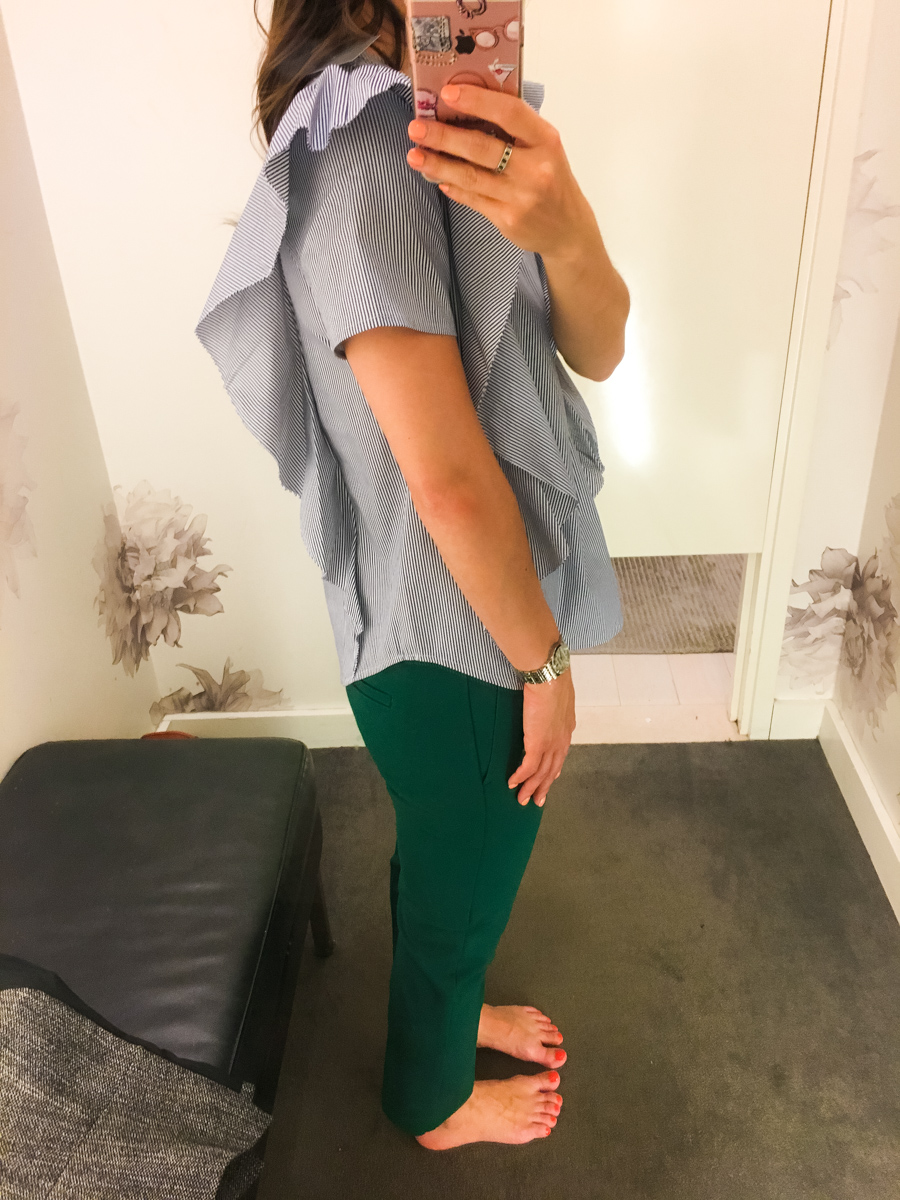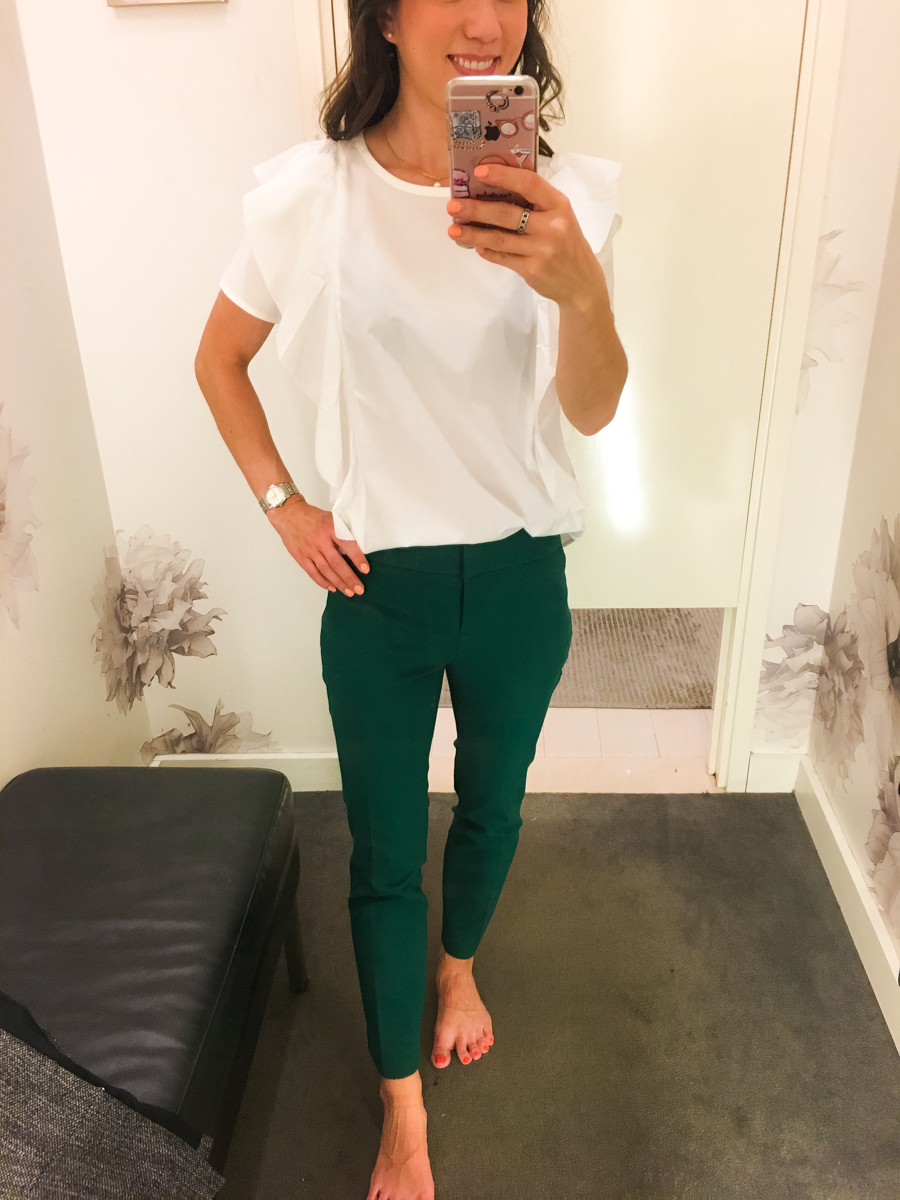 Outfit: Orange Belted Skirt Petite 00
Thoughts: This skirt immediately caught my eye because of the vibrant orange color and the tie-waist style. It fits well in my usual size. I'm not sure on the length of it because it hits below my knees and I may prefer it an inch or two shorter. This can be paired with neutral colors and will be work-friendly. I would layer a cardigan or blazer over this top for work.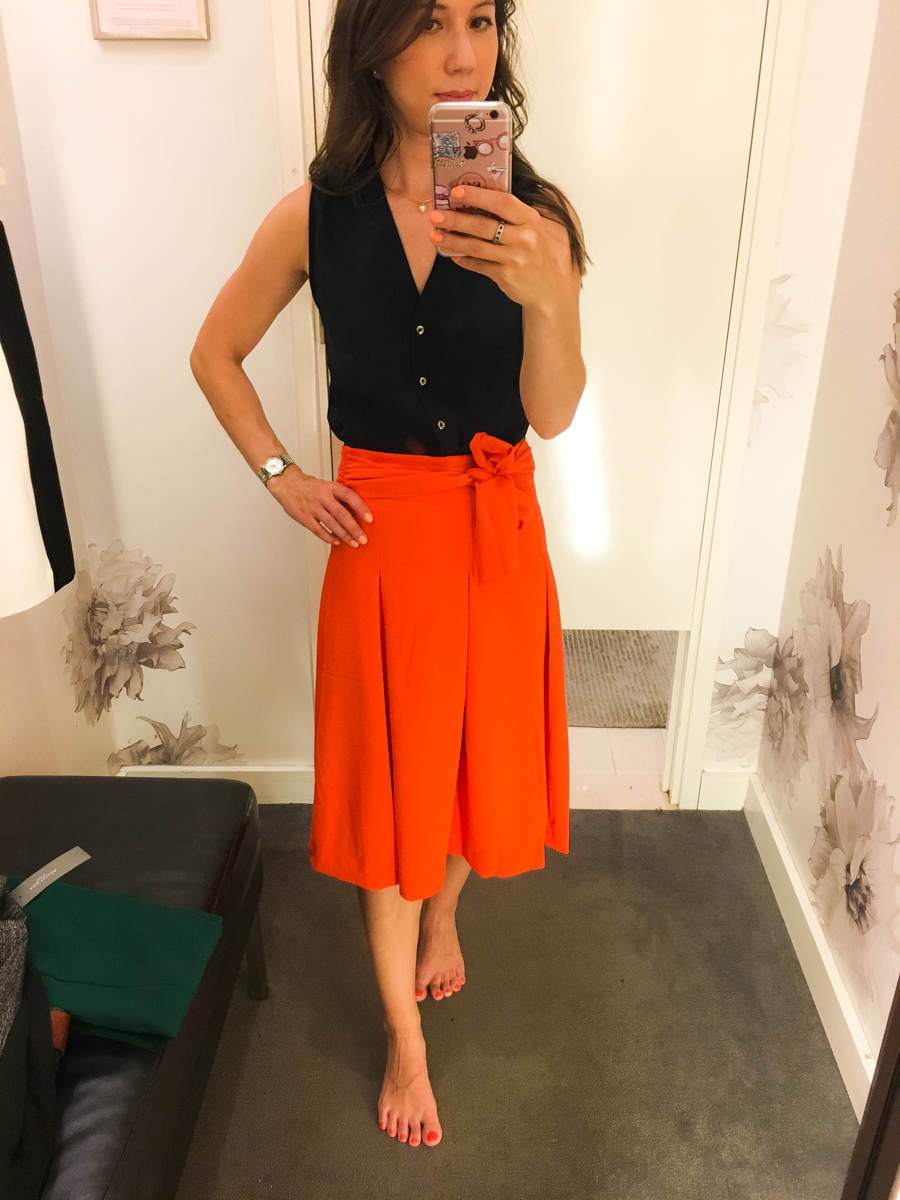 Outfit: Herringbone Jacket Petite 00 & Herringbone Pants Petite 00
Thoughts: This herringbone style is a classic style and would be an excellent business suit option for those looking for one. I was surprised by the fit of the jacket – the Petite 00 – fit nearly perfectly in the arms (almost short if you have longer arms) and in the shoulders. This is a less expensive business suit option compared to my investment piece with my Theory black business suit (my review here).
The pants are also the Devin Fit as discussed above. The same style is offered in a pencil skirt and dress – excellent to mix and match these pieces together!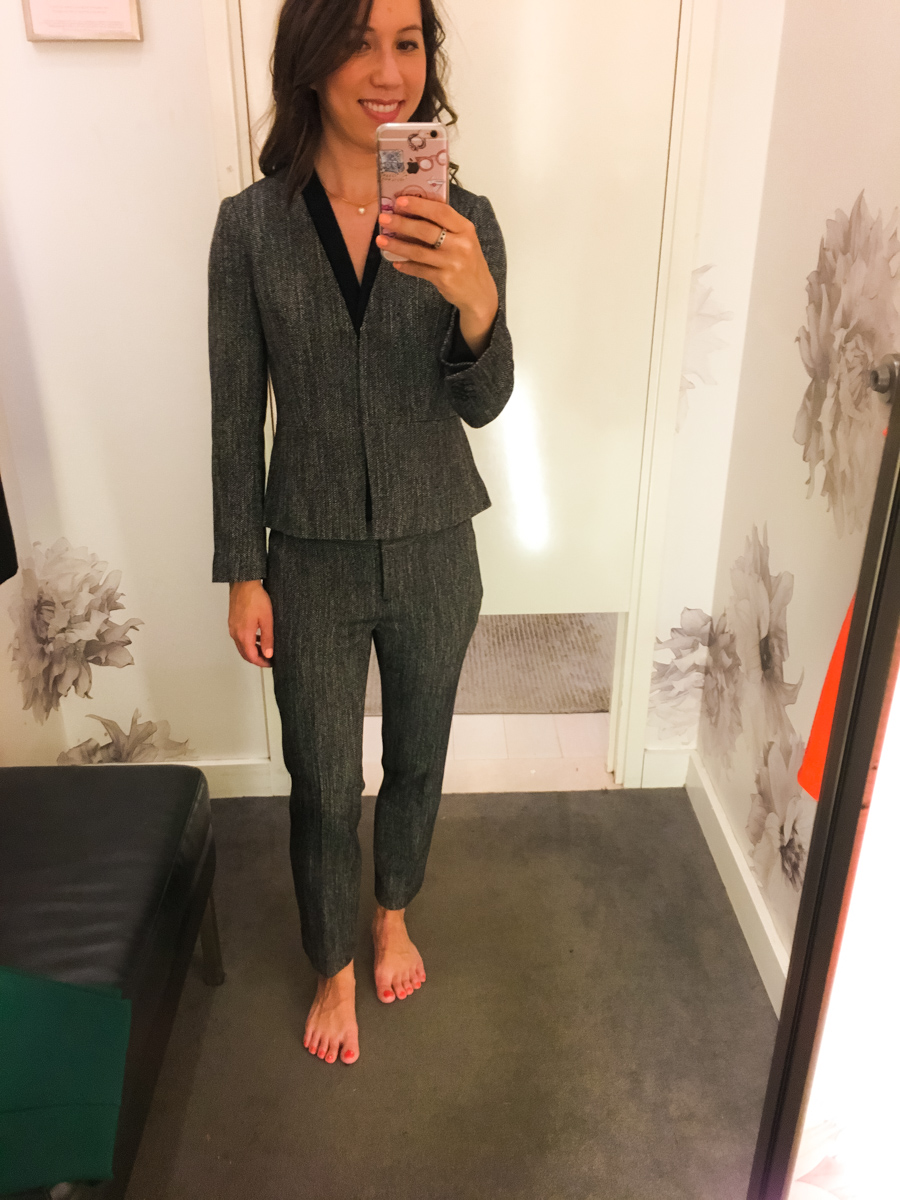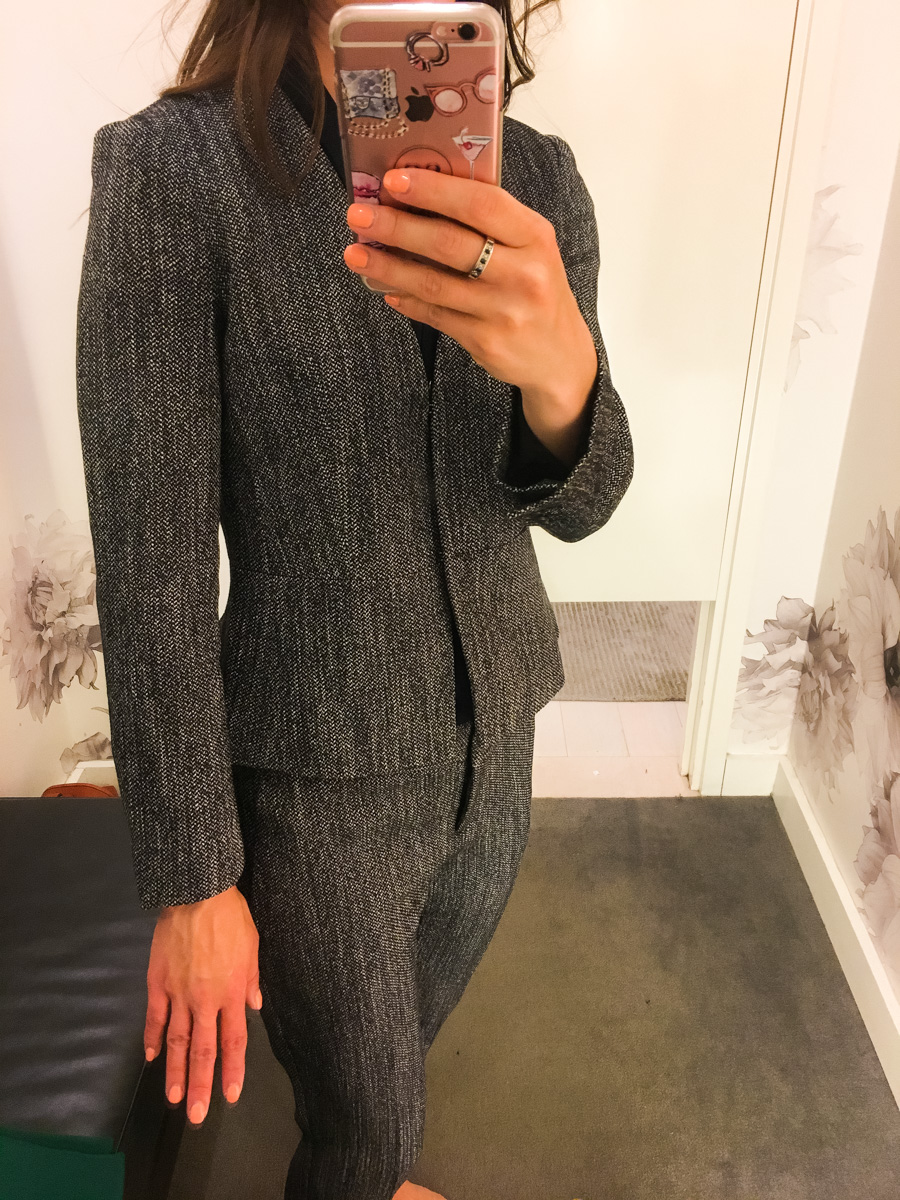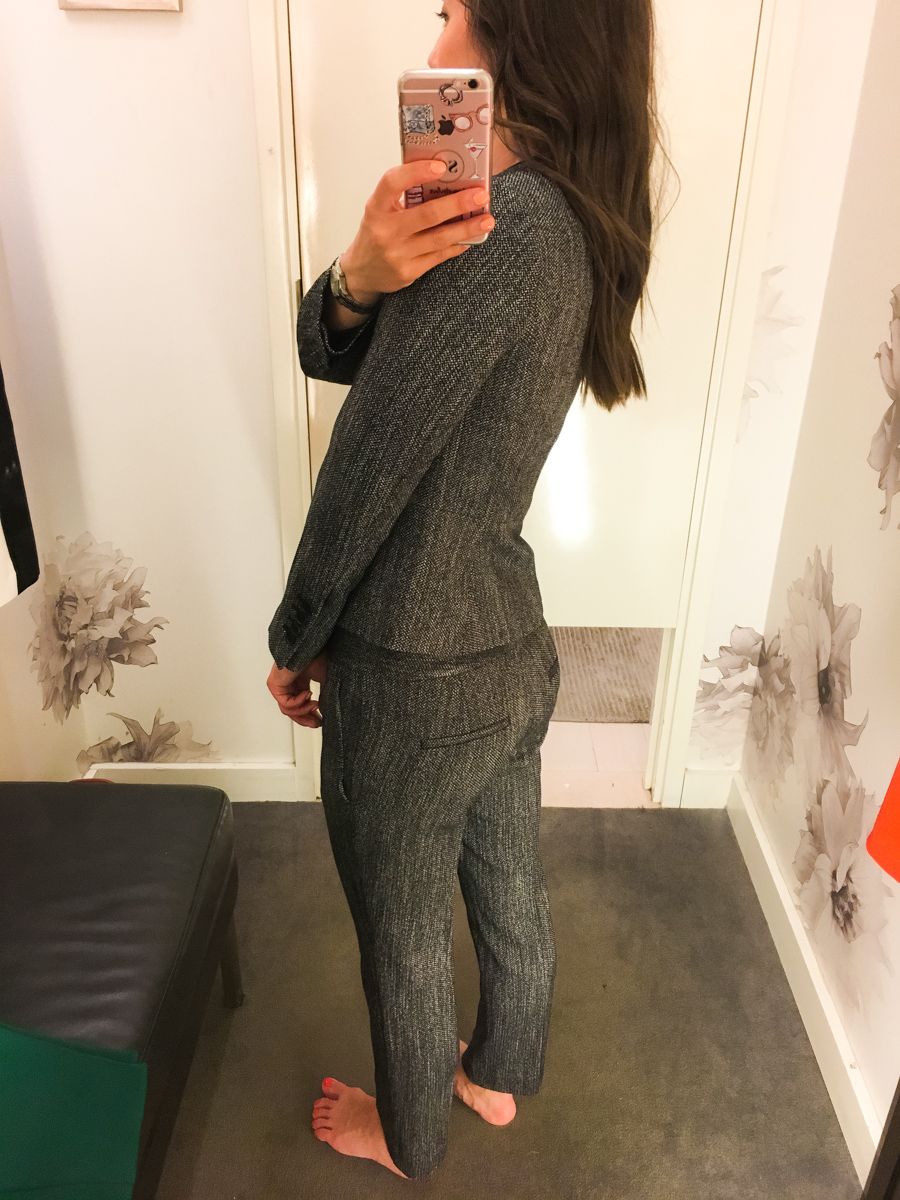 Outfit: Striped Flutter Sleeve Top Petite XXS & Devin Pants Petite 00
Thoughts: When I saw this striped top I immediately fell in love! The flutter sleeve was a nice detail I noticed once I had it on and makes this top work-appropriate. It also comes in solid colors and I highly recommend for work to weekend wear!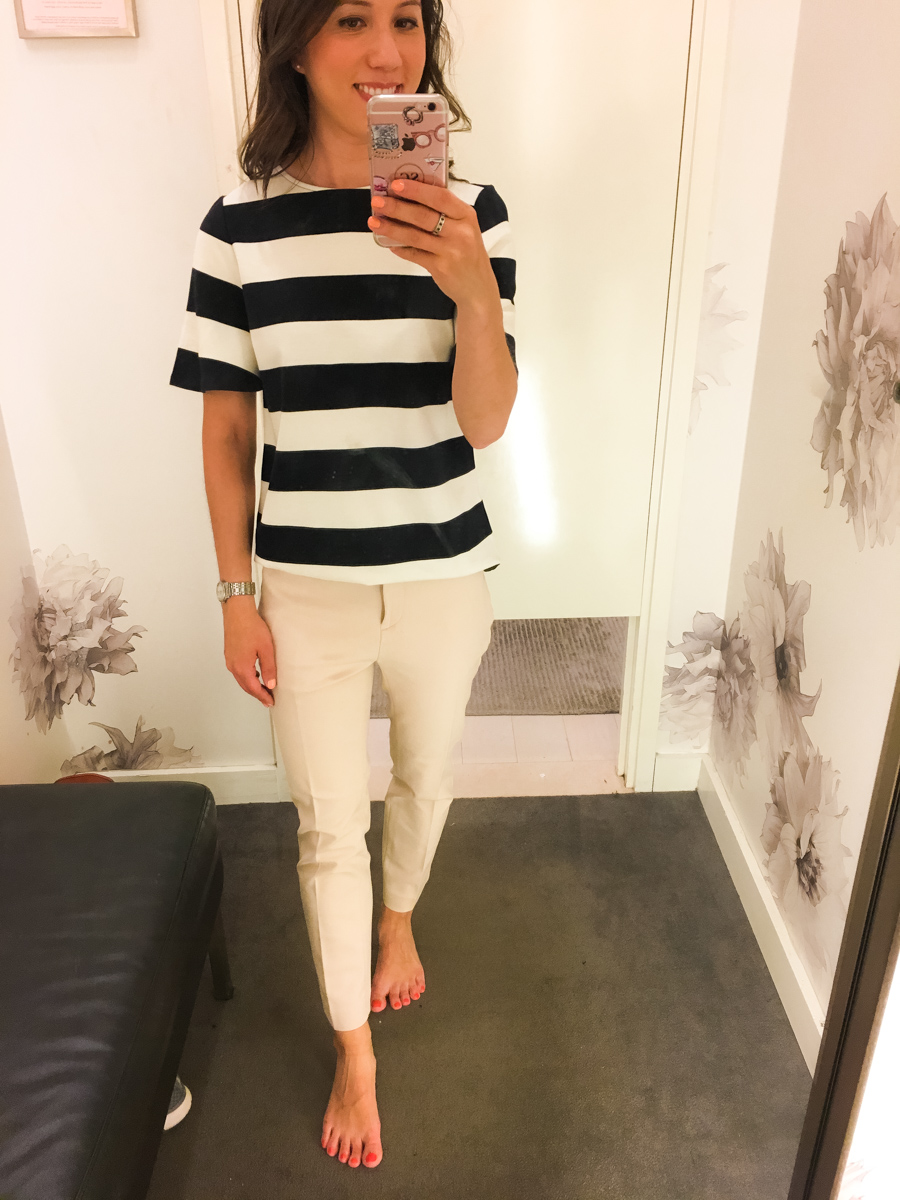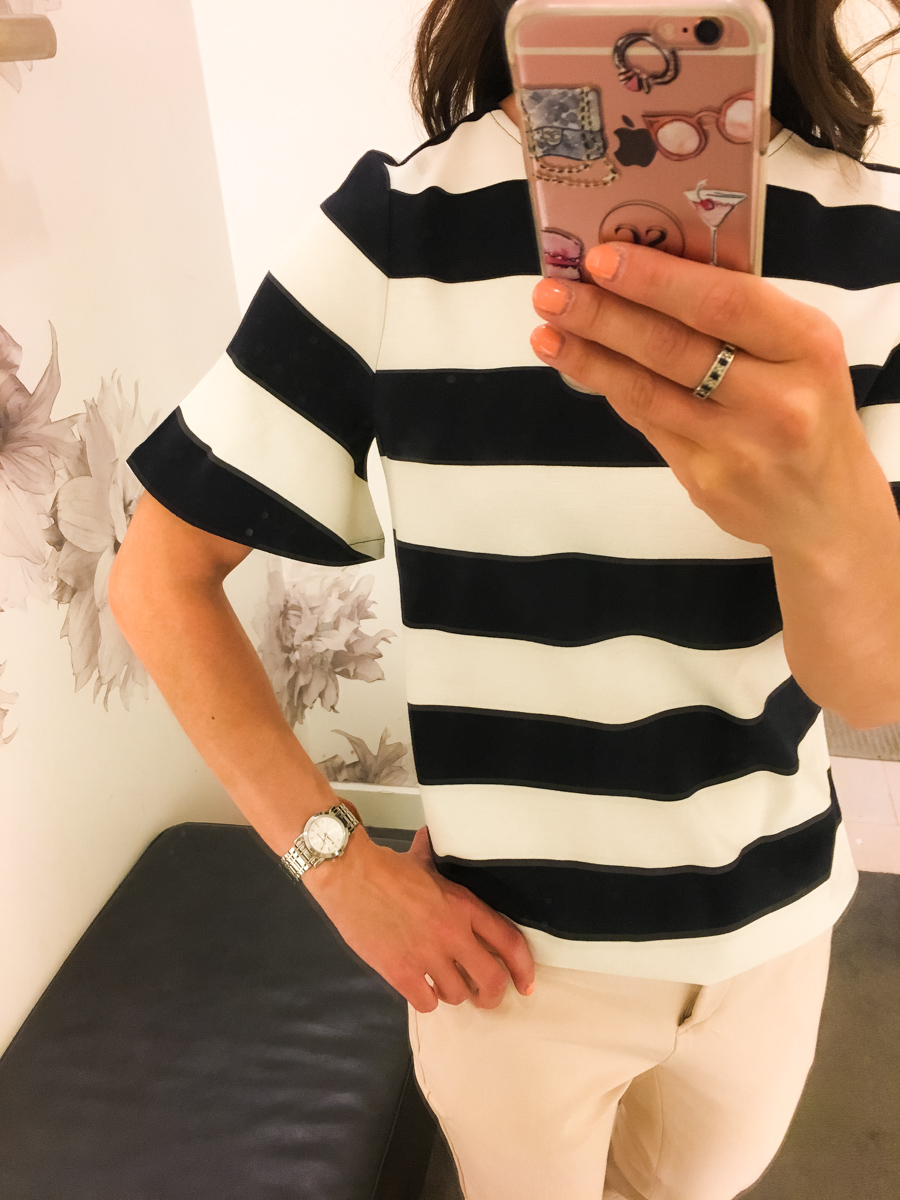 Outfit: Cutout Flutter Top Petite XXS & Devin Pants Petite 00
Thoughts: This cutout top was an interesting design and I liked it better on than while hanging on the rack. If you are looking for a solid colored top with an updated design, I recommend this one.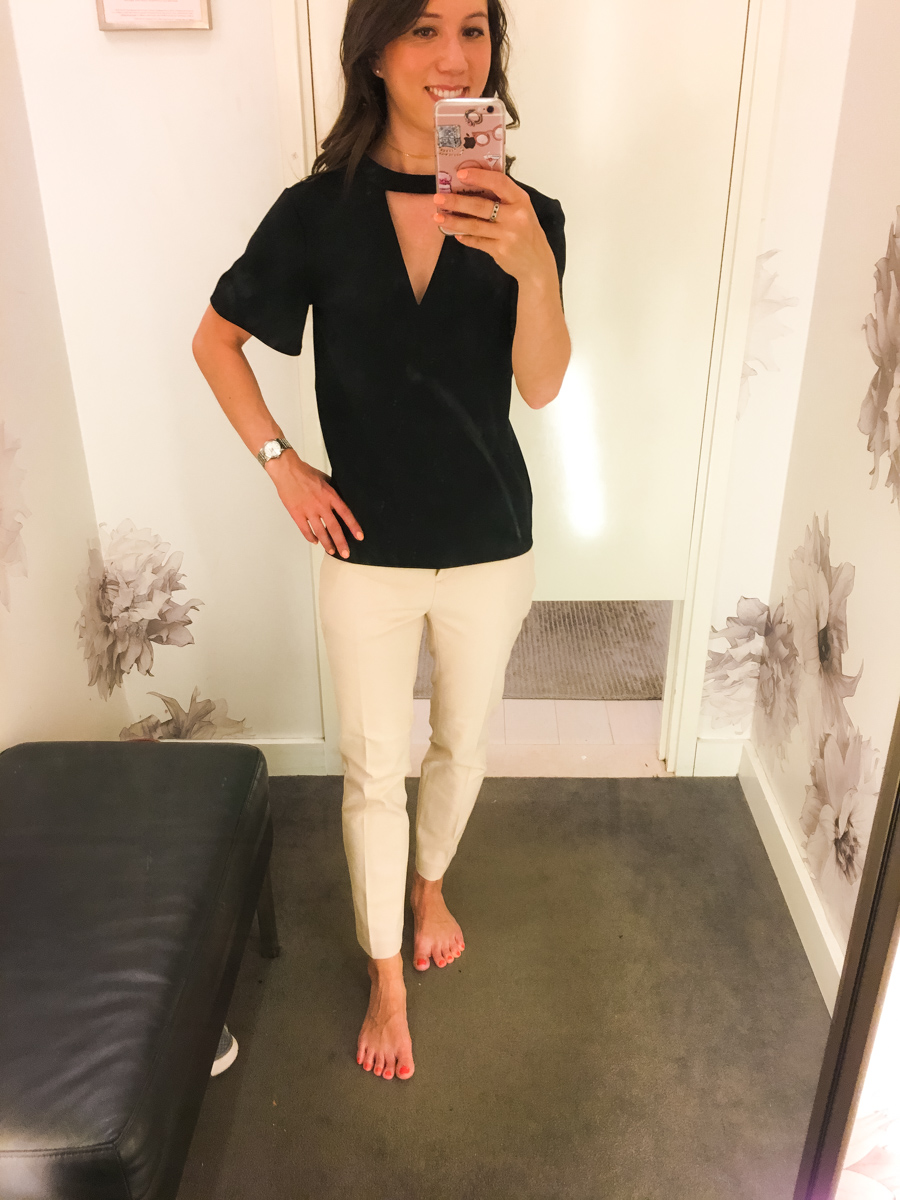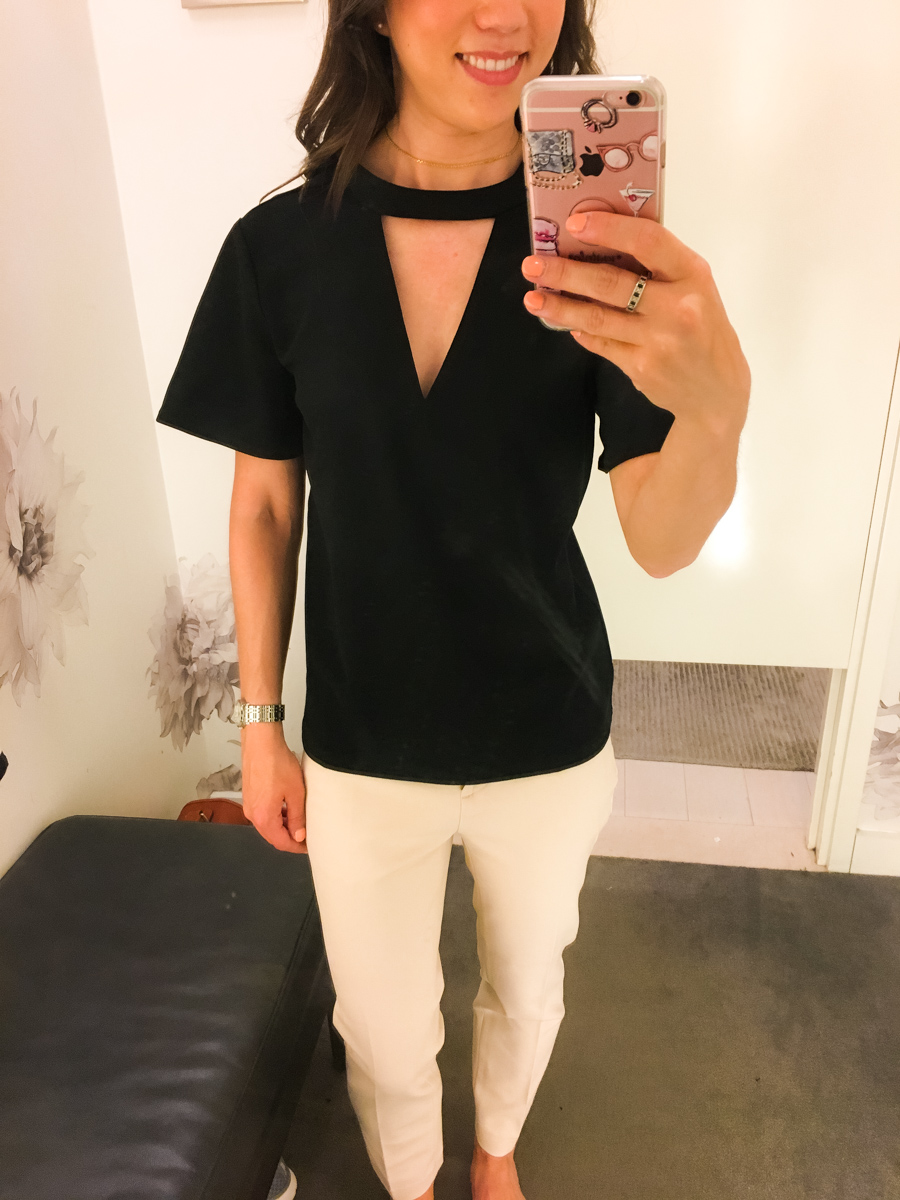 Outfit: Scallop Eyelet Full Skirt Petite 00
Thoughts: This skirt is beautifully detailed. The scallop and eyelet design is classic and the length of this skirt was work-appropriate. It also comes in white.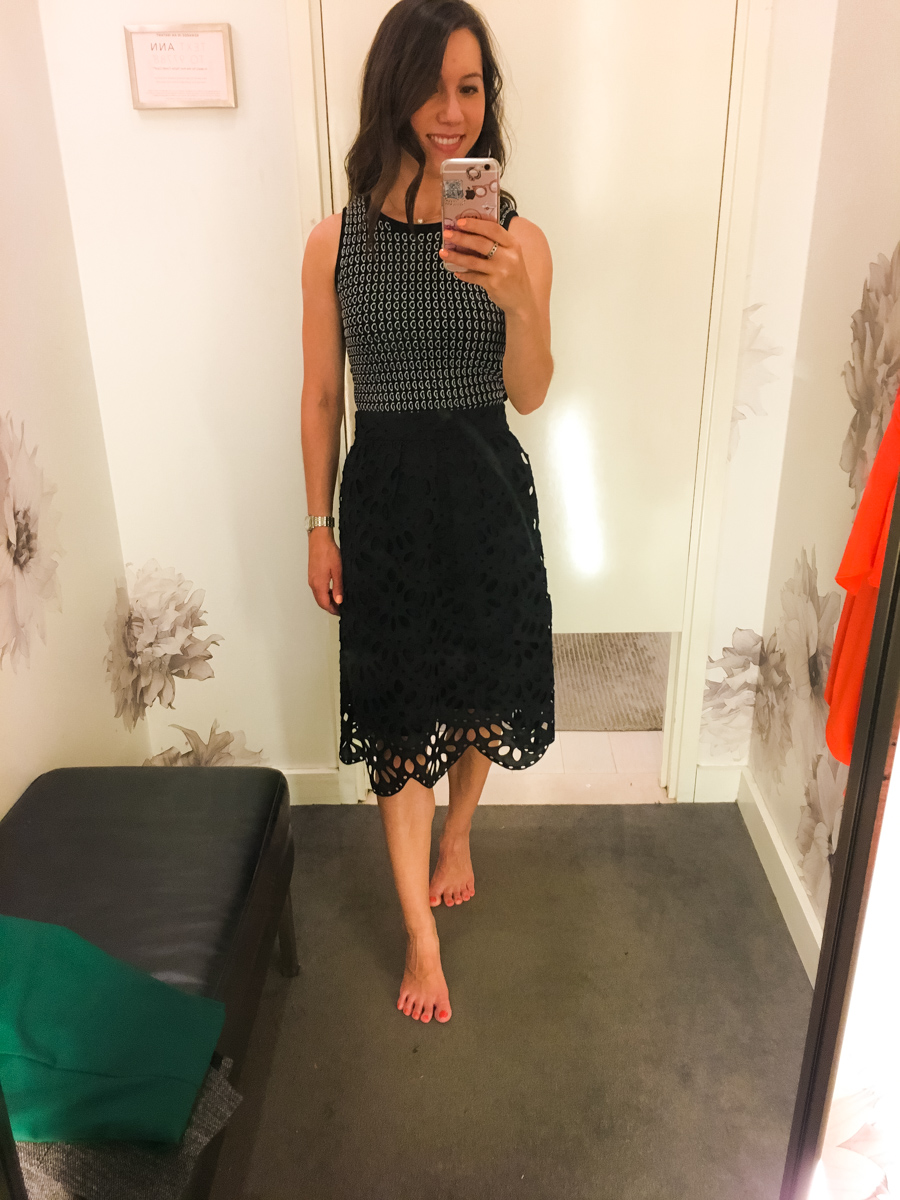 Outfit: Embroidered Flare Sweater Skirt Petite XXS & Peplum Sweater Top Petite XXS
Thoughts: When I came across this matching top and skirt I thought it was a great outfit for work. The peplum detailing and the sweater material style was refreshing to see on. Both fit well right off the rack and would be comfortable all-day at work.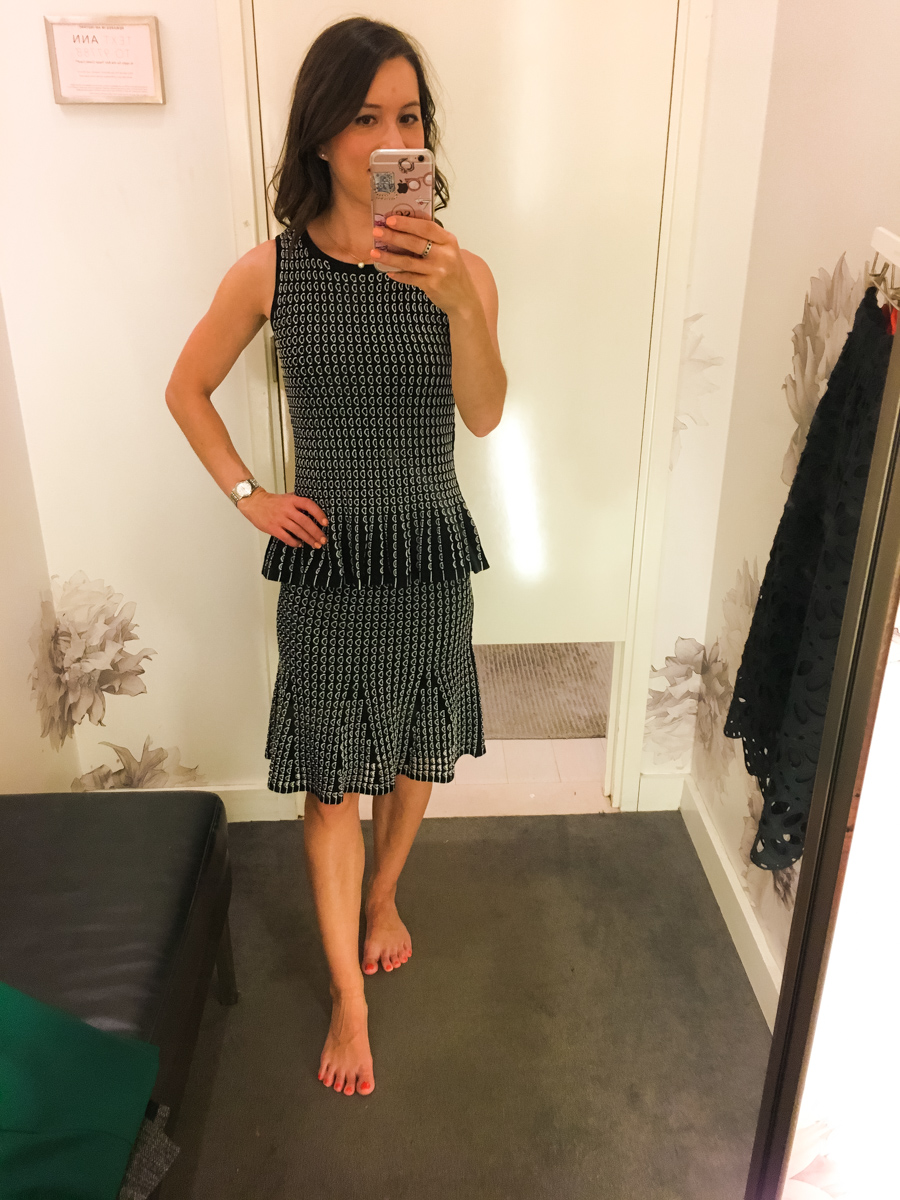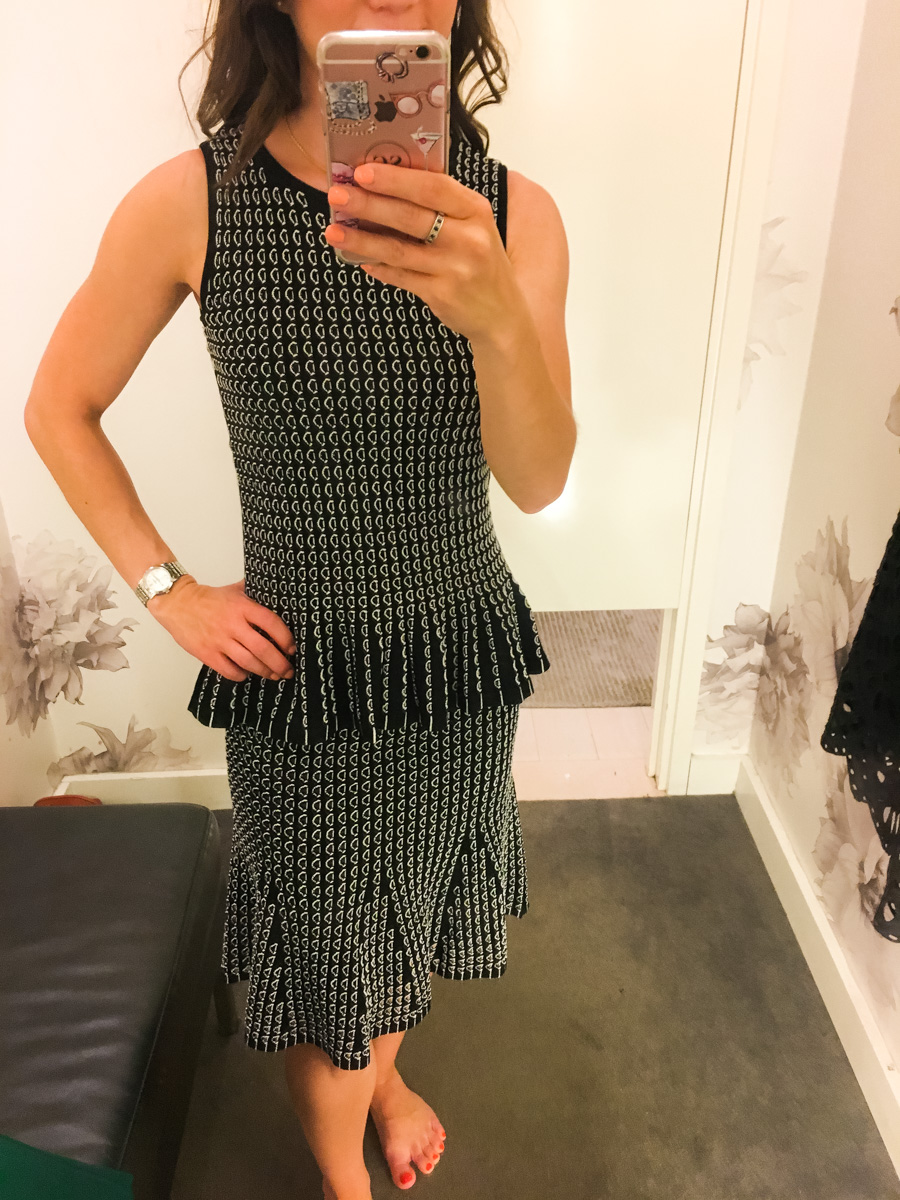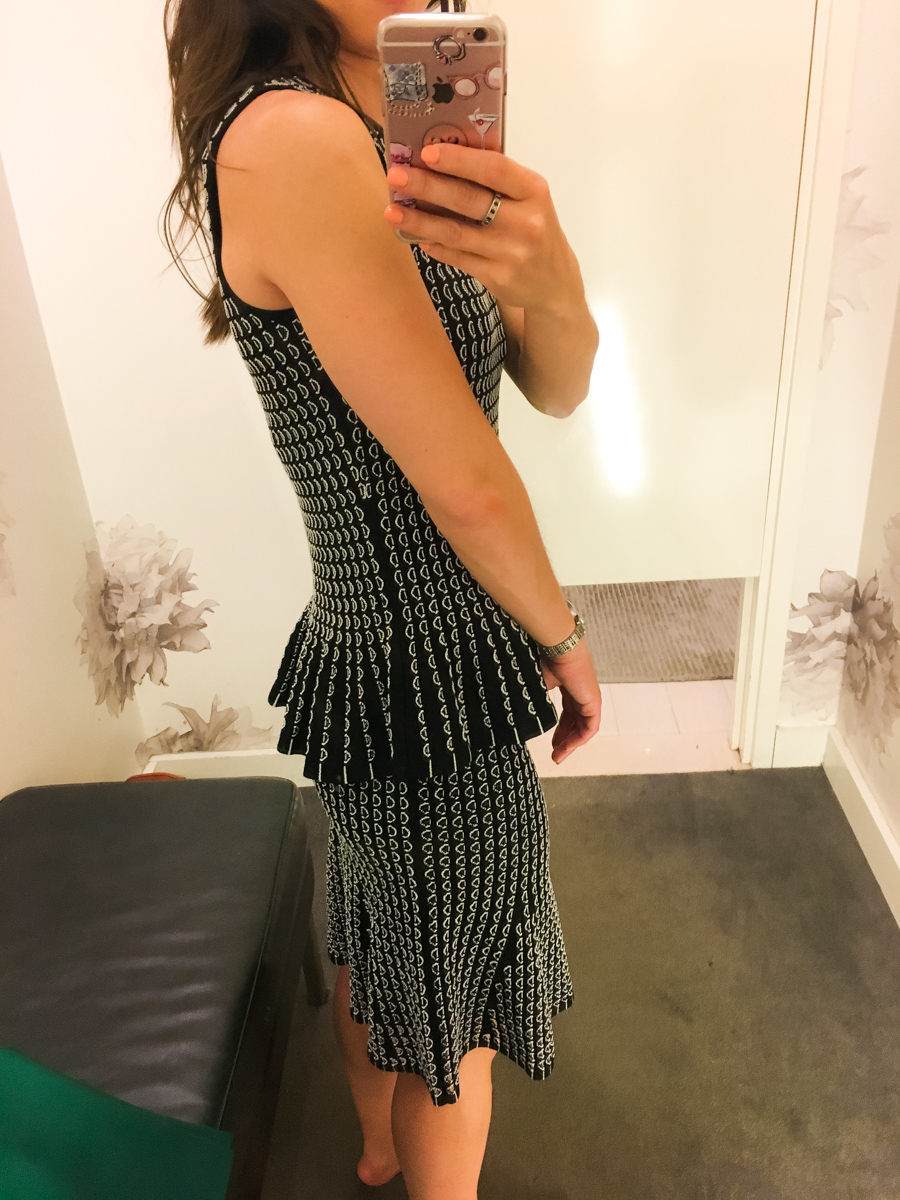 Outfit: Jersey Drape Dress Petite XXS
Thoughts: The color of this dress is gorgeous in person! The vibrant green color will be excellent for fall and the cut flatters petite figures.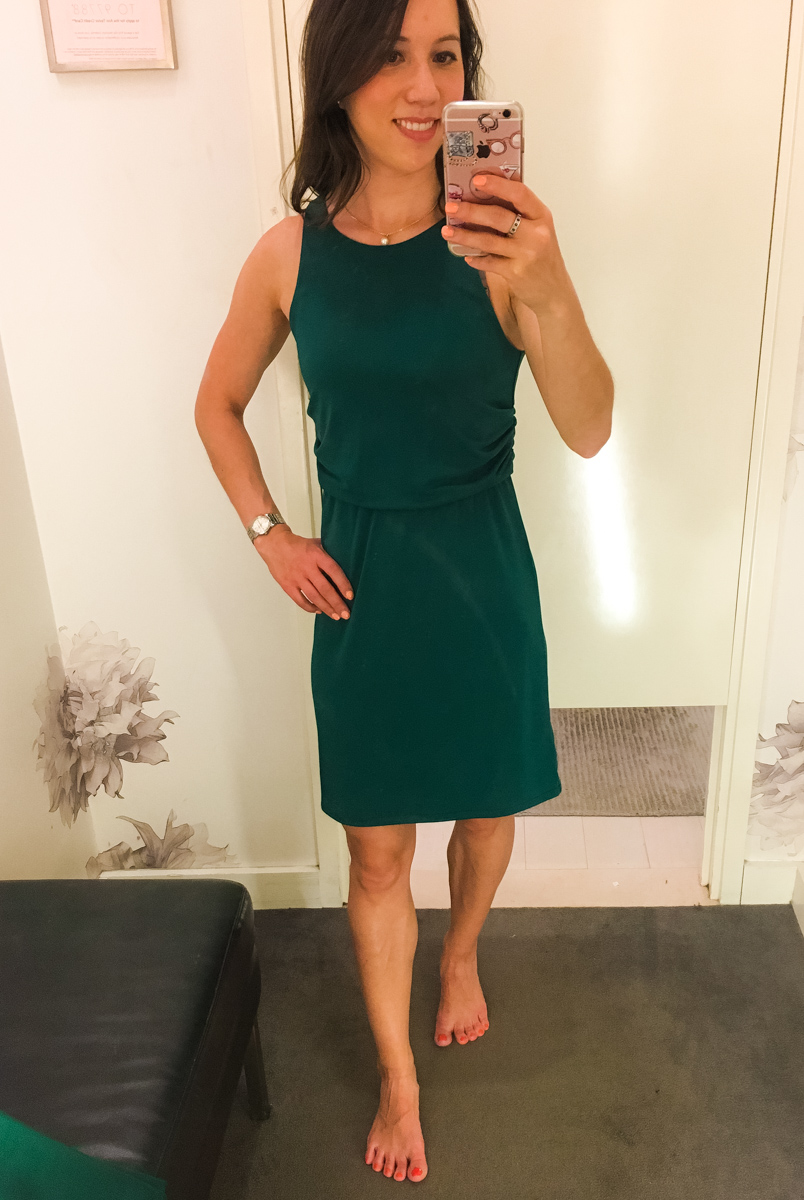 LOFT Outfit Inspiration 
Outfit: Floral Utility Blouse Petite XXS & Marisa Fit Pant Petite 00
Thoughts: I love the bright colors in this blouse and the teal green color of these pants. Similar to what I said above with the Ann Taylor Devin Pant, these pants are excellent alternatives to the Banana Republic Sloan pants I rave about! The blouse will be easy to style year-round with neutral colored pants.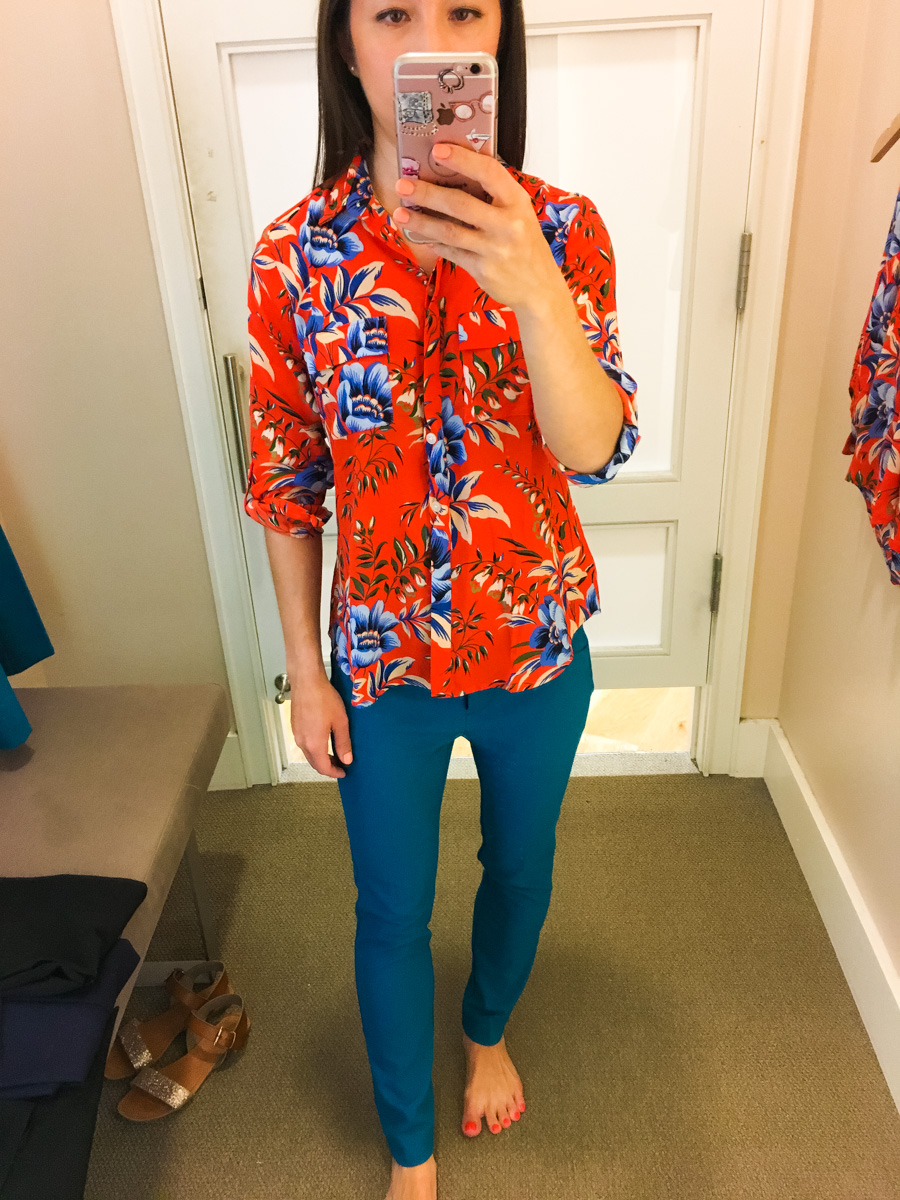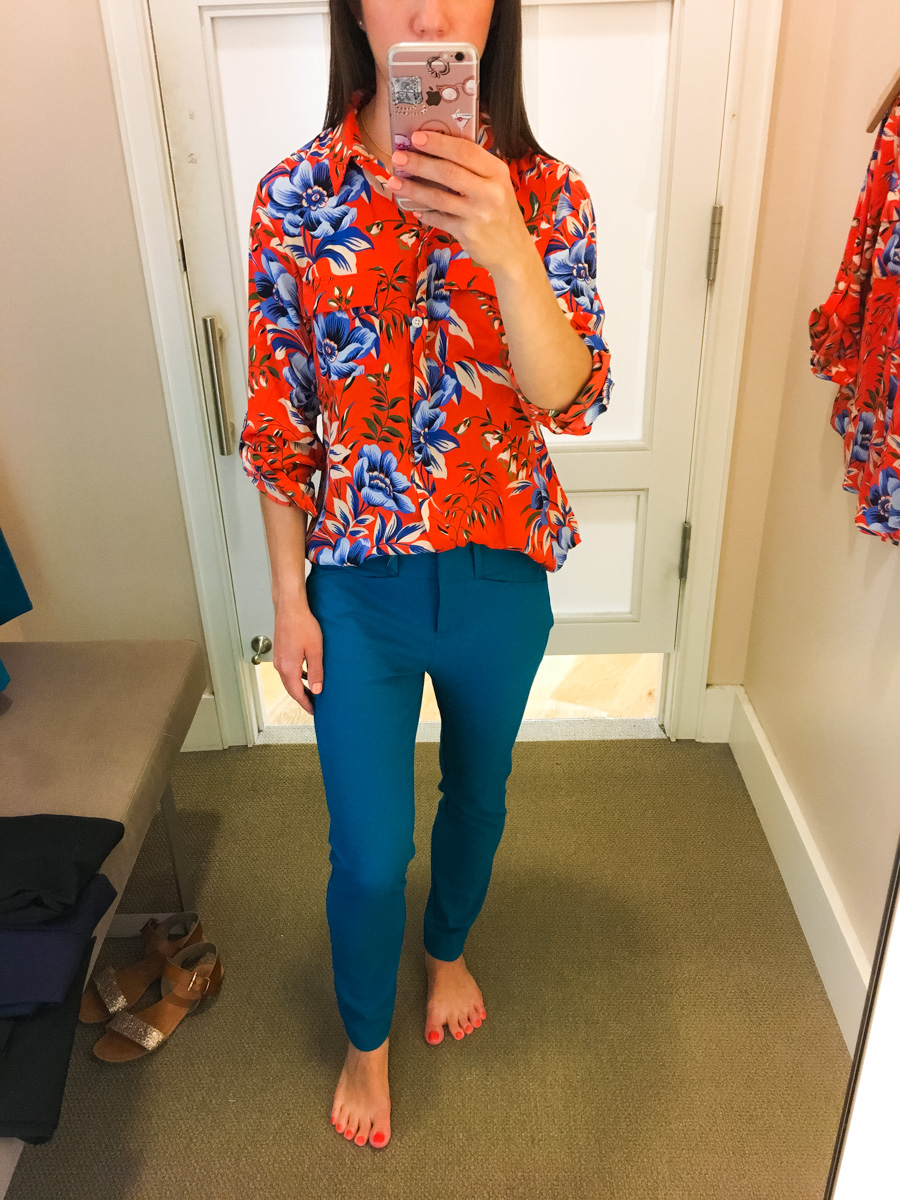 Outfit: Cold Shoulder Sweater Petite XXS
Thoughts: This cold shoulder sweater is on sale and was a great find! It comes in neutral colors and fits well on. The length is appropriate and does not lift up when arms are lifted.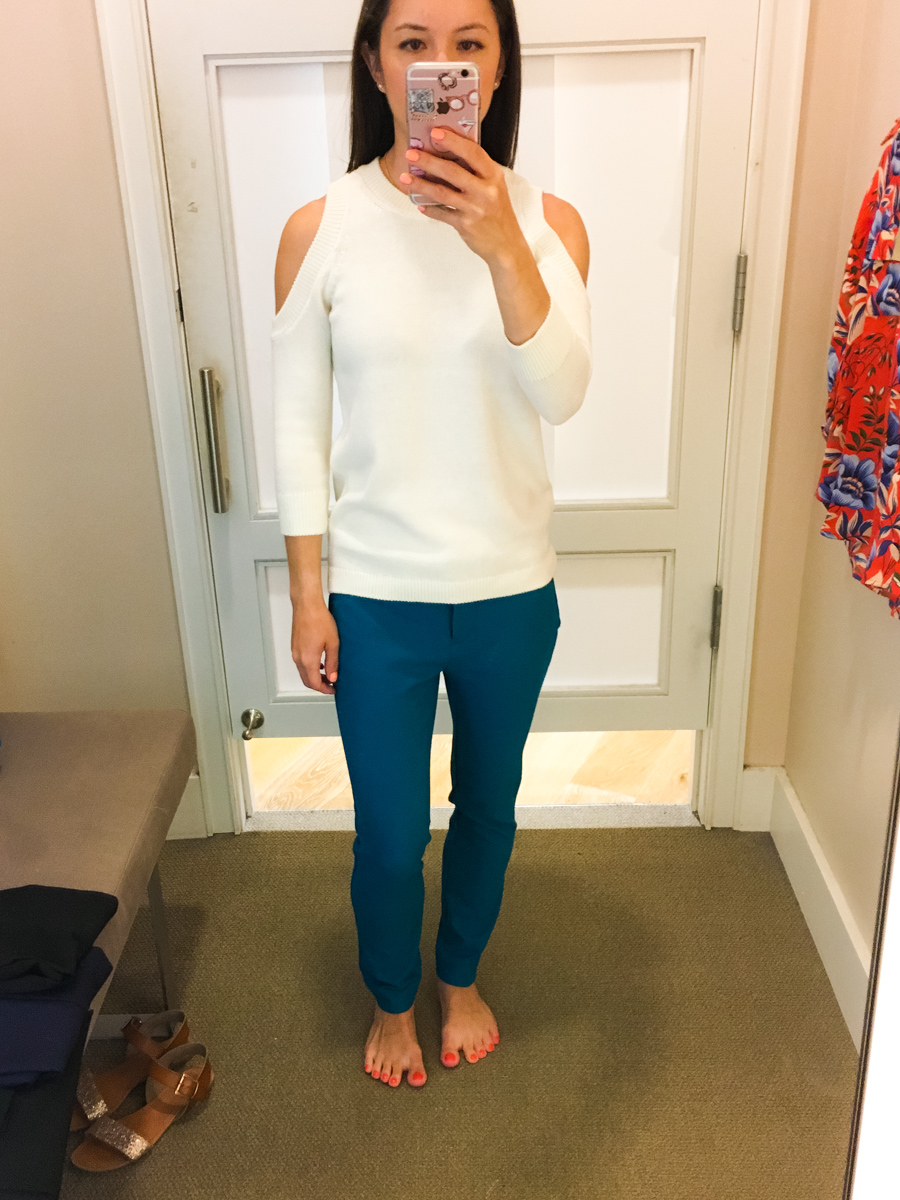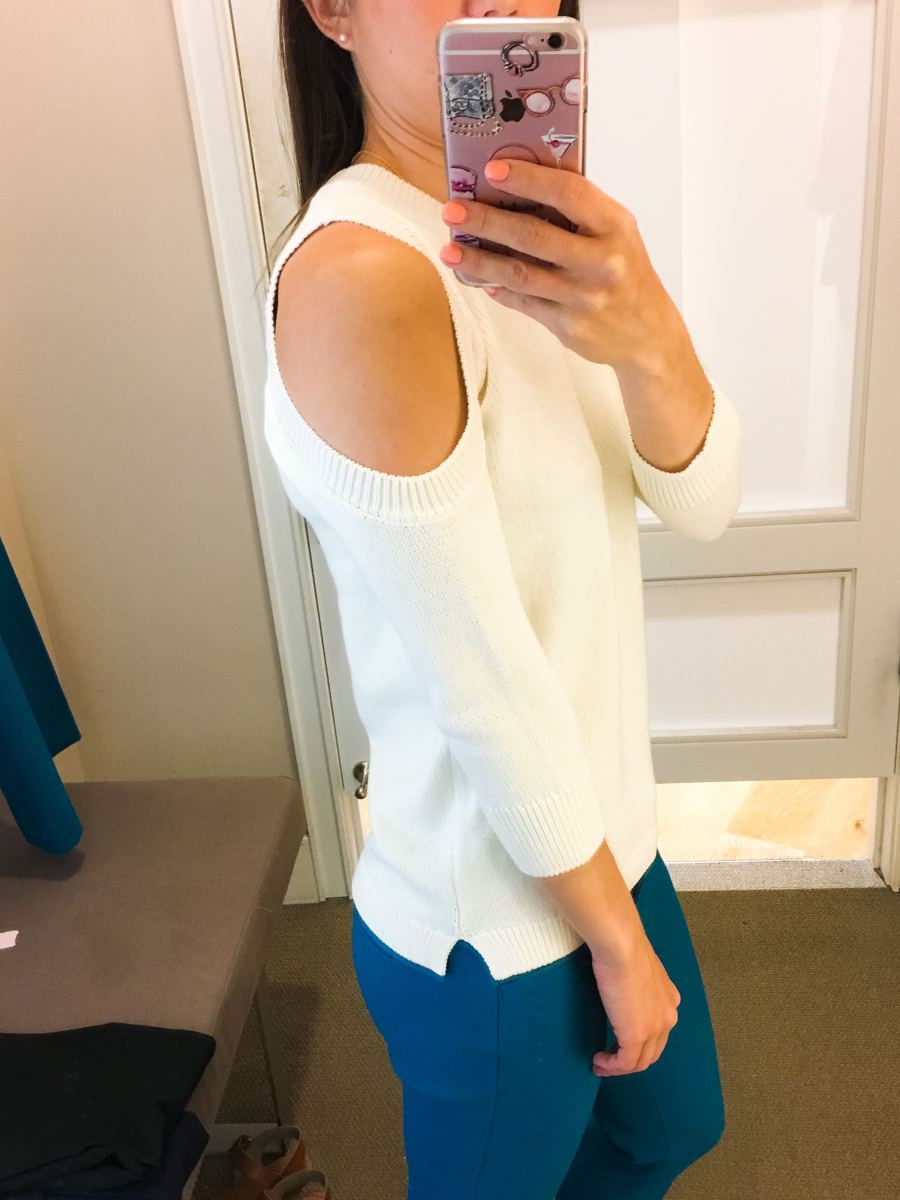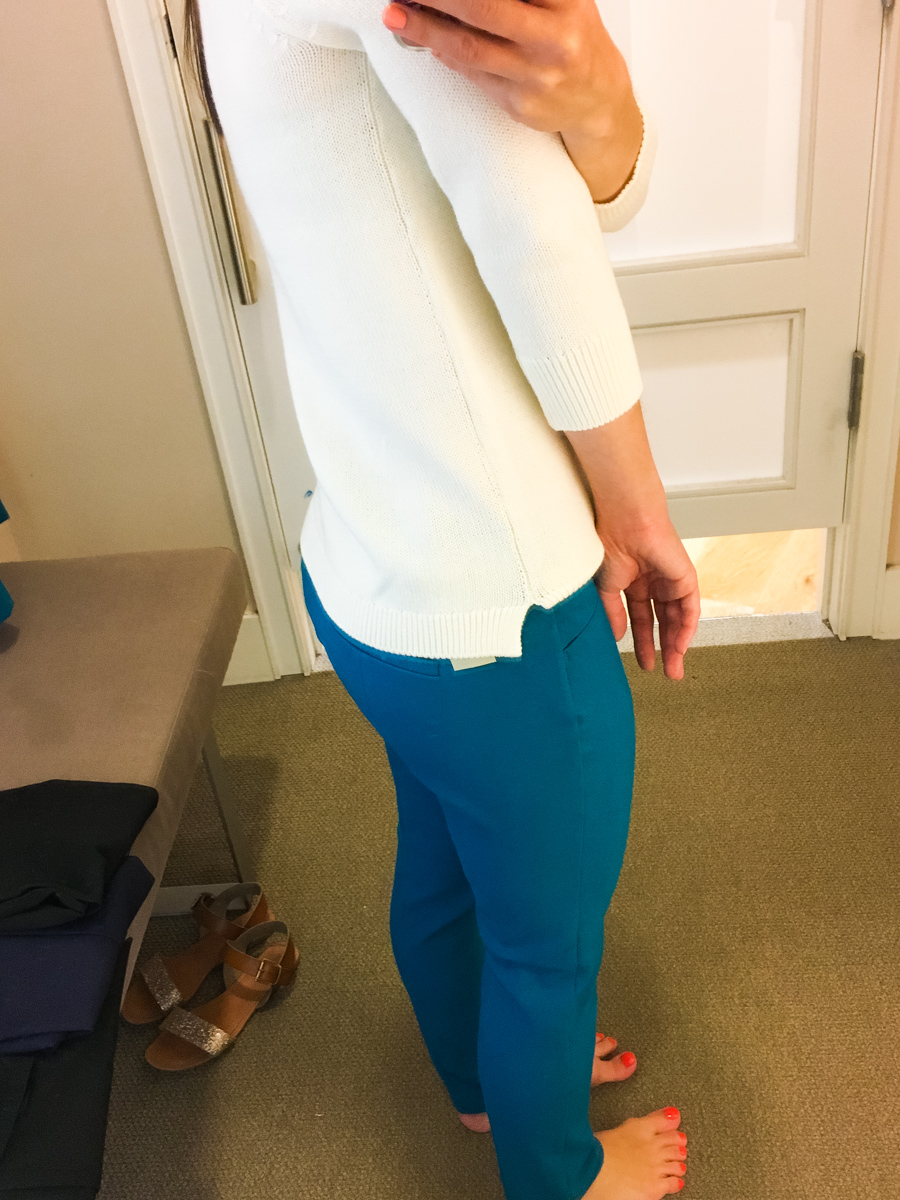 Outfit: Field Jacket Petite XXS
Thoughts: This is a great field jacket in a gorgeous green color. It is an excellent alternative to my previously posted investment piece with my Burberry Whitworth Jacket in Army/Moss Green (my review here). These photos are showing Petite XS and in reality I would need the smaller size. The back buttons allow for tightening the jacket and the arm length is almost perfect!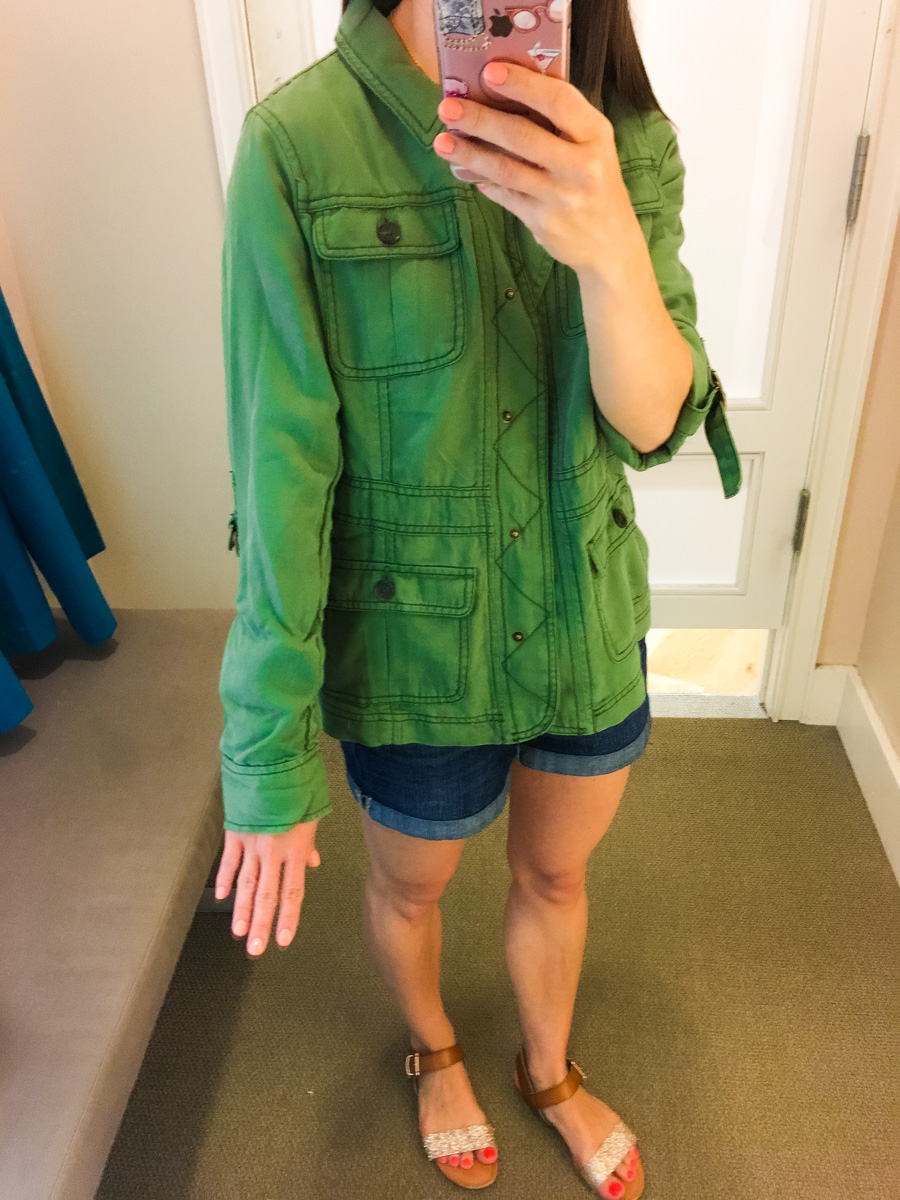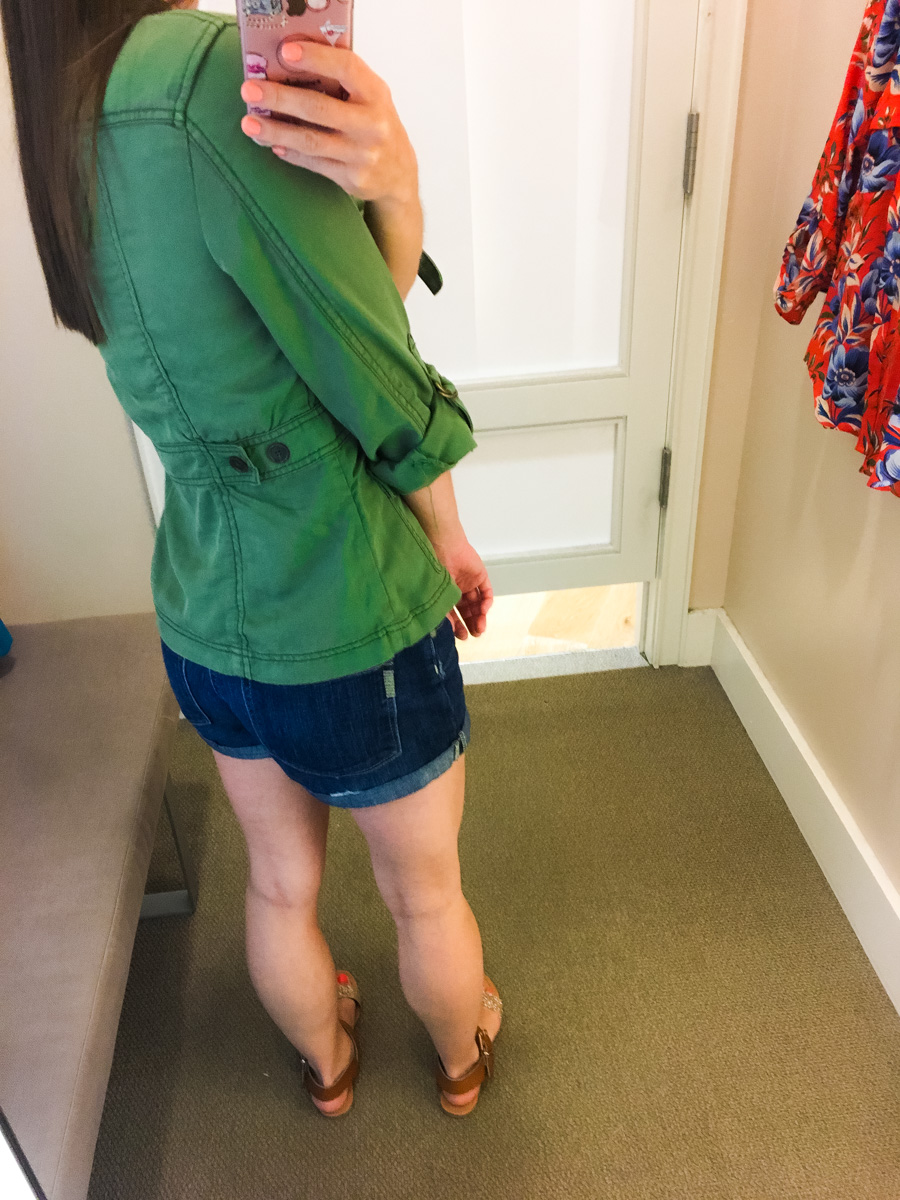 Outfit: Autumn Dream Skirt 0P (ONA camera bag – my review here)
Thoughts: This skirt is a gorgeous print and vibrant color. This 0P is too big on me but I was able to tie it tight with the nice belt detail. It is longer in length and I would purchase a 00P and possibly shorten the length. I would also try wearing with heels or block sandals to give it more height. For reference, the salesperson I saw this on was 5'10" and wearing a petite size for length purposes! This fall skirt will pair well with navy, royal blue and mustard yellow.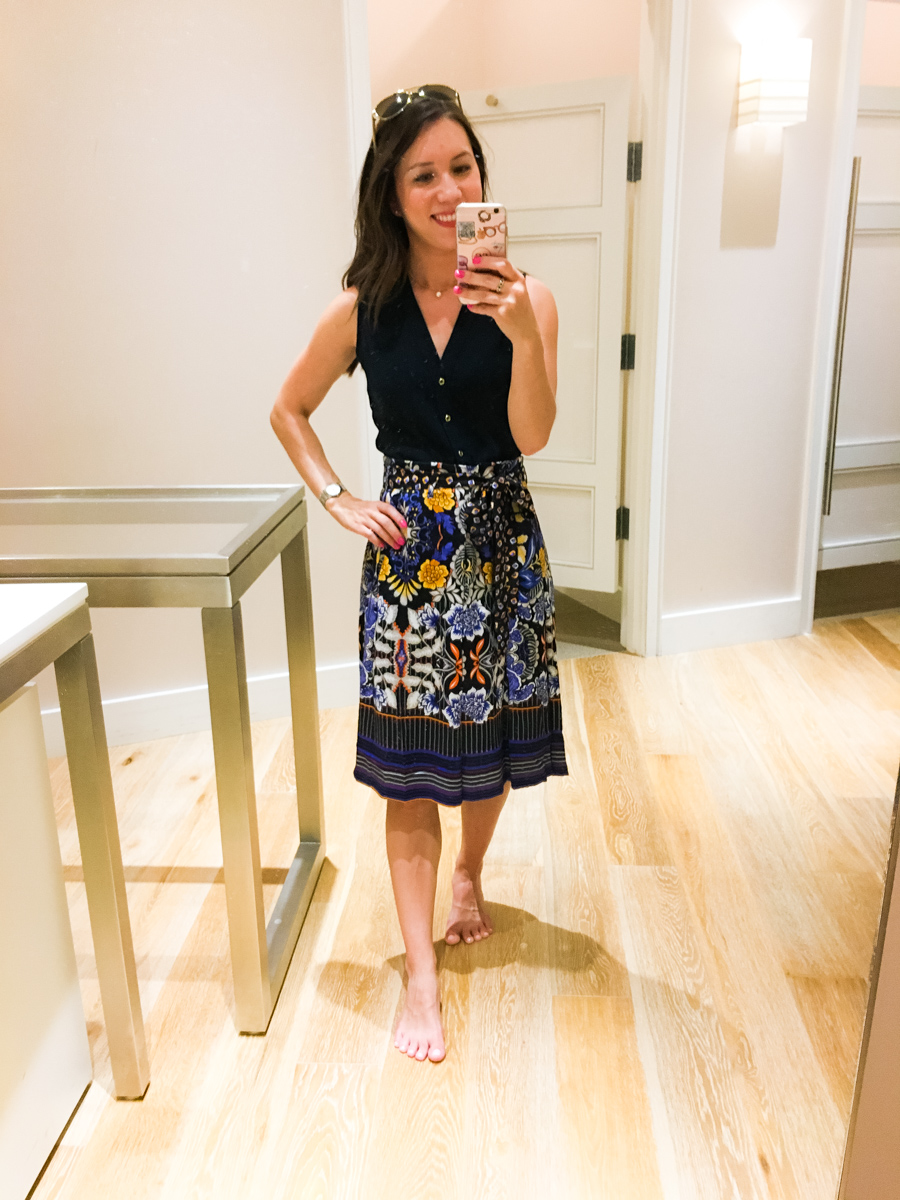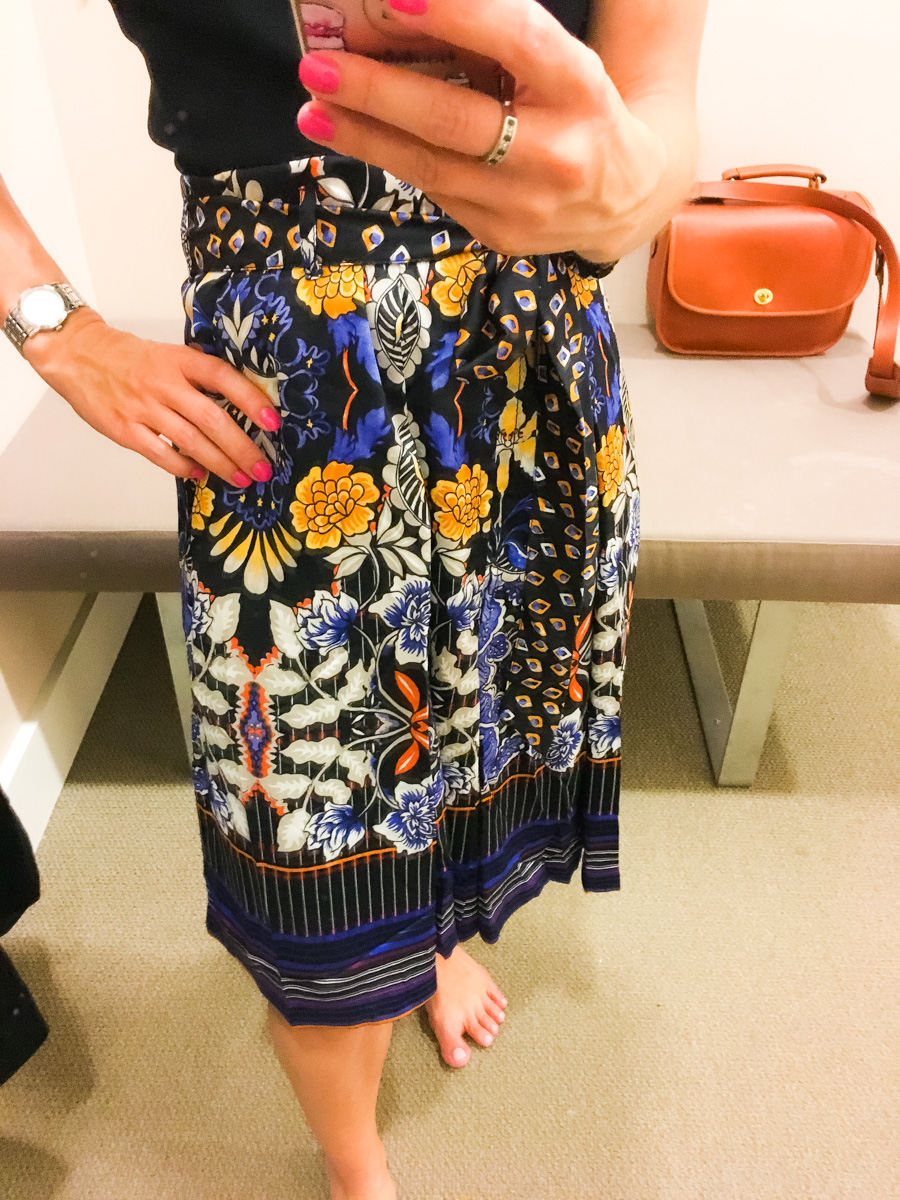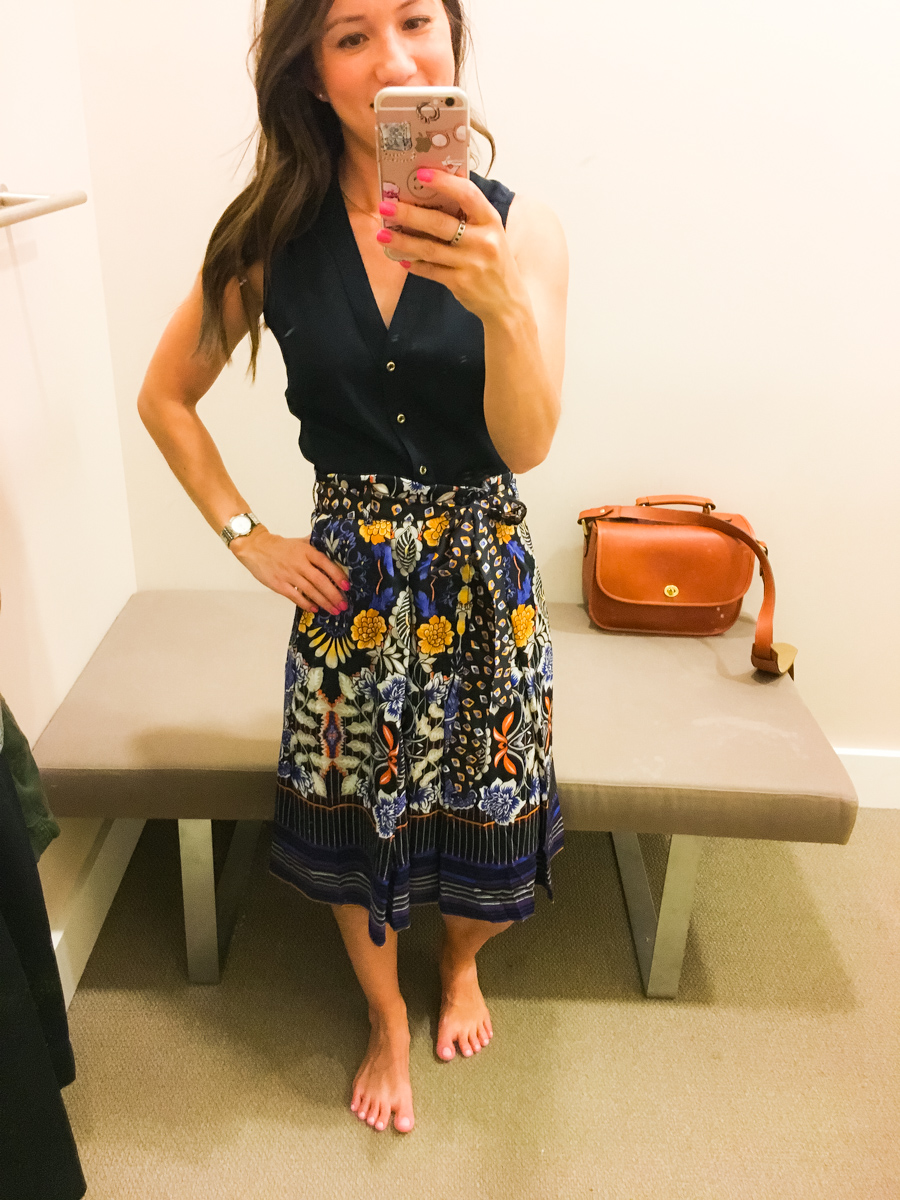 Outfit: Pink Leather Jacket 0 regular (would need 00P)
Thoughts: I LOVE the blush pink color of this leather jacket. My store didn't have it in Petite Sizing so this is a little large but I think a 00P would fit well. It also comes in black. The price point is great and a quality piece for the price. Highly recommend if a leather jacket is on your wishlist/capsule wardrobe this season!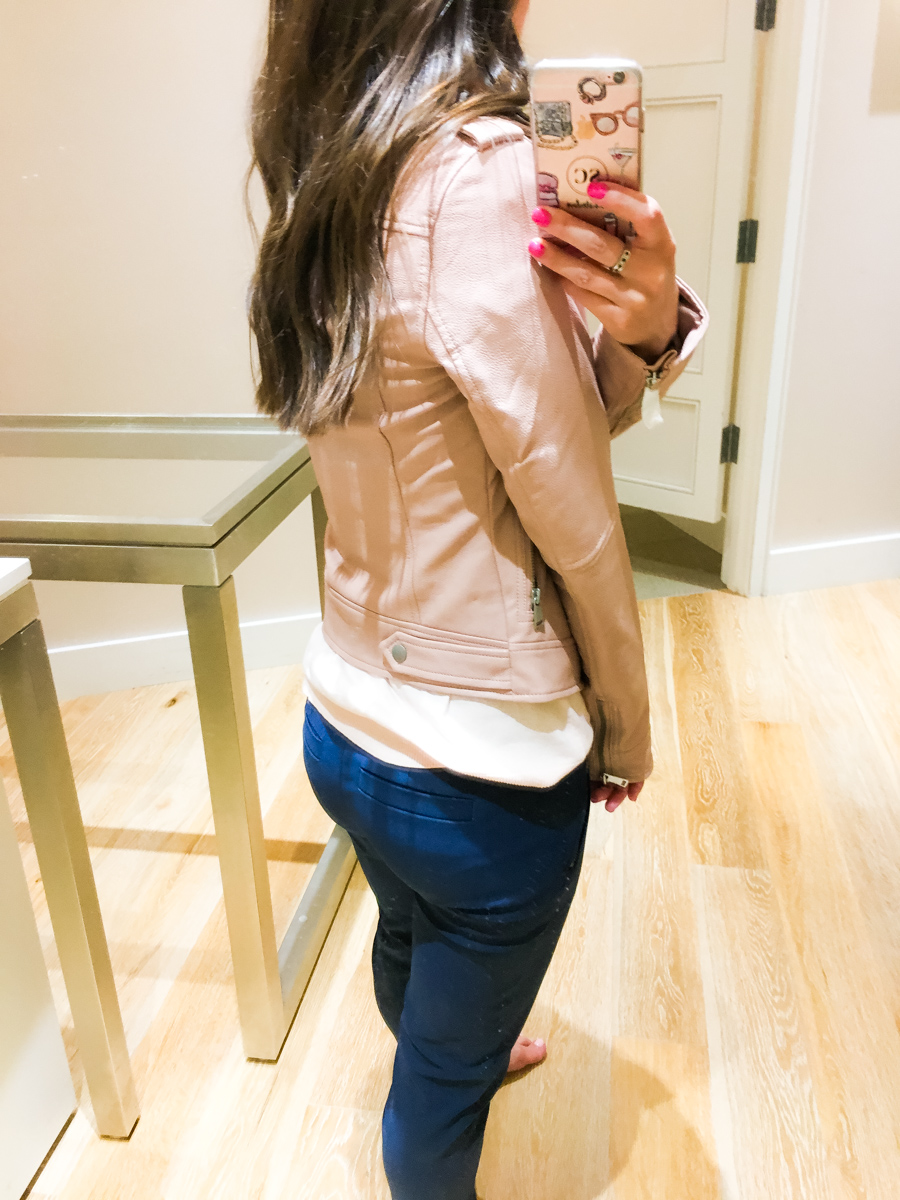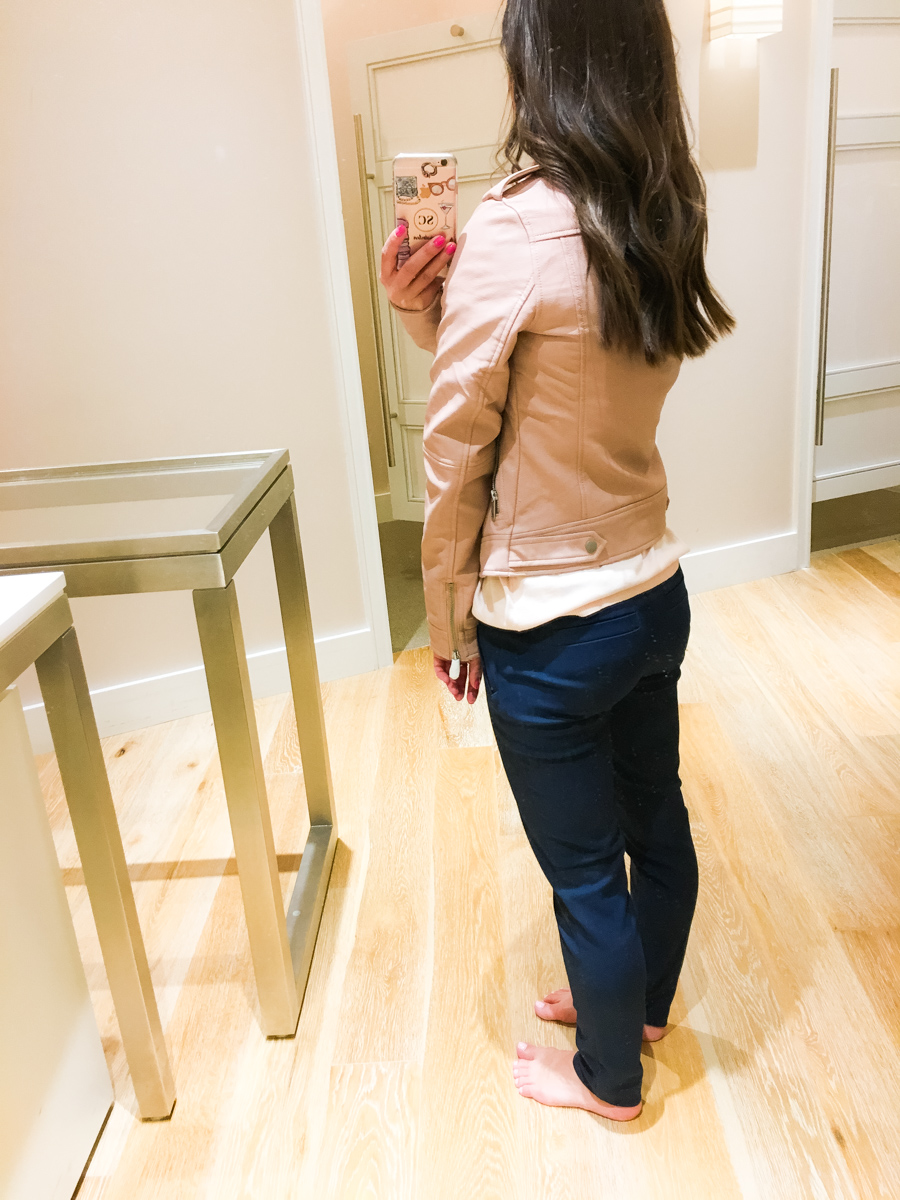 Outfit: Ruffle Sweater Tee XXSP + Skinny Zip Pant Marisa Fit 00P
Thoughts: This ruffle sweater tee has a little shimmer on it and was a gorgeous blush pink color. I felt it ran a little big and I tucked it under because of the longer length in these photos. The ruffle detailing is great on the shoulders. I paired it with these gorgeous blue-hued skinny zip pants. I highly recommend them; they are true-to-size and comfortable!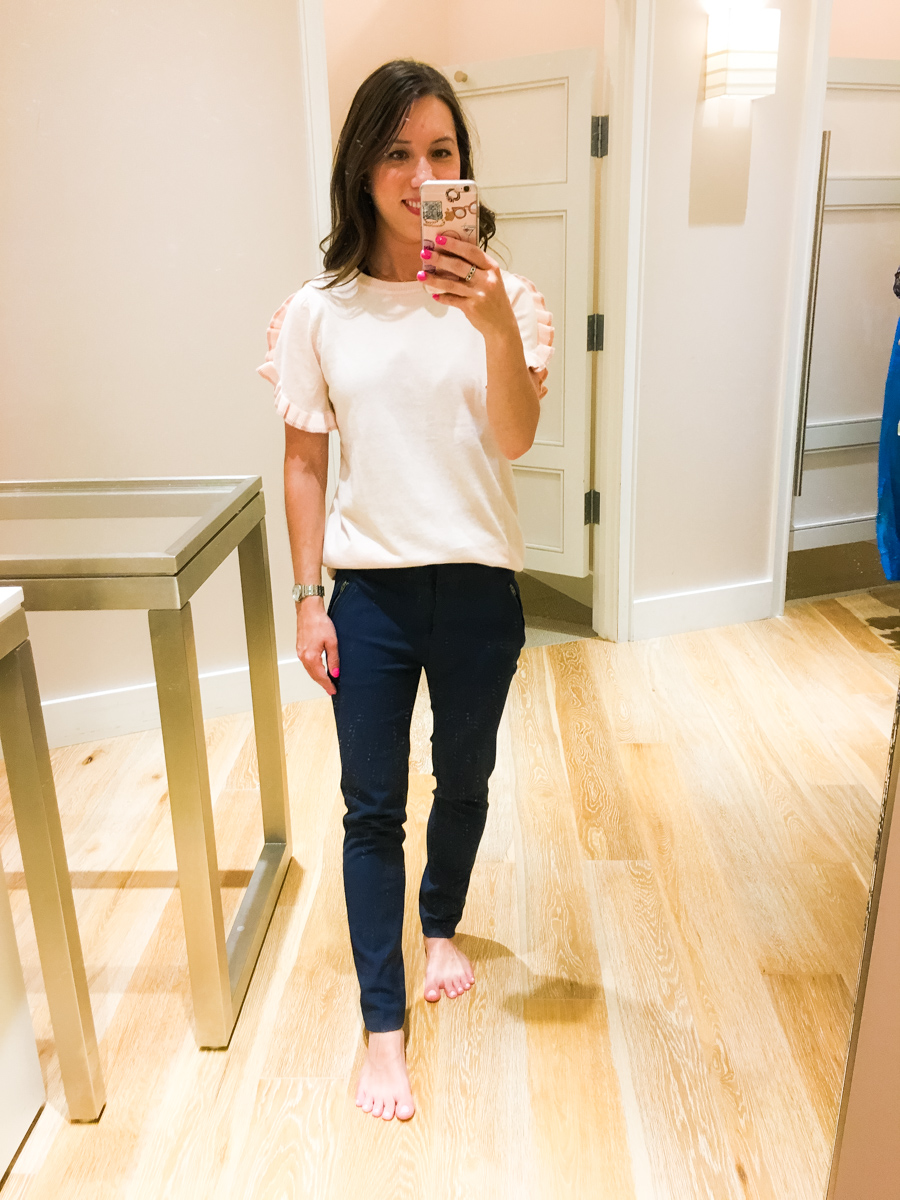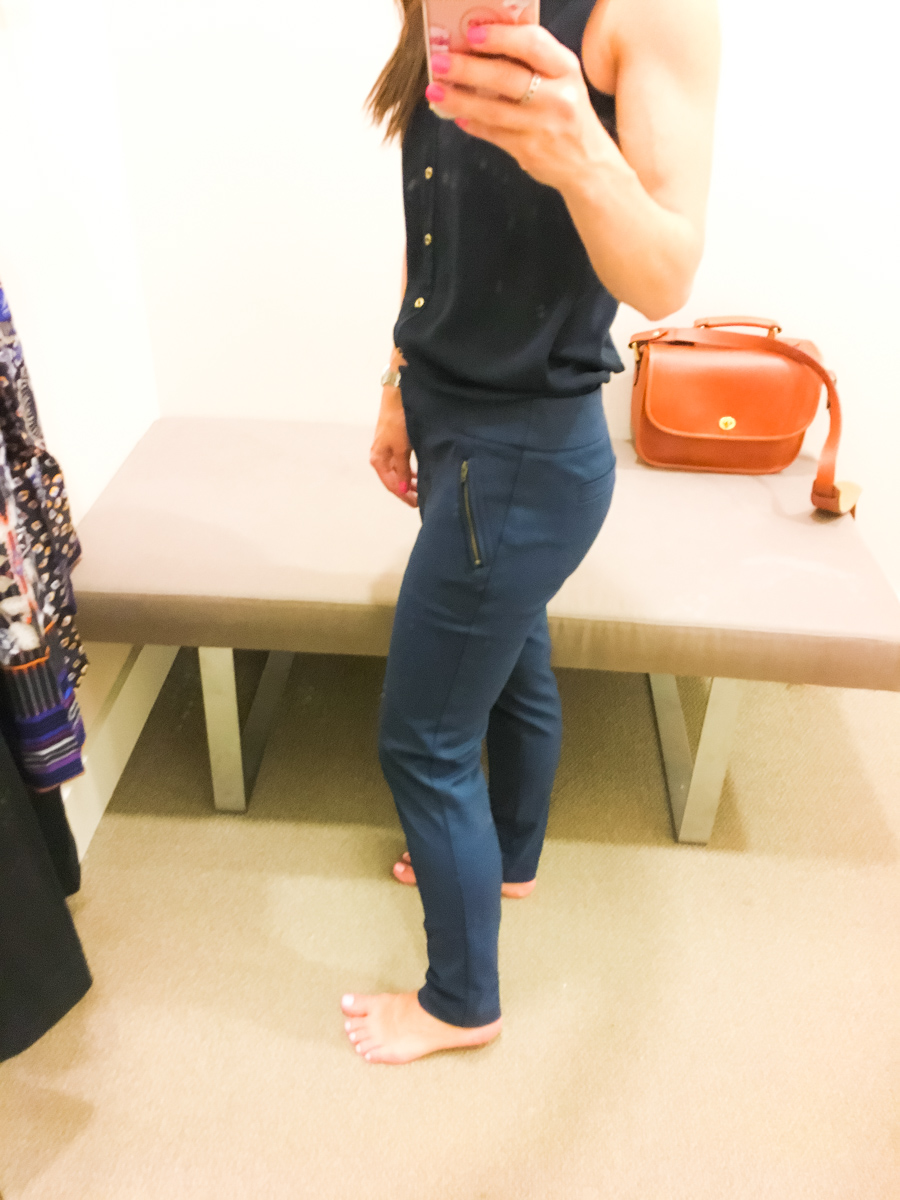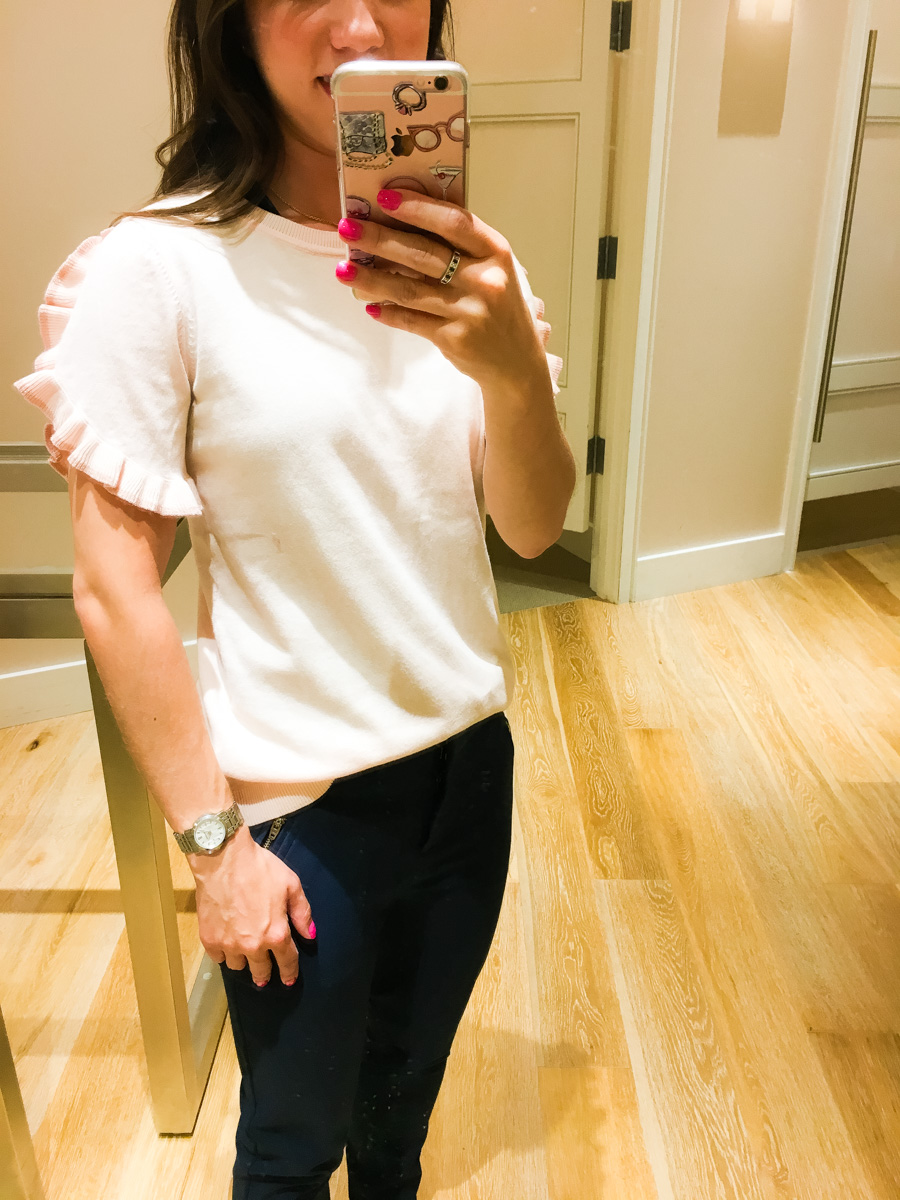 Outfit: Two tone puff sleeve sweater dress 00P
Thoughts: I LOVED this two-tone sweater dress. It was very comfortable, easy to wear to work (and machine washable) and the puff sleeves add just the right amount of detail. I would add in a necklace and high heels and this outfit is out the door!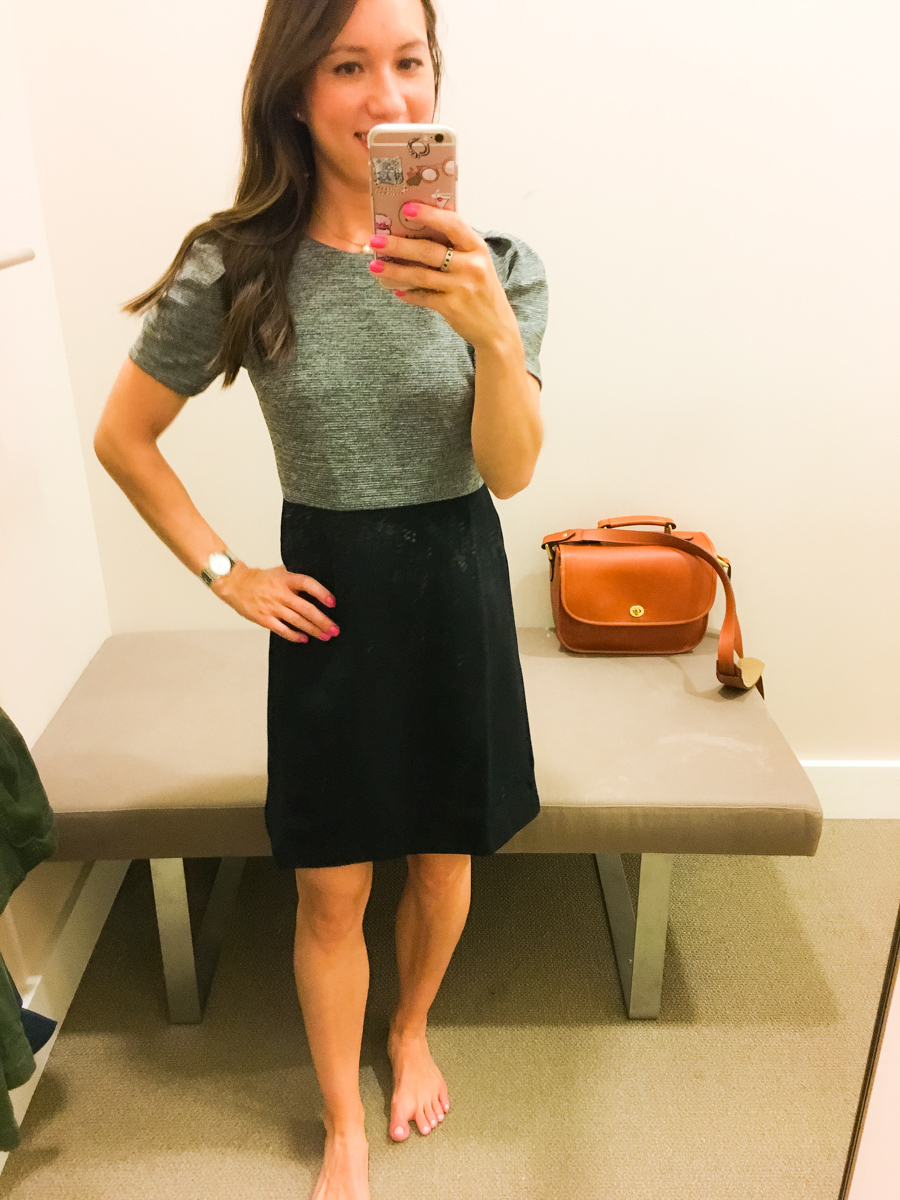 Outfit: Market Jacket (fatigue military jacket style) 00P
Thoughts: This military style olive green jacket immediately caught my eye in store. It was a similar design to previous jackets LOFT carried and I wanted to try it on for size. The 00P fit well and I liked it on better than on the hanger. It would make a great layering piece for fall and transition between seasons. I also liked how it layered over a maxi dress in LOFT outfit inspiration photos. See my other olive green jacket picks in this post.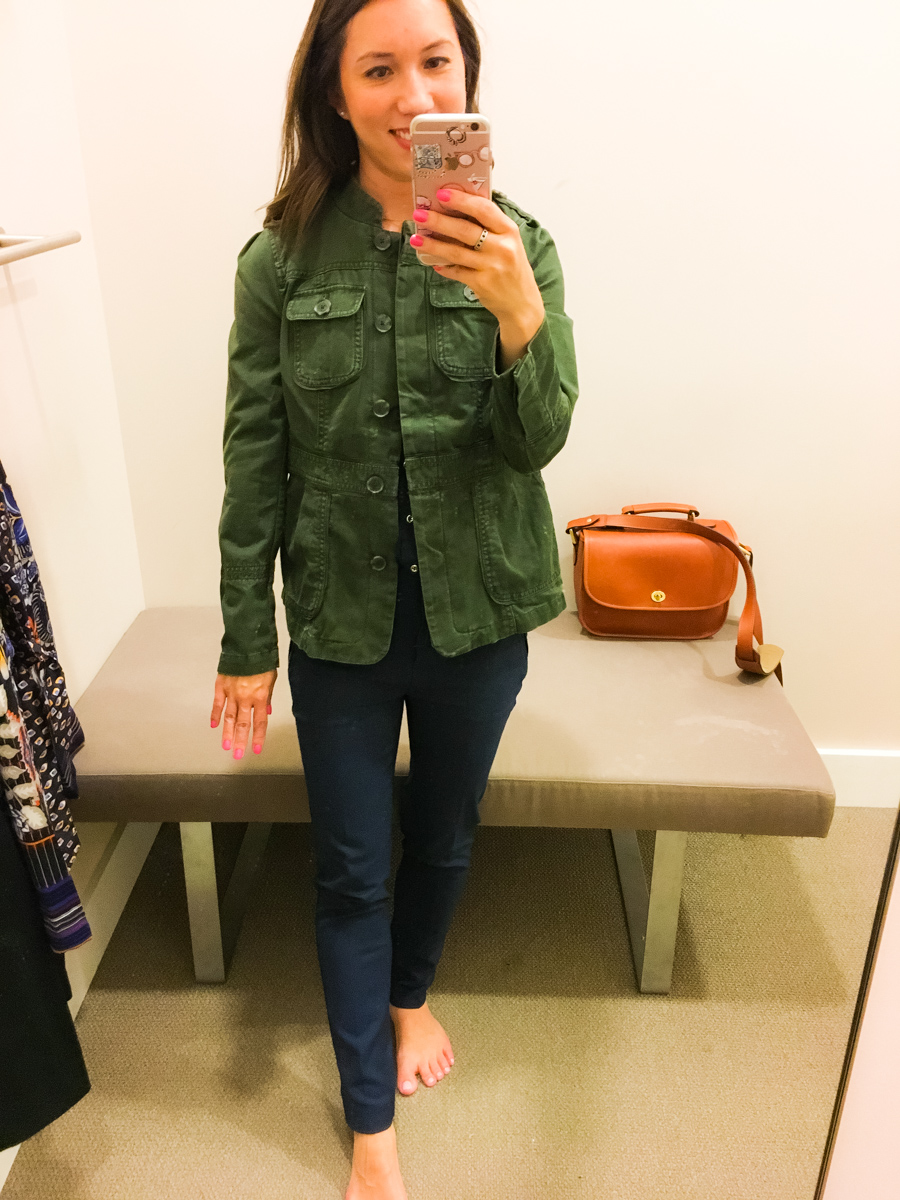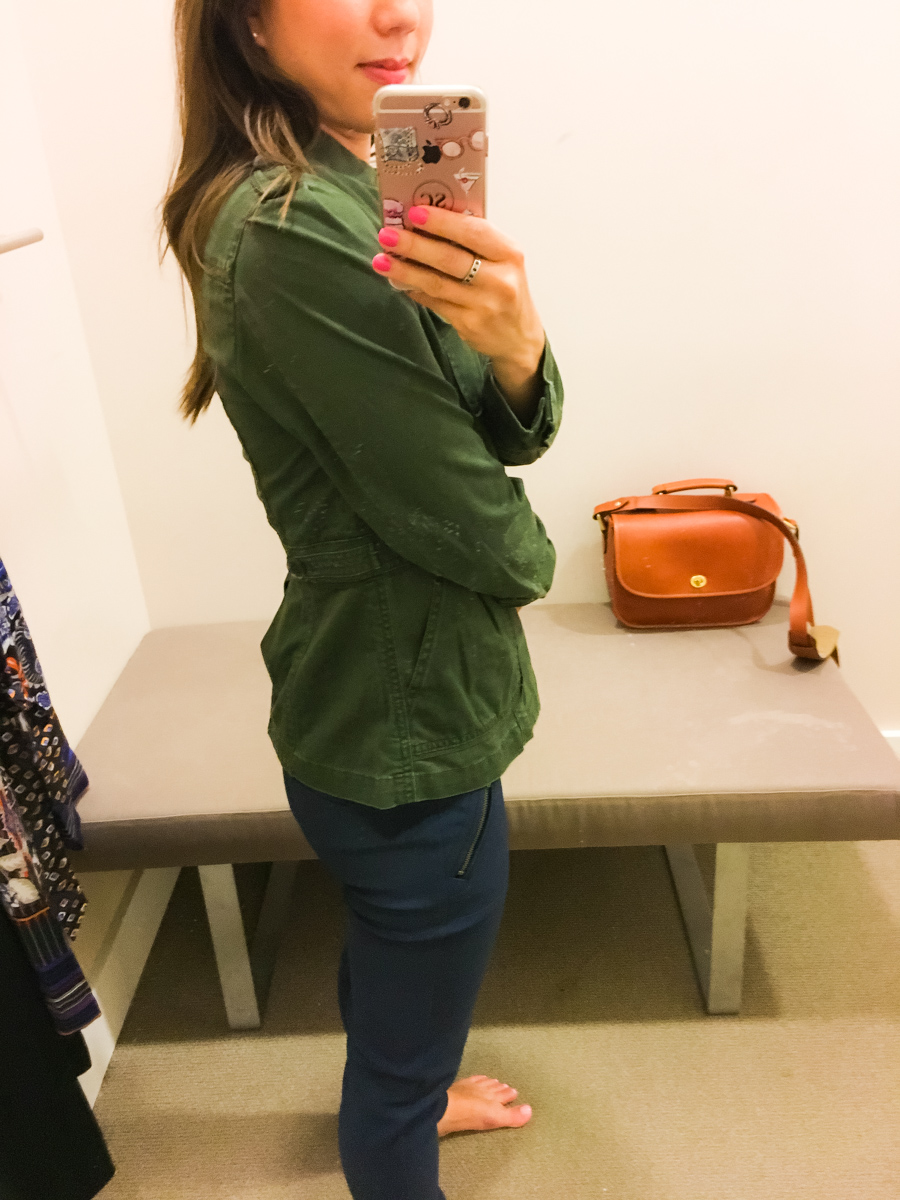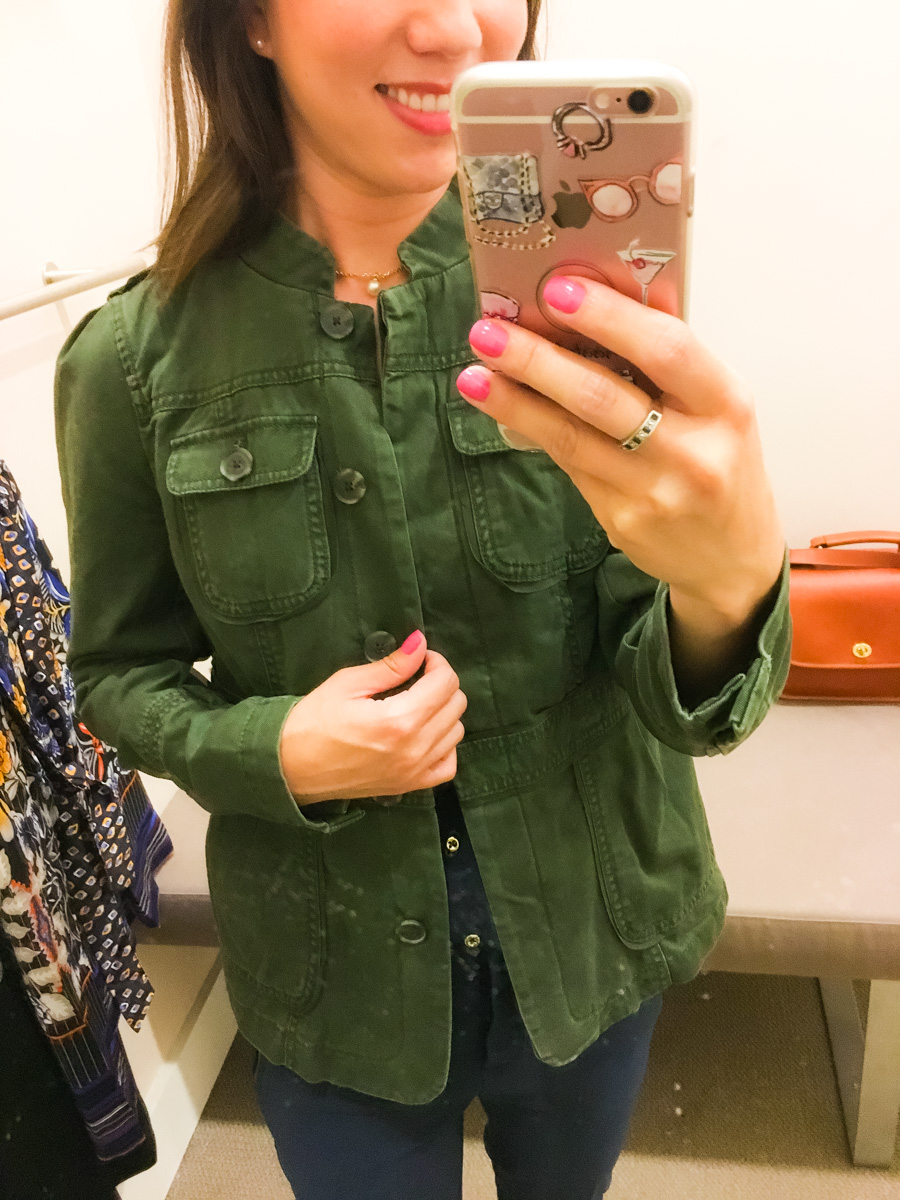 Those were my initial picks from Ann Taylor and LOFT! If you have any questions about fits, please leave a comment or reach out via email. I'm happy to help.
More fits are always on my Instagram Stories or YouTube channel as well!
Sign up to get my 20-Piece Capsule Wardrobe Starter Kit + Shopping List (it's free!)