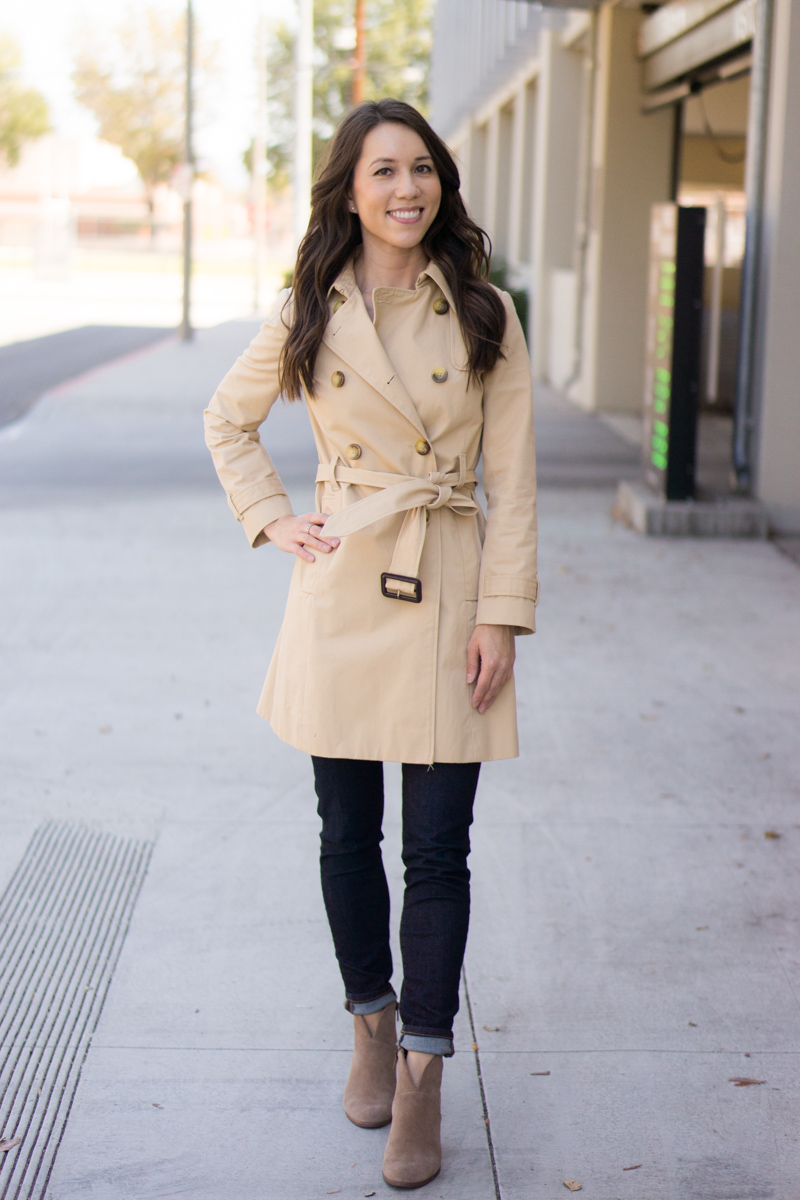 Fit Reviews & Weekend Sales | Ann Taylor, LOFT, WHBM & more
I'm continuing my popular Fit Reviews today with work outfit and casual outfit inspiration + highlighting Weekend Sales happening now!
Weekend Sales Overview: 
See my other recent Fit Reviews here:
Note: This post may contain affiliate links; full disclosures HERE. 
---
Shop my Outfits/Recommendations (click image): 

What am I MOST excited for during these Weekend Sales? Let me outline a few items + showcase a few fits from recent online purchases. Head over to see all my Favorite Brands on this page.
Fall Booties: I cannot believe Vince Camuto is having their Friends & Family Sale! You've heard me talk about them a LOT and their Franell Booties are now <$100! Grab a pair before they sell out again this season! Read my blog post on them here and no-show sock options here.
Trench coat: I love a classic trench coat. I own 3 in different colors – khaki, black and burgundy. I wrote about them previously HERE and HERE. My khaki one is from J. Crew Factory but they don't have it in stock so there are 2 amazing options from J. Crew that are on sale now – pleated or classic style.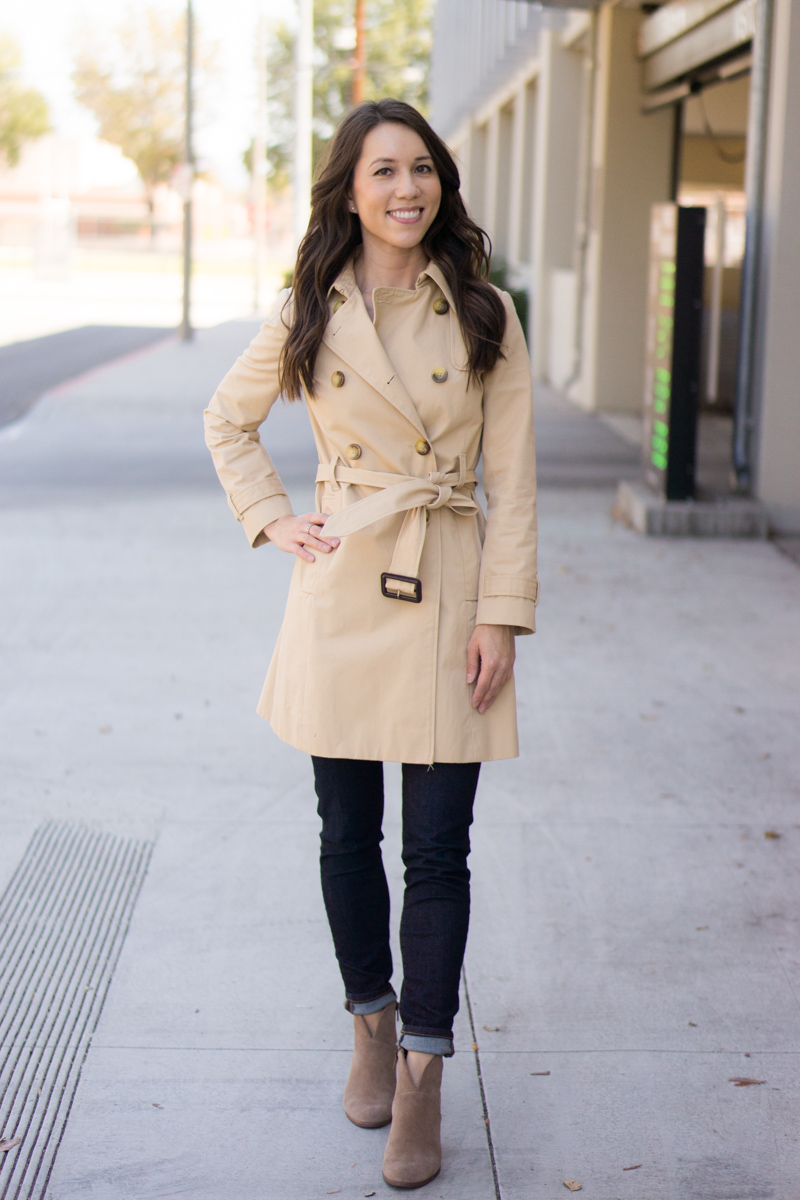 Trench coat and Fall Booties from above with links to blog posts
Ann Taylor & new LUXE Collection: 
Side Zip Leggings: These were amazing! Very comfortable and the rich burgundy color is gorgeous. I tried on a 00P and thought I could size up to a 0P for a more comfortable fit. (lace top is from Bloomingdale's – size XS)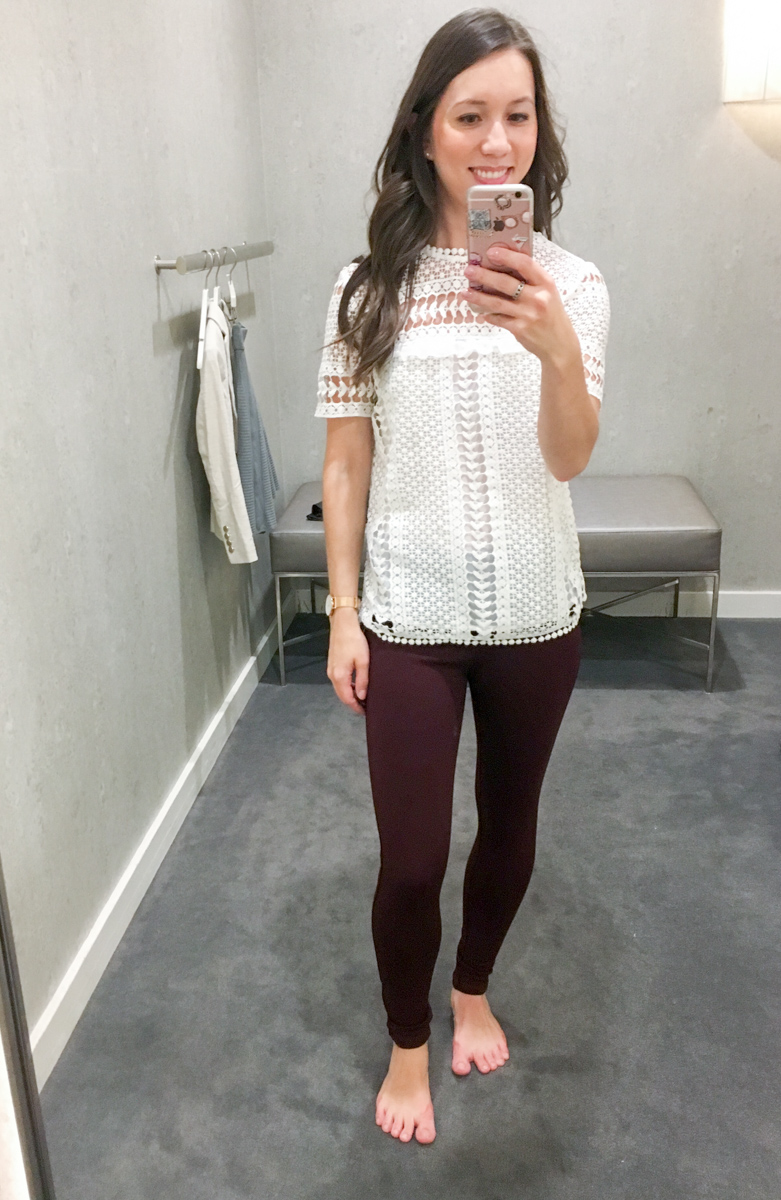 Stitched Flare Sweater Skirt: Ok, so you know I LOVE sweater skirts so I had to try this on while in store. It fit well in XXSP. I would recommend for those needing to add a sweater skirt to your wardrobe (I already own 3 so I'm good for now).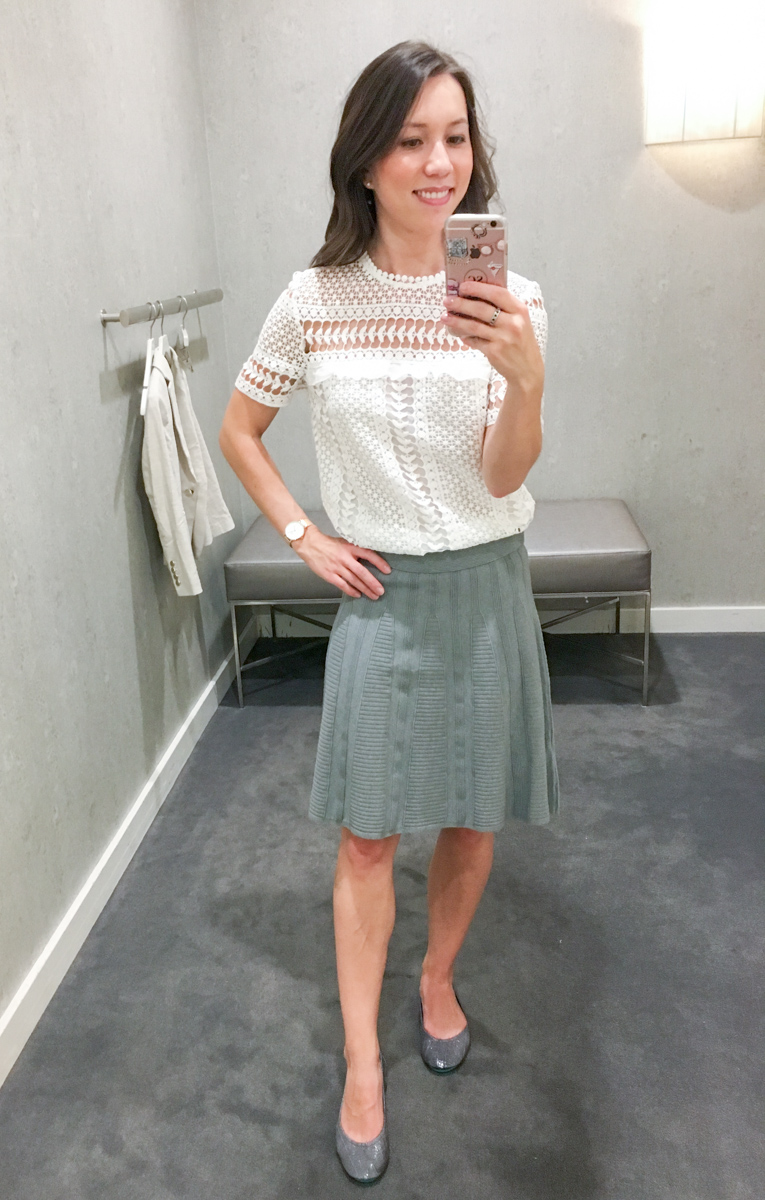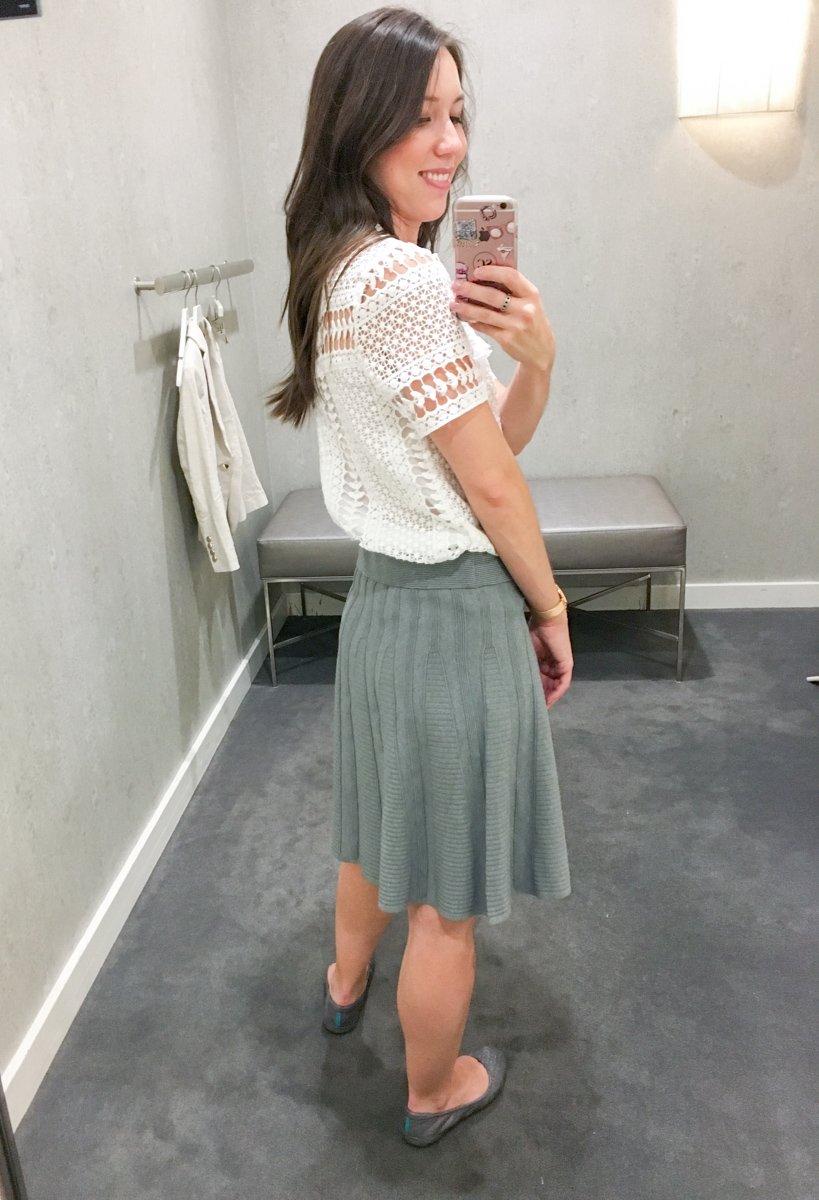 Marled Knit Pencil Skirt: This was SO comfortable. I tried on 00P and 0P and both fit well. It is a pull on style with an elastic waist. I actually don't think it would require any tailoring – hitting right above my knee. This would be so convenient to travel with for work.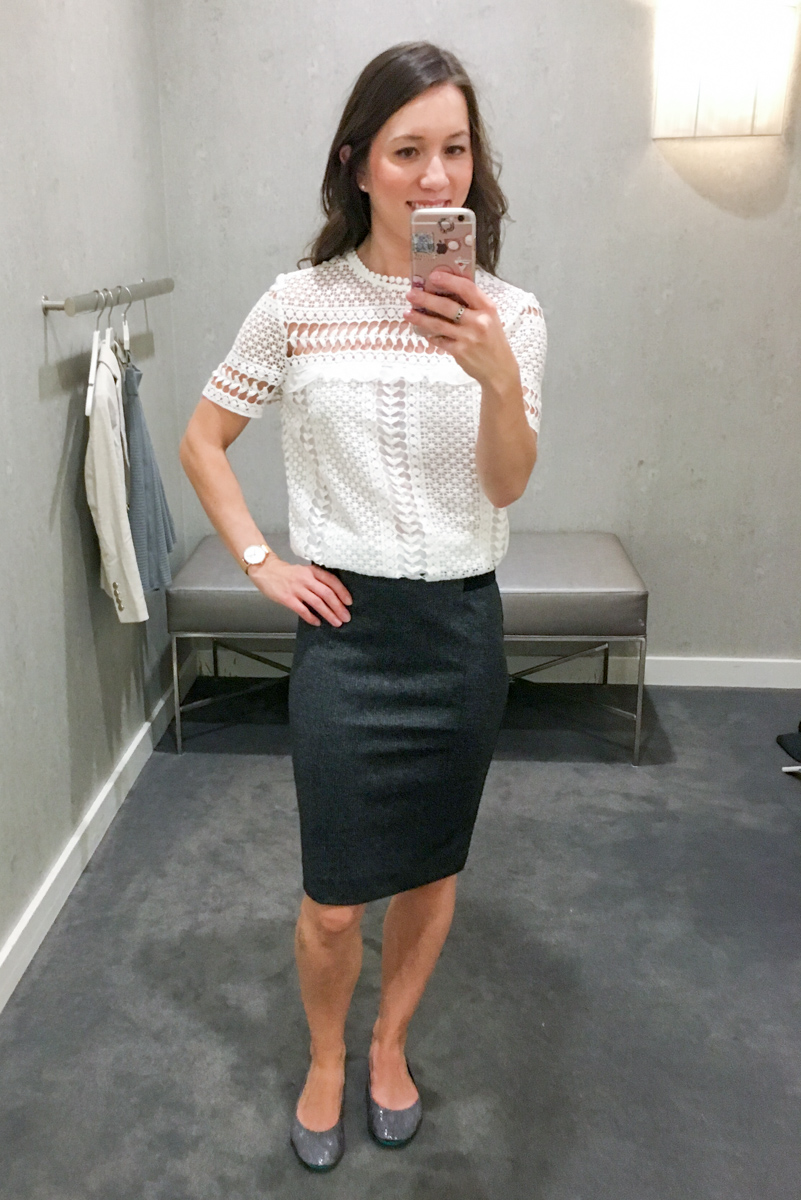 Stripe Jersey Layering Top: Again, a theme within the LUXE collection – soft and comfortable. The XXSP fit well and I could size up to an XSP for a looser fit for lounging around the house. It would be long enough to pair with leggings.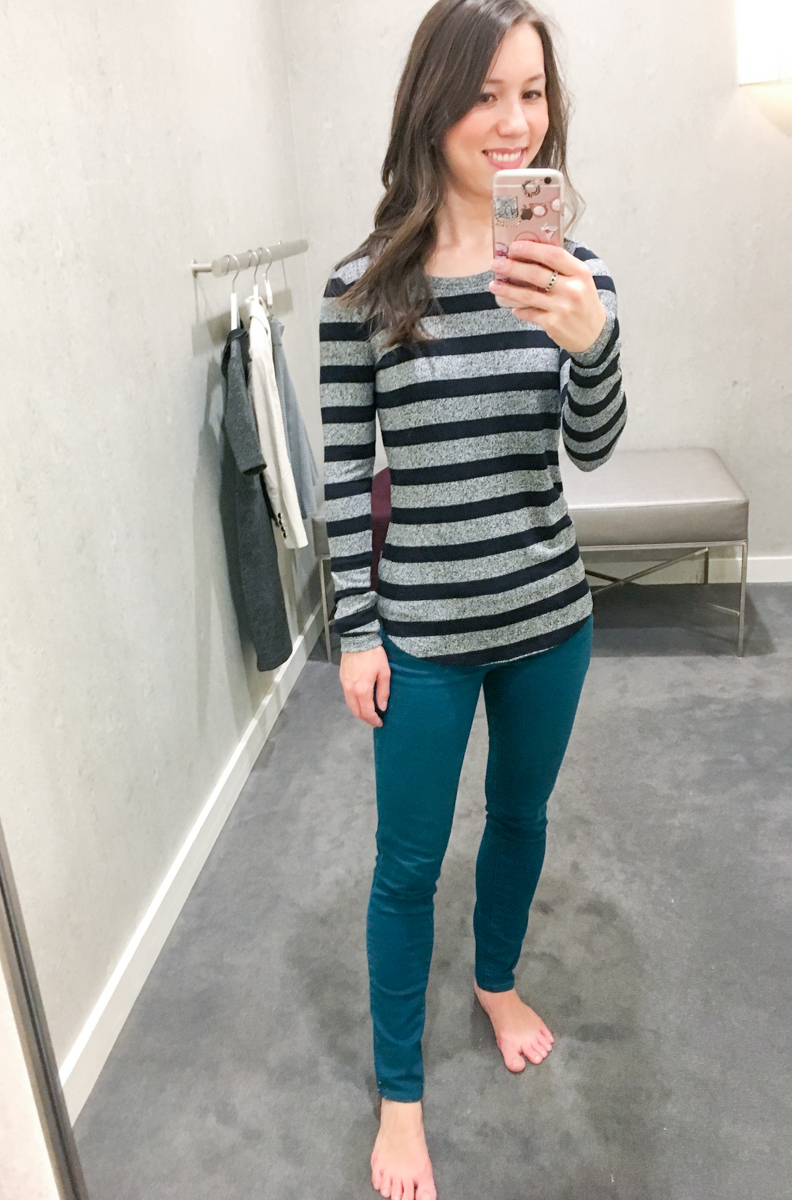 Ruffle Neck Sheath Dress: This was an interestingly designed dress. I loved the soft fabric and ruffle on the front. However, there was a large slit in the back that was awkward looking. It fit in 00P/XXSP but I would not recommend unless you like the back design.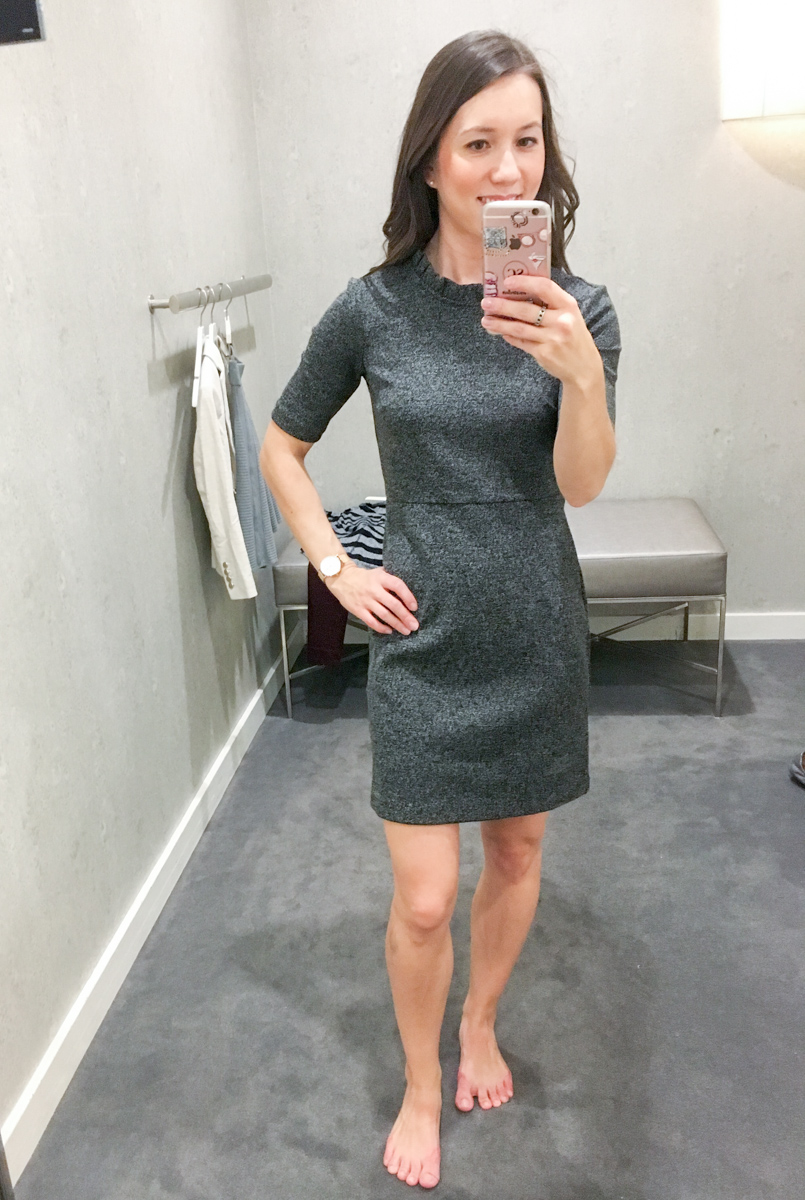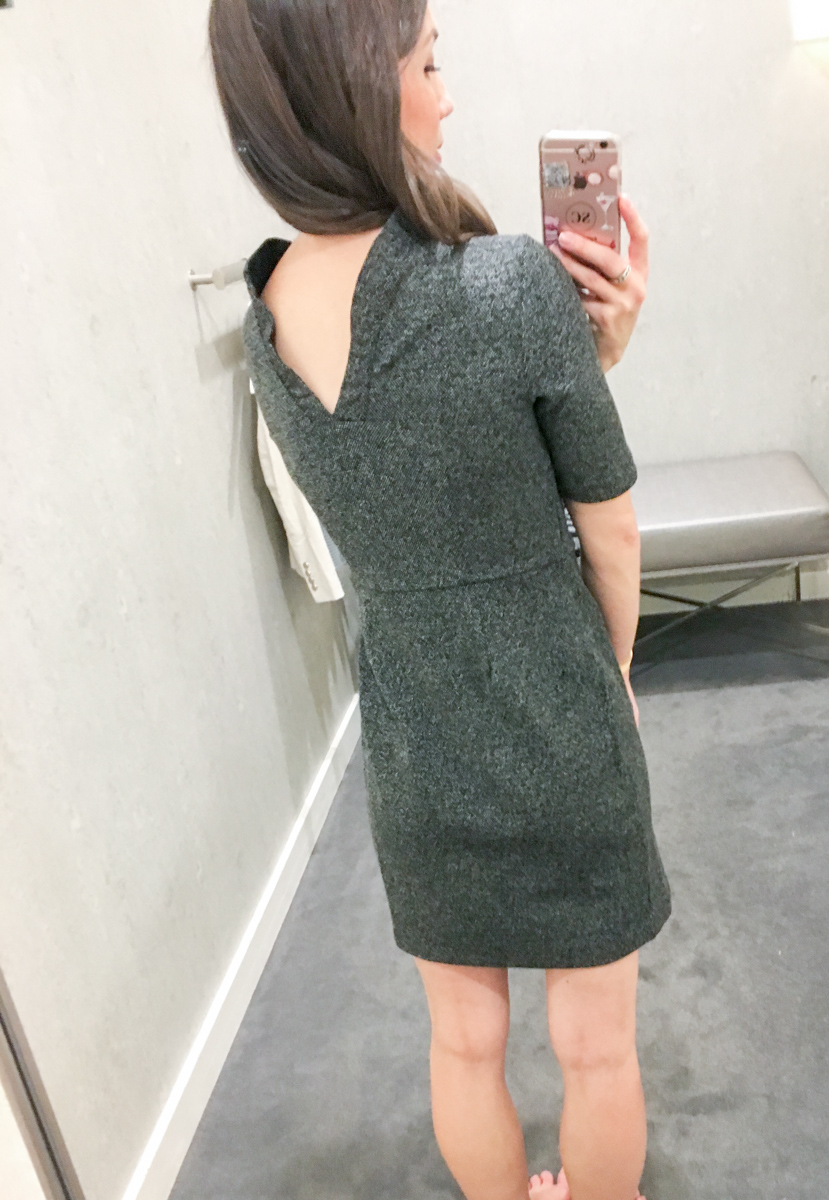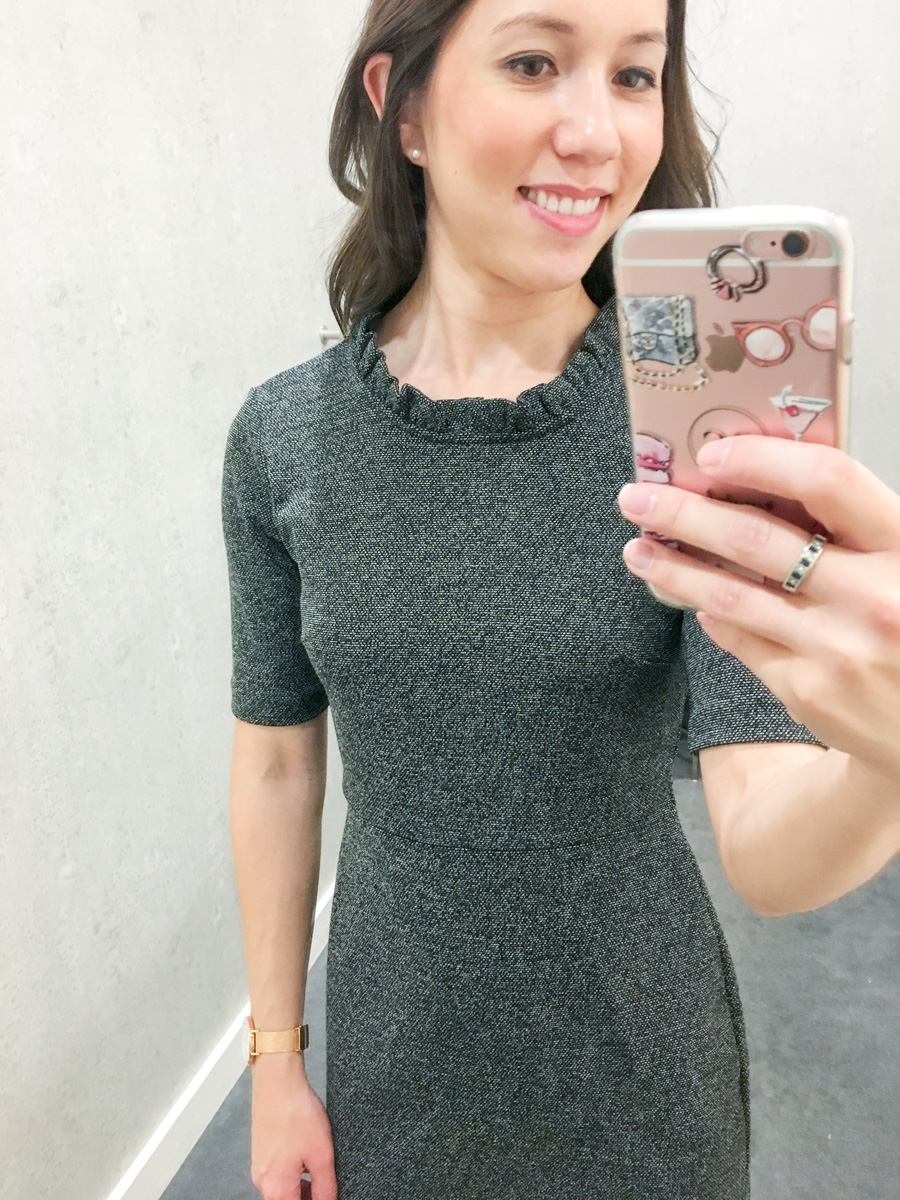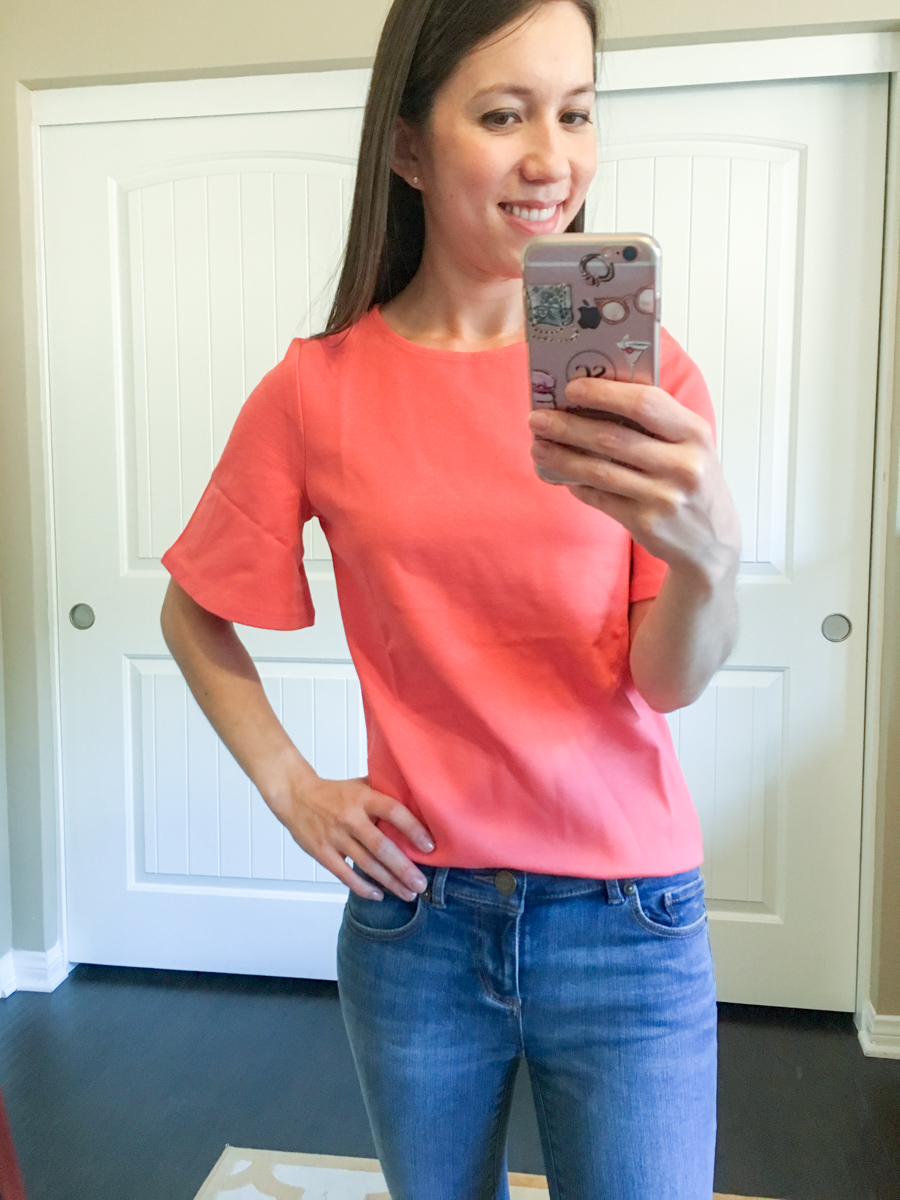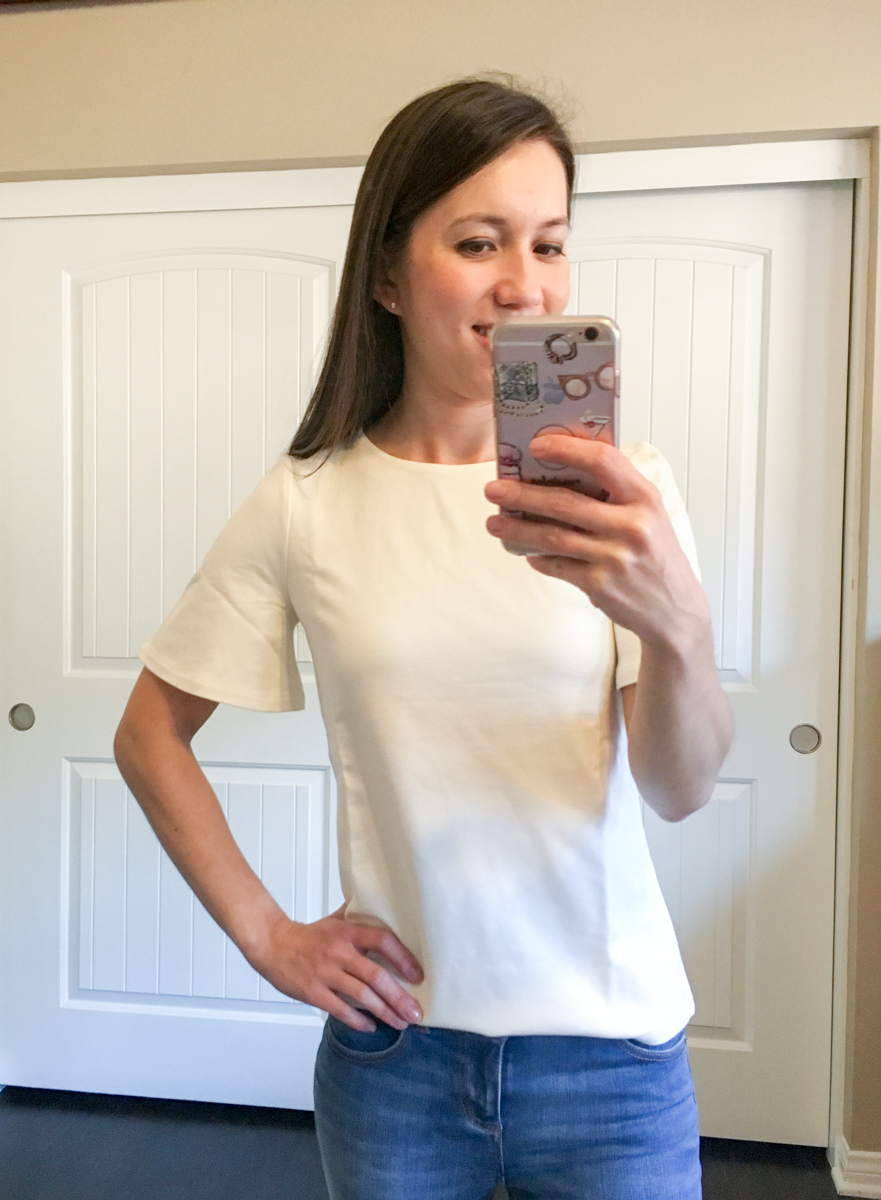 I just talked about J.Crew on my blog with this bow dress and daisylace top. I recommend both of those items during the sale.
This eyelet ruffle mock-neck top also caught my eye. I liked it on in size XXSP and in the jade green color besides white or black colors. It comes UN-lined so other online reviews have reported seeing through it. I didn't really see a problem here – I'm wearing a nude bra. If you have concerns, you could add in a camisole and size up. This mock-neck top would look best tucked into a skirt in my opinion.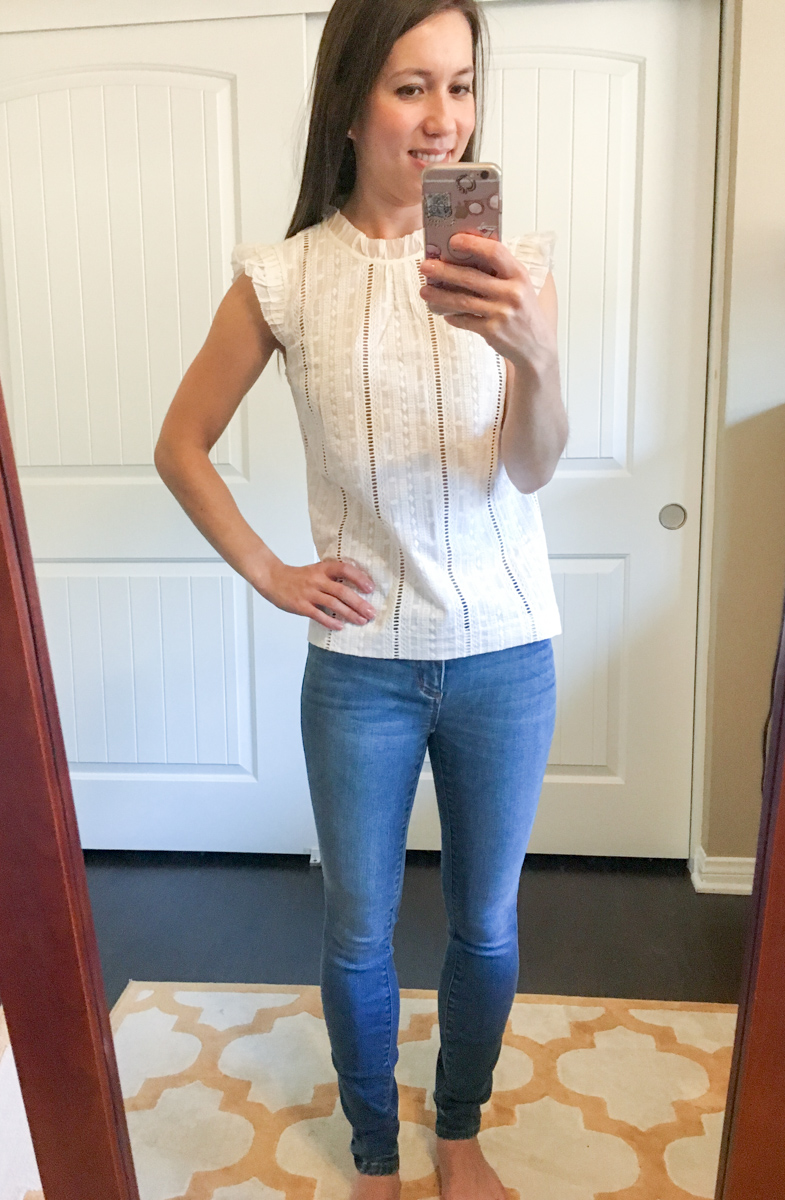 Guess what?! My J. Crew Leather Jacket is back in stock! I showcased it in navy in this blog post and now it's also available in limited sizes in a gorgeous ivory moroccan sand color. The updated version also comes in olive green or navy with gold buckles or in a washed black or burgundy style (new versions HERE or HERE).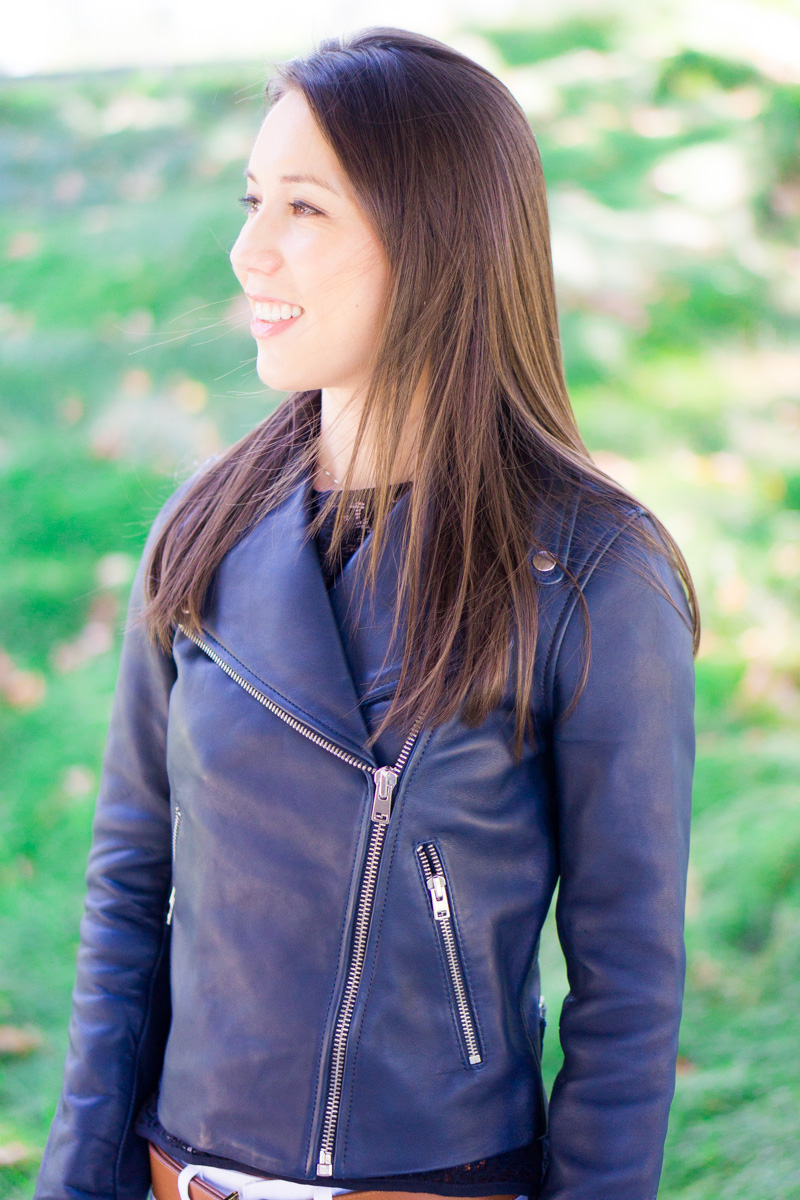 One of wool coats is included in the sale! I own it in navy and showcased it in this blog post (I sized up to Petite 0 for layering). I really like the matisse blue color.
Finally, my whale shirt is still in stock and supports a great cause. It's excluded from sales but a great deal for an updated striped top (my blog post).
Business Suit: My favorite company for business suits that are petite-friendly is having a sale! This is SO rare. Head over to Theory to check it out and see my blog post and photos on my black suit.
White House Black Market(WHBM):
Leather Flounce Jacket: This caught my eye while searching for other petite-friendly leather jackets. I am trying it on in size Petite XXS. It actually fit quite small on me – the shoulders were almost tight and arm length almost short. That was kind of a nice surprise to know they are making very petite-friendly clothing! I didn't end up keeping this because I really have no use for another jacket but I recommend – possibly sizing up though.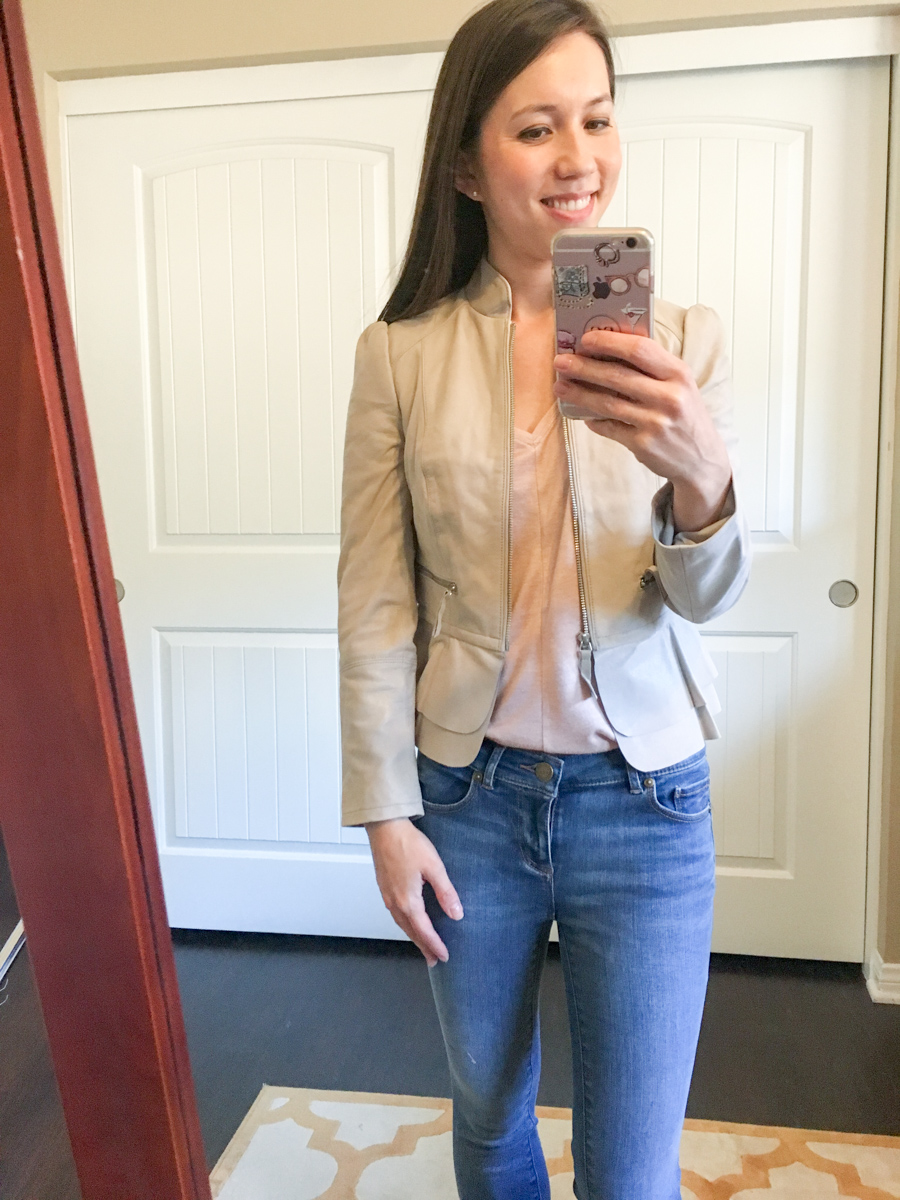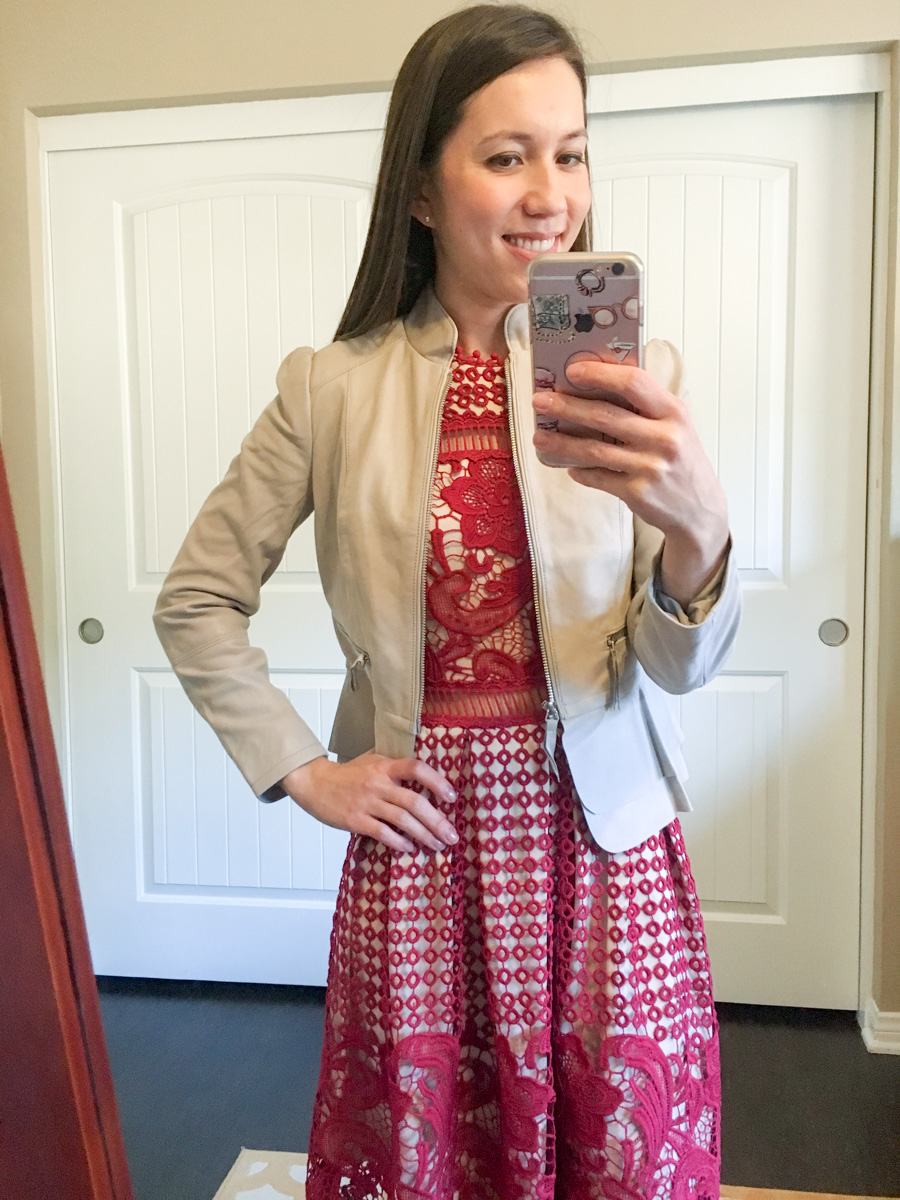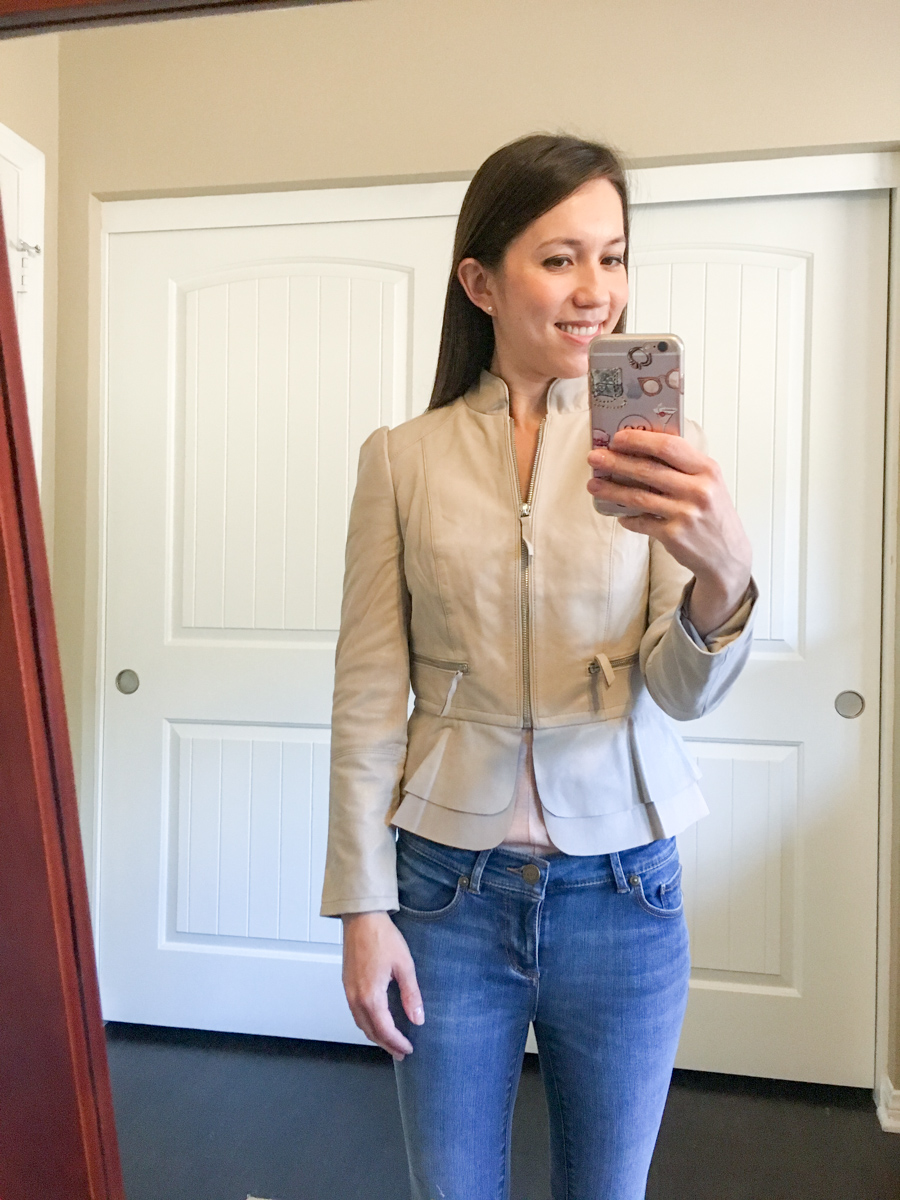 Jetsetter Tee: This was a random buy for more casual tops. It was a great alternative to a classic v-neck tee and the color was gorgeous in blush pink.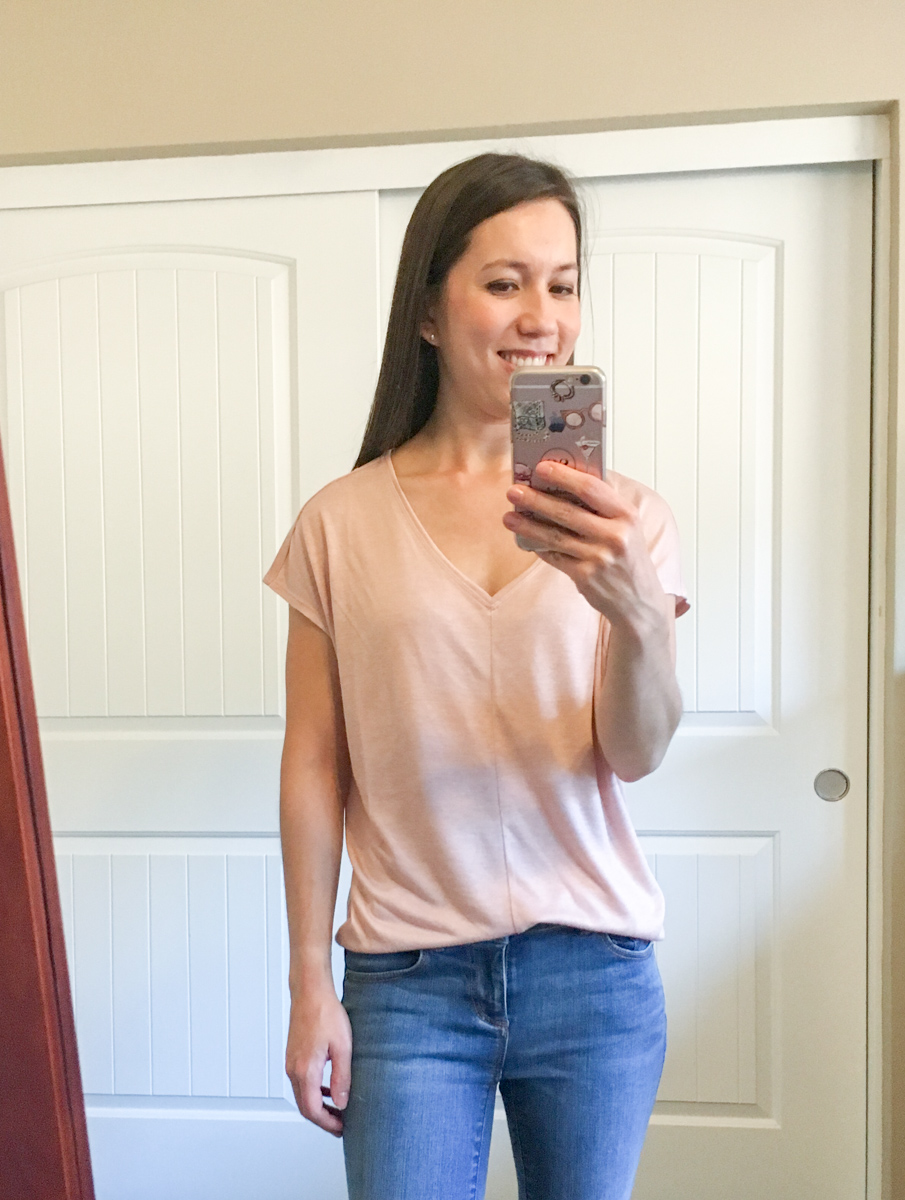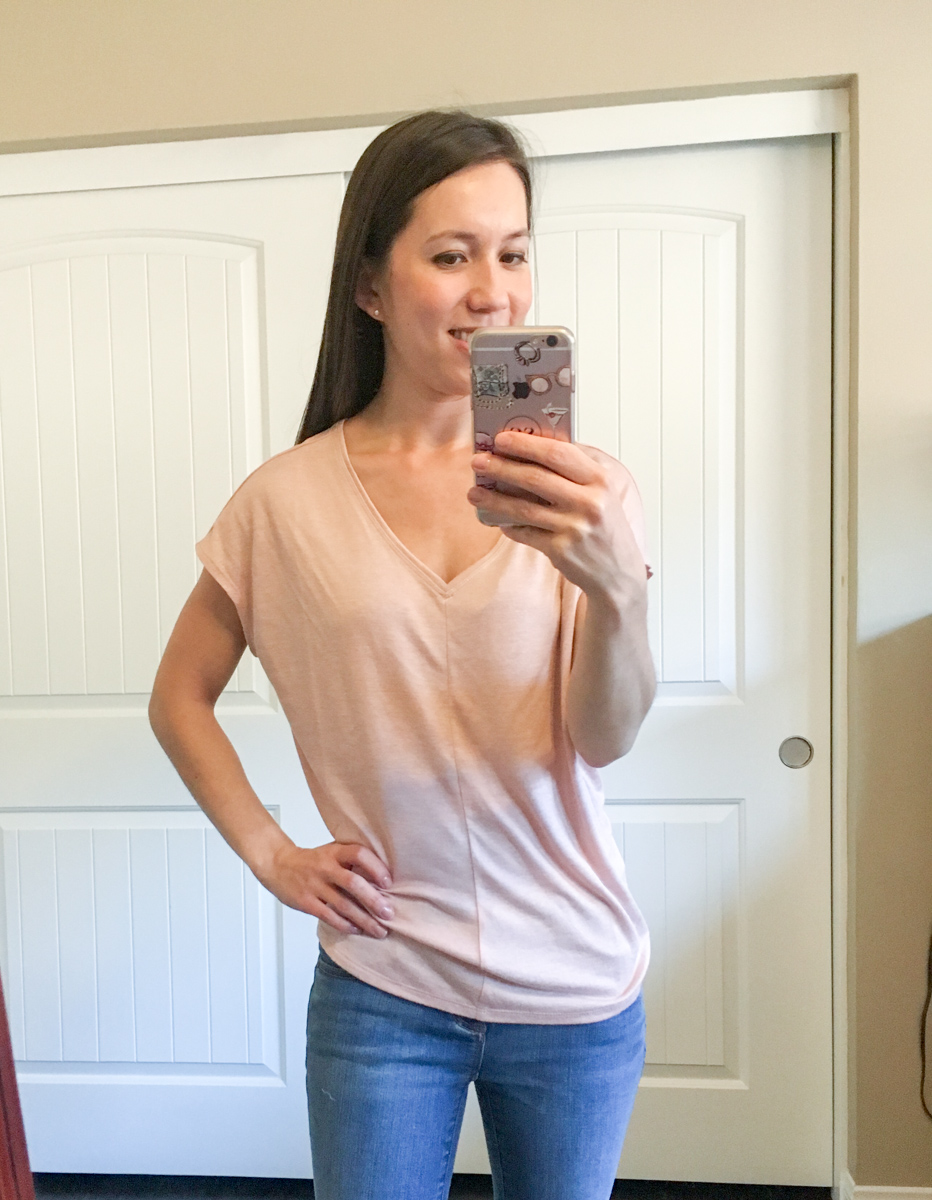 Talbots: My reversible belt is still in stock and comes in 4 colors! More info over on this blog post and for sweaters I recommend on this blog post. Also, don't forget essentials like opaque tights that I love from here!
Land's End: Winter accessories with leather gloves, hat or mittens.
Bloomingdale's: Quick picks include these petite-friendly sunglasses and Aqua dress (less than $35 after sale!). I've written a few times about my love for their Aqua line (I own 3 dresses in size XS from there). Also, they have an amazing gift for Breast Cancer Awareness with $19 going towards the Foundation- shop the water bottle here.
LOFT: Quick picks include this burgundy ruffle lace top and camisole.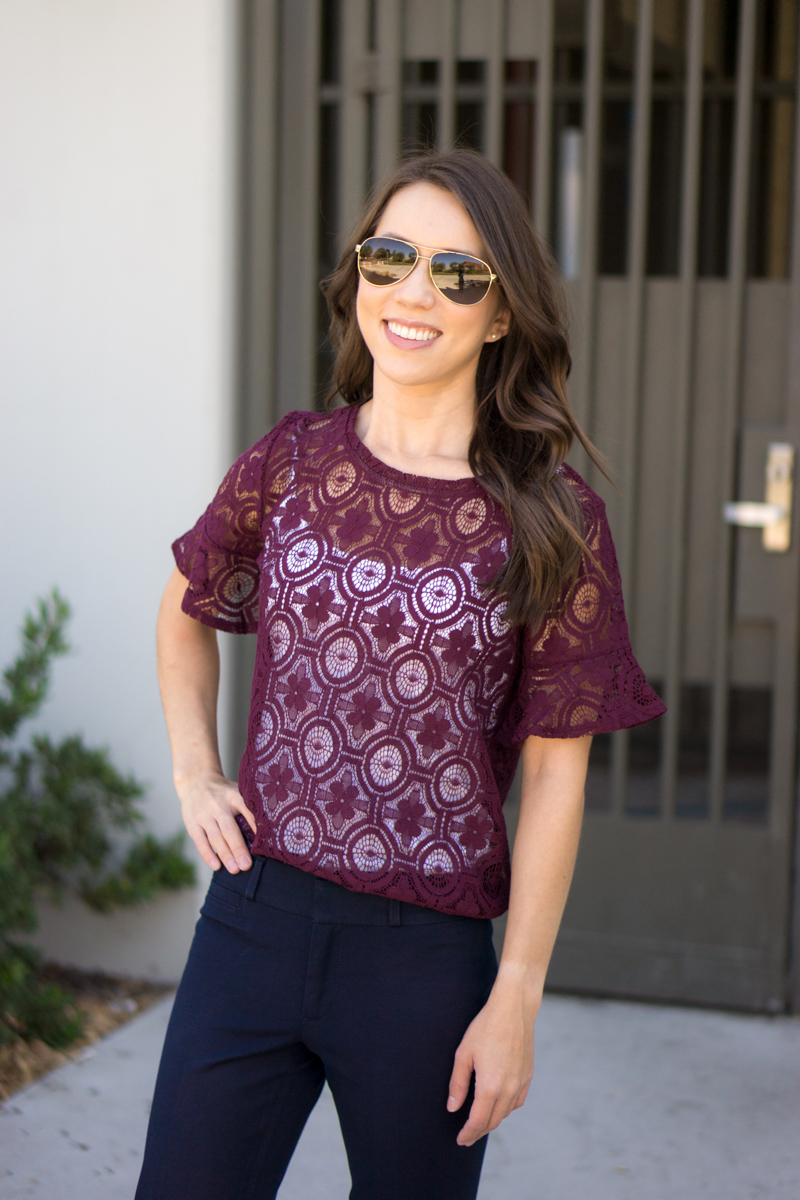 ---
---
Thank you for reading! My goal is to reach 1,000 more women by the end of 2017. Help me achieve this goal. Share this post using the teal buttons.   
Follow my updates on Social Media & Subscribe to Emails
Twitter | Facebook Page | Instagram | YouTube | Pinterest
Sign up to get my 2018 Winter Style Challenge // 25-Piece Winter Capsule (it's free)