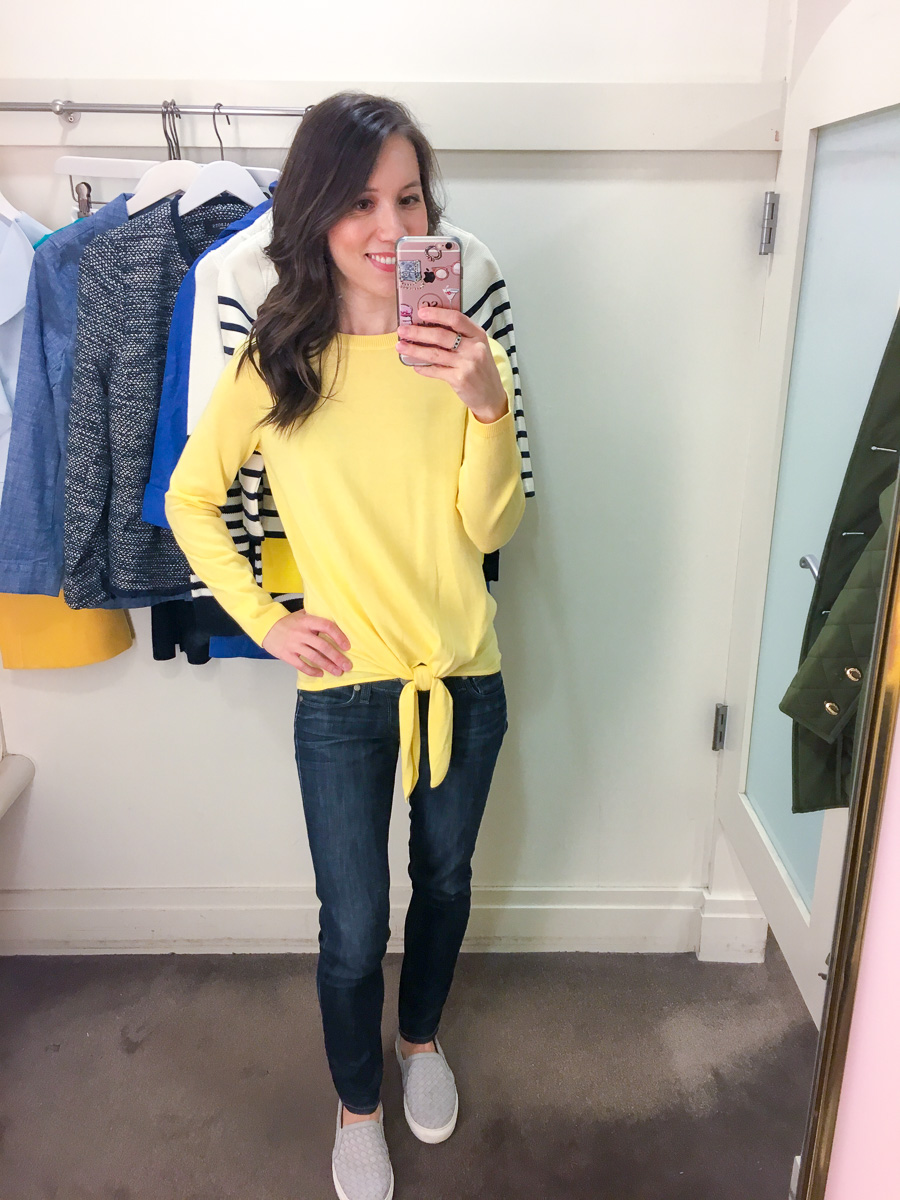 Fit Reviews // Talbots Spring Collection
Talbots Work Outfits & Casual Outfits 
I'm continuing my popular Fit Reviews today with work outfit and casual outfit inspiration from the new lines at Talbots. Talbots has come back on my radar the past couple of years because of their high-quality, petite-friendly fit in tops, dresses, accessories and shoes! I am now able to more easily purchase items and wear right off the rack instead of tailoring. You've seen my previous posts with Talbots items – click to read on their blazer, sheath dress, sweater and belt.
Click my Menu Tab Bar – Outfits and Sales/Fit Reviews to see other similar posts.
Sizing: I'm 5'1″ and 95 pounds, usually wear Petite P or 0P in Talbots clothing. See my measurements on my About Page. 
Note: This post may contain affiliate links; full disclosures HERE. This means, purchasing an item through one of my links may earn me a small commission without affecting your own purchase. Thank you for supporting Petite Style Script & helping it continue as an educational resource. 
Shop the Post (click image):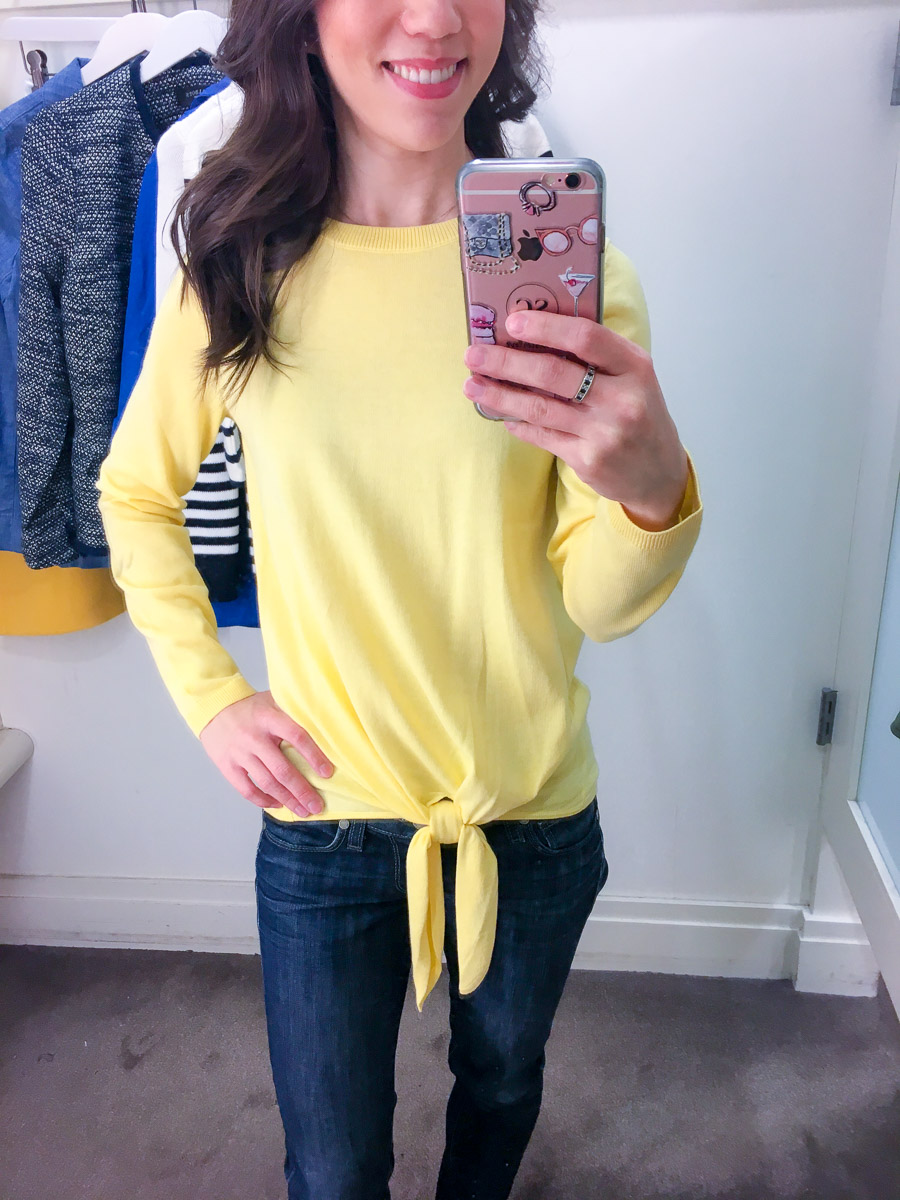 Outfit: Tie-Front Sweater Petite P; Sneakers Size 35; Simple Necklace; Watch; Jeans Size 23
Thoughts: This was my favorite piece from the new Spring Collection! I love the tie-front detail for an updated lightweight sweater design. The soft pastel yellow color is gorgeous in person and there are 3 other color options available (also like the aqua color). This top fits true to size in my usual Petite P. Overall, I highly recommend.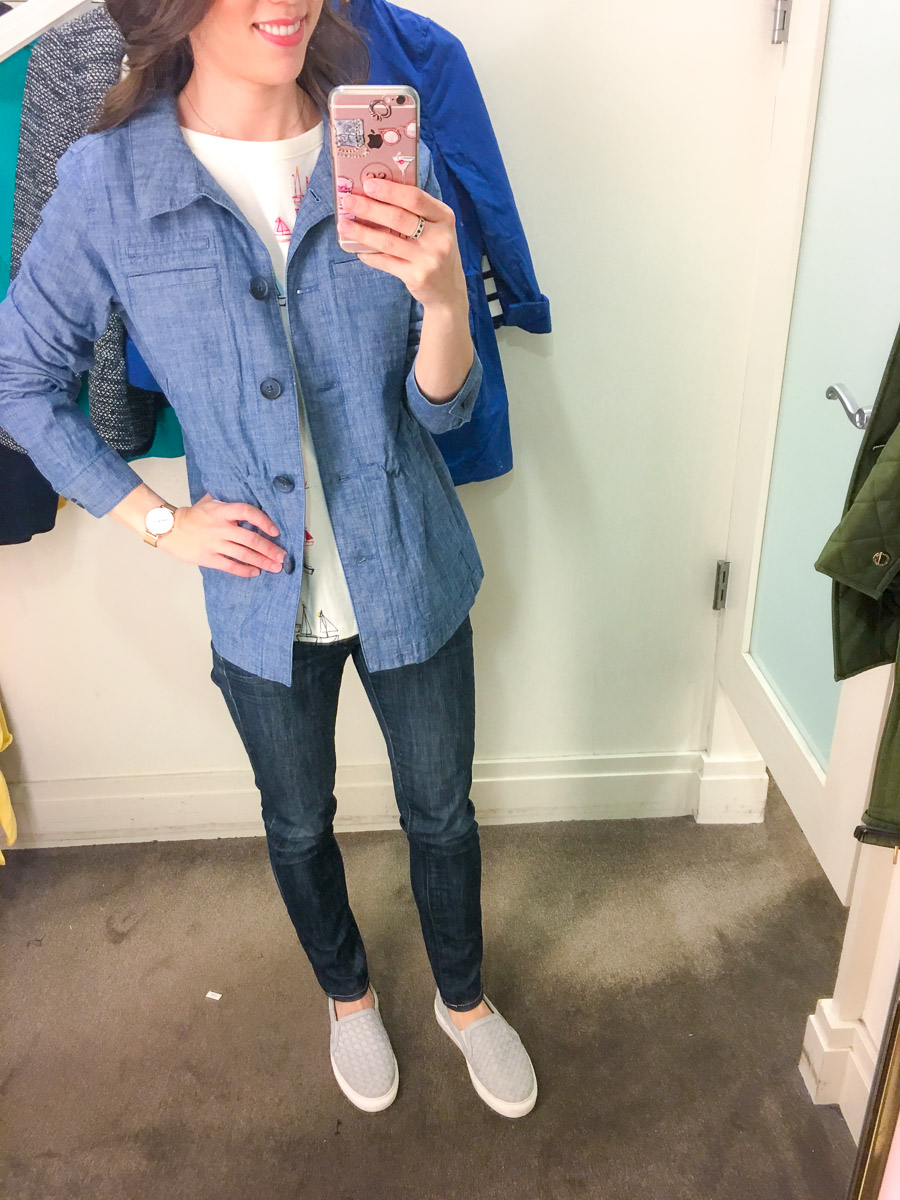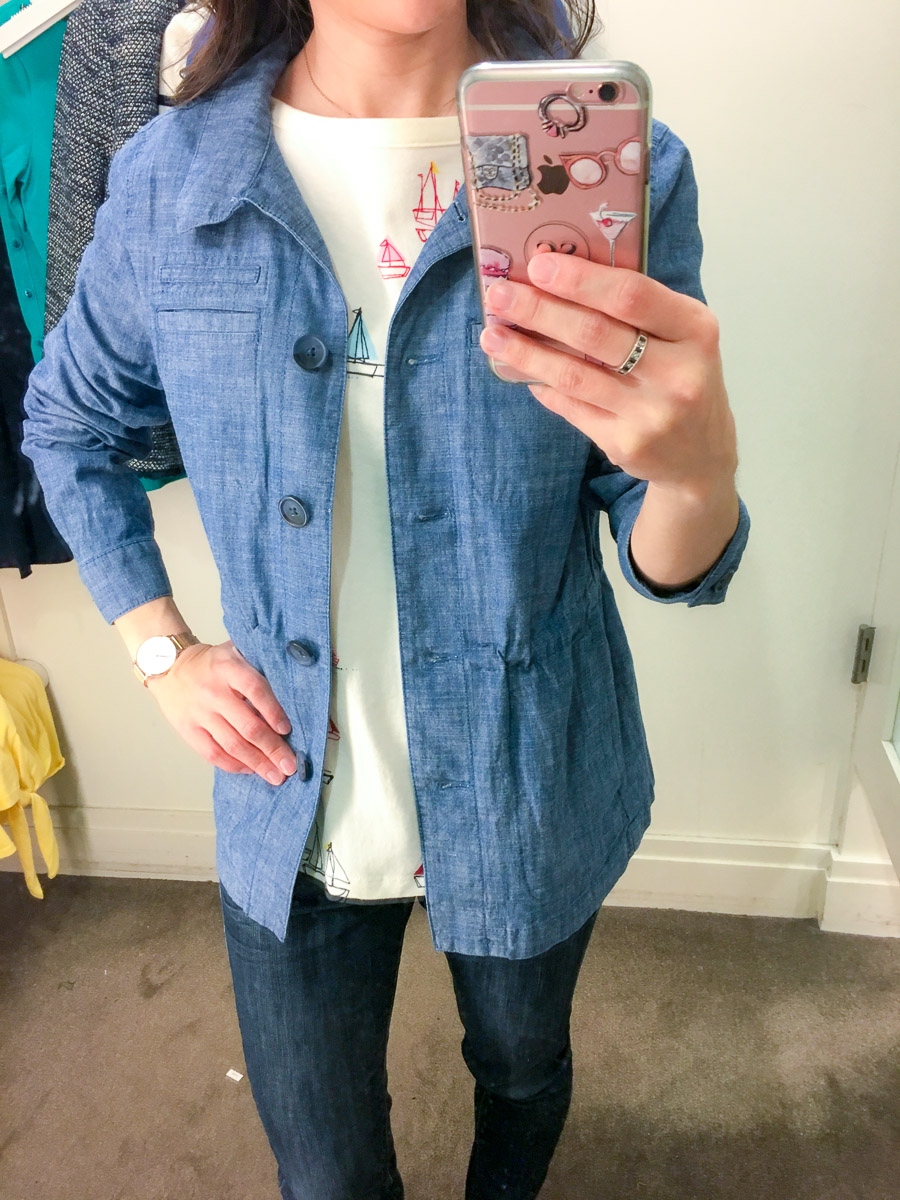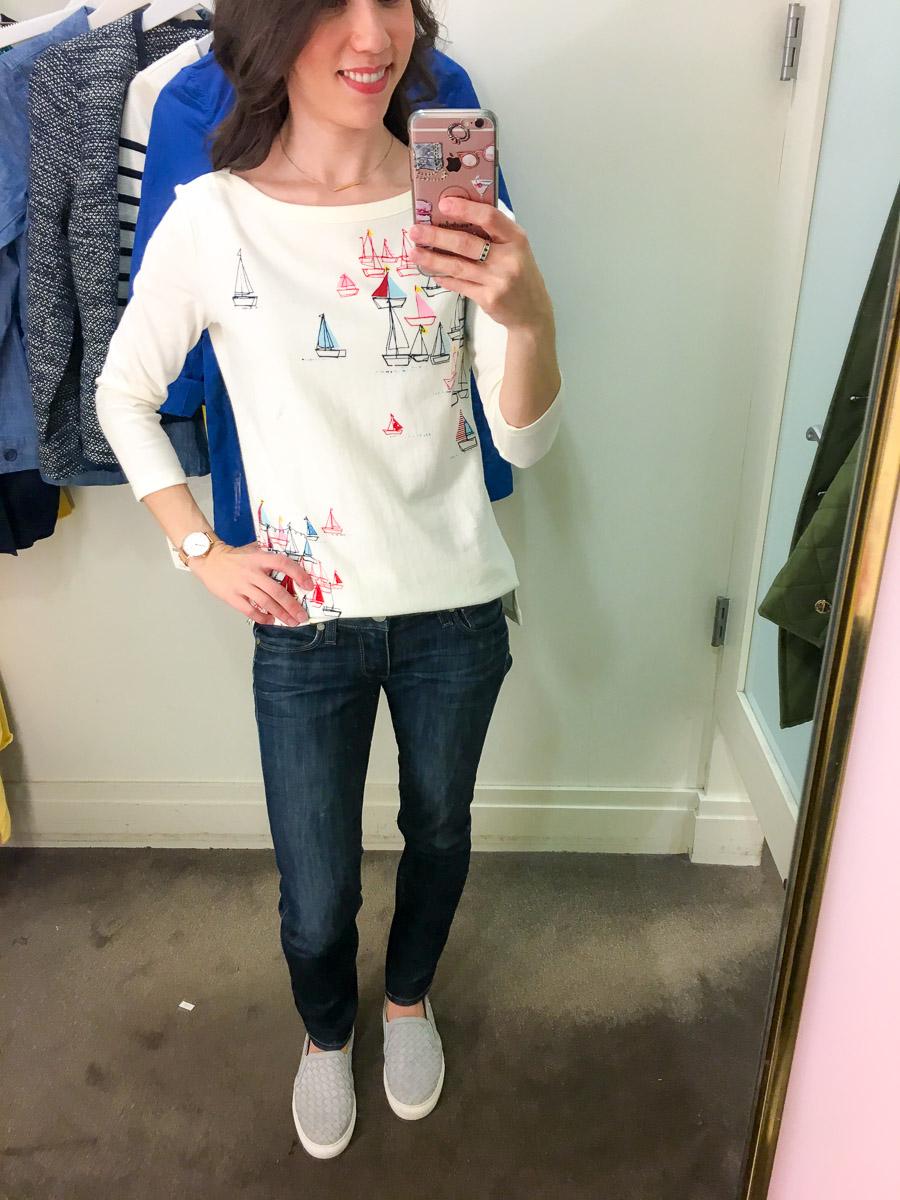 Outfit: Chambray Jacket Petite P; Sailboat Tee Petite P; Sneakers Size 35
Thoughts: This was my second-favorite look from the new Spring collection! I love the design of this chambray twill jacket – it fits very well and is a great way to update your layering pieces (also known as completer pieces) for spring. I thought this sailboat tee was so cute and although I dislike boatneck designs, this one worked well without showing my bra straps. I also like the soft ivory color of it with a little color in the graphic. Overall, both fit TTS and I highly recommend both items!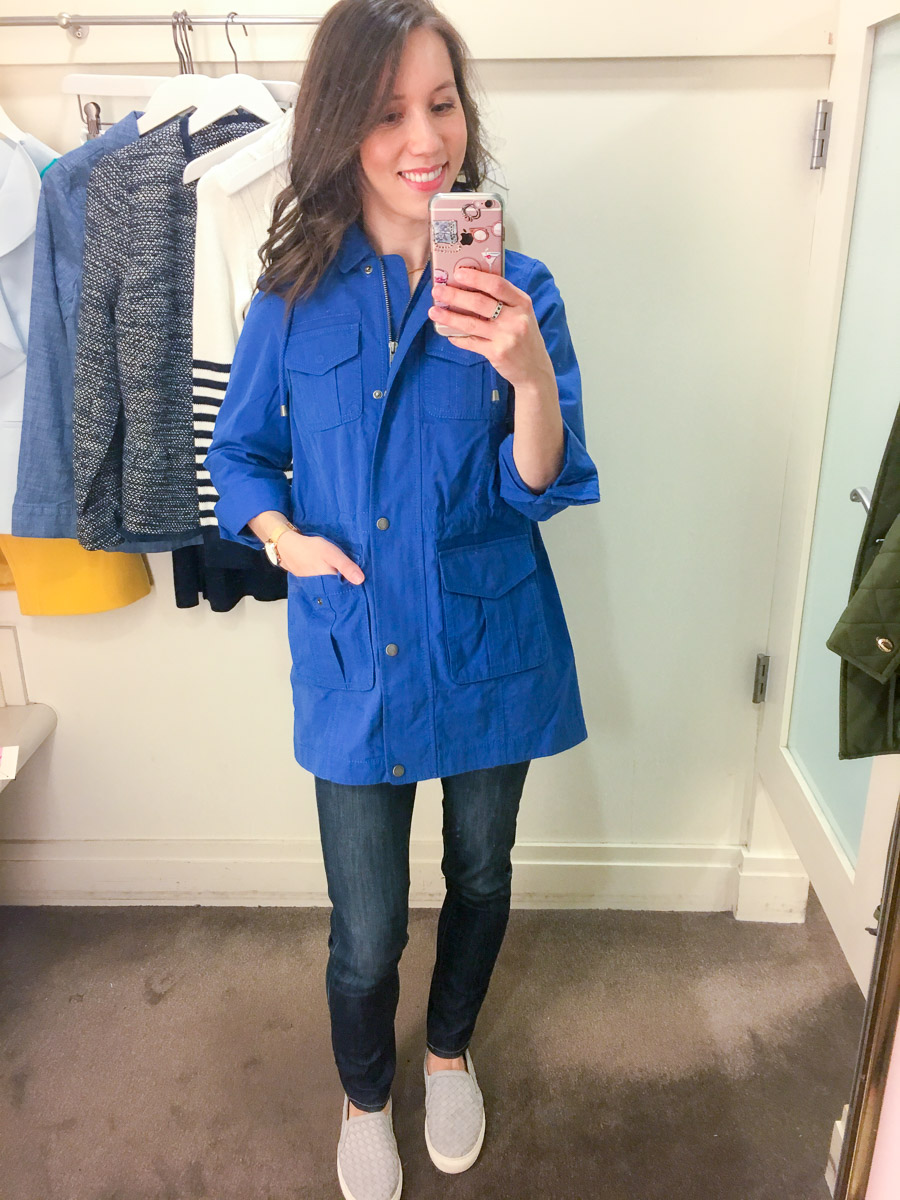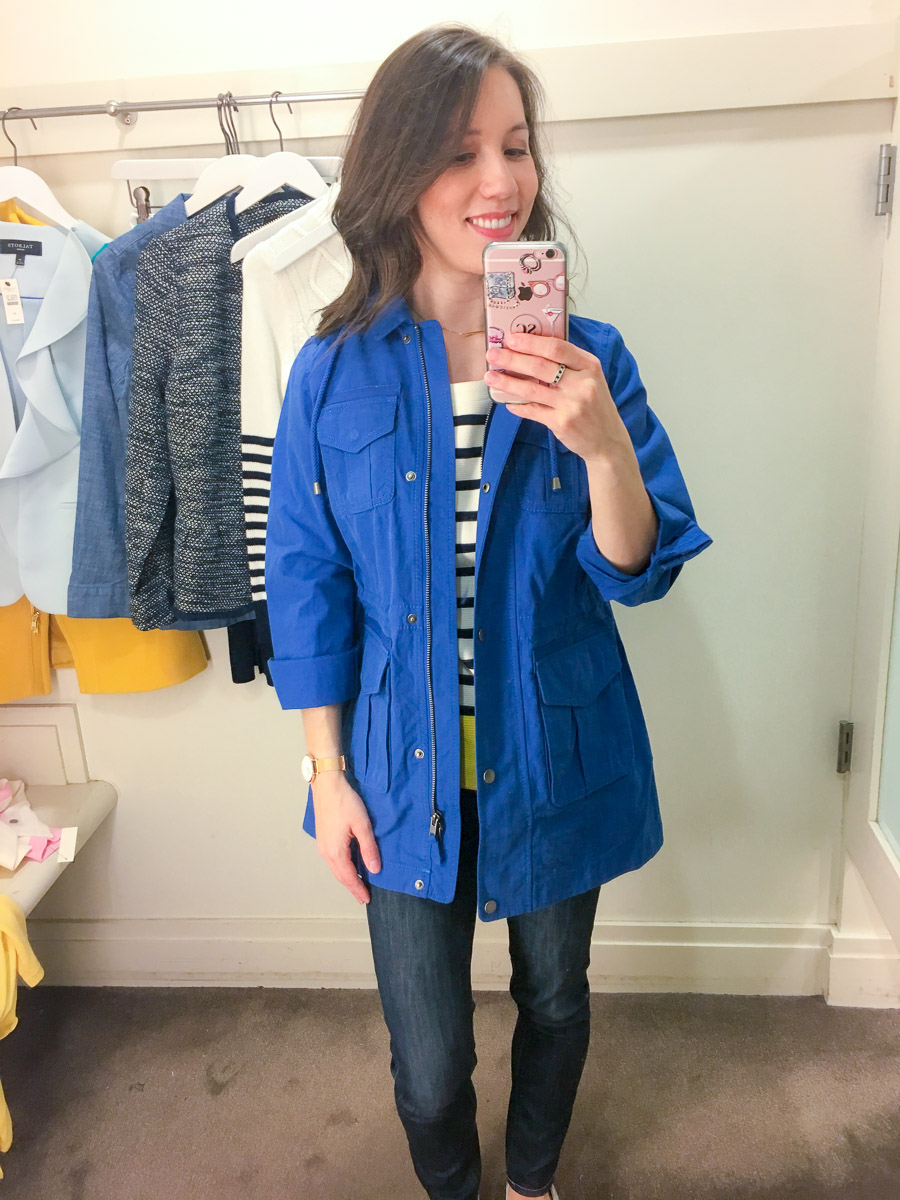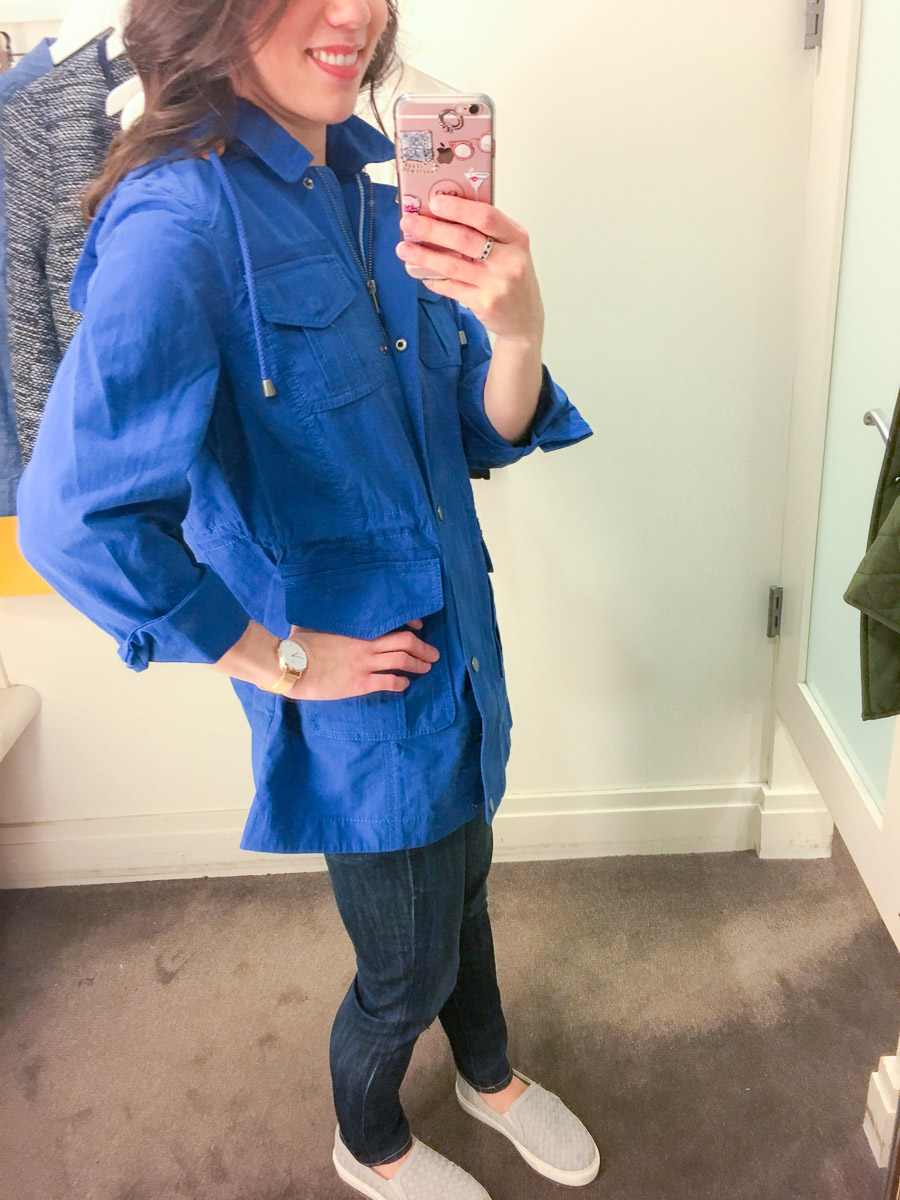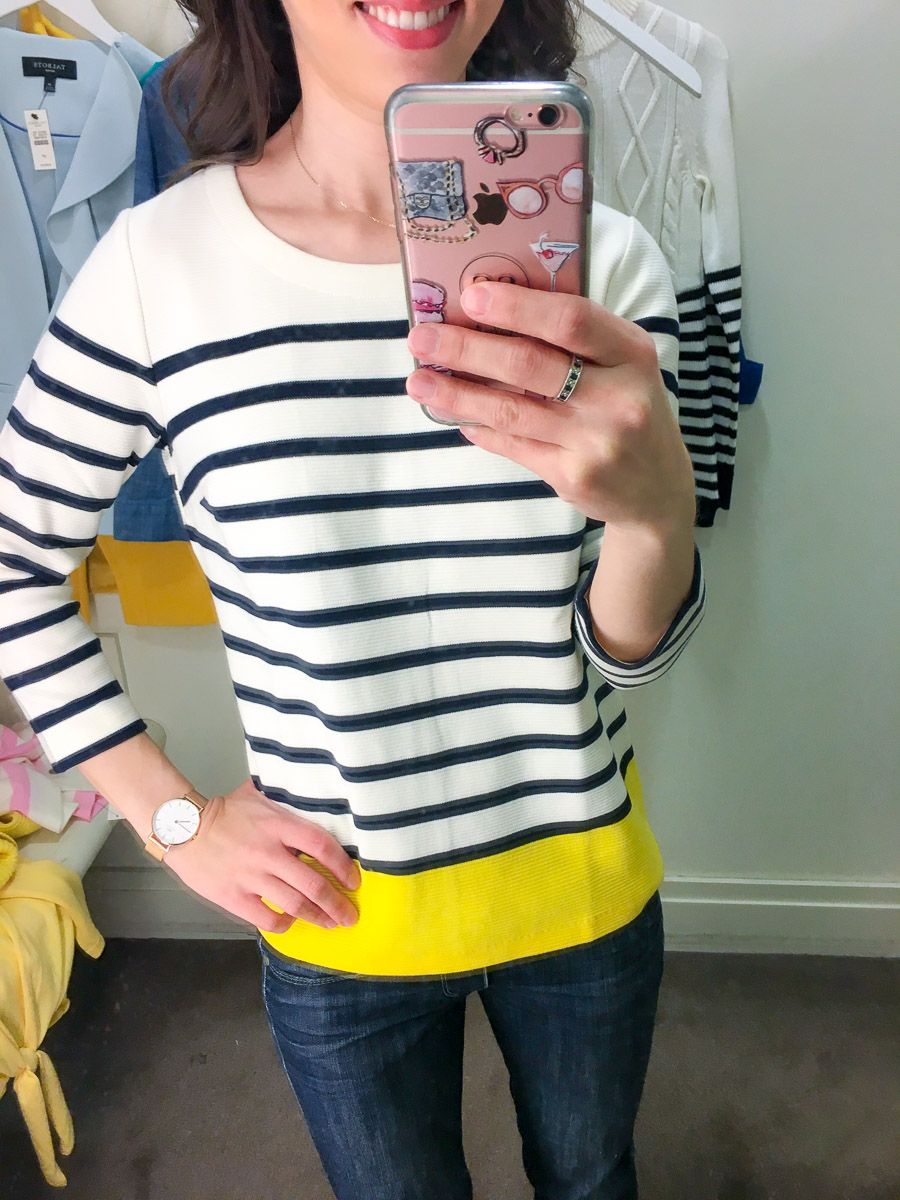 Outfit: Hooded Anorak Jacket Petite P; Striped Tee Petite P
Thoughts: This spring anorak jacket is a perfect completer piece! The royal blue color is gorgeous and it also comes in an olive green color. Both colors are great for spring outfits! This striped tee is cute – it also comes in navy and teal green design online. I'm not a big fan of the striped tee because of the boxier fit on me and length of the yellow accent color (looks longer in the website photo). Overall, I recommend the anorak jacket with TTS fit and maybe to the striped tee.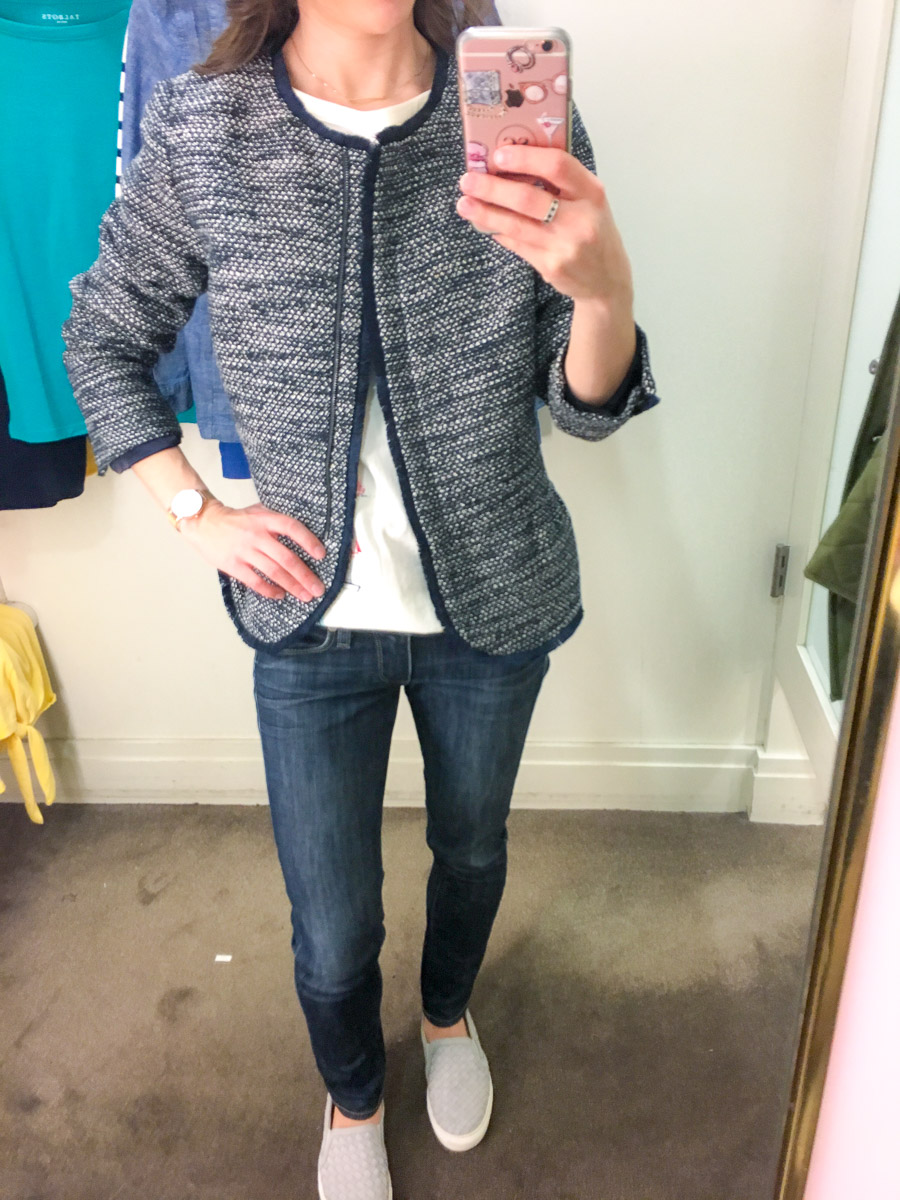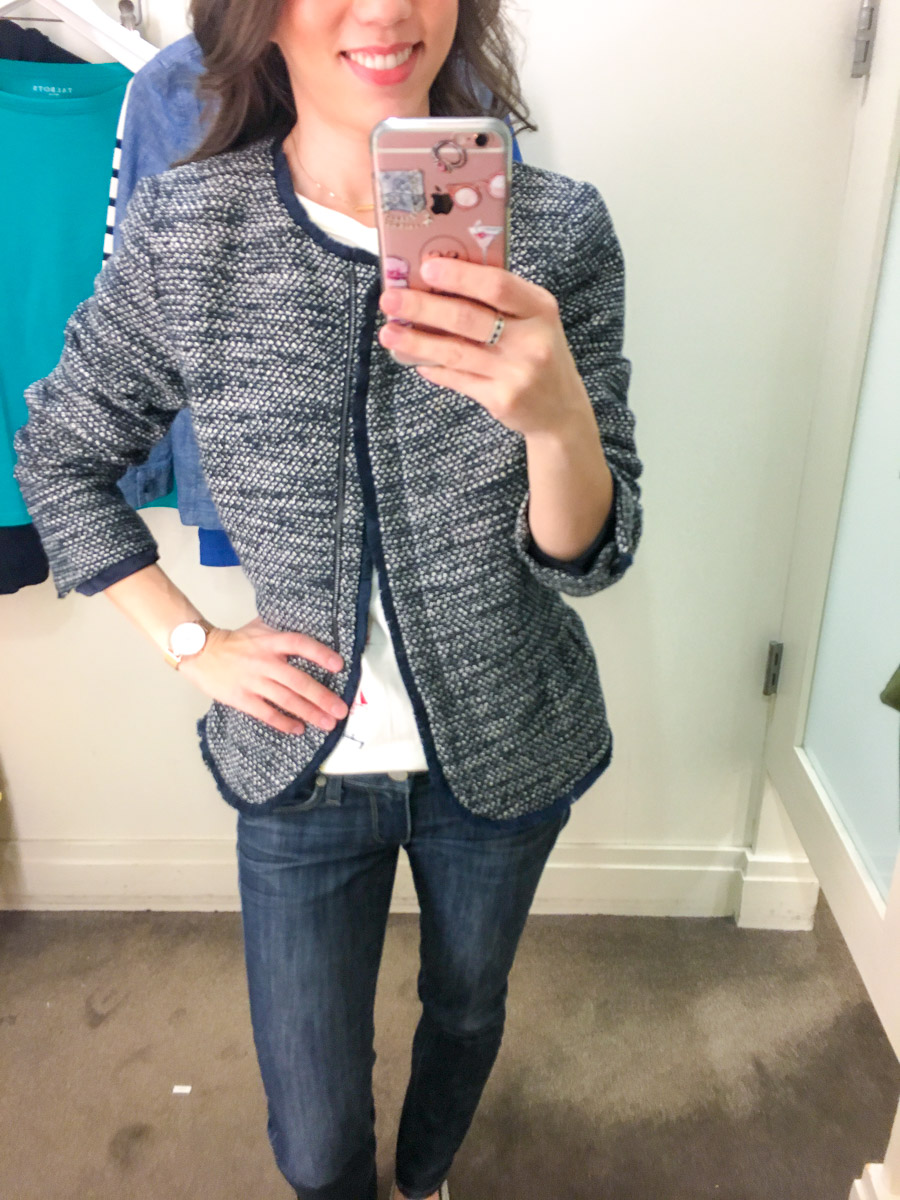 Outfit: Tweed Peplum Jacket 0P
Thoughts: I love this tweed peplum jacket! I honestly didn't notice the peplum feature and you can't really see it in these photos. I think it's very subtle. The fit is great because it runs smaller to fit my petite-frame. This will make a great blazer year-round and a wardrobe staple for years to come. Overall, I highly recommend.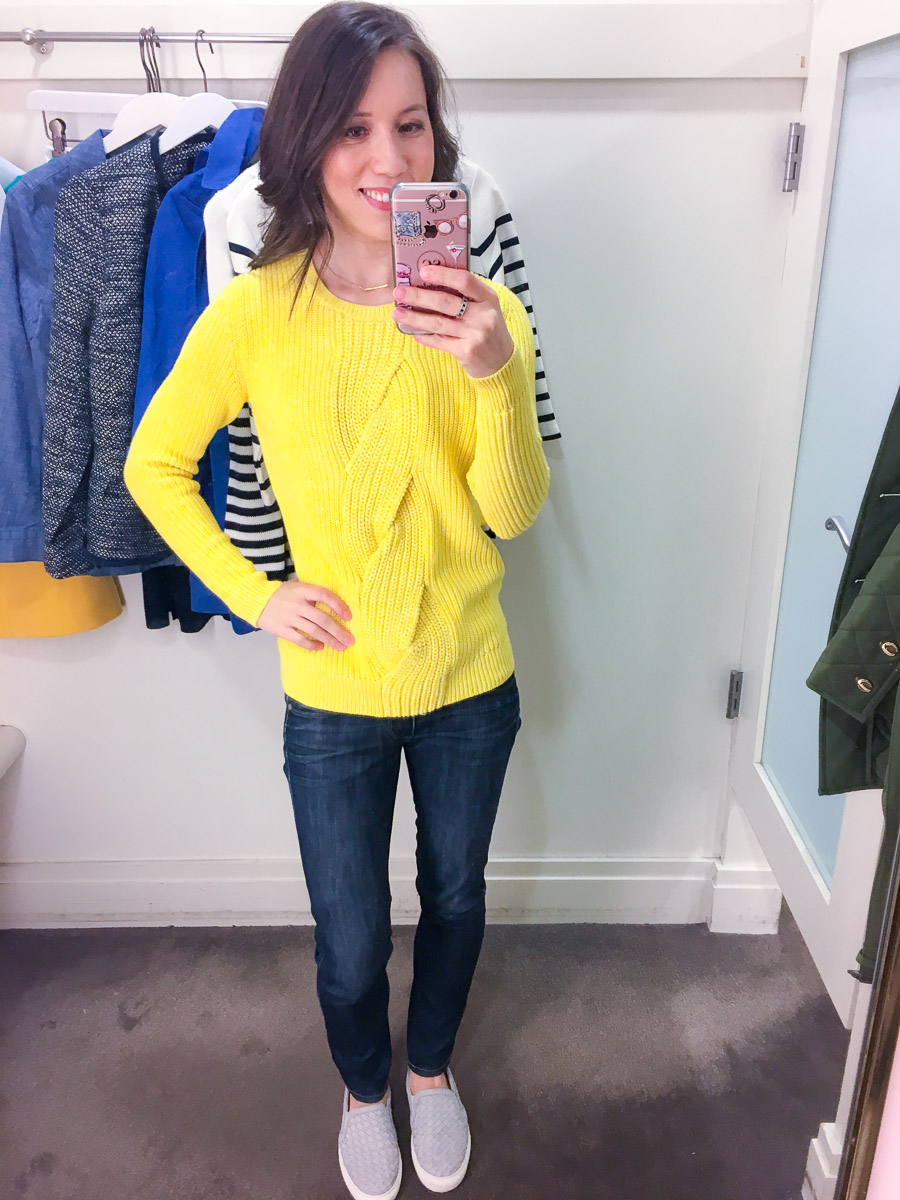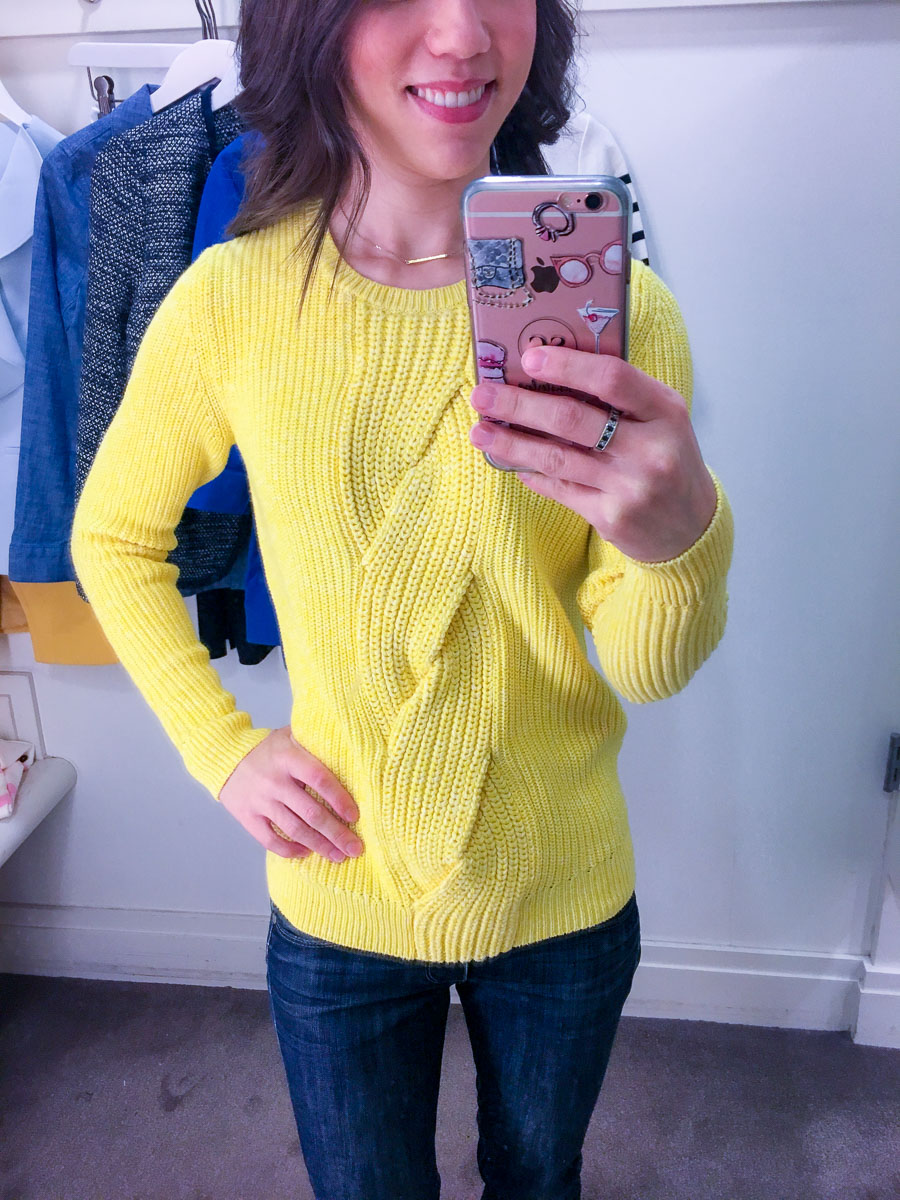 Outfit: Cable Twist Sweater Petite P 
Thoughts: This sweater is a great update to a classic cable-knit design. I love how it is lightweight enough for spring and comes in 4 different colors to fit your style. I was really drawn to the yellow color (yellow and teal green are going to be big hits this spring!). Overall, I highly recommend.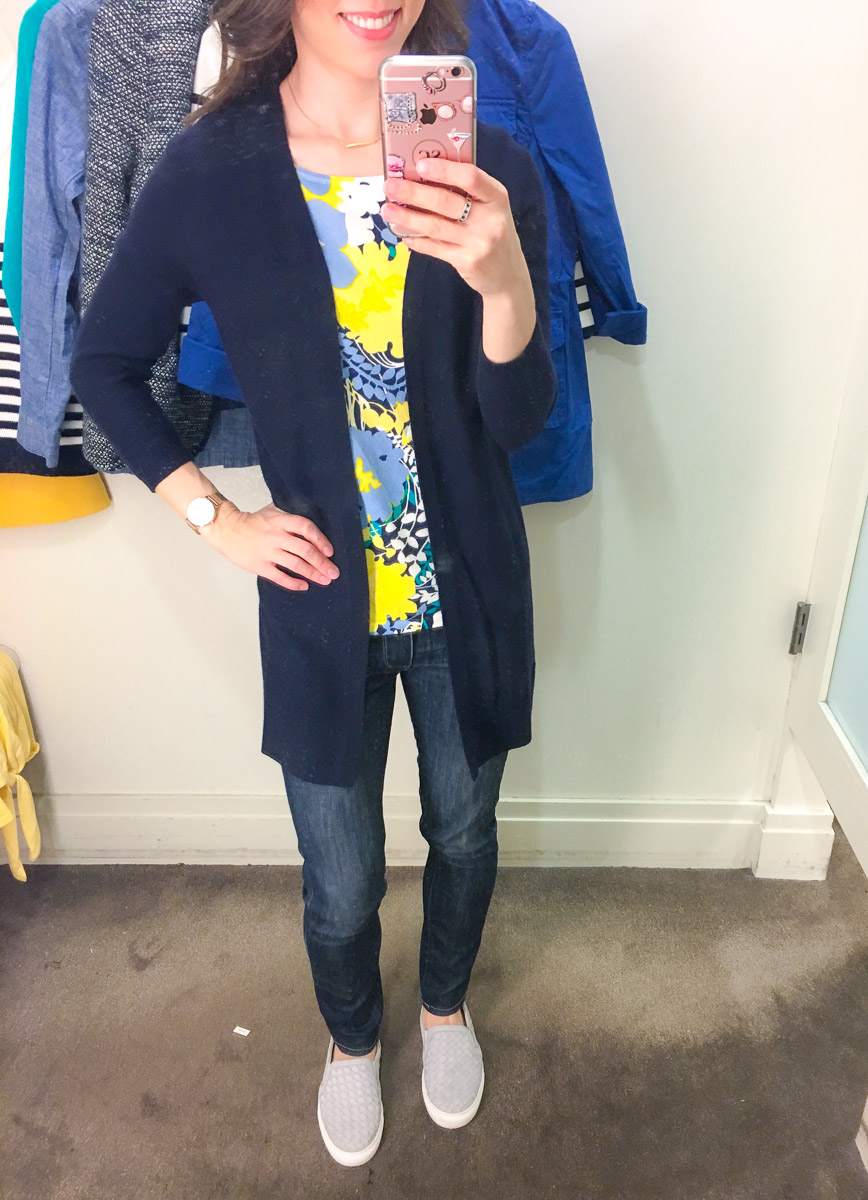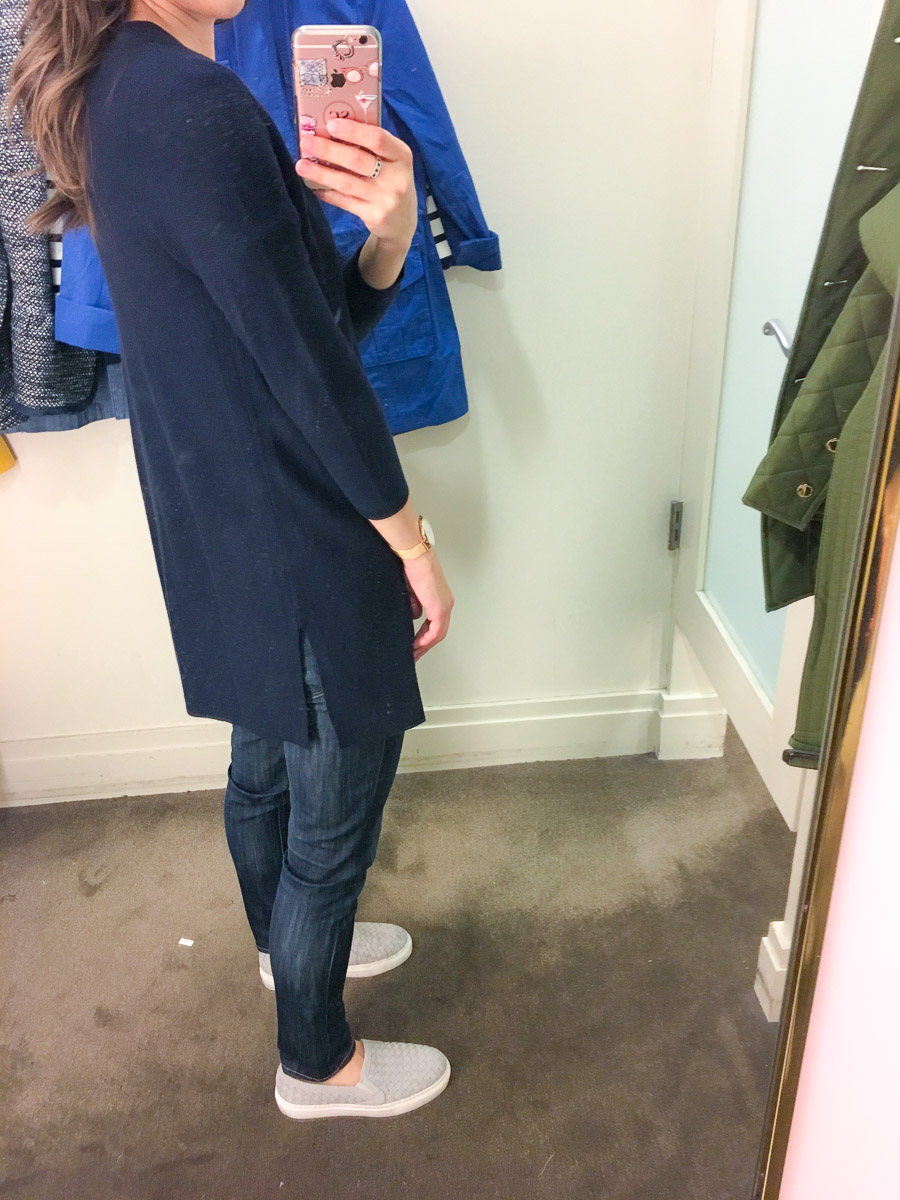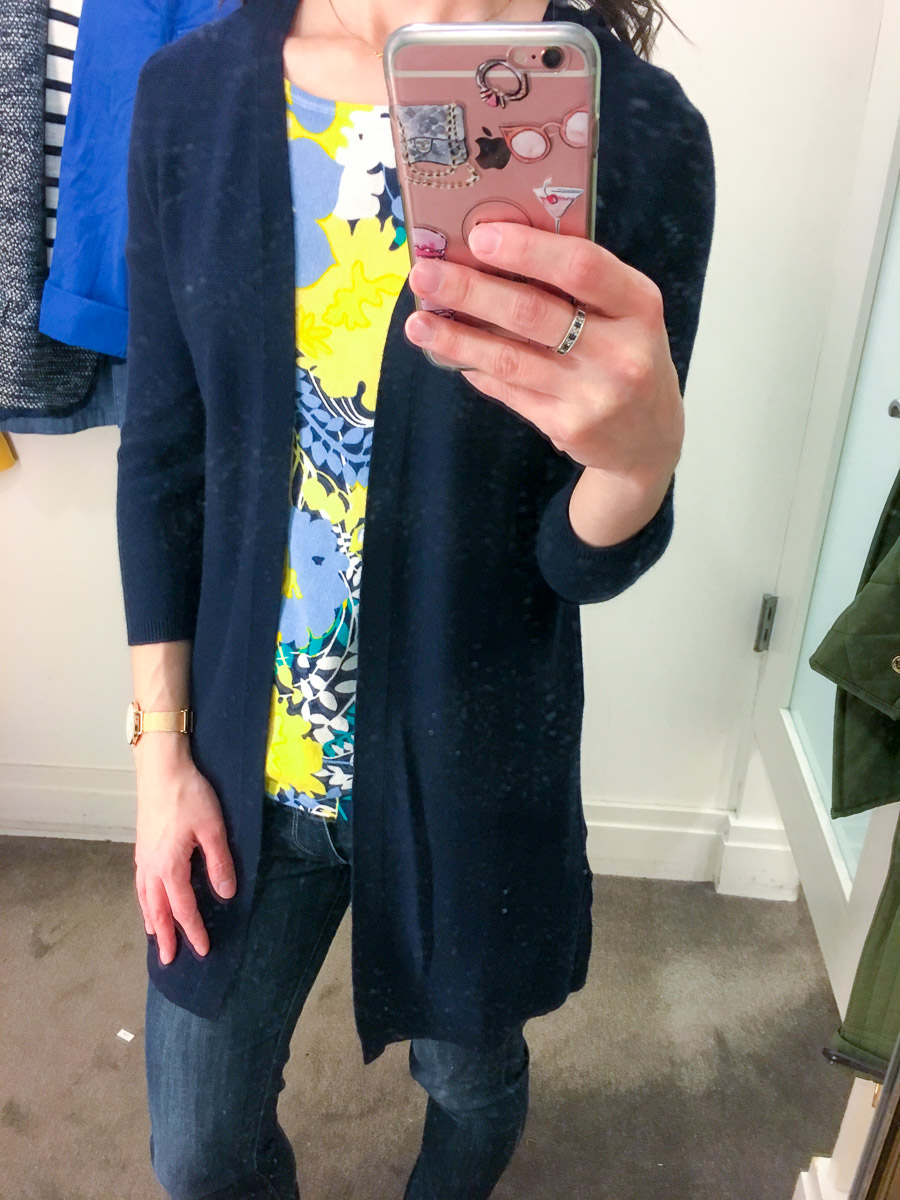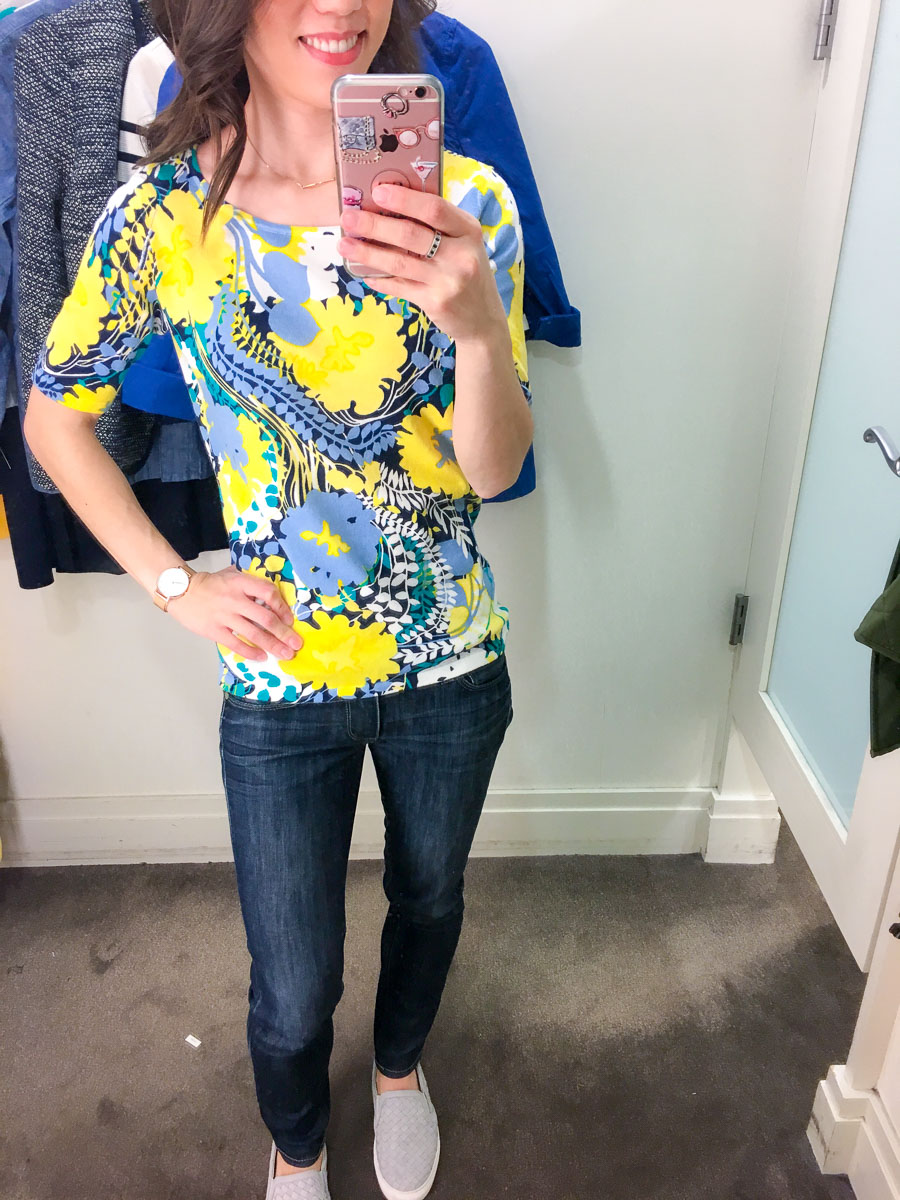 Outfit: No-Close Cardigan Petite P; Cascading Flowers Sweater Topper Petite P
Thoughts: The bright color and floral design of this top drew me to it. It is actually a lightweight sweater material and runs TTS. I paired it with this longer open cardigan and I loved it! This cardigan is an excellent completer piece and a wardrobe staple. Overall, I highly recommend both pieces…let me know if you're bold enough for this floral top!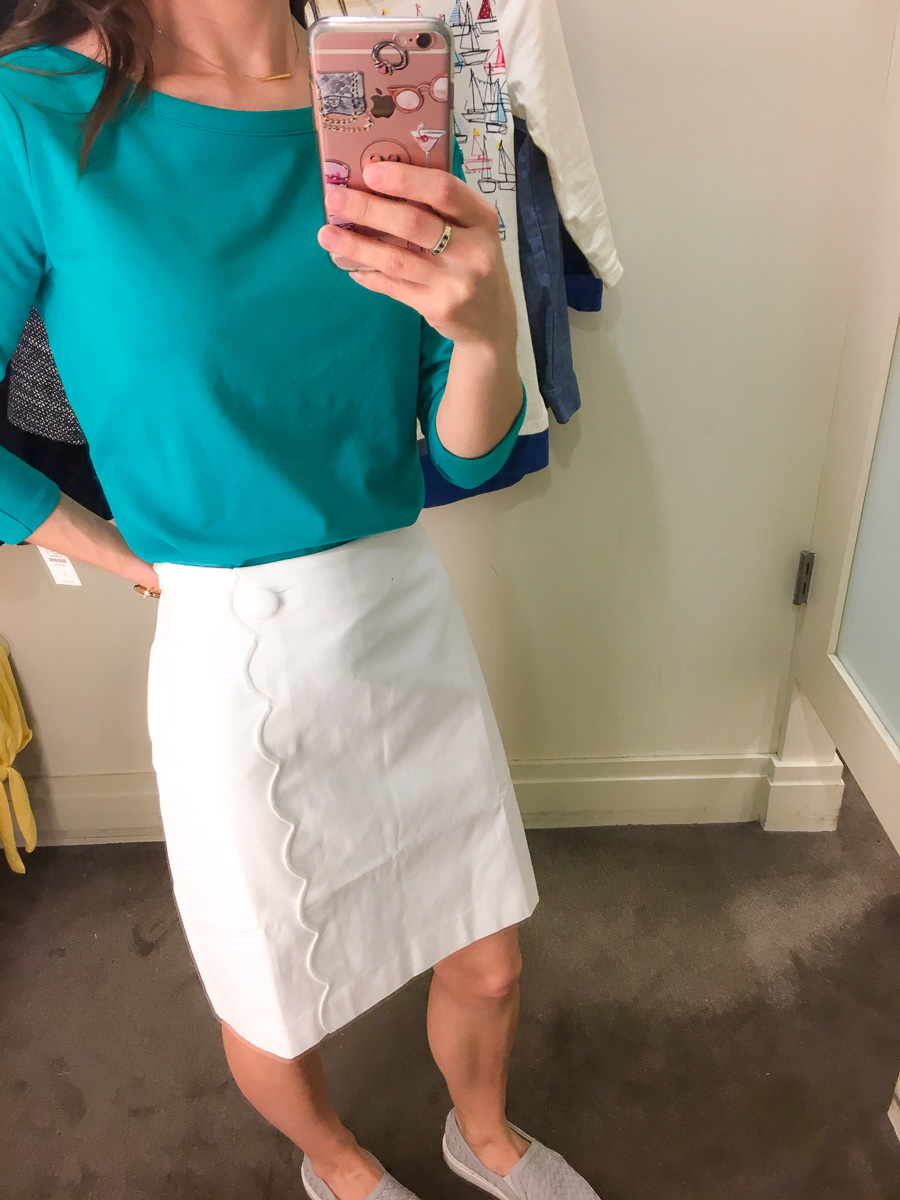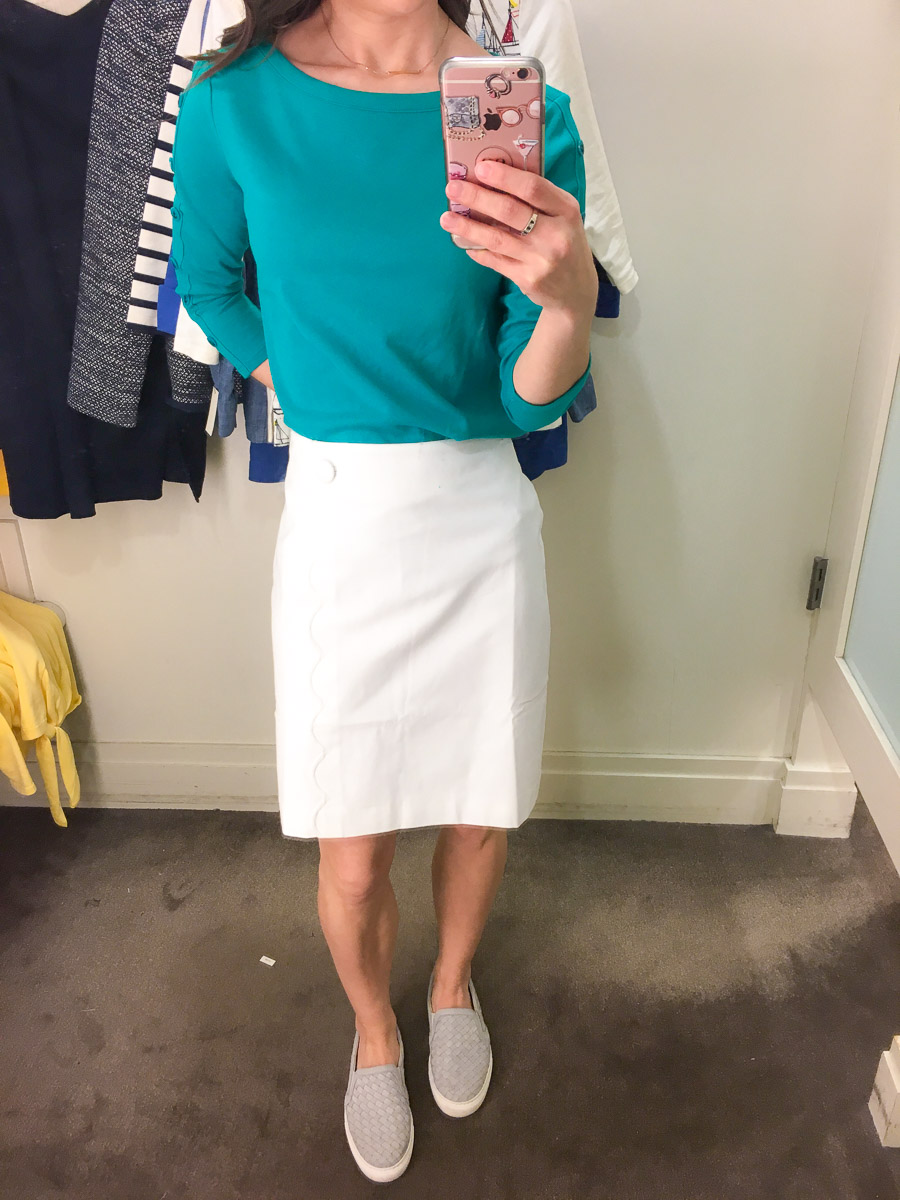 Outfit: Canvas Faux-Wrap Skirt (trying on a 4P); Anchor Button-Top Petite P 
Thoughts: This scallop-edged wrap skirt is so cute! My store didn't have a 0P so I tried this larger size on so I could show the style here (I'm holding back extra fabric in the back). It also comes in navy blue. This anchor button-top has nice detailing with the buttons down the sides of the arms. This top comes in 3 colors and fits TTS. Overall, I recommend both items!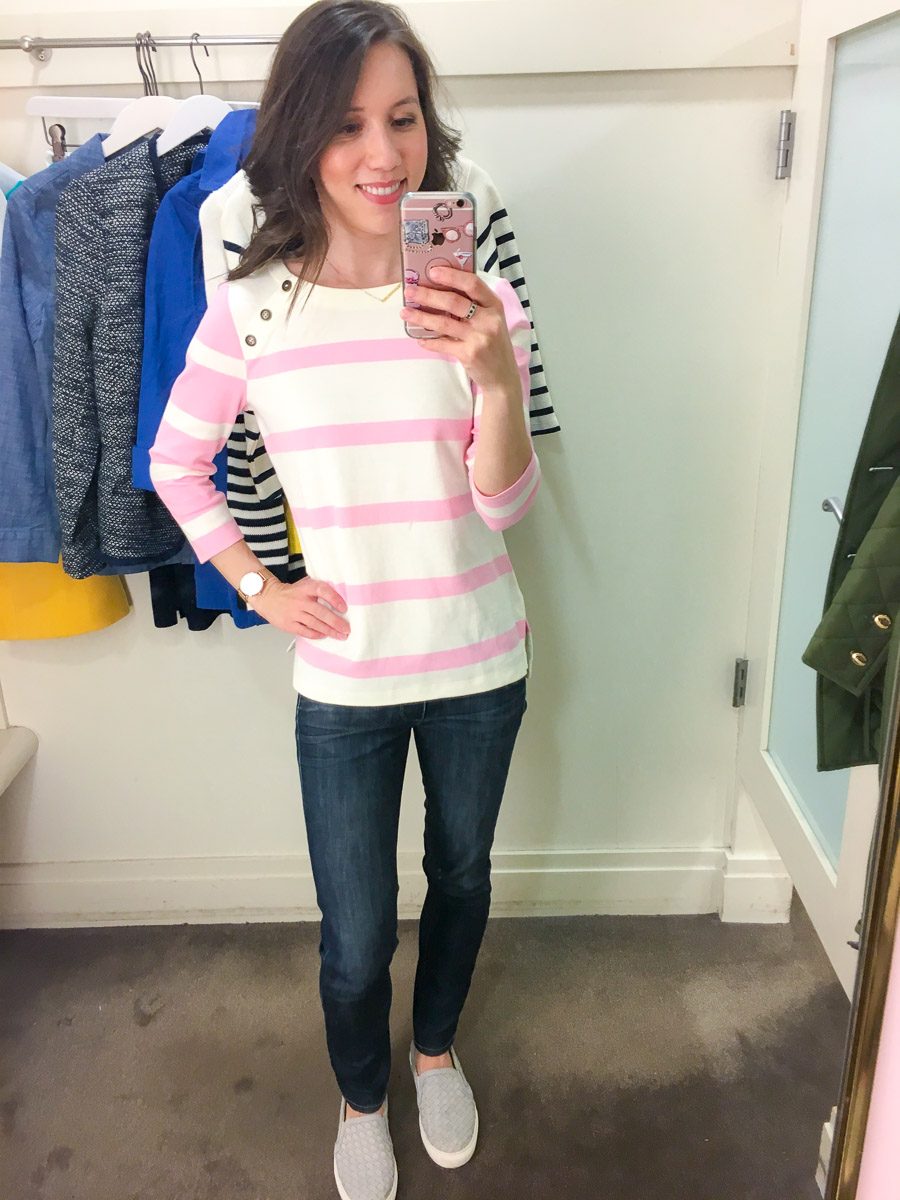 Outfit: Fisherman Striped Sweater Petite P; Striped Crewneck Top Petite P
Thoughts: This striped sweater fits great and is a classic design. This striped crewneck in ivory and pink is a great basic for spring. It also comes in royal blue or navy blue. Overall, both fit TTS and I recommend both pieces!
More Spring Collection Items I like but didn't have a chance to try-on (click image): 

---
Found this post helpful? Click the teal sharing buttons to share with a friend today!
My goal in 2018 is to reach 10,000 new women to inspire them to feel confident each day! 
---
Follow my updates on Social Media & Subscribe to Emails
Twitter | Facebook Page | Instagram | YouTube | Pinterest
Sign up to get my 2018 Winter Style Challenge // 25-Piece Winter Capsule (it's free)