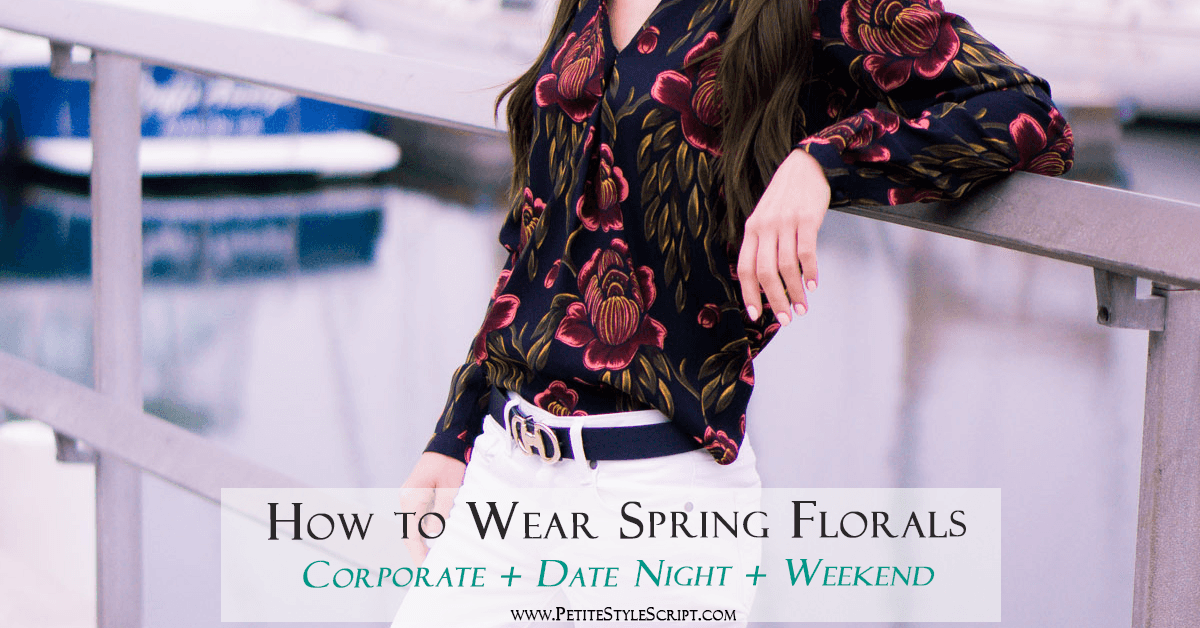 3 Ways to Wear Spring Florals: Corporate, Date Night, Weekend Outfits
Spring is OFFICIALLY here! Happy First Day of Spring Everyone! The weather has already started warming up and spring flowers are blooming! This is one of my favorite times of the year – outdoors…the scenery and taking a breath of fresh air. I also like transitioning from winter to spring and what better way to transition than with spring florals in our wardrobe!
I'm excited to share my thoughts on how to wear spring florals today! My favorite 3 ways are for the corporate/office setting, date night or happy hour and staying casual with weekend outfits!
Let's get started with spring outfit inspiration!
Note: This post may contain affiliate links; full disclosures HERE.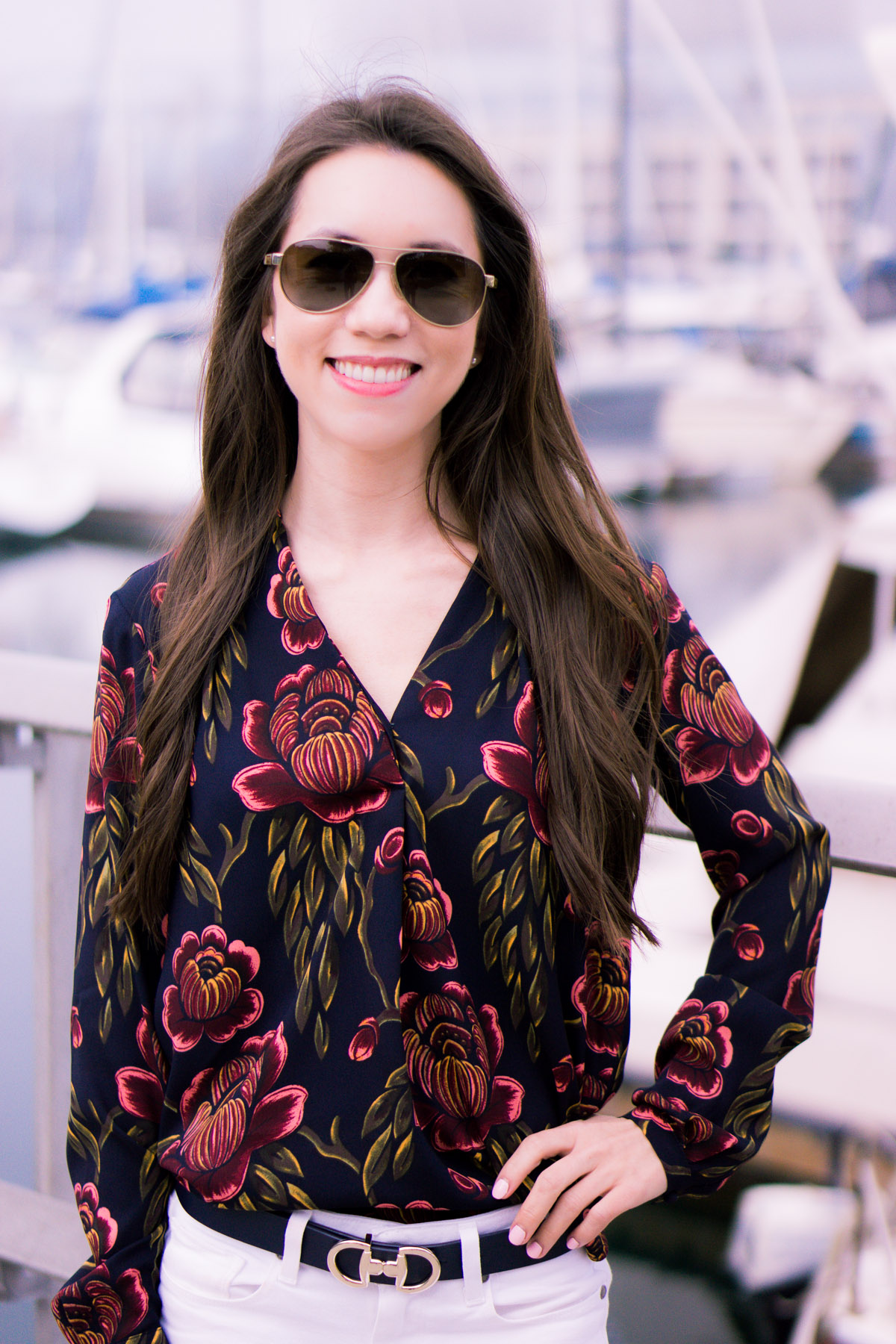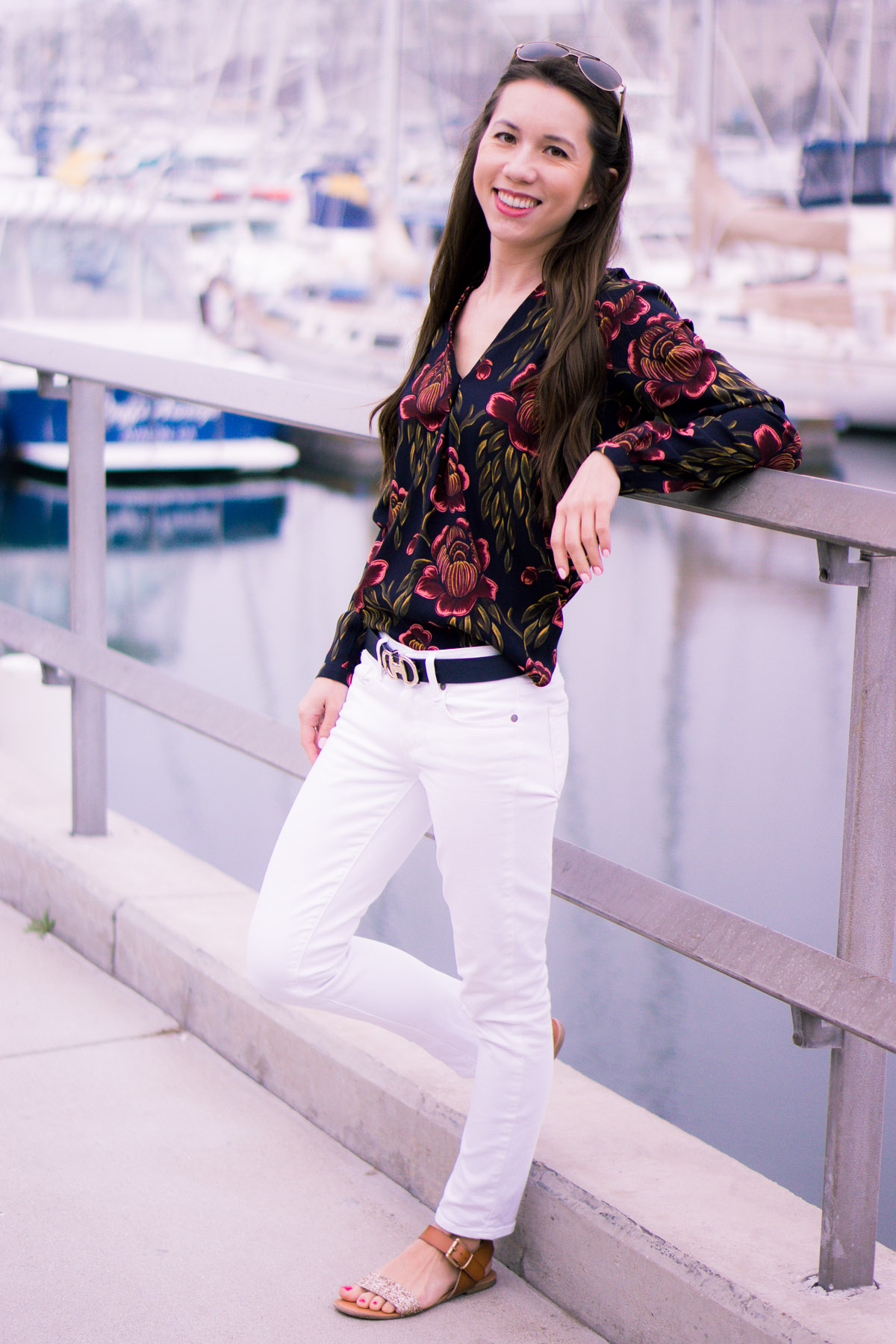 3 Ways to Style Spring Florals:
Corporate Office + Date Night / Happy Hour + Weekend / Casual Outfits

Style 1: Corporate / Office / Work Attire
I'm in the corporate office environment ~5 days a week. Just like me, I know many of you also invest in classic pieces that easily transition from day to night to weekend wear. So when I saw this vibrant spring floral print at my local Ann Taylor store last week I knew it was a perfect match! The colors were eye-catching yet could coordinate with several different pieces I already owned.
My favorite work pants? You know them…my Banana Republic Sloan Skinny Ankle Pant! You see them on a (nearly) daily basis in my Instagram stories/OOTD looks and they coordinate with everything! Therefore, putting my corporate/office/work outfit together with spring florals was a breeze!
Need to dress up a business casual outfit? I added a chic and classic blazer. This one is from Ann Taylor and the ivory color is the perfect transition into spring.
I finished my corporate look with a absolute favorite belt from Talbots (my review HERE), classic handbag from Michael Kors, and navy bow heels from Cole Haan.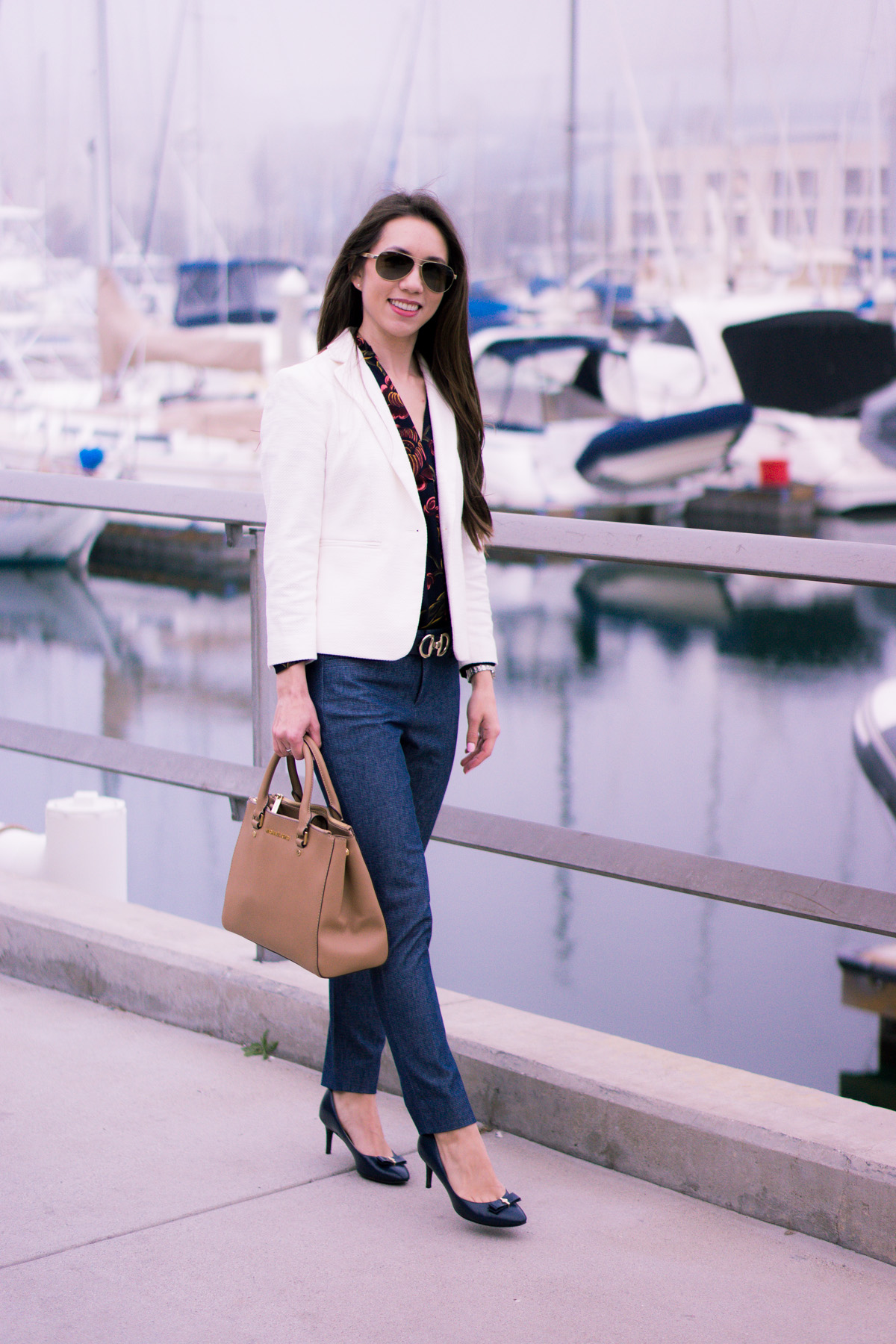 Corporate Work Outfit details: Ann Taylor Rose Garden Pleated Blouse Petite XXS; Banana Republic Sloan pants Size 00P; Talbots belt (my review HERE); Ann Taylor Blazer Petite 00; Cole Haan heels Size 5.5; Nordstrom sunglasses; Michael Kors Handbag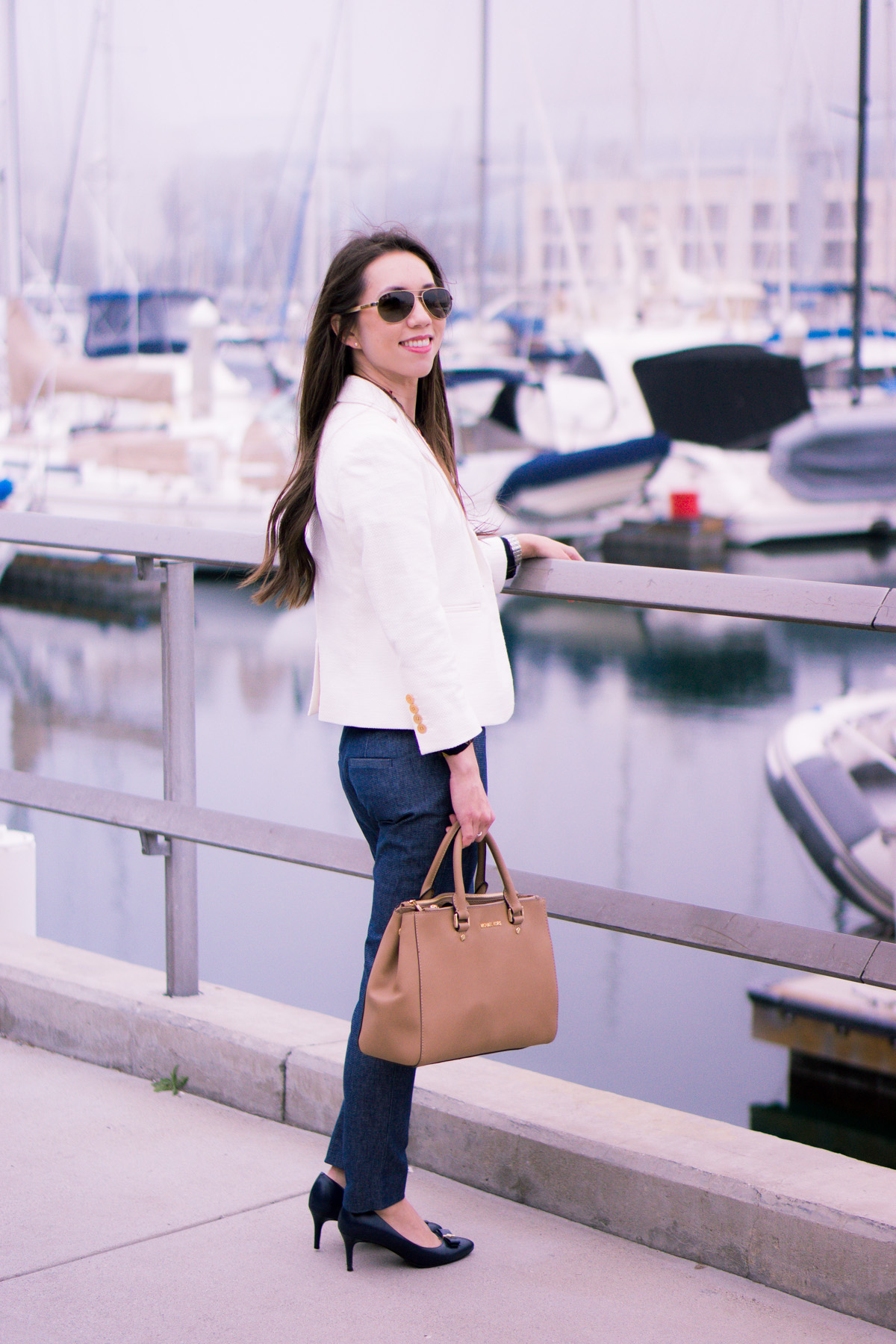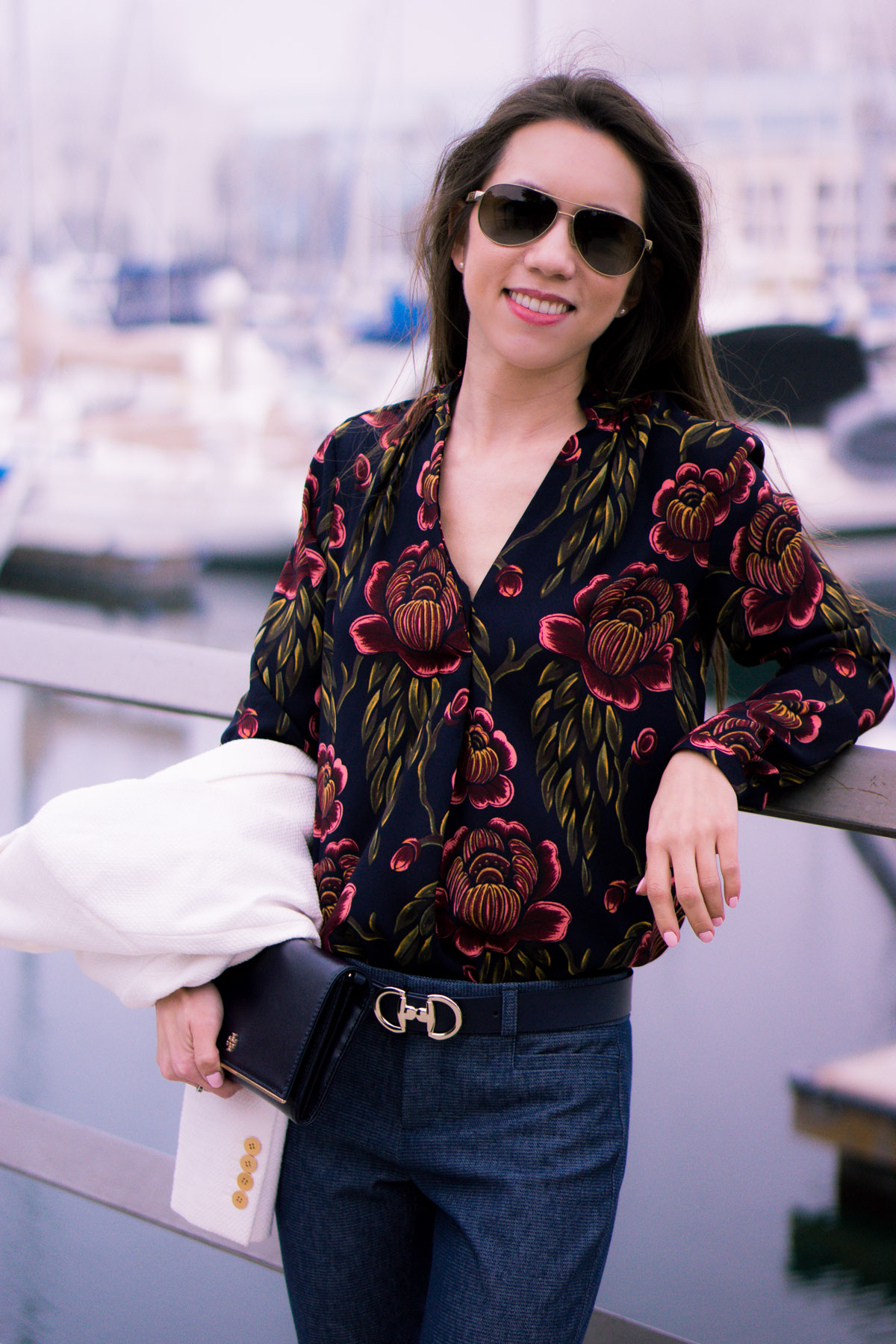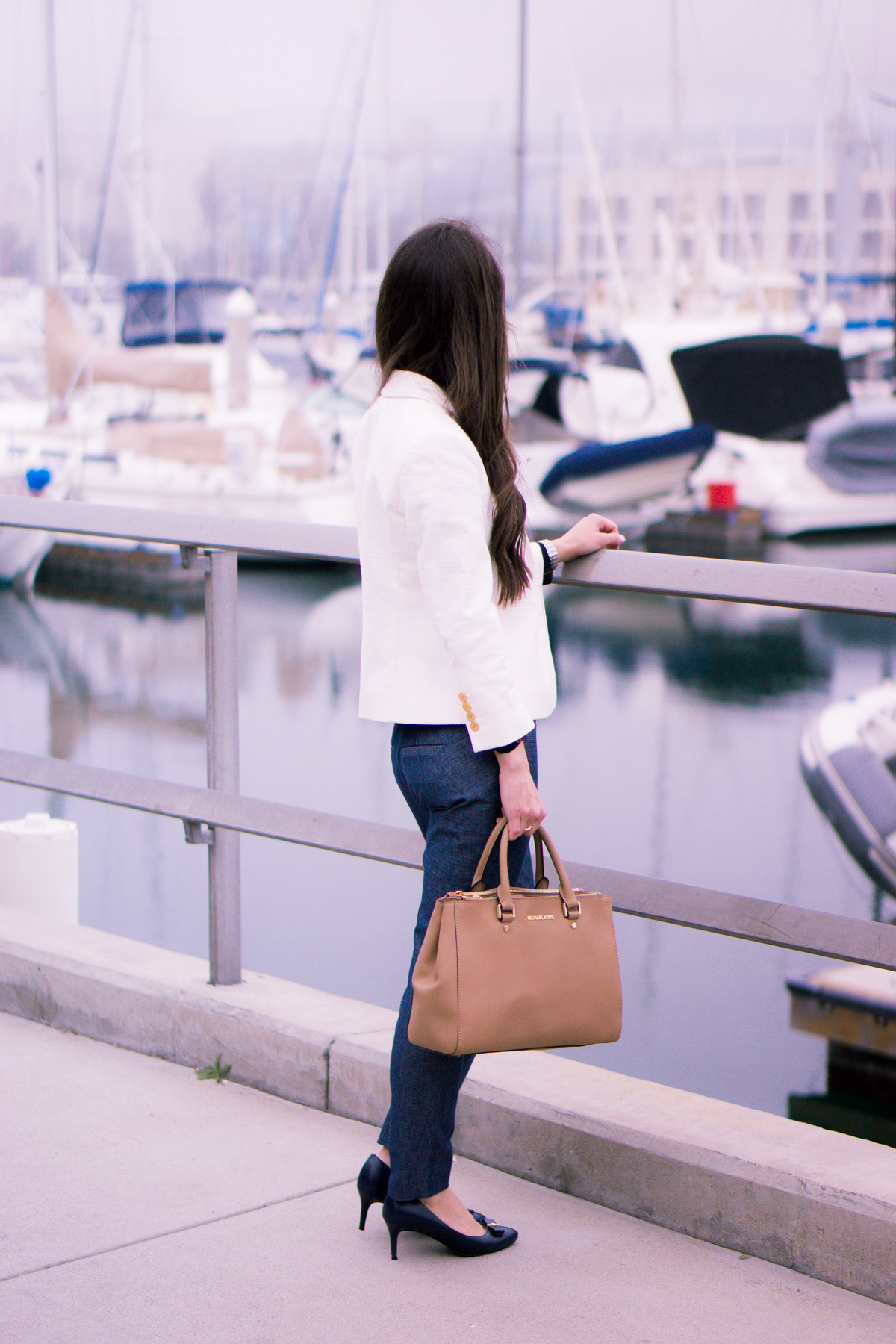 Style 2: Date Night / Happy Hour Attire
With a busy professional life, I'm running from work to evening events. That means date night with my boyfriend or happy hour with friends/family requires a daytime outfit that can be easily switched with a few simple changes. Who has time to plan and bring an entire new outfit with them for these evening occasions? Not me!
How did I transition from office wear to date night with spring florals? One of my favorite ways: white denim jeans! These are a go-to wardrobe essential for me and definitely make it easy to change out of my Banana Republic Sloan pants from work. More details about Paige white denim in my post HERE.
The other item to change out may be my shoes. Heels can be great during the day and can either transition into the evening but flats are also an easy change. I LOVE my Tieks ballet flats and these easily transition from work to date night/happy hour (my review HERE).
Things I kept? Of course my Talbots belt can be worn with white denim here. And my handbag also held my versatile Tory Burch Wallet Clutch so I could take my wallet out, leave my handbag behind in the car, and use my wallet as a clutch out for dinner and drinks! Read about how I use this Tory Burch essential in my full review HERE.
Are you ready for date night or happy hour in spring florals?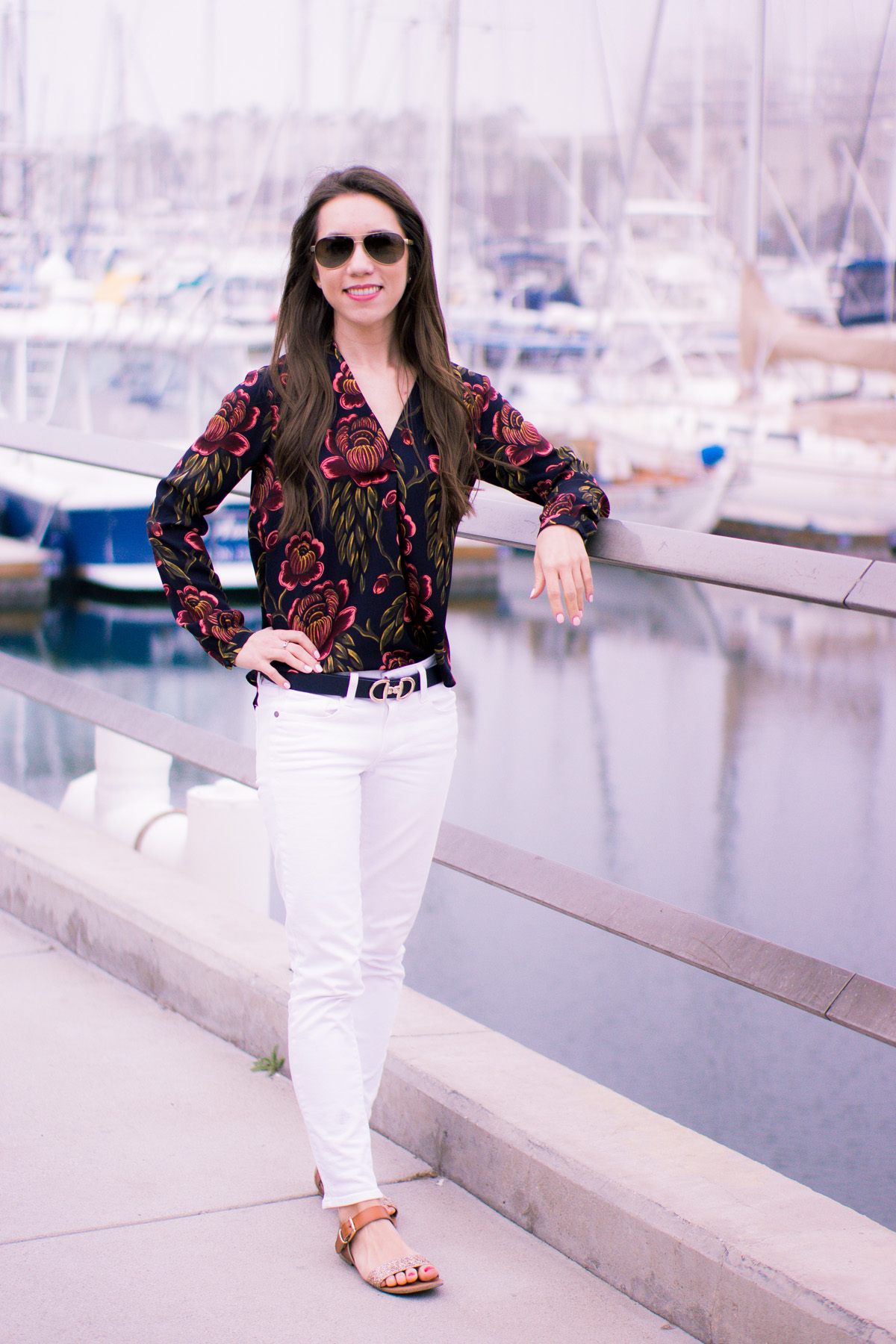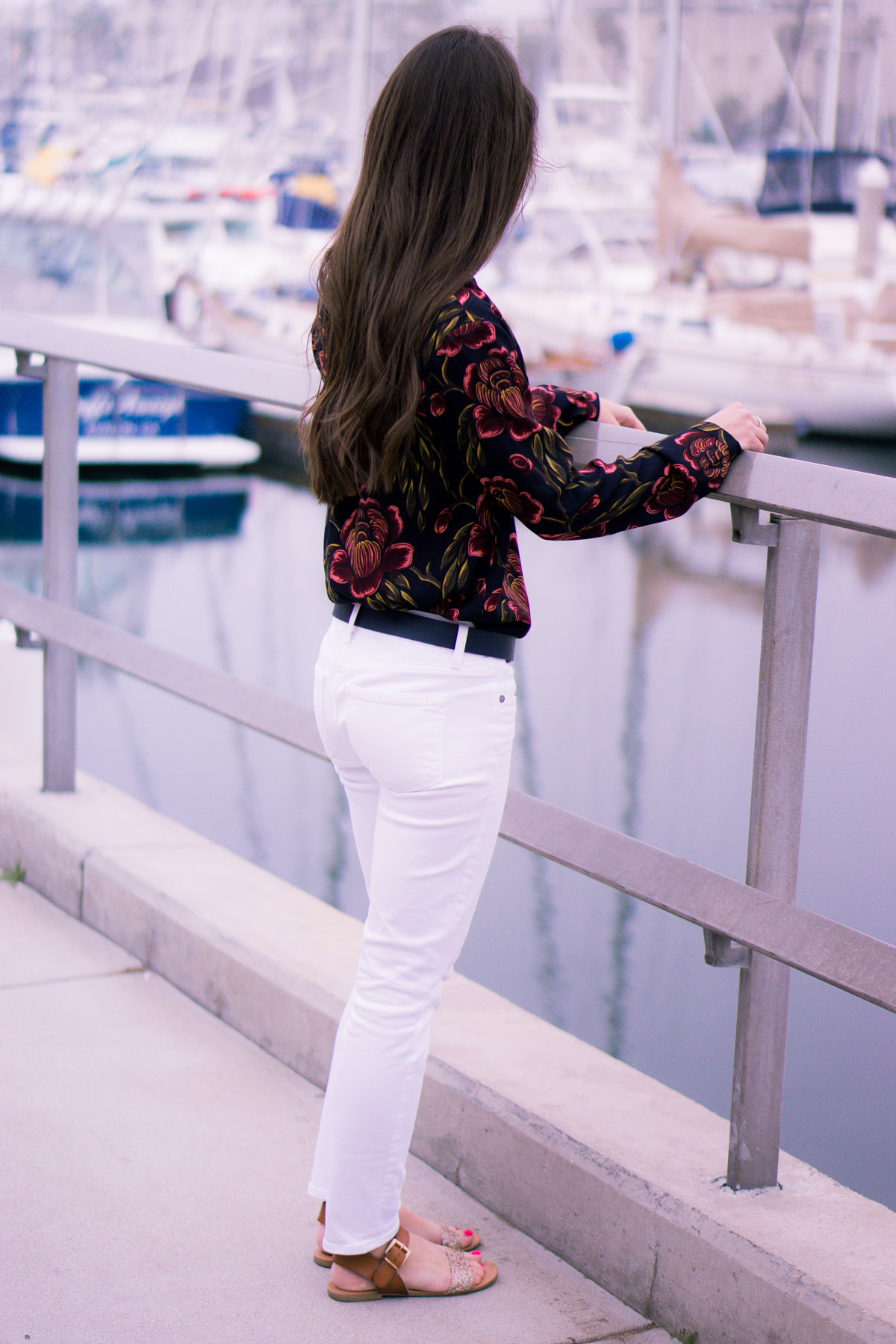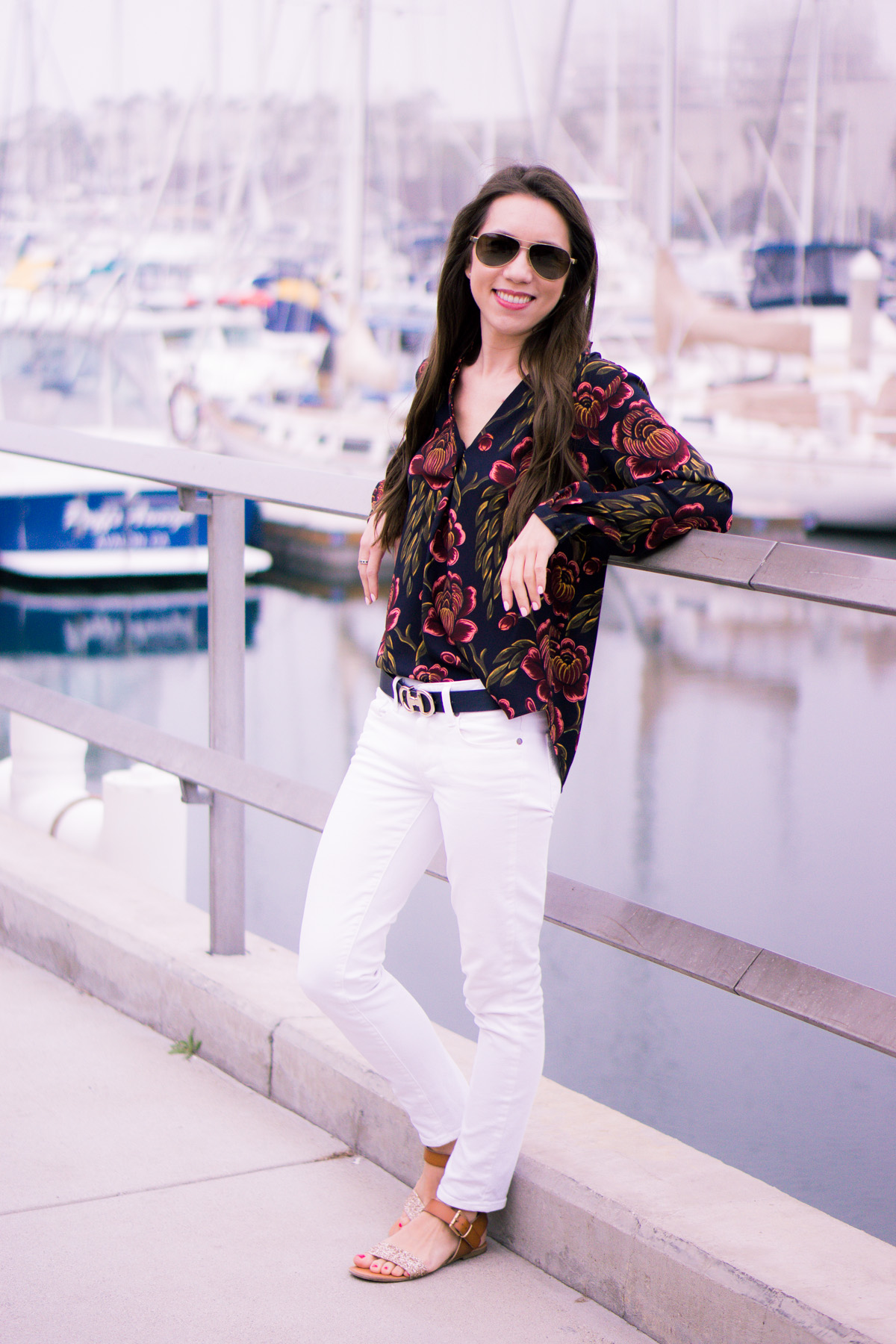 Date Night/Happy Hour Outfit details: Ann Taylor Rose Garden Pleated Blouse Petite XXS; Paige White Denim Size 24; Talbots belt (my review HERE); Target Lakitia Size 6 (new size 5.5 available!); Nordstrom sunglasses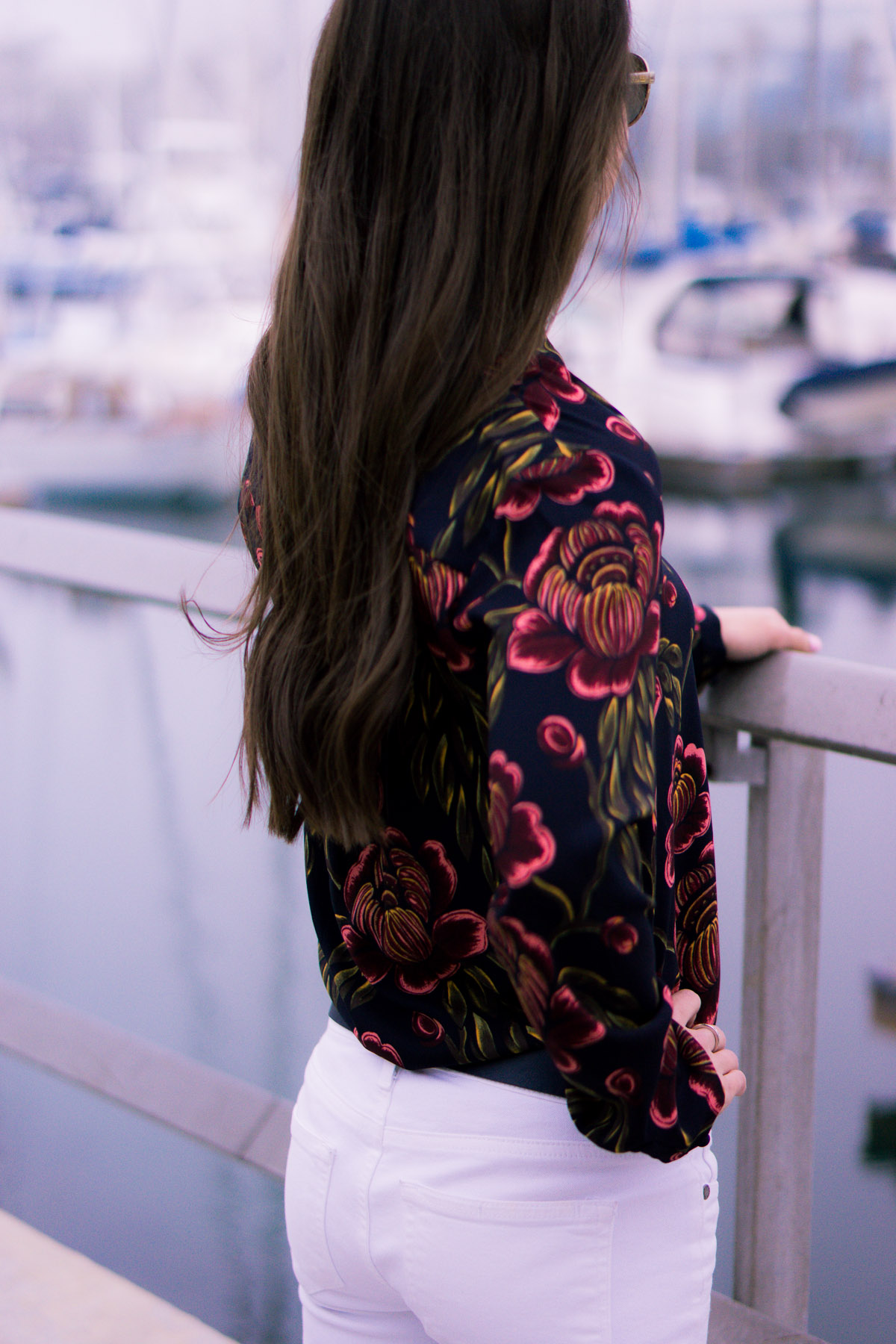 Style 3: Casual / Weekend Attire 
Of course I cannot forget to mention one of my favorite times of the week – casual and weekend attire! Time to kick off my heels and enjoy some sunshine!
Floral prints are great for pairing with classic shorts! My favorites here from J. Crew and J. Crew Factory. These shorts are available season after season in a very large range of colors! This vibrant green color pairs perfectly with many floral prints.
Add in some casual sandals and you are good to go! Target is one of my go-to's for casual sandal options and these are one of my absolute favorites (thank you Jean from @ExtraPetite for recommending them years ago!). I'm wearing a Size 6 in these Target Latikia Glitter Strap Sandals and they are still available in Size 5.5 in Gold or Black – I love how Target continues to bring this sandal style back year after year! Keep it up!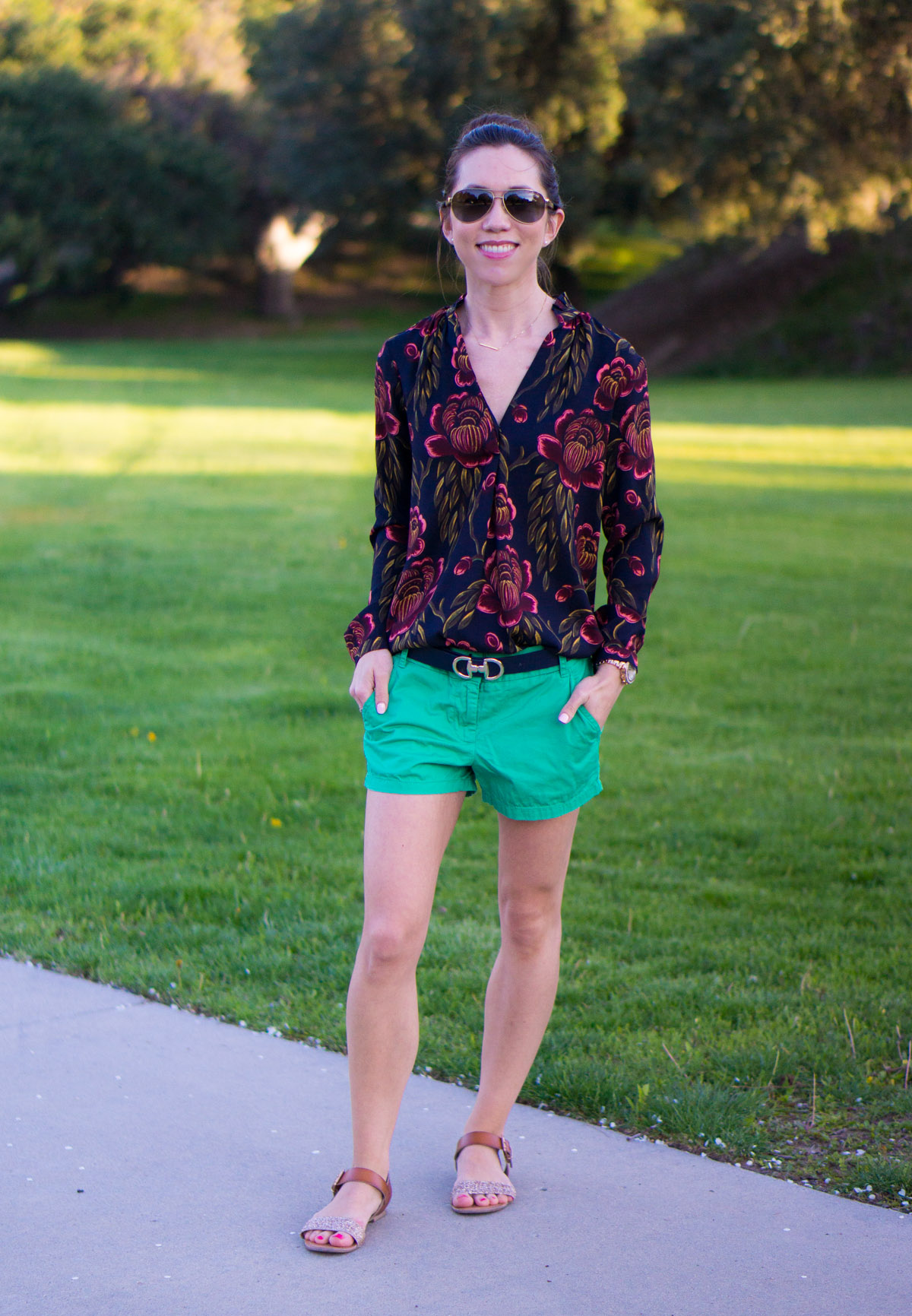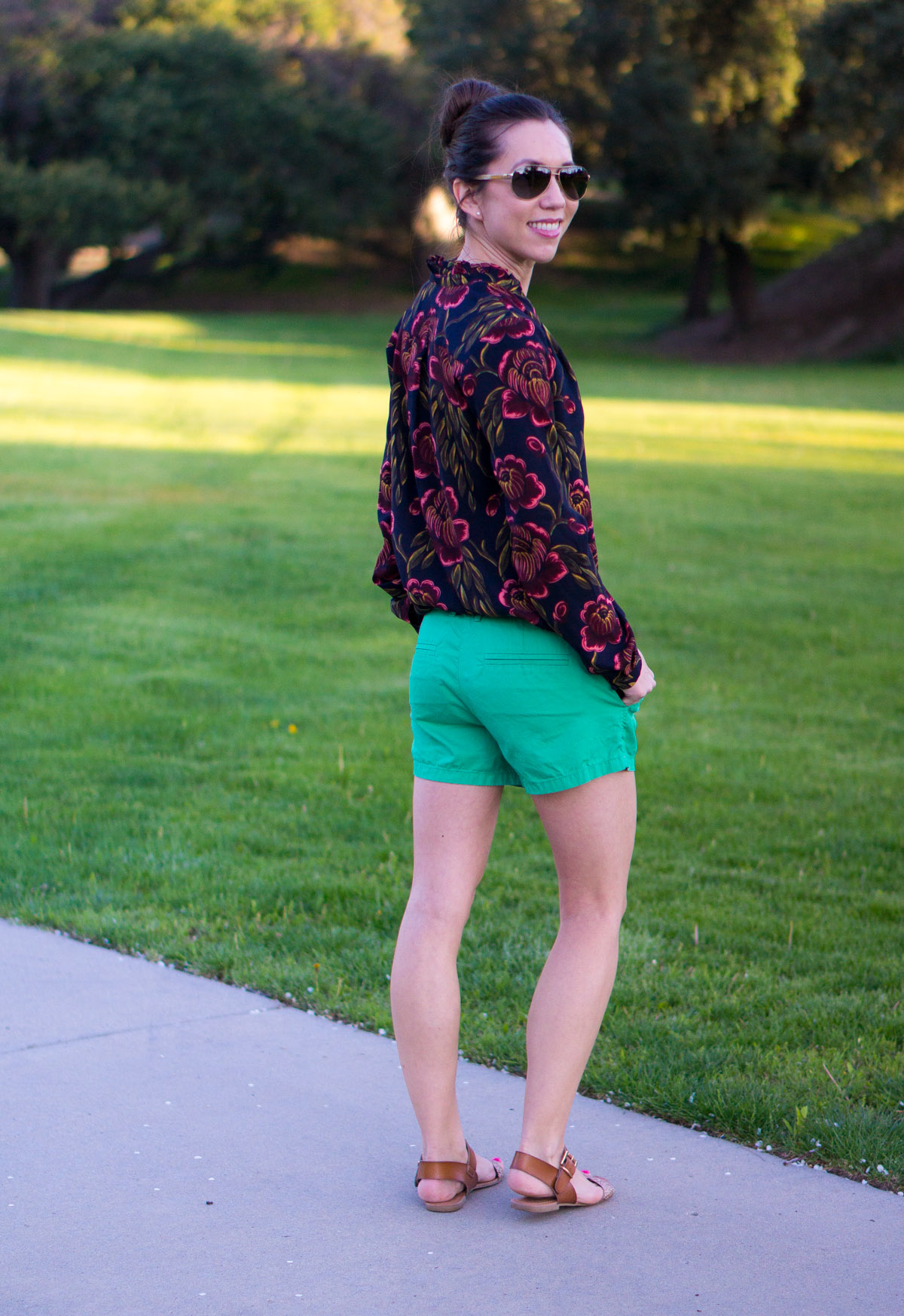 Casual Outfit details: Ann Taylor Rose Garden Pleated Blouse Petite XXS; J. Crew Factory Short Size 00 (new scallop version HERE or J. Crew version HERE!); Talbots belt (my review HERE); Target Lakitia Size 6 (new size 5.5 available!); Baublebar necklace; Nordstrom sunglasses; High bun spin pins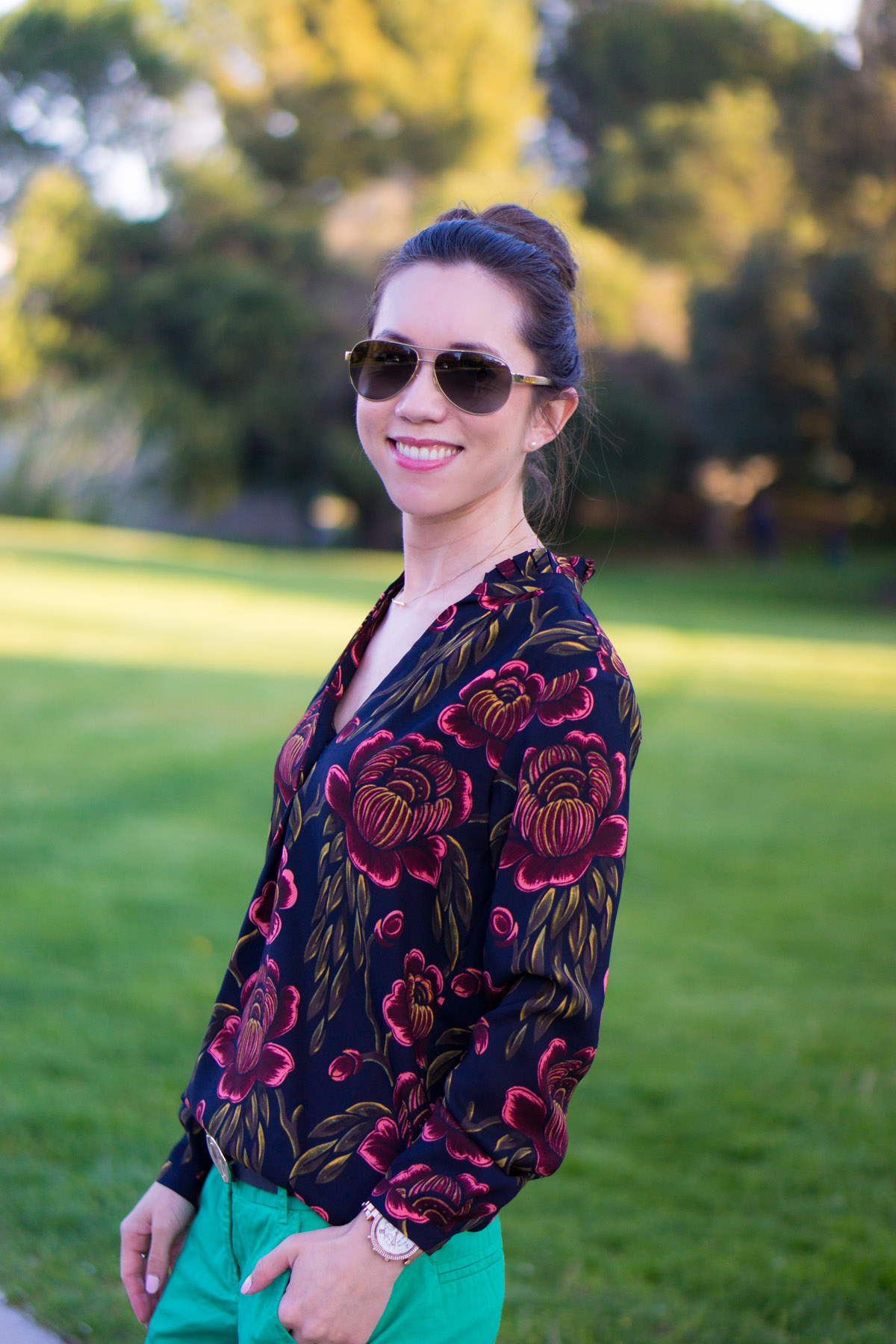 What are your favorite spring floral prints? Please leave a comment.
And if you think your friends would find this post helpful, please click to share via my teal Social Media Buttons! As always, thank you for reading.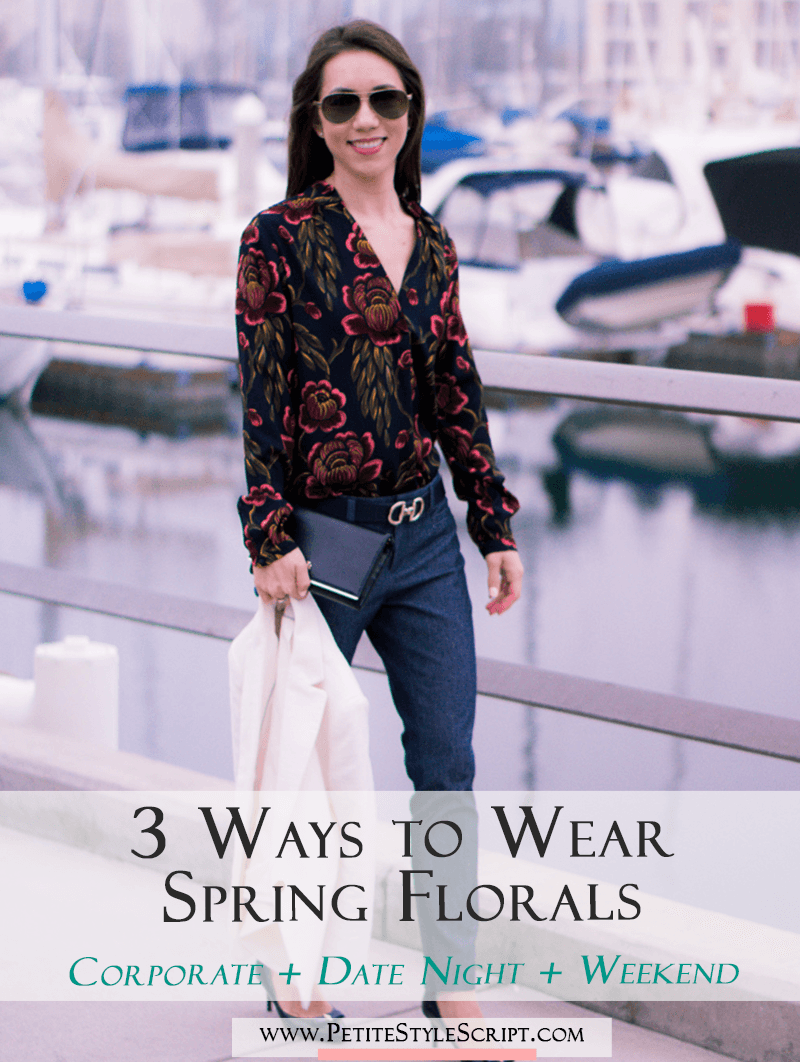 Sign up to get my 20-Piece Capsule Wardrobe Starter Kit + Shopping List (it's free!)