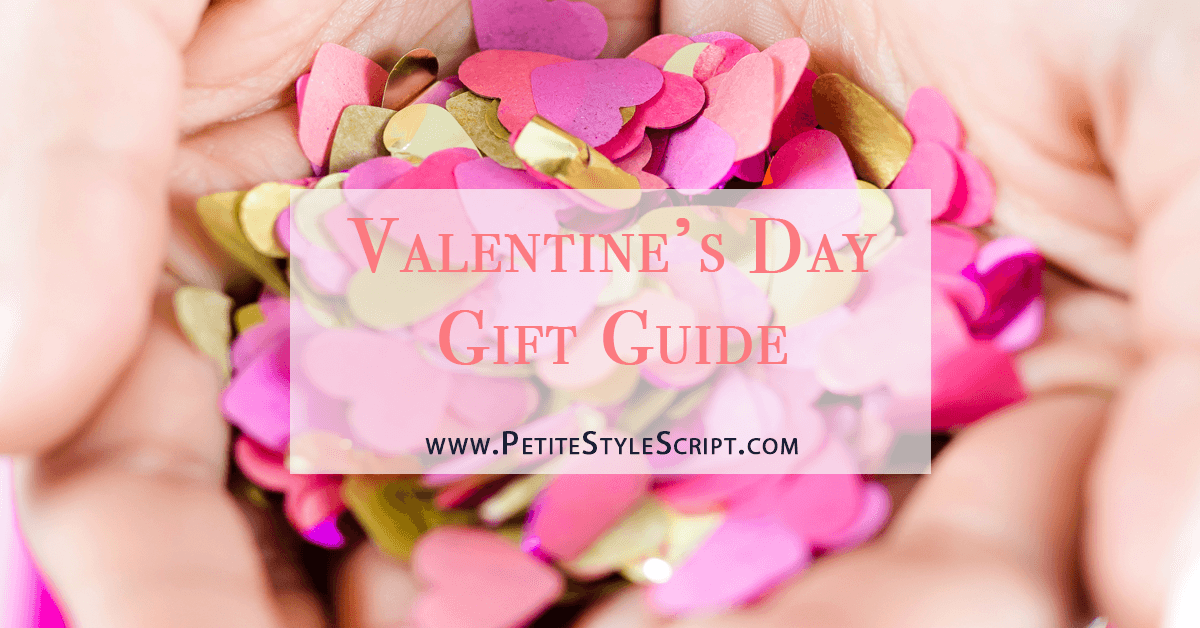 Valentine's Day Gift Guide
Can you believe it's already February! Time flies when you're having fun! Today, I'm sharing my Valentine's Day Gift Guide.
For those who are not familiar, a note on how I write my gift guides. First, they are curated to include only pieces I own or have tried to recommend to readers, they include my top items that are useful and practical, and they stay up year-round in case you are looking for gift ideas for other special occasions such as anniversaries this year. Click my Gift Tab above to see more options.
Note: This post may contain affiliate links; full disclosures HERE. This means, purchasing an item through one of my links may earn me a small commission without affecting your own purchase. Thank you for supporting Petite Style Script & helping it continue as an educational resource. 
Fun Gift: Valentine's Day Socks
Who doesn't love a fun print sock?! And you can purchase these to match your significant other. My boyfriend and I have been enjoying these from Sheec Socks – purchase them with my discount code "PSSVIP20" today! Previous blog posts on these socks: Fall Boots, Ballet Flats, *NEW Winter Boots
Jewelry
To me, jewelry needs to be meaningful and practical. That means, either turning to a company who customizes your jewelry pieces and a practical piece your recipient will actually wear. Personally, I don't tend to wear extra decorative rings or large bracelets that you add beads to because they are just too bulky for my day-to-day life. Find what fits best for your recipient and even customize it after the holiday if that works best – my recommendations (click image):

Classic Watch
I love timeless and classic designs for watches. If your significant other, female or male, doesn't own one yet, this may be the perfect opportunity to invest in one. There are certainly many options – I own 3 watches – one in silver, one in rose gold and one in gold. I would not recommend owning more than three. For those technology-driven folks, you can also opt for an iWatch that many of my family members recommend or Fitbit for fitness-driven folks.

Personalized Photos:
I love personalized gifts and my favorite ones for Valentine's Day come from Minted. They make it easy to set-up and customize. My favorite template is the gold-foil heart design!
Facials Together
My boyfriend and I love facials together. We go to our local Dermalogica flagship store in Santa Monica but there are many options available in each city. Find the one that you like and make it a monthly or bi-monthly trip together!
Wine Club
A subscription to a monthly wine club is a great way to enjoy a gift year-round! These are my two favorites: California Wine Club and Wine Club of the Month! Both make it easy to set up subscriptions as gifts.
Activities together
Disneyland, Universal Studios, Dinner Date, One-Night Stay to Recharge
In my opinion, activities together are the perfect gift. Having experiences together are much more memorable than accumulating materials together. I highly recommend that you plan these options for another day/weekend outside of Valentine's Day however. With price increases during this time, why not gift this and plan together as a couple, working out the details with each other's schedules?
---
Found this post helpful? Click the teal sharing buttons to share with a friend today!
My goal in 2018 is to reach 10,000 new women to inspire them to feel confident each day! 
---
Follow my updates on Social Media & Subscribe to Emails
Twitter | Facebook Page | Instagram | YouTube | Pinterest
Sign up to get my 2018 Winter Style Challenge // 25-Piece Winter Capsule (it's free)