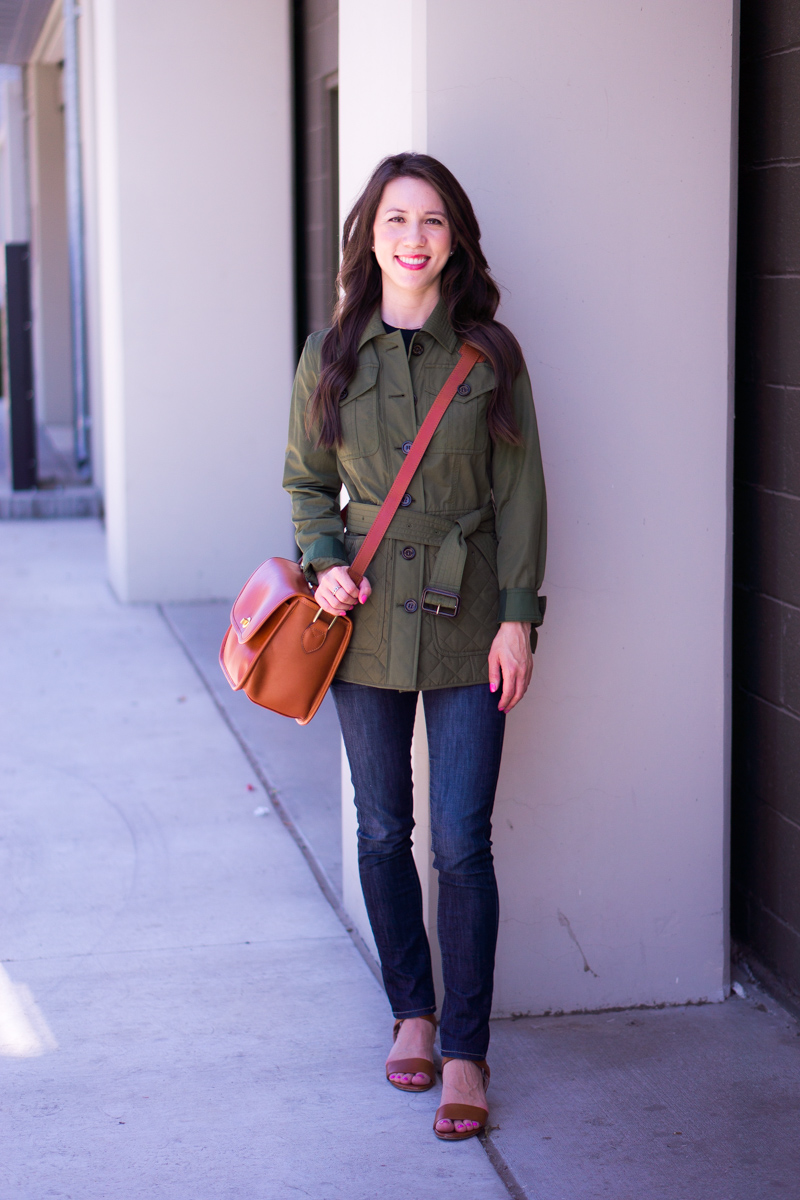 Fall Ready: Army Green Jacket
Burberry Whitworth Belted Jacket Review
Can you believe it is August already?! I can't! With summer winding down, it's time to get fall-ready with wardrobe essentials.
Note: This post may contain affiliate links; full disclosures HERE.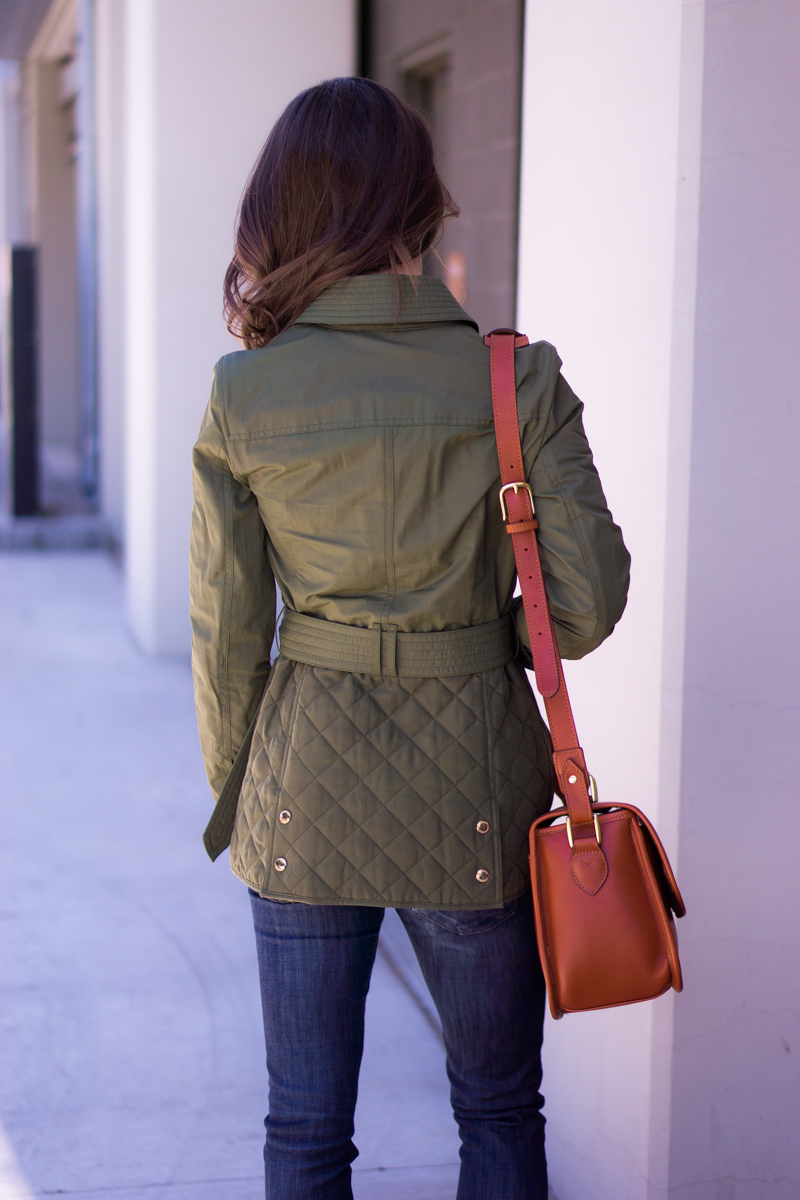 Outfit: Burberry Jacket Size 2; ONA camera bag (review here); Tory Burch belt XXS; M. Gemi sandals 35.5; Jeans; FIGS tee XS
(click images) 

This past year I have been refining my wardrobe to create a capsule-like closet – no, it's not your 30 piece capsule wardrobe but it features the pieces that are classic, will last years and that spark joy.
One fall ready piece I came across back in May was an Army Green Jacket or Military Style Jacket. Previously, I was not drawn to this style of jacket – it was always bulky looking and not flattering for petite figures.
Then I found the Burberry Whitworth Belted Jacket in army green (listed as moss green) and fell in love! I saw it in person in the store (Bloomingdale's) and immediately thought, wow why didn't I see this during my online shopping search?! Because the stock photo online doesn't do it justice.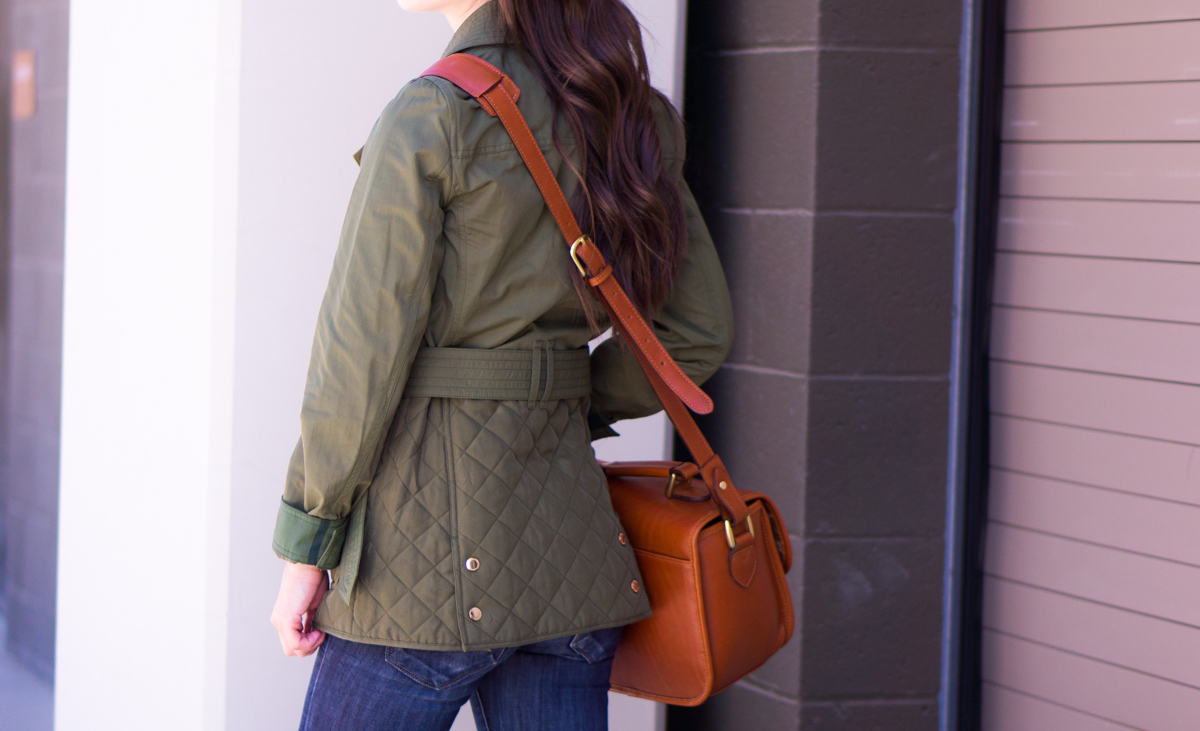 I briefly reviewed this Burberry Jacket on my Memorial Day Sale & Fit Reviews (more here with Salvatore Ferragamo items). Here is a summary of the jacket & why it sparked joy for me.
The Burberry Whitworth in Moss Green is a rich green color – a perfect military style color. I love the nylon feeling to the upper portion of the jacket – it would do well in the rain and the large pockets are great for holding your phone or hands to keep warm! I love the belted detailing – it really helps on petite-frames and will come in handy.
For sizing, at first my store only had a Size 2 and I thought it fit well…I even had on a work blazer underneath without any problems. I did have to roll the sleeves once which was fine since the nice Burberry fabric design shows then. I found a Size 0 at another local store and it does fit a little better, but doesn't have as much room for work blazers or thick sweaters underneath.
I opted to keep the Size 2 for the best fit year-round!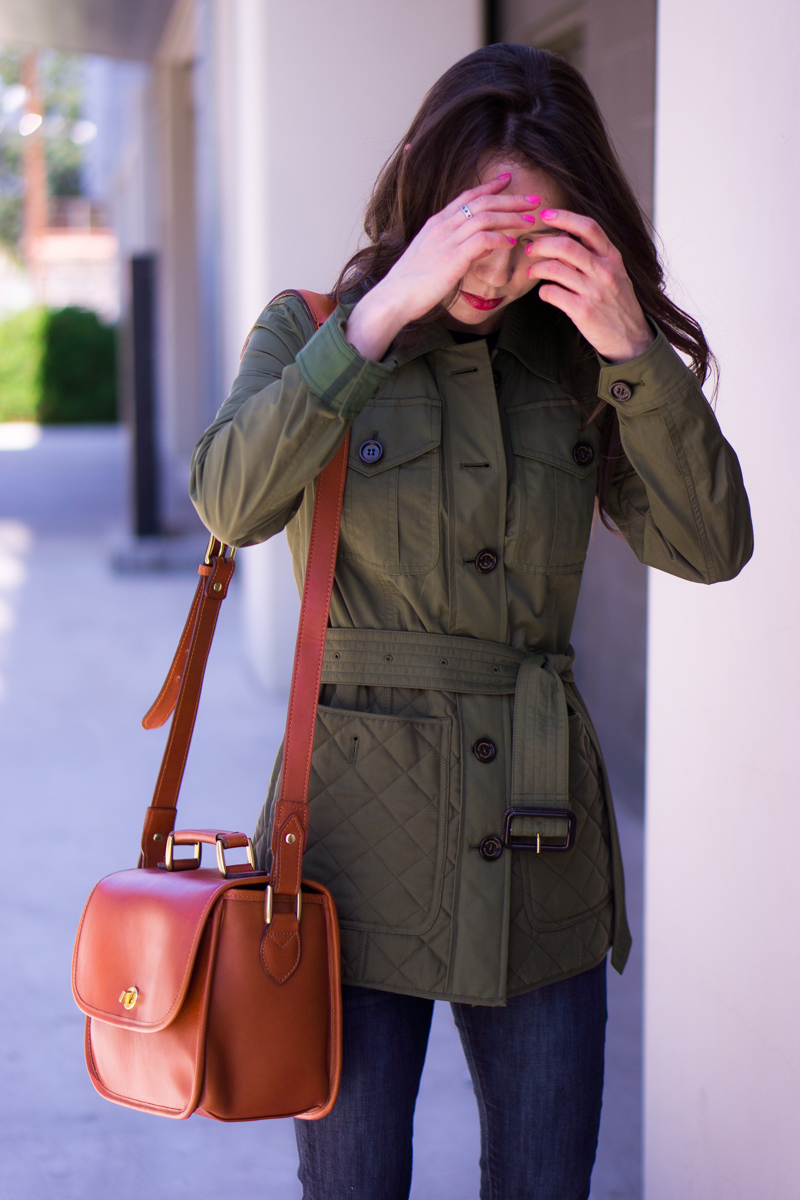 Pricing wise, this is an investment piece. Originally listed at $795, I was able to pick it up during the Bloomingdale's Sale in May & it's currently on sale again. If you're a Bloomingdale's loyalist (join now for free via link!), you may also be able to add on extra coupons to the purchase price.
If you cannot afford this Burberry jacket – another option is this green jacket for <$100. I have tried it on in stores and it fits in petite XXSP and is just slightly large in size XSP.
Video:

For those asking, other affordable options that I have tried on and recommend are:
J. Crew or  LOFT or click images below! The first jacket is a new edition to the J.Crew line and my pick as an alternative!

Do you own an army green jacket or military style jacket? If so, comment below about it!
Sign up to get my 20-Piece Capsule Wardrobe Starter Kit + Shopping List (it's free!)