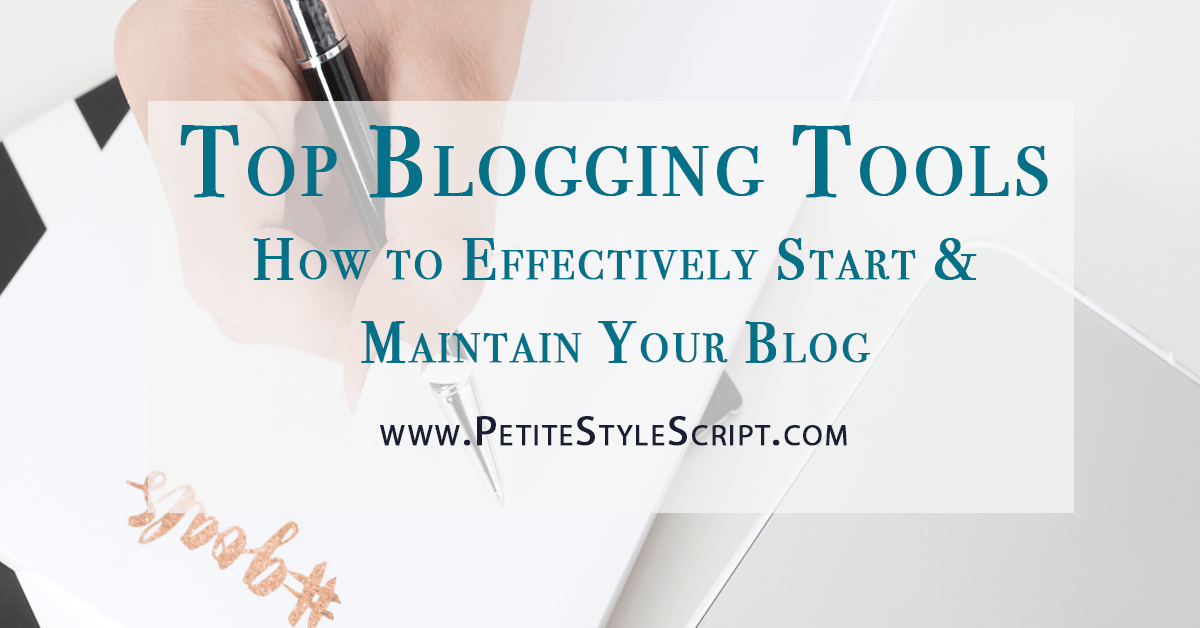 Best Blogging Tools
Hi All! You may be looking for petite fashion & style advice here but this page is for my Best Blogging Tools, Tips and Tricks.
As a self-taught website manager and blogging entrepreneur, I've learned a significant amount over time and am sharing it with you here. Because of my tech-skills, I often get asked about what blogging tools I use on my websites (Petite Style Script & Find Your Script).
To ease the burden of searching multiple locations for everything, I have compiled this comprehensive list of my blogging tools and how to implement/use them yourself. Yes, it may take some time to learn the ins and outs of some of them, but it worthwhile.
Questions You May Have:
Yes, I set-up my own websites
Yes, you need to make an investment upfront to get your blog off the ground (aka, pay for self-hosting your domain)
Yes, it took me ~24-36 hours to set-up each of my websites with all integrations and my perfectionist-mentality 😉
Yes, I do it myself even though I have no college degree related to technology – why? Because I don't want to pull my hair out one night when I can't reach a website developer and need something done! Plus, I LOVE lifelong learning and I know this will always be a journey as technology grows & expands!
Note: I only recommend products/services that I use and love. This post may contain affiliate links, disclosures HERE.
*I will continually update and add to this page as technology changes and/or my personal experiences with these companies change. I'm not going to recommend something I do not use myself!
---
---
Getting Started:
Blog Hosting and Domain
Bluehost: This is a paid hosting service – if you are currently on a free service, switch now! Remember, investing and owning your website is important in your business growth! I use Bluehost for both of my websites. It's easy to use, offers 24/7 customer support and there are some amazing deals to get started with them for your first year of hosting.
WordPress.org: Ok, continuing from above – invest in owning your website – aka self-hosted account. WordPress.org is the PAID version of wordpress.com and although it may look overwhelming at first, I taught myself how to use it within a few hours. In addition, it integrates well with other software and also features a convenient app for your phone/tablet to update your website on the go!
---
Website Theme

(or Template)
Bluchic: Once you have set-up your hosting and domain, it's time to build and design your website/blog! Unless you know how to fully code a website, I highly recommend investing in a website theme or website template for this! These themes are affordable (some even free!) and I picked both of mine up for <$100.
Keep in mind that templates need to match your hosting account – aka if you have a wordpress.org account (what I recommend above), then your theme/template needs to support this.
My personal recommendation for themes is Bluchic. Both of my websites use their themes. BluChic is geared towards feminine-styles but are very customizable.
I use BluChic Isabelle Theme on my Petite Style Script blog and I use BluChic Victoria Theme on my Find Your Script website.
I opted for this template for Petite Style Script because it showcased my blog posts on the front page, had built in social media options & was more geared towards my fashion blog aesthetic.
I opted for this template for Find Your Script because it was simple, integrated with WooCommerce for my Shop and had a call-to-action design "above-the-fold" (meaning before you have to scroll down the front page of the website).
Other Themes can be found on Etsy! Search today!
---
Website Plugins
Now that you have your website set-up and customizations changed in your template, it's time to add on Plugins.
My 2 favorite plugins are Social Warfare and Yoast SEO.
Social Warfare: Social Warfare features social media sharing buttons on your website to encourage readers/visitors to share your content. This includes via email, Facebook, Twitter, and Pinterest. This has been an invaluable way to organize how you want your information to look when shared with others.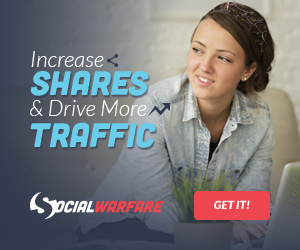 Yoast SEO: SEO – known as Search Engine Optimization – is SO important for ALL websites. Don't know what I mean?
Do you use Google to search for a topic, video, image, review? The best results show up at the top of the results, right?
With proper SEO your website, your post, your photo, your video will show up at the top of the results!
There are free and paid versions of Yoast SEO. The Free Version shows the SEO score, readability score and gives tips to make these better before pushing publish on a blog post. It also has an area to add in my keywords and visually shows you what the post will look like on a Google Search Result.
---
---
Email:
Want your email address to look as professional as the rest of your business? Then you need an email address that includes your domain name – aka mine is Jessica@PetiteStyleScript.com. It doesn't end in "@gmail.com" – it clearly showcases my domain/website name.
In addition, if you are going to collect email address to send mass emails or marketing emails to your readers, email service providers such as ConvertKit (discussed below) and MailChimp require this type of professional email address. They will not deliver emails from a free email account (think "@gmail.com" again) and even if you have a service that allows this, many will end up in your recipient's Spam folder!
For $5/month you get your own professional email address, 30GB of storage, Google Drive and other features from Google Apps for Work. You can sign-up for a 30-day trial and receive 20% off your entire year – email me with "Google Apps for Work" in subject line for a unique code please! (I'm not allowed to post my codes publicly here but they are real)
20% off your entire year of Google Apps – Email Me today for Code! 
Email marketing is an important part of your business. Even though you may be thinking – I get so much junk email and I delete a lot of my inbox – email can help you when you're thinking long-term planning.
Remember, you own your domain/website and you own your email list. You DON'T own your Instagram, Facebook Page, Twitter account, Pinterest account, or YouTube account – all of those services could shut-down tomorrow! Yes, that's not likely to happen but you don't OWN those portions of your business. So, optimize the portions YOU have control over!
Personally, I started on ConvertKit and never used a free email marketing service provider. Why did I make the investment from the beginning? Because of the features with Sequences, Automation, Tagging and Landing Pages that help me grow my email list on autopilot.
The cost is $29/month up to 1,000 subscribers and your goal should be to gather your first 1,000 subscribers within 6-12 months of starting your business.

---
---
Social Media:
First off, if you skipped to the Social Media section, read above about my take on social media (aka you don't own it so invest your time/finances wisely related to it). That being said, there is a very strong focus on Social Media and your numbers, engagement, reach and statistics.
My hands-down "Social Media" to invest in is Pinterest. And no, Pinterest is really not a Social Media platform – it's a Search Engine. Yes, I said a Search Engine. That is why you invest in it just like you invest in SEO for Google Search Results.
To give you perspective, the majority of my website traffic is generated from Google Search Results and then following closely behind is traffic generated from Pinterest. That is why you invest in Pinterest and have a Pinterest strategy for your business.
Pinterest is a search engine! It helps me grow my website traffic & email list on autopilot!
Click To Tweet
If you're like me and didn't know how to strategically use Pinterest for your business, then I first recommend taking a Pinterest-direct course. Yes, you may be like, I pin images all the time in personal life, how hard could it be? Well…it's like anything else. You get out what you put in or in other words, you get out what you invest wisely in. 
One month into blogging, I decided to invest in the highly-recommended Pinterest Course by Melyssa Griffin. Yes, it was a difficult to pay the course fee but my ROI has been significant. I more than TRIPLED my website traffic and did this while taking a break from posting new blog content! I have a whole email series on more statistics behind it from August 2016 if you want it HERE.
More information about this course HERE and a webinar version HERE.
Have a question about this course, let me know! It's been great seeing my own growth and the growth of others in our Facebook support community with this course!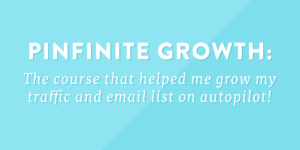 Because a lot Pinterest and Social Media is time-consuming, it helps to schedule and automate your Pinterest. That's where the Tailwind App comes in.
To turn Pinterest in a website traffic generator, you need to post frequently and consistently on Pinterest. How do you do that?
Spend a whole day on Pinterest…haha I'm kidding. No one has time for that (although I'm sure some of us are guilty of this!)
Tailwind App allows me to schedule hundreds of pins ahead of time. I can schedule a week's worth of pins in less than 30 minutes. Plus, Tailwind App is an approved-Pinterest app so it is not violating a Pinterest policy.
I tried Tailwind App for free (first 100 pins free with no credit card required) and then joined the Plus membership. Unlimited pins per month for as little as $10/month!

BoardBooster is also convenient for looping pins. What is looping?
Well you know when you pin an image 3, 6, 12 months ago and want it to show up again? Maybe that is a blog post you can re-promote and redirect website traffic. You can use BoardBooster to do this on autopilot! Plans start at $5/month!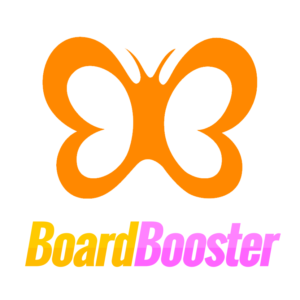 Planning a visually pleasing and cohesive Instagram can be challenging. That's where Planoly comes in for me with my Find Your Script business (@findyourscript_. Planoly allows you to visually see the Instagram Grid and move around photos to make your images pleasing to the eye. It then allows you to add in captions and schedule the post.
Instagram does not allow any app to automatically post for you on Instagram. Instead, you can receive a reminder that it's time to post and then your image and caption can be clicked and pasted into your Instagram account.
I have used Planoly to plan and schedule 2-4 weeks of Instagram posts ahead of time. Yes, I said 2-4 weeks! This allows me to spend 2-3 hours gathering the images, writing the captions and formatting the grid for an entire MONTH of Instagram! That is a crazy time saver!
And best part? You can use Planoly for FREE! You can upload a maximum of 30 images per month and have full scheduling features. For business who post more frequently, the cost is still inexpensive at $9/month.
Example of Planoly Grid and Calendar for scheduling posts: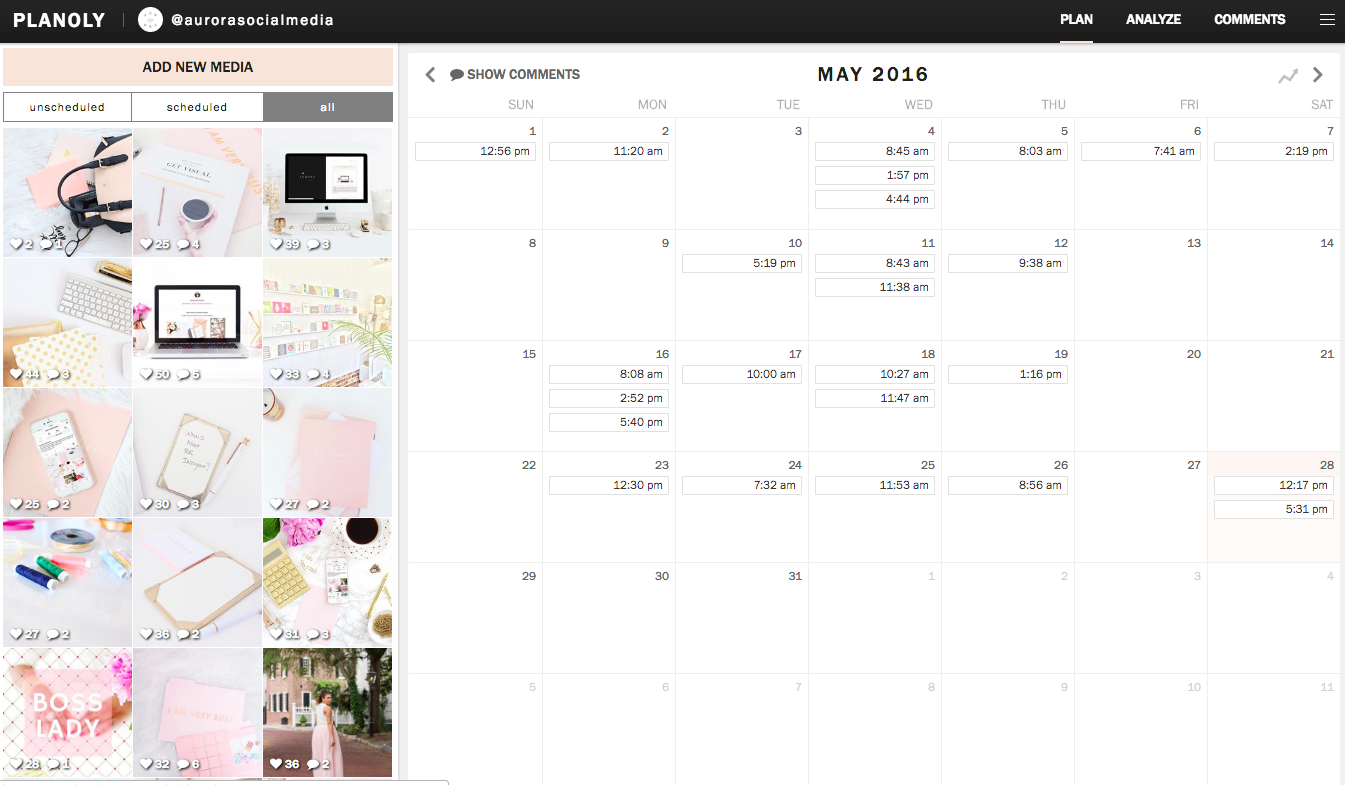 ---
Used on Social Media and Blog
Are you looking for gorgeous photos and flatlays for your social media and blog but don't have the time to photograph yourself? This is where Stock Photography comes in.
Stock photos usually require memberships or purchase of copyrighted material. I've heard there are free Stock Photography websites as well but I have not used them (you get what you pay for).
My absolute favorite Stock Photography business is Haute Chocolate by Rachel Rouhana. She provides the most gorgeous photos twice a month along with Graphic Packs and Social Media Quotes. After signing up for a free trial, I purchased the yearly subscription and love seeing the new categories & photos each month.
You'll find many of her photos over on my Healthcare Account – @findyourscript_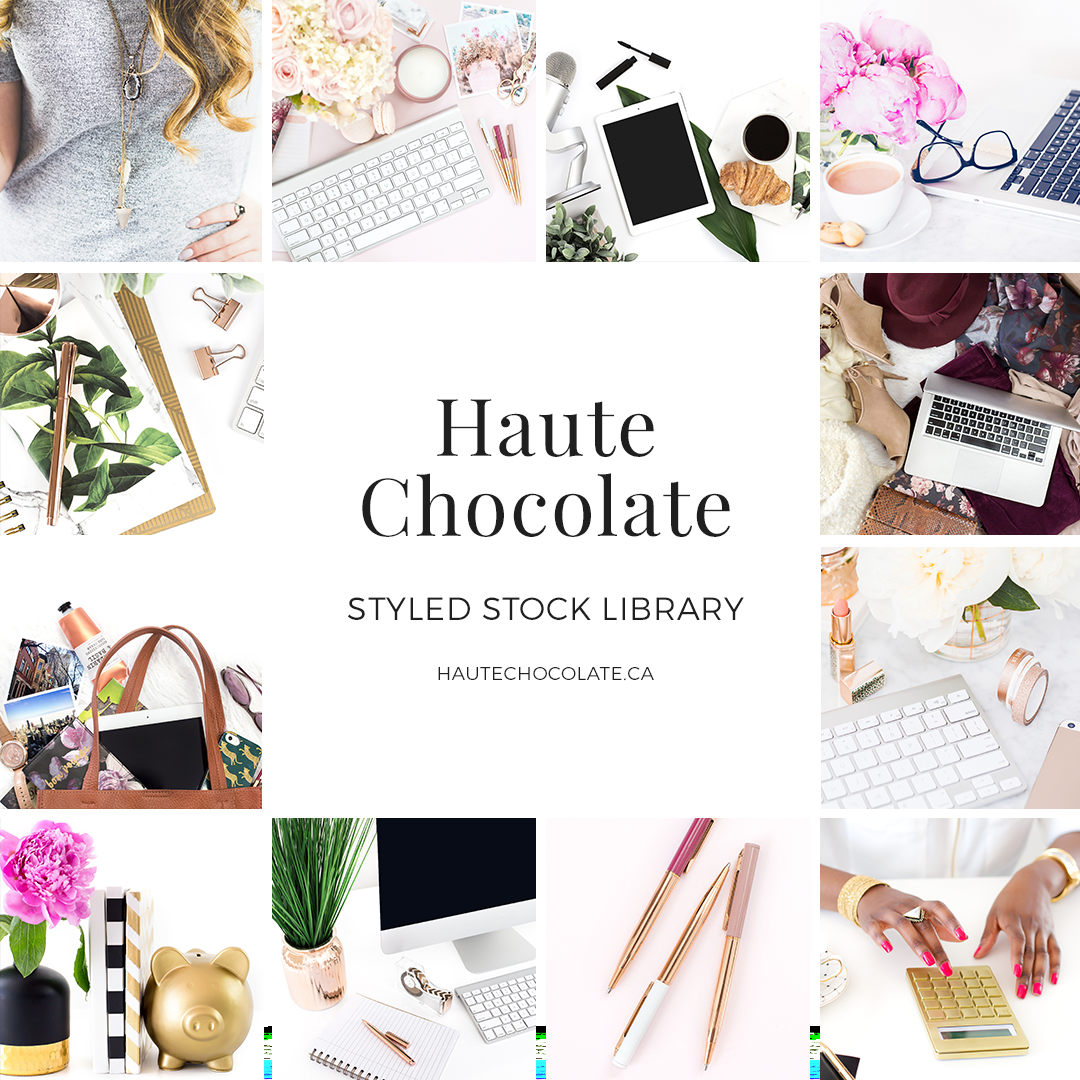 ---
Photography & Editing:
I've owned by Sony Alpha NEX-7 24.3MP camera for 6+ years and LOVE it. It's the more compact way to carry a DSLR-quality camera around with you! Here is my old model and here is a link to the new model.
If you want or need to photograph yourself, then a wireless remote shutter is a must! I purchased this shortly after starting my petite fashion & style blog and it was a lifesaver! In the beginning, I photographed nearly all my shots by myself – now I have some help from my boyfriend and mom.
If you purchase a new camera kit, then it most likely came with a standard camera lens. Depending on what type of photos you're planning to create, a more specific camera lens may be necessary. I opted for the Sony 50mm lens to help me with my petite fashion & style blog photos.
A quality camera requires a quality memory card! I love Sandisk for their consistency in quality. I've literally NEVER had a problem with one of their memory cards. I like the Extreme one the best for fast data transfer!
A tripod is a must for shooting photos by yourself! Or setting up the perfect shot. My favorite comes from Benro because of their quality design and longtivity – I've owned mine for over 6 years.
---
Lightroom & Photoshop
Photo editing software is a must. Plus, good software can save you loads of time.
I use Lightroom to upload all my photos, use "Flags" to pick out the top photos, use Design to edit them and copy/paste this edit to all photos in the same setting, and then rename all the photos to my desired SEO-friendly name. Final step is exporting them as condensed JPEG files (no larger than 500 KB and 1200 pixels wide). And done!
I use Photoshop to make Pinterest-friendly images with text-overlay on images. Photoshop also has a wide range of features for more editing capacities.
The monthly membership for Adobe Creative Cloud Photography for is as low as $10/month (student version).
---
---
Are you reading this as an established blogger who wants to turn your blog into a profitable business? I recommend investing in your business with this amazing course by Melyssa Griffin. She helps entrepreneurs realize their dreams.
Her course contains free information for you to get started today! Click to to learn more or get your CheatSheet here + Videos.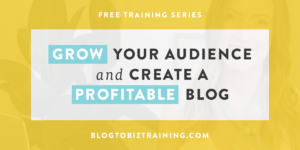 ---
Courses
Are you a business that sells (or will sell) services, courses or digital products? If so, my favorite software to organize this is Thinkific.
The best part of Thinkific (and compared to Teachable) – they offer helpful onboarding to get used to the program and marketing features + they have a FREE option to use! If you're worried about making sales your first month, the FREE option is great for you!
An amazing read about How to Start & Maintain my blog!
Click To Tweet
---
Would you like customized help getting your blog (or website) off the ground? Having trouble with implementing the Tailwind App or Planoly – consult me for a customized one-on-one conversation today! More information here.
---
Let me know if you have any questions as you build the business of your dreams!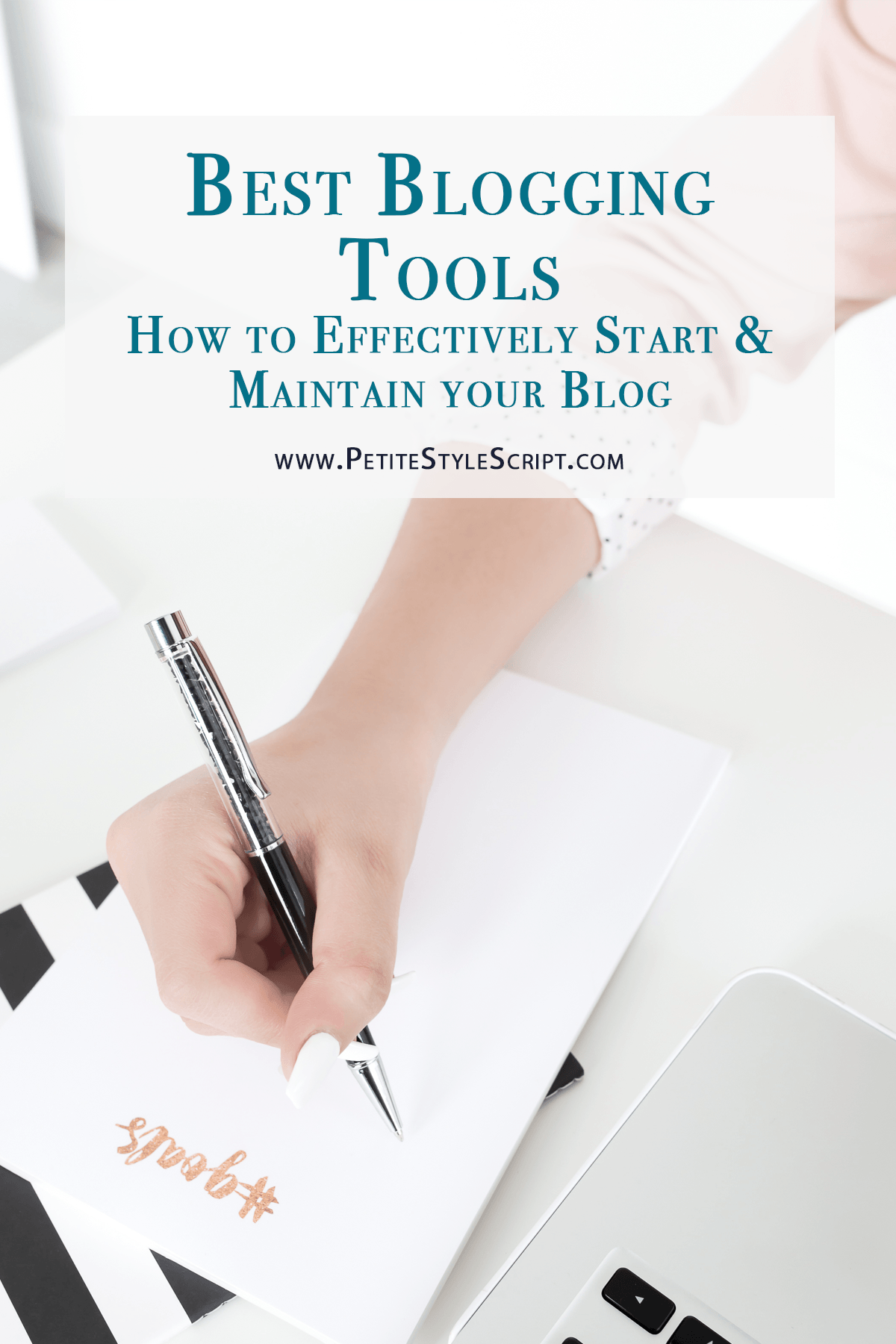 Sign up to get my 2018 Winter Style Challenge // 25-Piece Winter Capsule (it's free)