Tieks by Gavrieli foldable ballet flats are MUST have ballet flats for busy professionals. Here I detail my review of this beloved brand (not sponsored). Scroll for Videos!
Ultimate Tieks Ballet Flats Review

I first discovered Tieks by Gavrieli 3 years ago. Since then and several pairs later, I can confidently say that purchasing my first pair was one of my best decisions to date.
I own one and only one brand of ballet flats—Tieks by Gavrieli.
This is not a sponsored post nor am I an affiliate for Tieks; this is simply my experience and review of Tieks ballet flats from a long-standing love for them. I hope you find my thoughts useful in your quest for the perfect ballet flats for busy professional work life!  This post may contain affiliate links; full disclosures HERE.
See my other ballet flats post here – How to Wear Ballet Flats Comfortably all-day long,  Celebrating Mother's Day and No-Show Sock Options
Keep reading for 4 videos answering YOUR questions & outfit inspiration with my Tieks ballet flats!
I can confidently say that purchasing my first pair of #tieks was one of my best decisions to date.
Click To Tweet

Why are Tieks by Gavrieli the perfect go-to work shoe and the MUST have ballet flat for busy professionals? Get ALL your questions answered here & in my videos!
Why do I love Tieks?
Style, Comfort, Travel, Fold & Pack, Quality, Longevity!
All the reasons I'm outlining here & in my videos! Keep reading for all the details!
Are Tieks Comfortable?
Yes!
I stand for several hours in them working in the hospital or teaching at the university (8-12 hours)
I walk & take the stairs at work while also running to code blue situations (I'm a critical care pharmacist) and they are comfortable!
If you want a little more cushion for the ball of your foot and added odor protection, see my blog post on "How to Wear Ballet Flats to Work" and No-Show Sock Options with the product I use — Sheec Sockshion (20% off with code PSSVIP20, $15 minimum + free shipping)

Do Tieks hurt your big toe?
Simply put – no!
I have an average width foot & my sister has a wide foot (we both wear a size 6)
If you believe you may have a problem with the big toe area, you can consider these options for helping to stretch out your Tieks ballet flats

Take tissue paper (from another shoe box) & stuff into ball of foot – leave in for 2-7 days (see video for details)
Put on thick socks & walk around your house to help stretch out your Tieks
Do Tieks hurt your heel?
Simply put – no!
I have never had a problem with Tieks in this area, unlike other ballet flats that have significant elastic on the back heel or minimal/no padding on the back heel
If you are worried, I recommend applying friction block stick – prevention is better than treatmen

t

, especially for friction blisters that take forever to heal! (just as in healthcare prevent a disease rather than treat one)
Apply friction block stick the first few times you wear Tieks, then stop using it and see if your Tieks fit comfortably
More information on this friction block stick in my other post on How to Wear Heels to Work
How do Tieks pack & fold?
Tieks are made for folding – the Tieks sole is not connected on the bottom for you to easily fold them in half without hurting or wearing down the Tieks leather
Tieks comes with a small pouch for your ballet flats & a larger pouch to place your shoes into (after you take them off & put on your Tieks)
Easily travel with these foldable ballet flats
Wear them for your commute and slip into heels at work
Pack Tieks for travel and fit multiple pairs into the same carry-on suitcase
Place Tieks in your handbag for an emergency walkable pair after a long night out or place Tieks in your handbag for walking during a conference (convention centers are a long walk from hotel rooms!)
So many ways to fold and pack these ballet flats!
Are Tieks worth the price? How long do Tieks last?
Yes!
This goes hand in hand with the longevity of Tieks ballet flats
Tieks that I own range from $175 – $195 per pair (classic or patent styles). Prices can range up to $345 per pair for print styles that are more intricate in design (Arabian nights – each pair is unique!)
I can personally speak to 3+ years of experience with my Tieks ballet flats and look forward to many more years wearing each pair!
Quality of the leather, stitching and sole is very high
Tieks are 100% supple Italian leather and have hand-stitched full-grain leather insoles.
Purchasing Tieks ballet flats are an investment and the quality matches this
Are you spending $50-$75 on ballet flats currently? Do you throw them out or stop wearing them after 6-12 months? That adds up to the price of one pair of Tieks ballet flats!
Do your current ballet flats spark joy? Do they make you smile when you wear them?

Just as I detail in my Start Here page, I believe in the KonMari Philosophy – your possessions must spark joy. Otherwise why purchase or own them?
Video Part 1:
(click HERE to watch via YouTube with full description on what time point each question is answered) 
How is Tieks Customer Service?
If you've read my other posts, you know that I truly value excellent Customer Service
I will literally not purchase products if the customer service is not up to my high standards
Tieks has excellent customer service
In the US, they offer FREE shipping AND FREE returns
As an ONLINE only store, this is really helpful when you are unsure of your size or color choice and want to know you can easily return them
Their website is great for getting your questions answered, detailed photos and more!
Should I size up or down in Tieks?
My recommendation: Size UP
As you've read before & in my About page, I wear a 5.5 or 35.5 in most shoes
So, I am definitely your typical "between sizes" customer
What did I do? I purchased a size 5 and size 6 during my first Tieks purchase
What fit?
I choose a size 6 because…

More comfortable
Stretch
When add in a no-show sock option (mine is the Sheecs Sockshion), the size up helps
Share – I now share a few colors with my sister who has a wide foot and wears a size 6

How are Tieks packaged?
They are packaged beautifully!
Tieks arrive in the classic Tieks blue box with a flower on top, custom card, carrying pouch to fold & pack
I love opening an online purchase and seeing my purchase so nicely wrapped
Tieks definitely put a lot of thought into their shipping & packaging! Once again, excellent Customer Service!
Sorry no photos of my packaging! I threw out my boxes in Spring 2016 after reading Marie Kondo's books (KonMari Philosophy)
Can you wear Tieks in the rain?
Simply put – depends
Patent leather – yes
Classic leather – no
Patent leather is very "wipeable" and are 'OK' in light rain. I do not recommend wearing them in a down-pour unless you have to (meaning you'll go barefoot), but I have been caught in a down-pour of rain and they were fine (posted on Instagram stories!). Yes, I would rather be wearing my Obsidian black color instead of my Nude patent color in the rain. I wiped my Tieks dry with a paper towel & then went about my day (my Sheecs Sockshion did need to dry off before placing them back on my feet).
Classic leather is NOT for the rain. I personally would not be caught dead in the rain with my classic leather colors. You can consider a leather protectant spray if you may be caught in bad weather & I recommend this one from Nordstrom.  I use this to protect many of my shoes & handbags.
Can you wear Tieks in the snow?
No!
I lived in snowy weather (Utah) for a couple years and would never wear them in the snow
I wore snow boots for my walk into work and then changed into my Tieks ballet flats – good thing Tieks easily fold & pack!
See more information above about rain

What color Tieks should I purchase? Patent or Classic Leather Colors?
Simply put – depends
Patent leather

Wipeable
Can wear in a light rain
Less stretchy
May take longer to "break-in"

Classic leather

Not wipeable
Cannot wear in a light rain
More stretchy
May be more comfortable right out of the box

Vegan Collection & Print/Metallic Collection

I do not own any Tieks from these collections & will not speak to them here.

Try them out with free shipping & returns, you have nothing to lose. I recommend a classic versatile color for first purchases—mine was Obsidian Black and Ruby Red Patent. I love both and wear these 2 colors the most of any colors I own. My sister's recommendation is the Slate Gray Croc color—her first Tieks ballet flat color!
Video: Part 2

(click HERE to watch via YouTube with full description on what time point each question is answered) 
What about Tieks blue sole?
Signature Tieks Blue Sole
Identifies Tieks from any other brand and keeps their style a classic
Tieks also have non-skid split rubber soles that are perfect for the work environment in the hospital and university!

Ultimate Tieks Ballet Flats Review
Videos 3 & 4
(click HERE to watch via YouTube & Subscribe to my Channel for updates!)
(How I care for my Tieks ballet flats to reduce sweat marks & control odor) 
(How to wear ballet flats comfortably all-day long) 
Remember, I'm not sponsored by Tieks nor am I an affiliate. I know the anxiety that comes with investing in a shoe >$150. I want to answer your questions!
An honest Tieks Ballet Flats Review by a longtime customer
Click To Tweet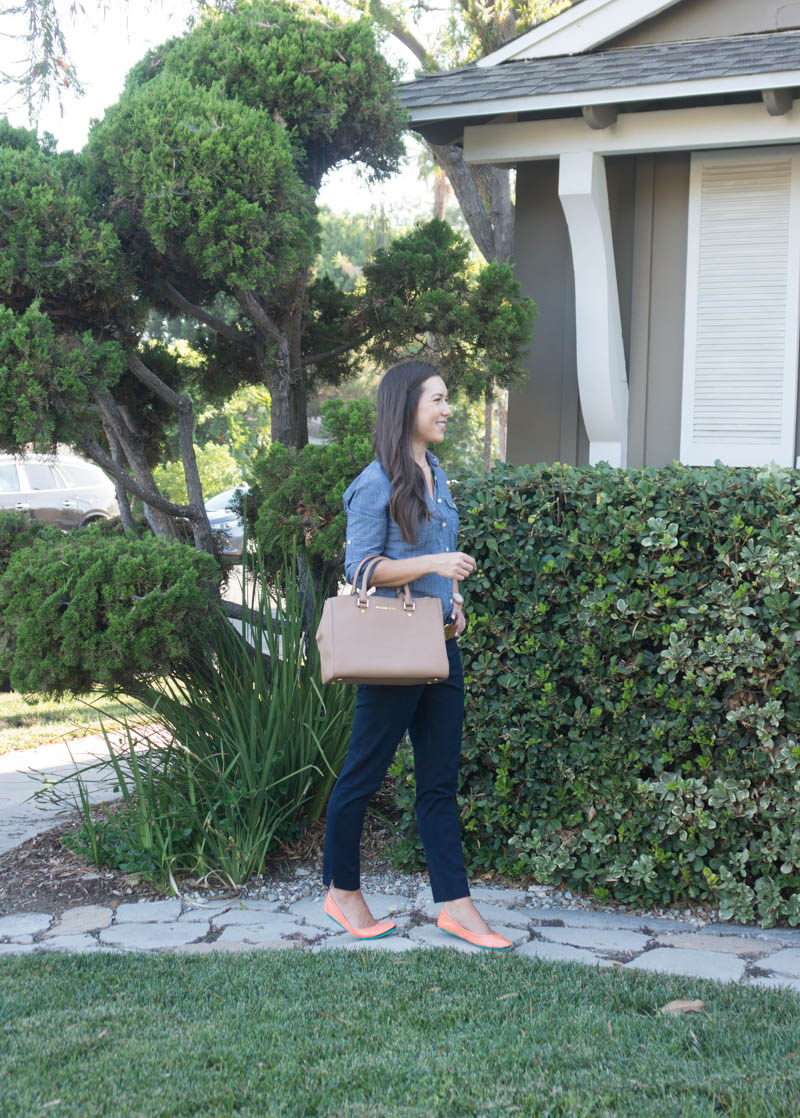 From Instagram
Colors I Own (or share with my sister) in size 6:
Ruby Red Patent; Obsidian Black; Slate Gray Croc; Lavender Patent; Coral Patent; Nude Patent; Lilac Classic…next color feather gray or navy or mint or blue patent…so many choices!
Here are several ways I have styled both my Tieks by Gavrieli ballet flats.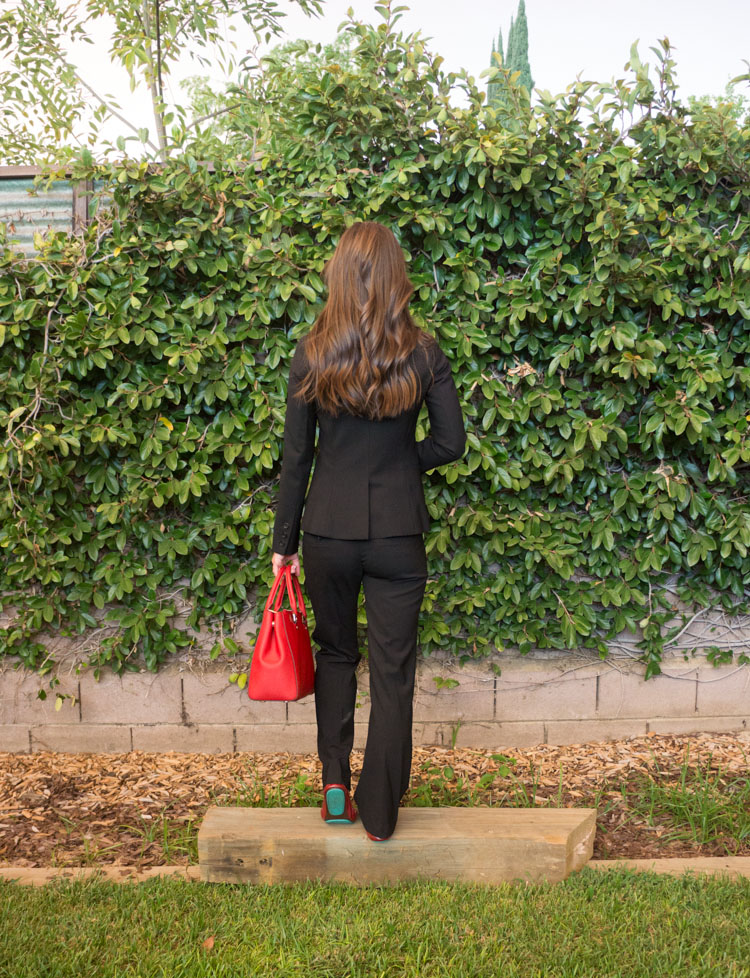 From my post on "You Only Need One Black Business Suit…" Read More HERE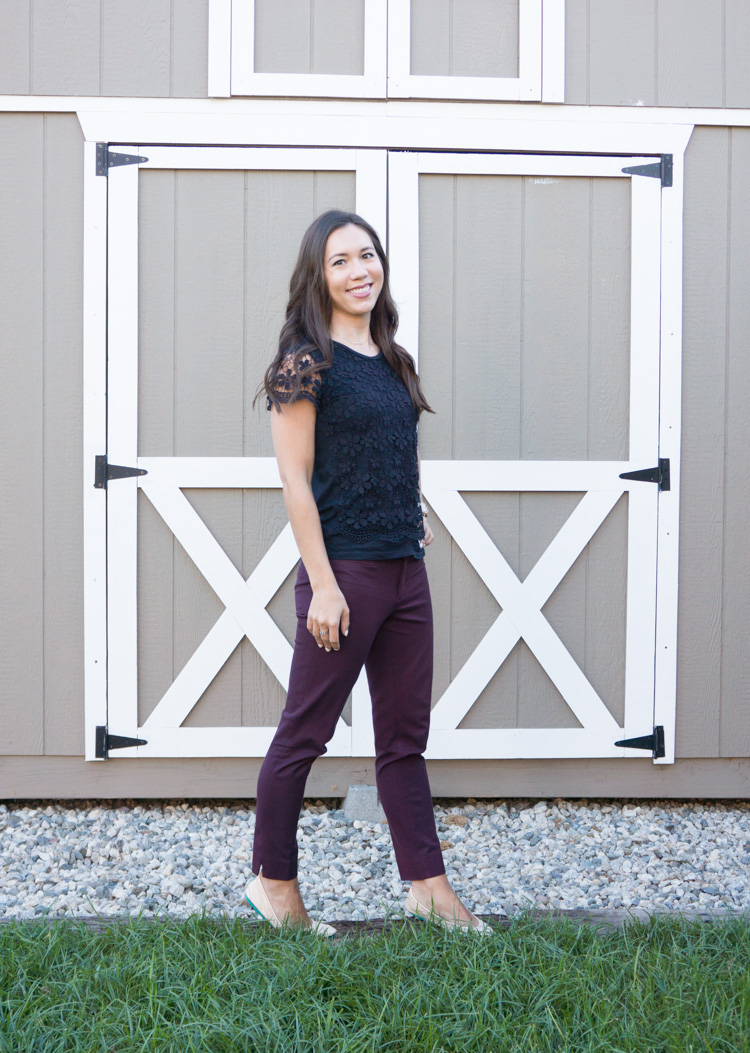 From my post on "Classics: Banana Republic Sloan Pants & Ann Taylor Blazers" HERE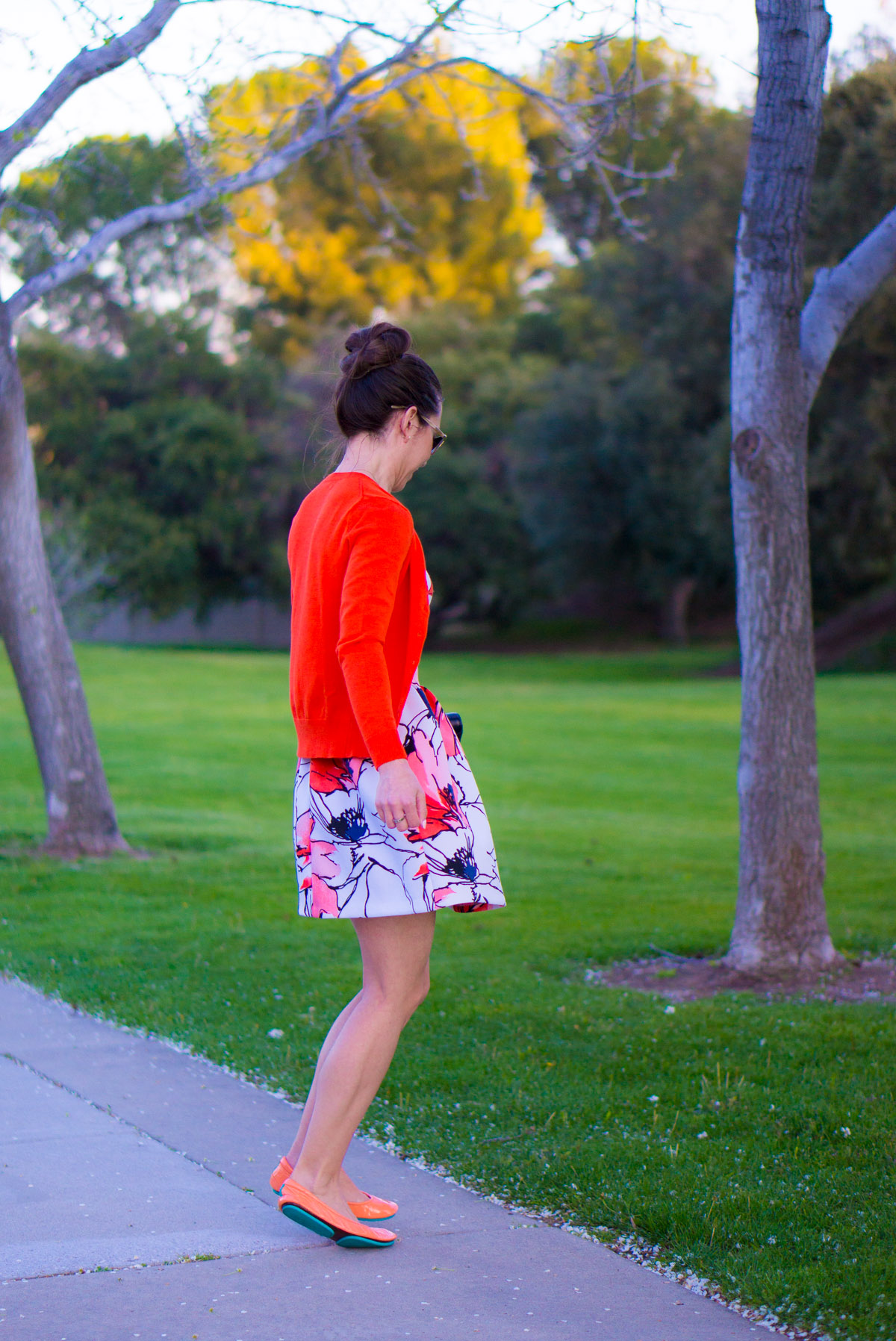 From my post on "Best Floral Watercolor Dresses" HERE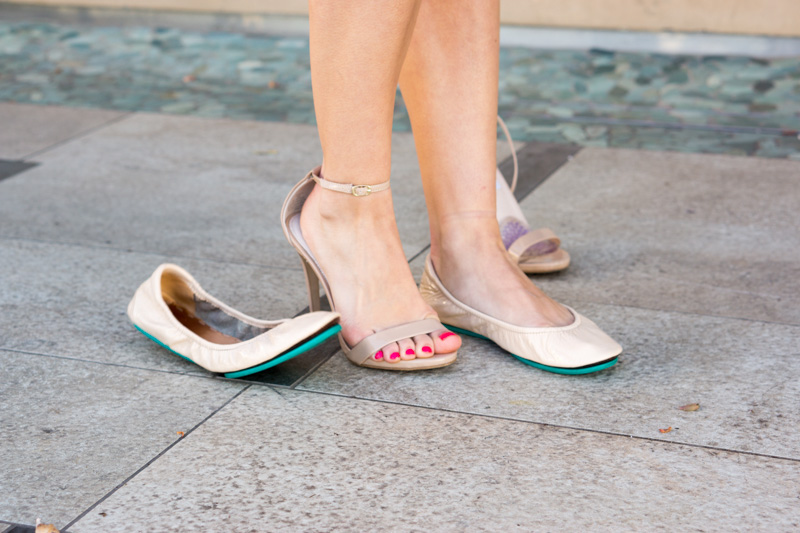 Who doesn't like changing out of heels into Tieks?! (from this post)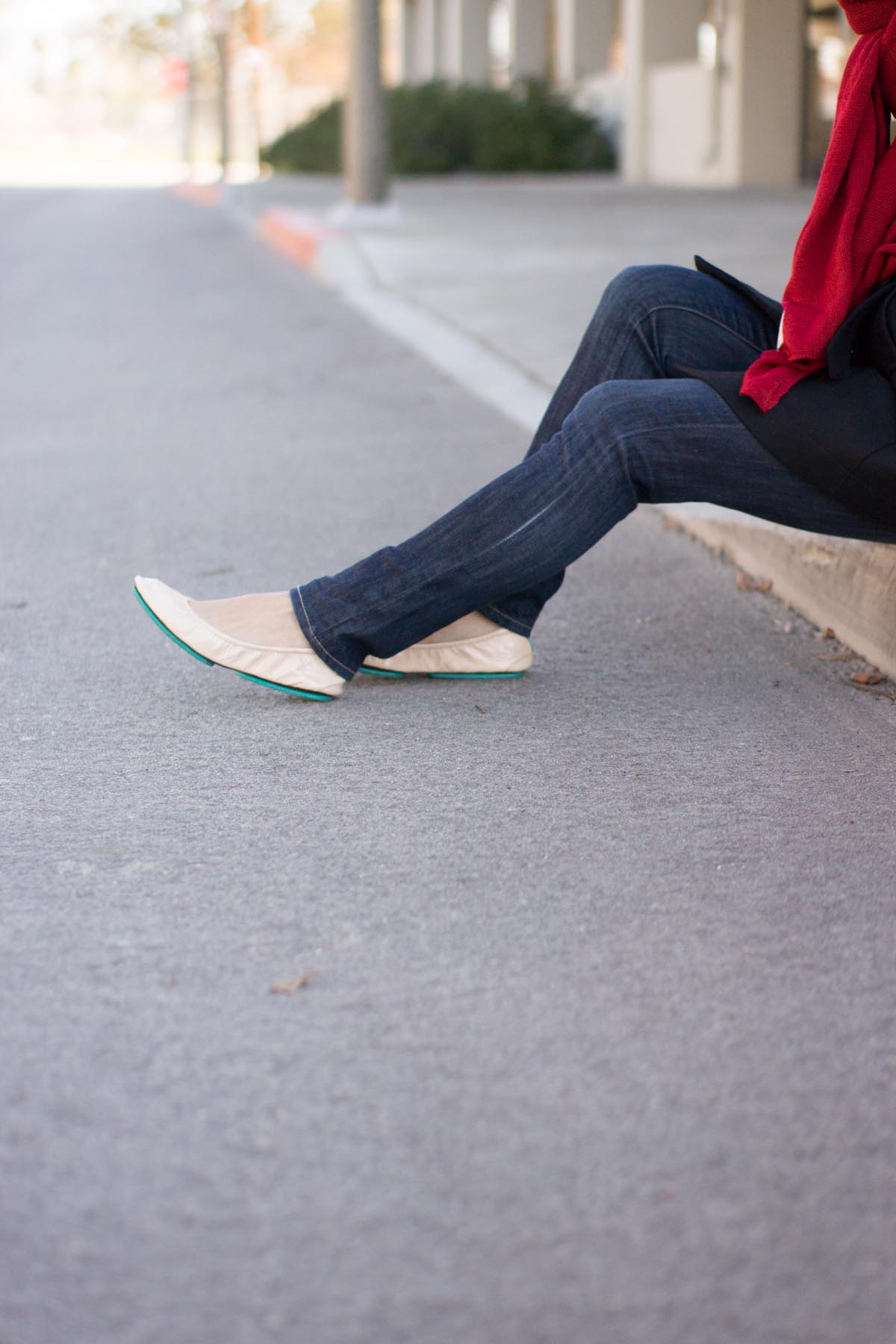 Neutrals are a must with ballet flats!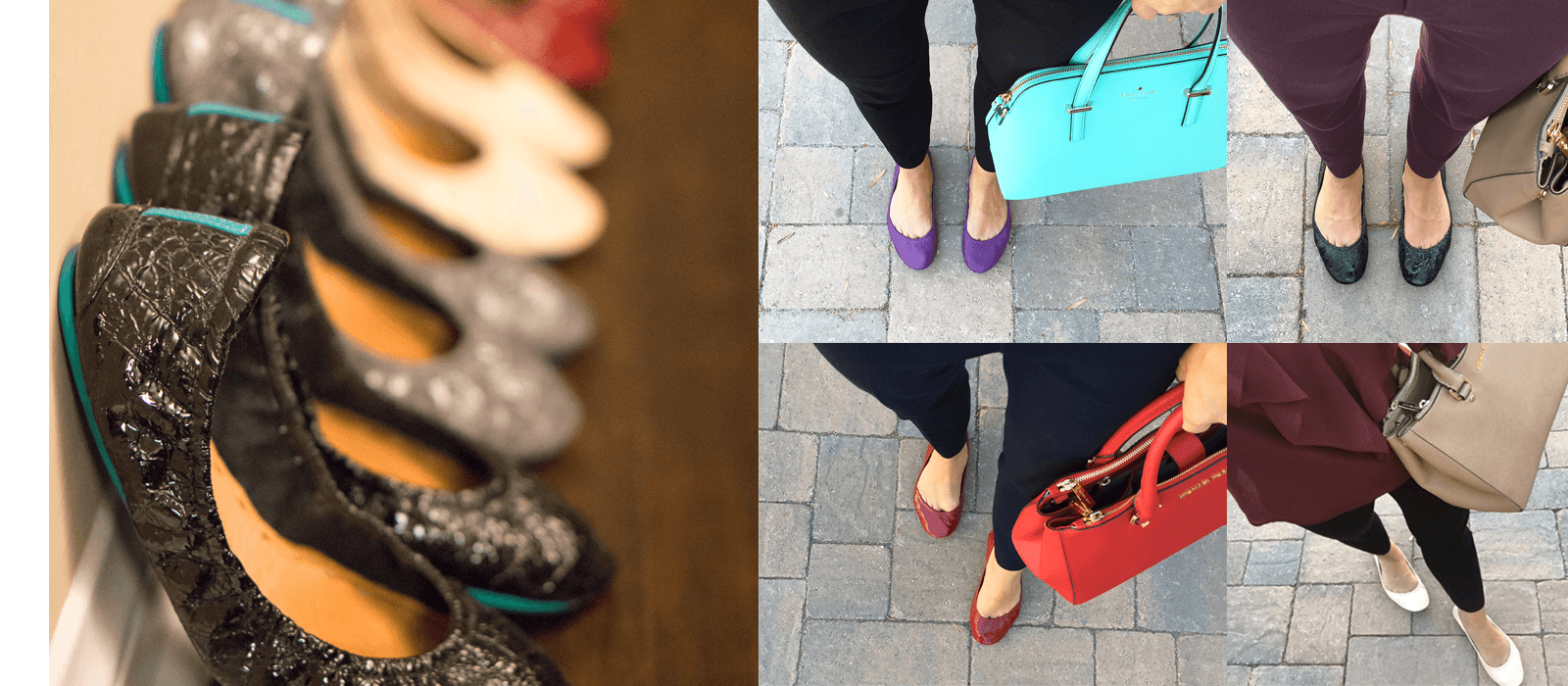 Sheec SockShion (20% off with PSSVIP20)
Are Tieks really worth the price? Yes! Share your comments & ask questions below please.
Did you see my 4 videos about this review & a few added details about how I care for my Tieks ballet flats to reduce sweat marks & control odor? Scroll up now!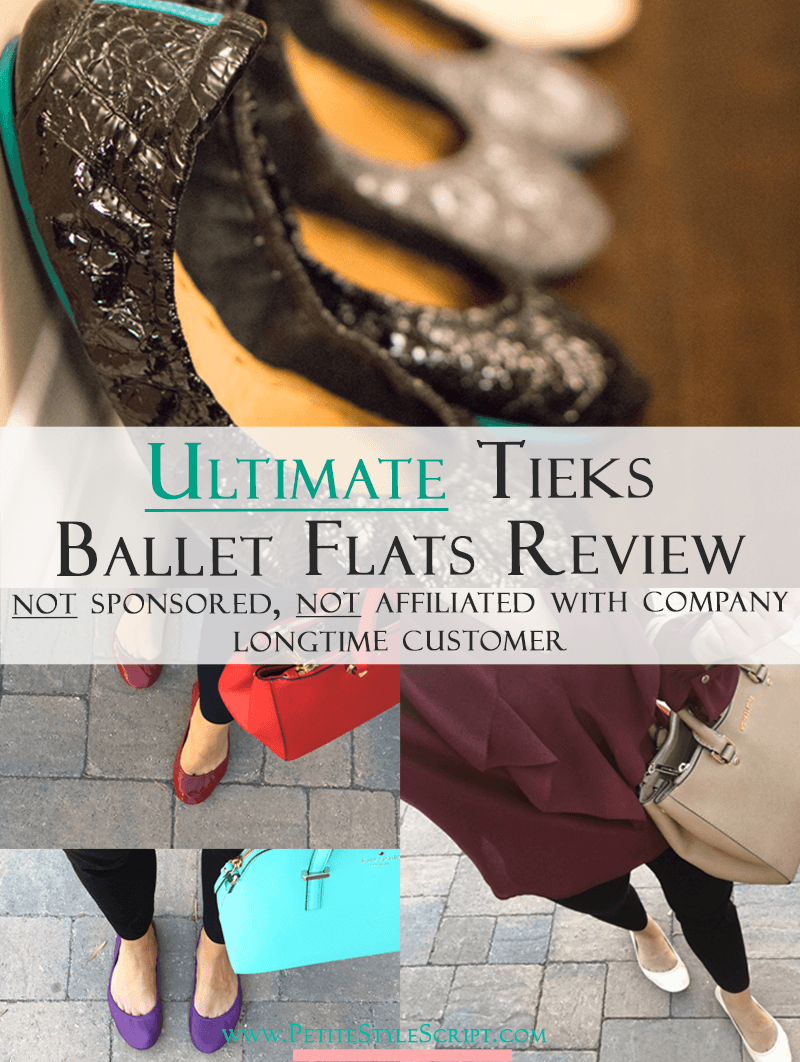 Sign up to get my 20-Piece Capsule Wardrobe Starter Kit + Shopping List (it's free!)