Welcome to my first blog post! I'm very excited to start sharing my thoughts and opinions on fashion and style. I decided to start off with a Classics feature with 2 of my go-to items for the work week—Classics Banana Republic Sloan Fit Pant and Ann Taylor Blazer. I own these BR Sloan Pants in multiple colors (as you'll see in upcoming blog posts) and these burgundy ones are great when I want to avoid the usual black or navy look. To dress up this look for work, I turn towards my Ann Taylor blazers—I have several in different colors and this pearl sand color goes with almost anything. These pair well with navy and ivory and I choose a floral navy tee from Ann Taylor and my ivory Tieks to pull the outfit together along with another staple–my Michael Kors handbag.
This post may contain affiliate links; full disclosures HERE.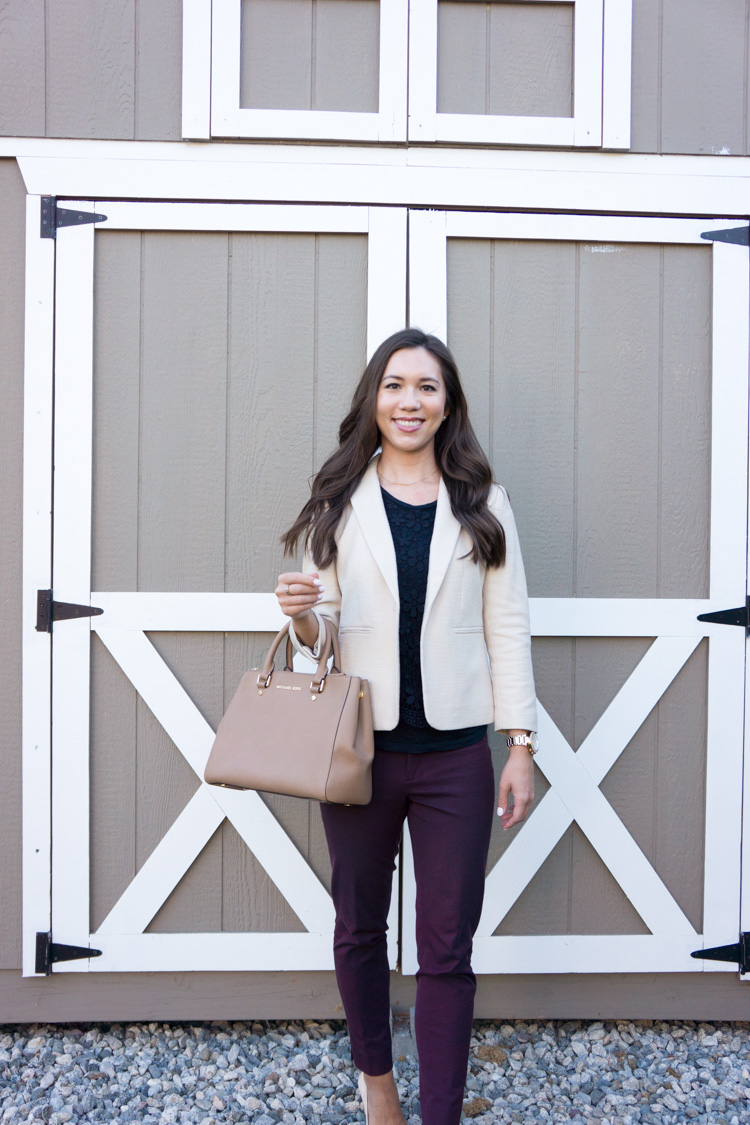 Ann Taylor Textured Single Button Blazer or HERE, Petite 00 in Pearl Sand; Banana Republic Sloan-Fit Slim Ankle Pants, Petite 0 in Burgundy; Tieks by Gavrieli, Size 6 in Nude Patent (my full review on Tieks HERE); Ann Taylor Floral Navy Tee, Petite XXS (old) – similar option in peplum, Ann Taylor Lace Peplum Top in Navy Blue or Rosebud Blush (cute color!)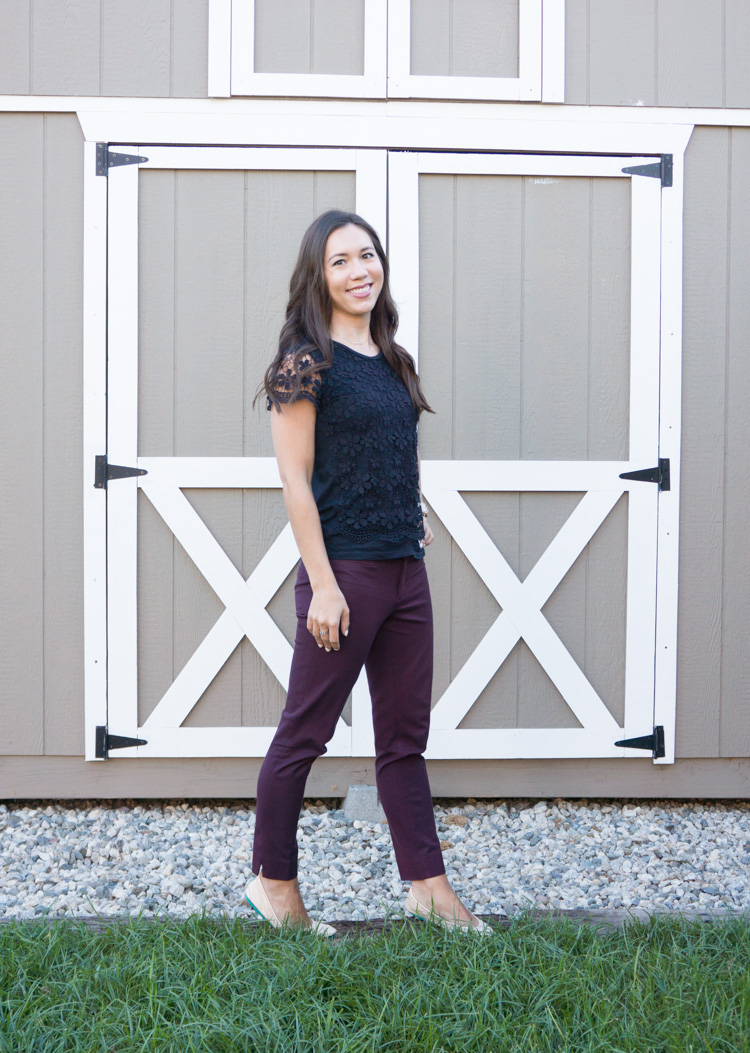 Michael Kors Sutton Saffiano Leather Medium Handbag in Dark Khaki (sold out) similar Michael Kors Savanneh Medium Leather Satchel; Michael Kors Parker Bracelet Watch 39mm in Rose Gold; BaubleBar Slim Bar Pendant in Gold (rose gold and silver also available)
The BR Sloan pants have been a staple in the BR collection for years. Although the fit may change slightly from year to year, in my opinion, they are a go-to item in a work wardrobe. These are labeled as "dry clean" only but as you read in my "About" section, I avoid dry-cleaning my clothes whenever possible. After reading many reviews about washing these pants, I decided to give it a try. I wash many of my clothes on the "delicate" cycle and in a laundry bag and these went through the wash just fine. I always avoid the dryer with items like this and hang dry to help decrease the wrinkles. (hang from ankle side so the waist band pulls down the weight of the pants to help de-wrinkle as well). Because of all of this, I did size up to a 0 petite instead of my usual 00 petite just in case there was some shrinkage. I haven't had a problem yet and I don't machine wash often—I use Dryel in between. As with any clothing labeled "dry clean" only, machine wash at your own risk. I usually wear belts with my pants as well but decided to leave this top un-tucked and therefore, without a belt.
Amazon Laundry Bag Mayin Set of 5 Mesh Laundry Bags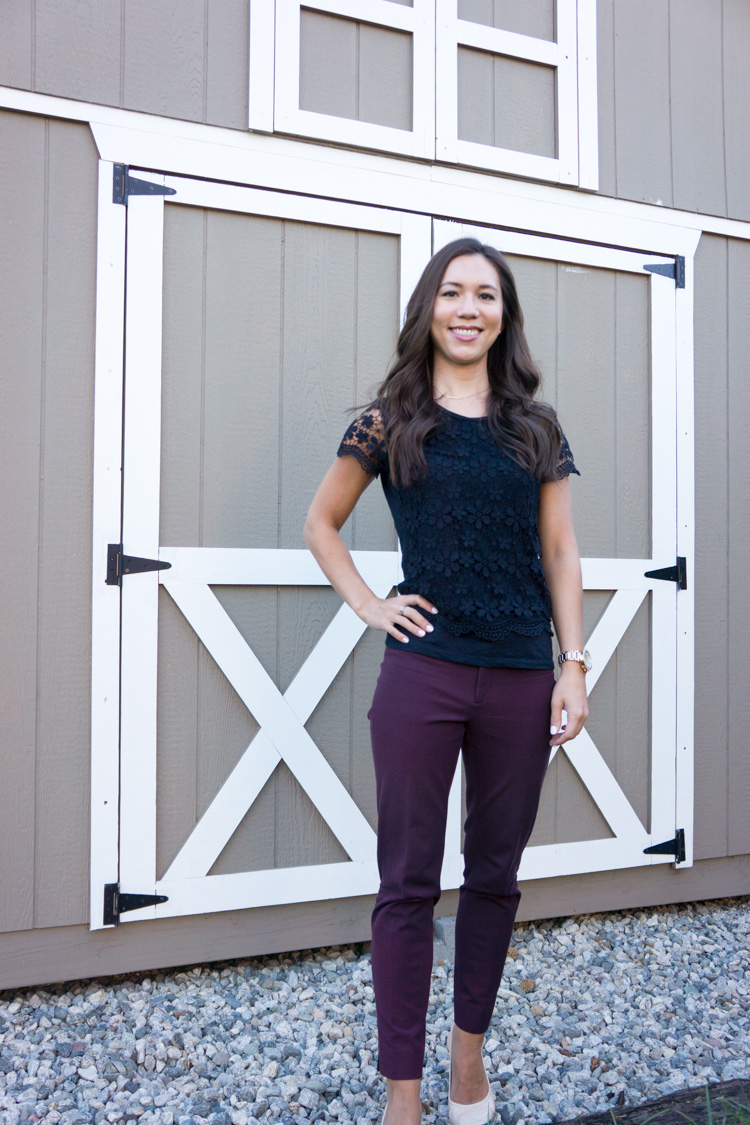 The AT blazers are also a staple in the AT collection and the design may change slightly season to season. I have a couple blazers with two buttons instead of this single button design and like both. This style is technically a ¾ sleeve and fits my arms well. The fabric is little more casual compared to a traditional suit jacket and does wrinkle more easily. Between wears, I do use my mini steamer to de-wrinkle the elbow area.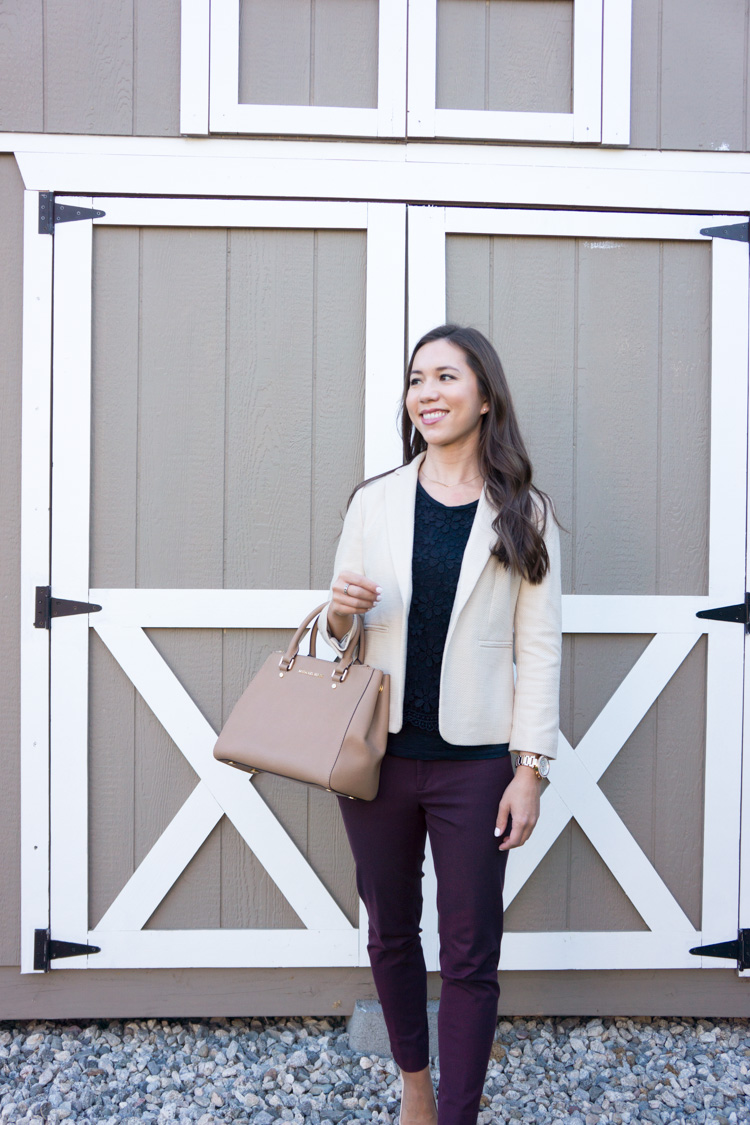 As usual I didn't purchase any of these items at full-price (see "About" section). Classics are usually included in sales so look out if you want to try out these items soon!
Thank you for reading my first blog post! I hope you enjoyed reading about my Classics: Banana Republic Sloan Pant and Ann Taylor Blazer. Hope to see you again soon. 
Visit my Facebook page & Pin these images to save for style ideas later!
Sign up to get my 2018 Winter Style Challenge // 25-Piece Winter Capsule (it's free)