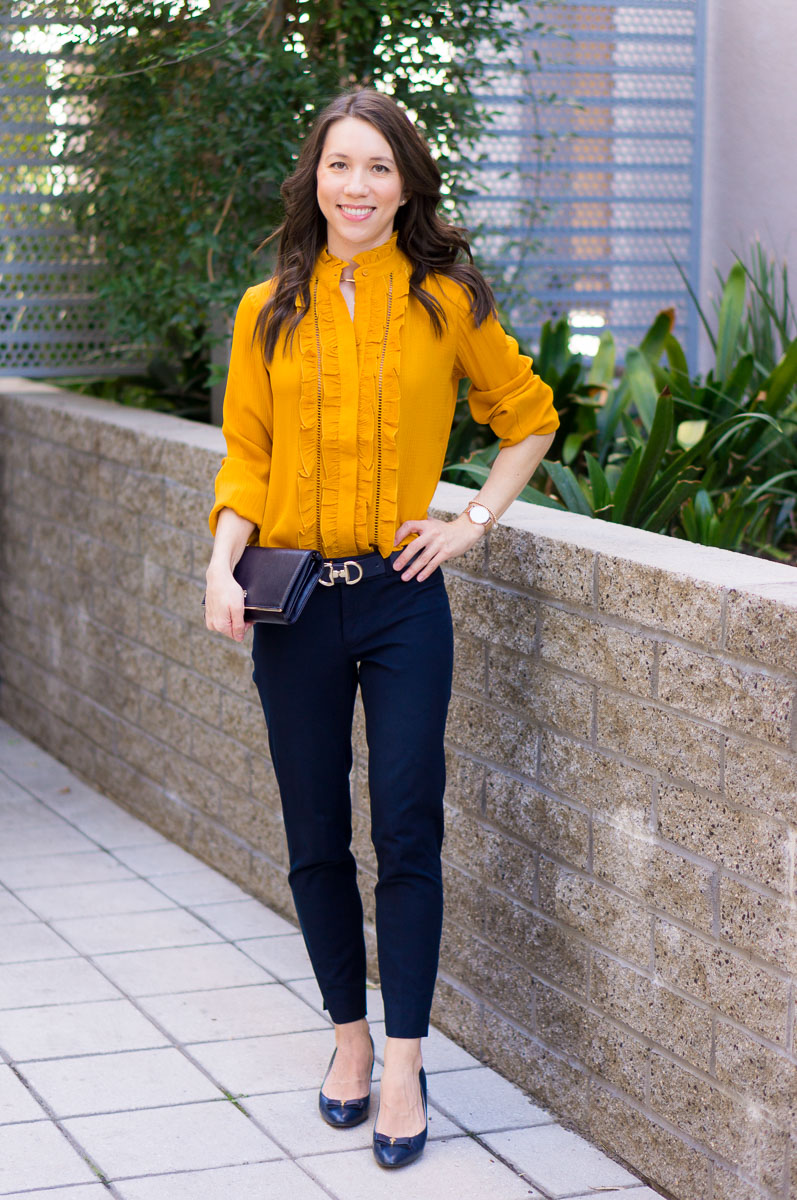 How to Wear Navy & Mustard Yellow Together + 9 Affordable Tops
Putting together the perfect work outfits can be a difficult decision on a daily basis. I love my work outfits and have go-to styles that are wardrobe staples. Like many of us, I own classic neutral colors including navy & mustard yellow. I put together this post to highlight one of my favorite combinations.
Note: This post may contain affiliate links; full disclosures HERE. This means, purchasing an item through one of my links may earn me a small commission without affecting your own purchase. Thank you for supporting Petite Style Script & helping it continue as an educational resource. 
Shop the Post (click image):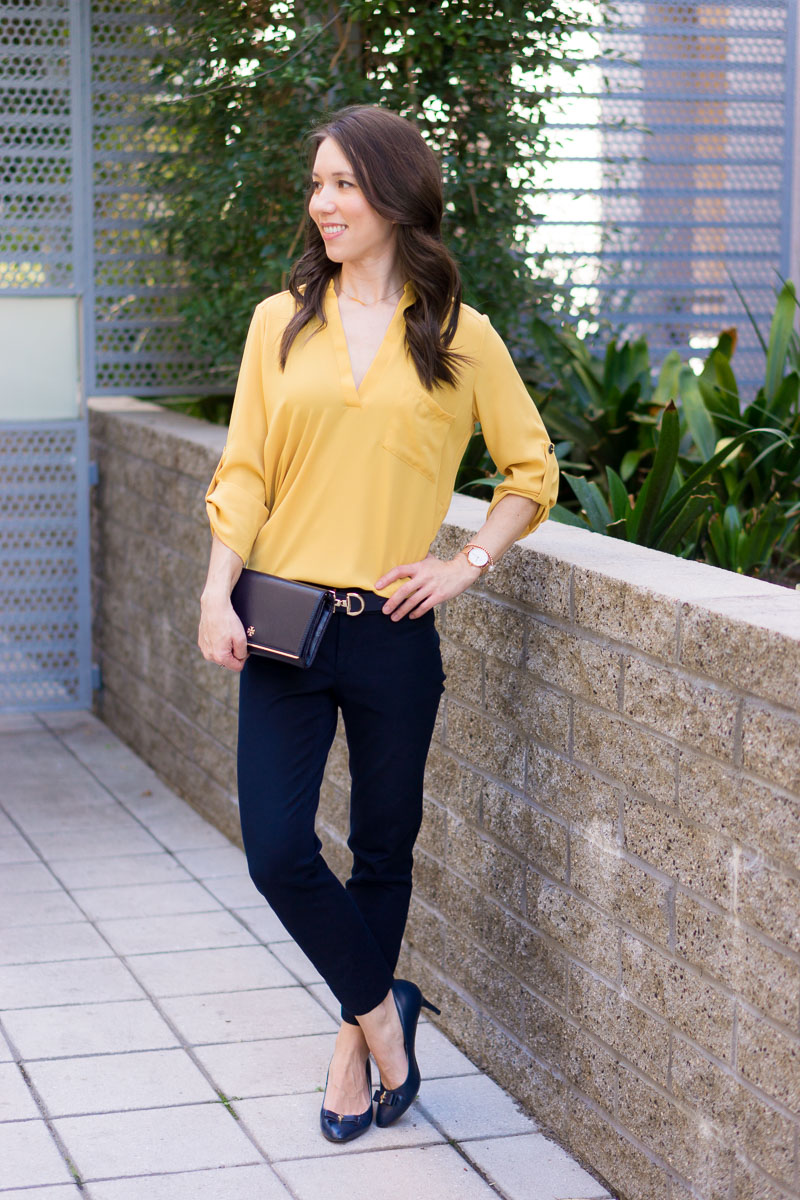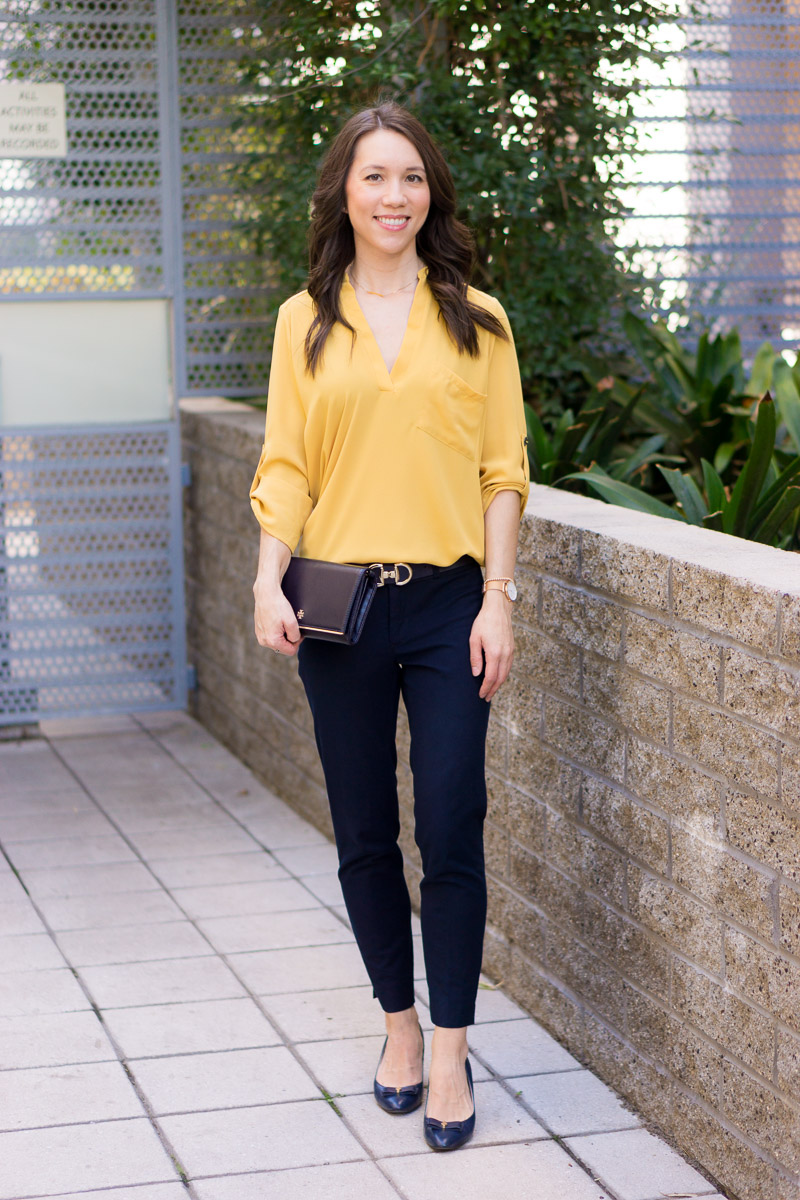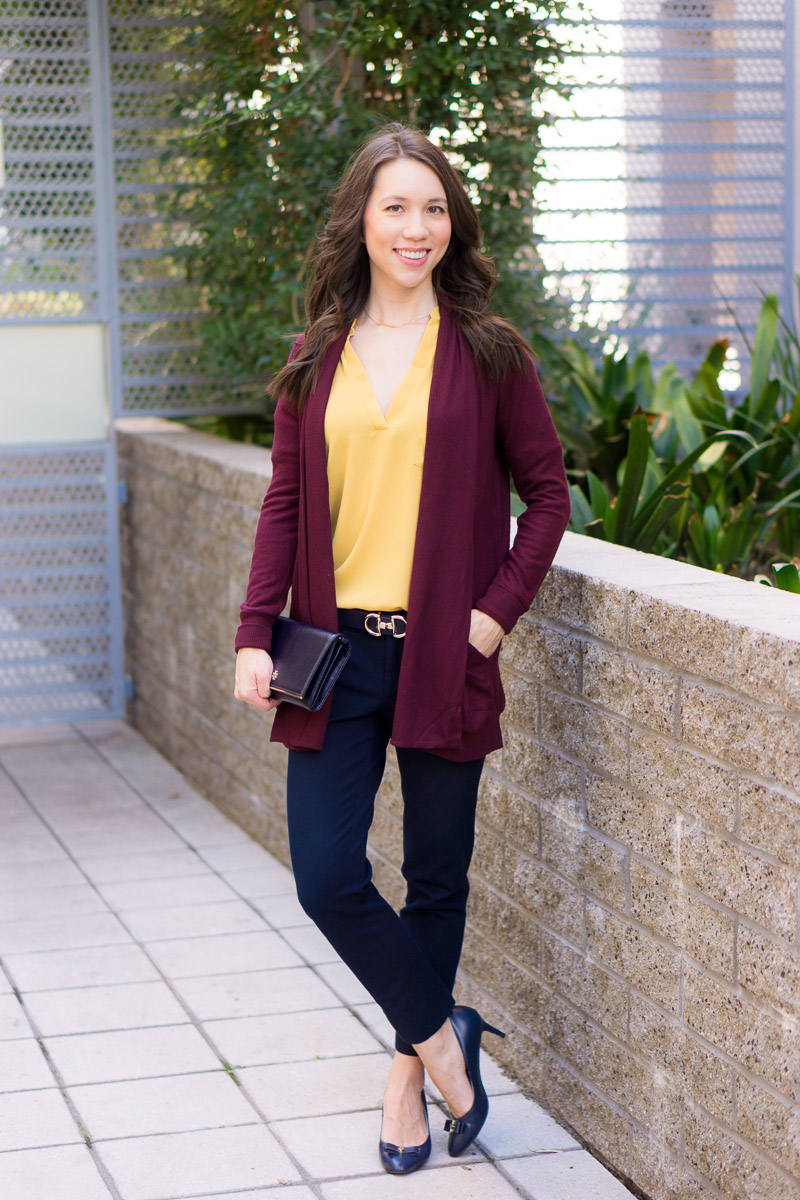 Outfit Details:
Pants: Banana Republic 00P (exact or similar, my blog post)
Top: Nordstrom XS (exact)- tucked in & no camisole needed
Cardigan: Nordstrom XXSP (exact-on sale)
Belt: Talbots XS (similar, my blog post)
Shoes: Cole Haan 5.5 (similar)
Handbag: Tory Burch (exact)
How to Wear Navy & Mustard Yellow Together:
Classic Neutral: Navy & mustard yellow are classic neutral colors that many busy professionals own. These neutrals pair well with many other brighter colors. But they also look great together, especially when you keep the neutrals throughout the outfit. I kept navy throughout this work outfit with my yellow blouses, reversible belts, & Cole Haan bow pumps. Navy is the primary color and is accented with mustard yellow & neutral accessories. Here are several options for navy trousers in different fit styles:

Easily add Texture: When you are wearing all neutral colors, it is easy to add in texture to an outfit to make one piece visually pop. I added in texture to this outfit with a gorgeous ruffle blouse from Ann Taylor. Now there is a pop of texture in a predominately navy & yellow work outfit. Here are several options for adding texture to your work outfit with mustard yellow tops:

Easily add Accessories: Neutral colors make accessorizing even easier. You can add in pops of color with accessories or keep classic neutral colors with accessories. I chose to keep some classic items with simple pendant necklace, rose gold watch & bracelet, Talbots navy belt and neutral navy Tory Burch clutch wallet. Easily change out the necklace, add in a bracelet or a bright handbag to this outfit. Here are several ideas for adding color to this outfit with accessories: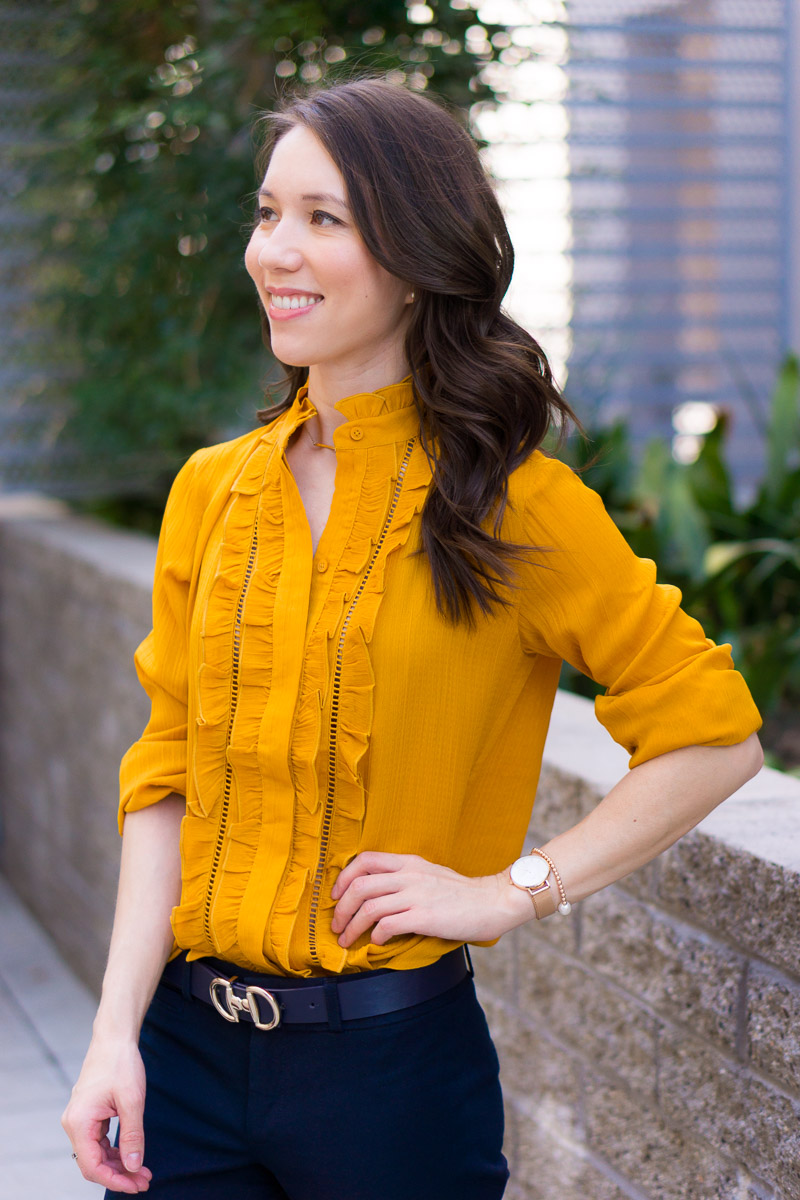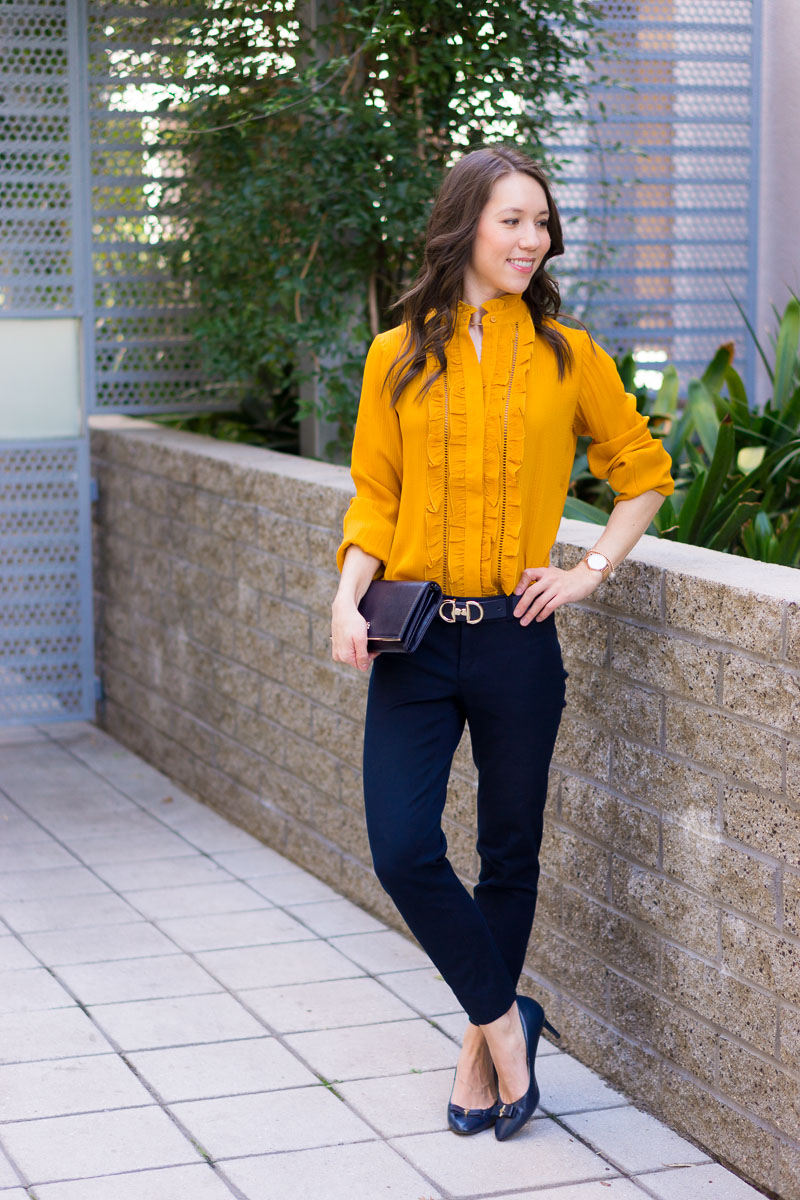 Outfit Details:
Pants: Banana Republic 00P (exact or similar, my blog post)
Top: Ann Taylor XXSP (exact)
Belt: Talbots XS (similar, my blog post)
Shoes: Cole Haan 5.5 (similar)
Necklace: Nordstrom (similar)
Watch: Daniel Wellington c/o (exact)
Handbag: Tory Burch (exact)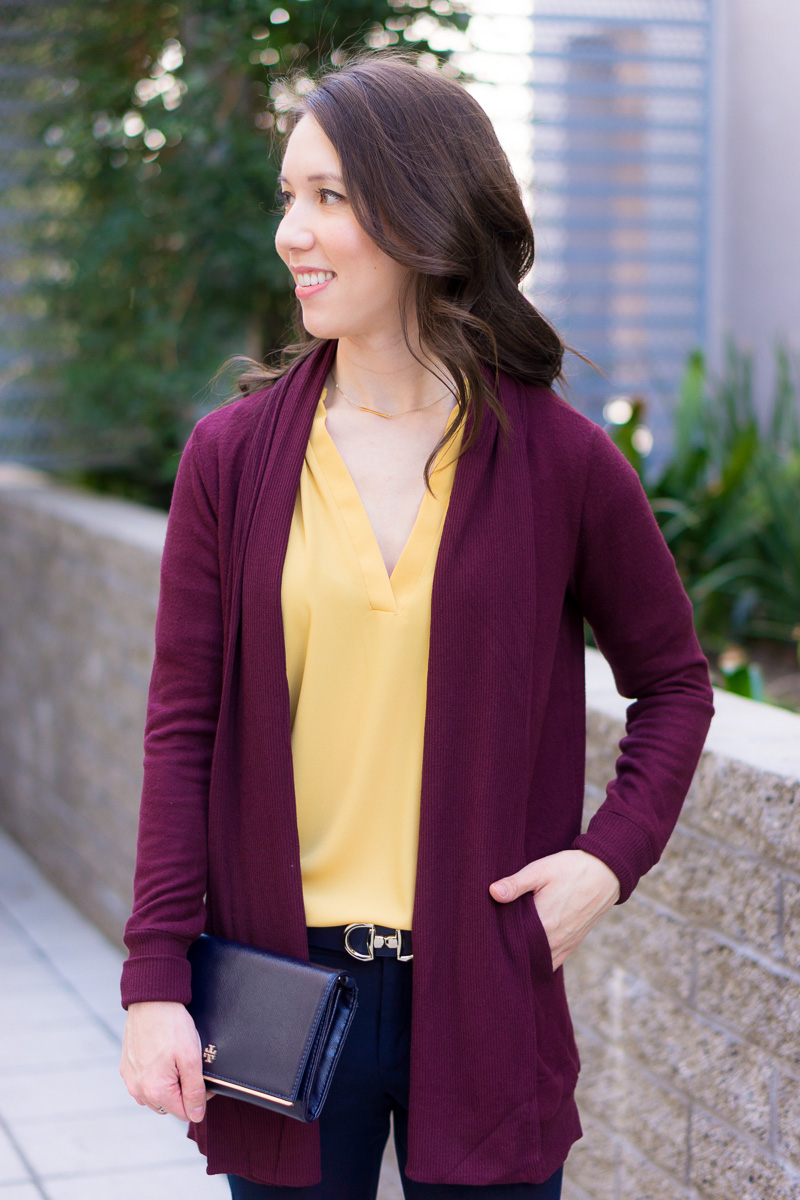 9 Affordable Yellow Tops
Row one has a very affordable sleeveless blouse, a longsleeve ruffled blouse and a printed blouse.
Row two has a great longsleeve tee featuring yellow and navy together, a classic blouse and a brighter sweater.
Row three has classic styles with a poplin blouse, tie-front sweater tee and cable-knit sweater (these all fit me well in Petite P sizing)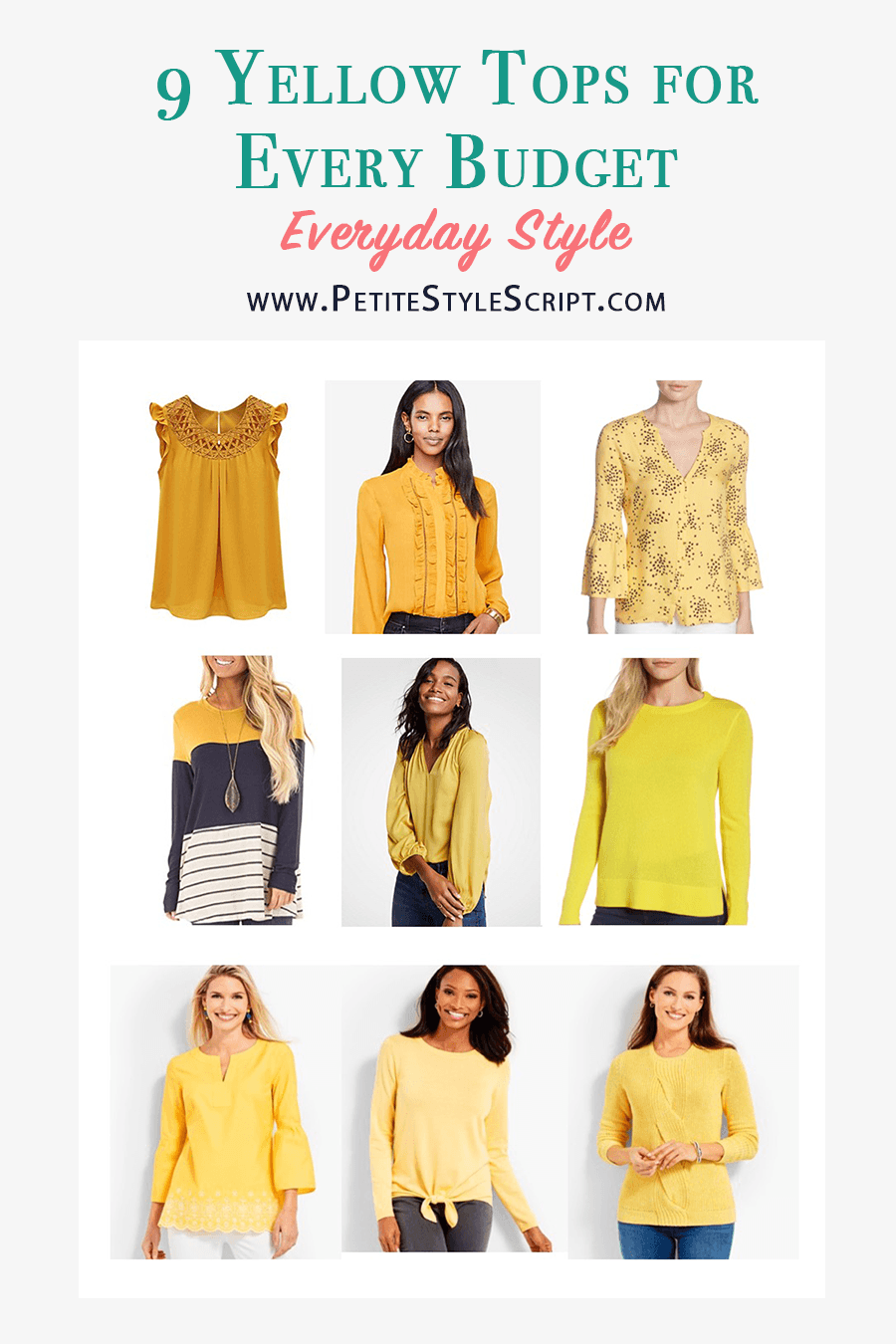 Links to Shop:
Sign up to get my 2018 Winter Style Challenge // 25-Piece Winter Capsule (it's free)