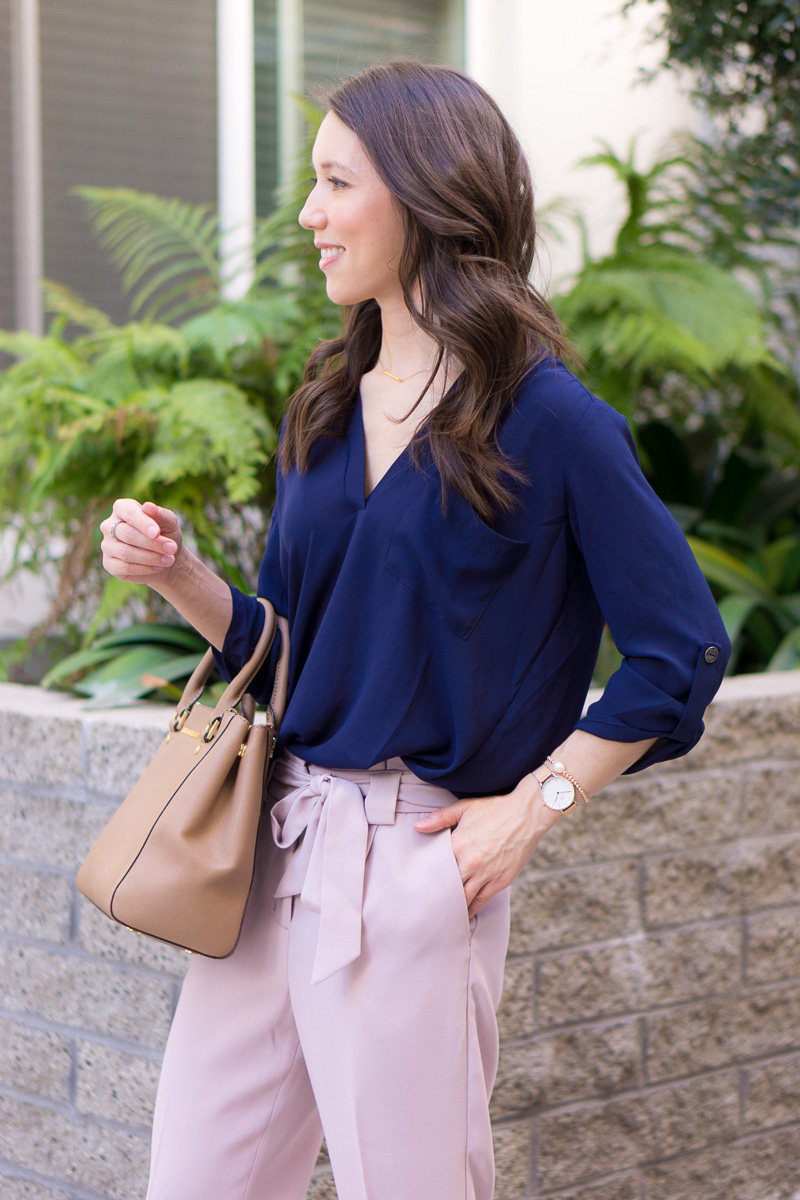 Two Work Outfits for Early Spring // Lavender + Blush Pink & Florals
With spring just around the corner and temperatures staying in the 70-80s here in Southern California, it's time to think of work outfits for the season transition. A good friend of mine reached out to me for advice on styling two of her new work pants and of course, I took her up on the opportunity to help! She had picked out these gorgeous lavender/blush pink high-waisted pants and floral embroidered black pants. She's about my size and borrowed me the pants to style in these photos.
Note: This post may contain affiliate links; full disclosures HERE. This means, purchasing an item through one of my links may earn me a small commission without affecting your own purchase. Thank you for supporting Petite Style Script & helping it continue as an educational resource. 
Shop the Post (click image): 

Work Outfit #1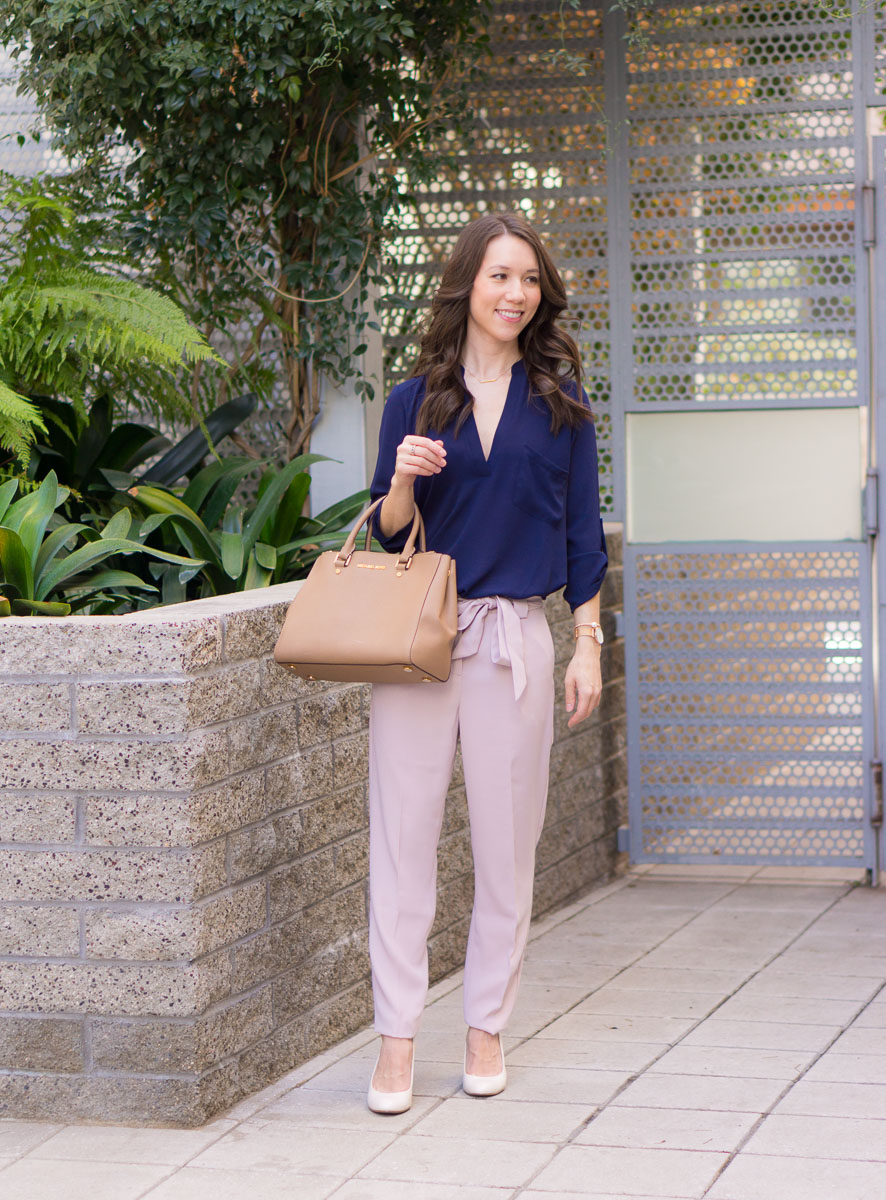 Let's start with these lavender pants. They are a wonderful design that Express had first released back in 2017 in an olive green color. The big different is the material of the pants- the new spring design is more work appropriate in my opinion.
Onto styling…since it is still winter, I opted to keep the top a darker color with these pants. A classic navy blouse is a must in everyone's wardrobe and this is an inexpensive option – I'm wearing size XS. No belt is needed with the tie-waist style of these pants. I finished off the look with lighter neutrals in my handbag and heels. A rose gold watch, bracelet and simple pendant necklace complete the look.
Style Tip: For springtime, I would change out the navy blouse for a white or ivory color to lighten up the look.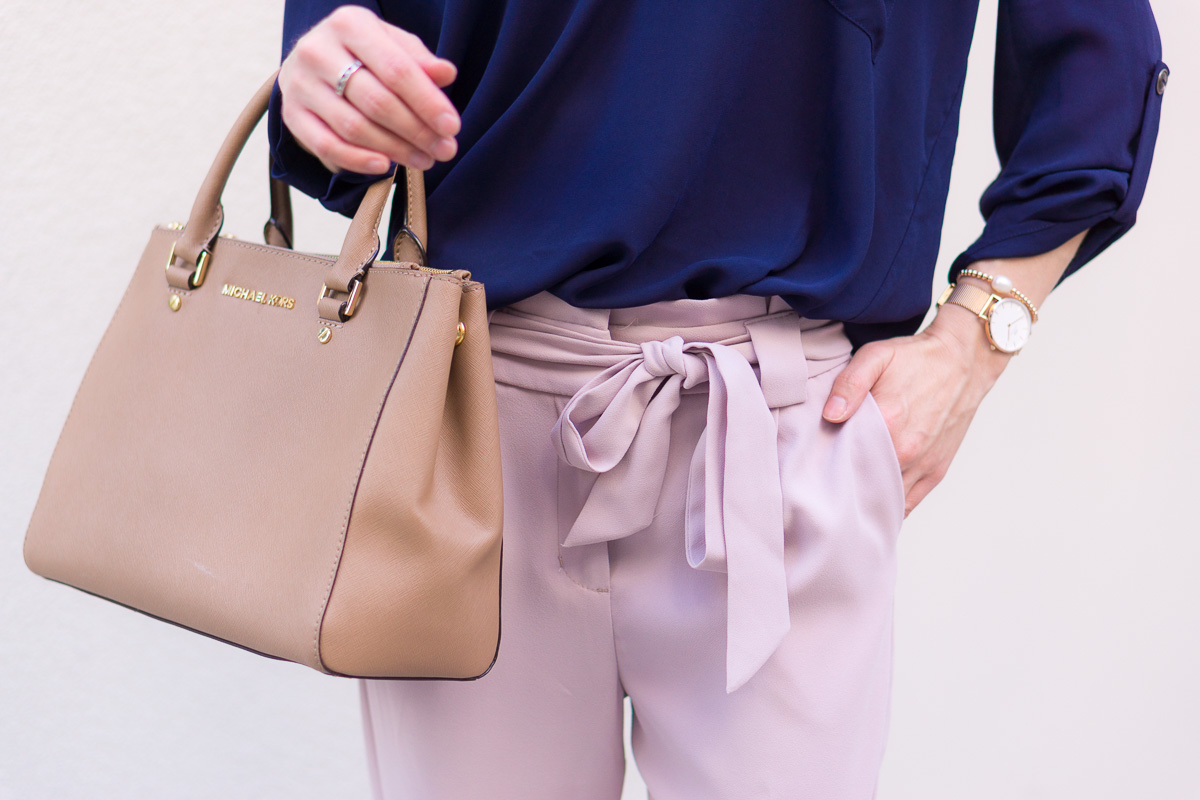 Now, I'm sure I'll get a lot of questions about the sizing of these pants. My friend had sized down to a 00 Petite in these (she's normally a 0 Petite). This worked out well for me because I usually wear a 00P. Unfortunately…the pants were still a little big on me. I have belted them tighter to keep them higher on my waist in these photos. For hem length, they do run a little long on me with an pant inseam measuring 25 inches. I attempted to tuck the cuff under in these photos so they weren't too long with my heels. The pants would likely fit off-the-rack if you're inseam is slightly longer than mine- you may wear your usual size or a size down depending on how loose you would like these pants.
Work Outfit #2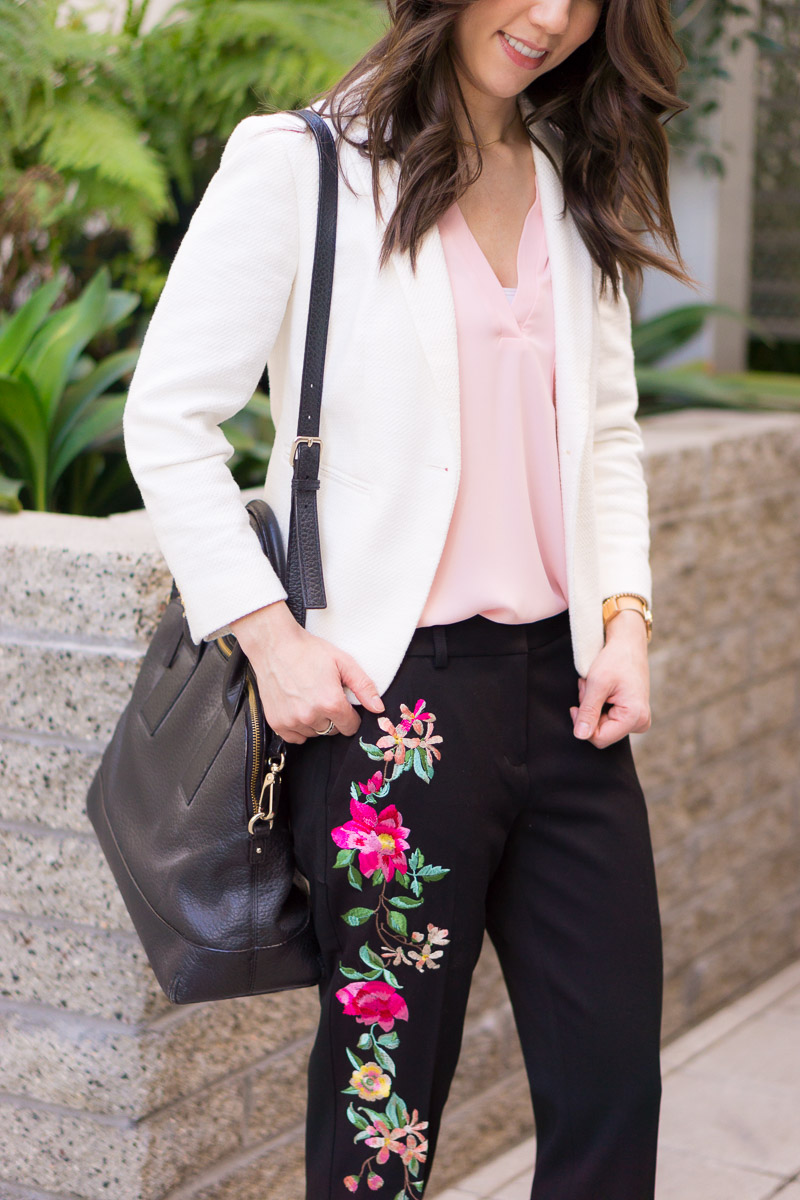 The second pair of pants my friend picked up were these embroidered floral black pants. I loved the embroidery detailing and it is on trend with many items this past year featuring this detailing on jeans. For this look, I picked a color from the flowers to match for my top. This blush pink color is great for spring and I opted for a neutral blazer to finish the look for work (blazer now back in stock in a new color– wearing 00P).
For springtime, I decided to avoid the usual closed heels and went with an open block heeled sandal. A black handbag completes the look.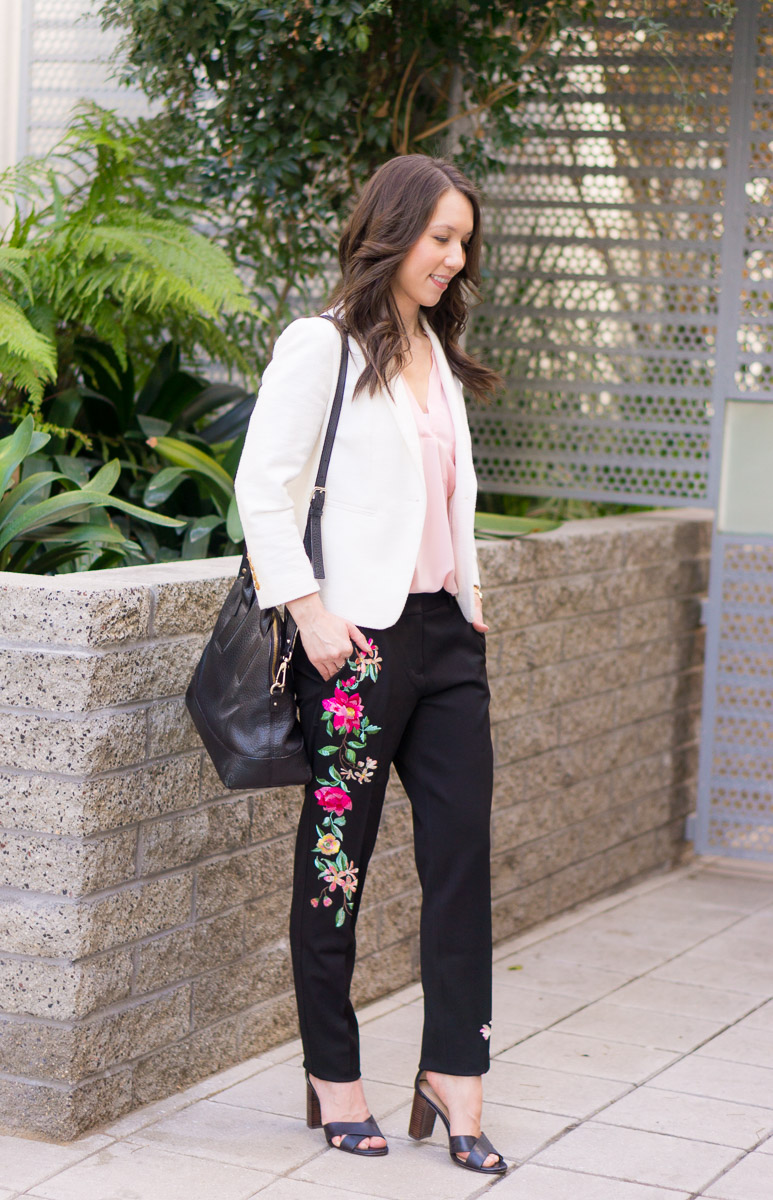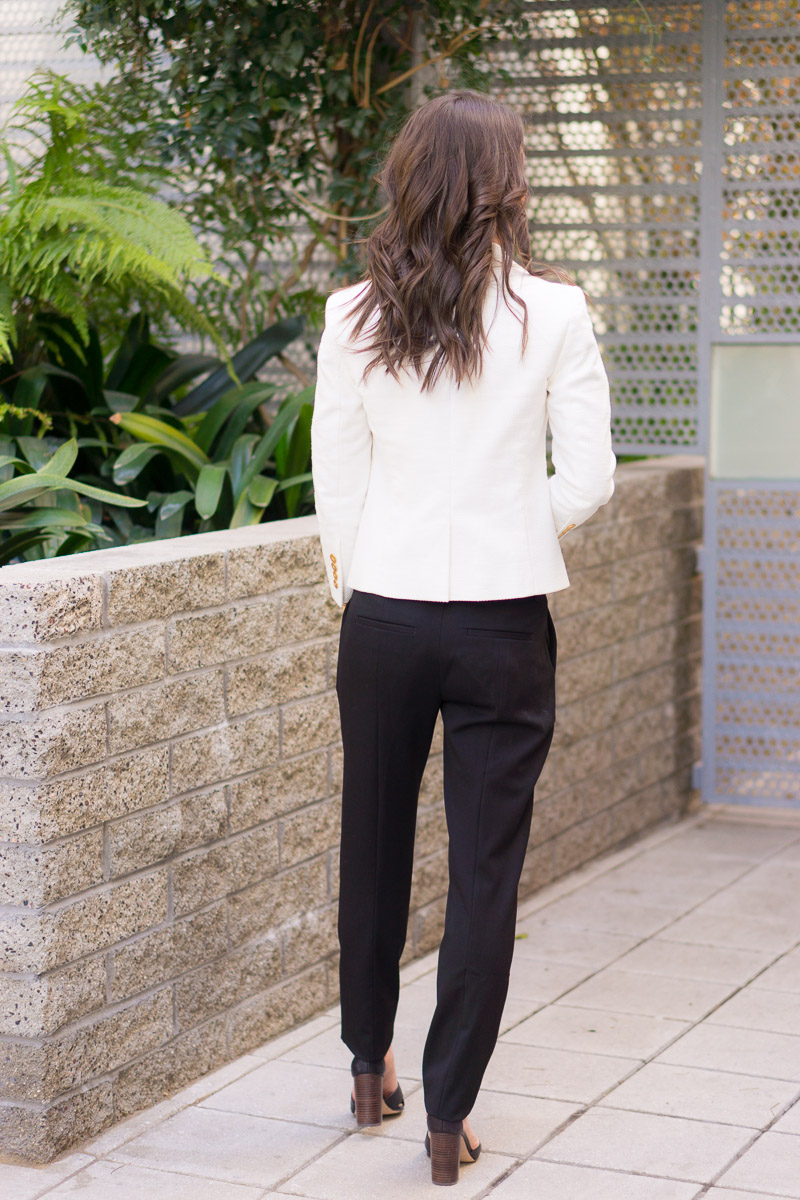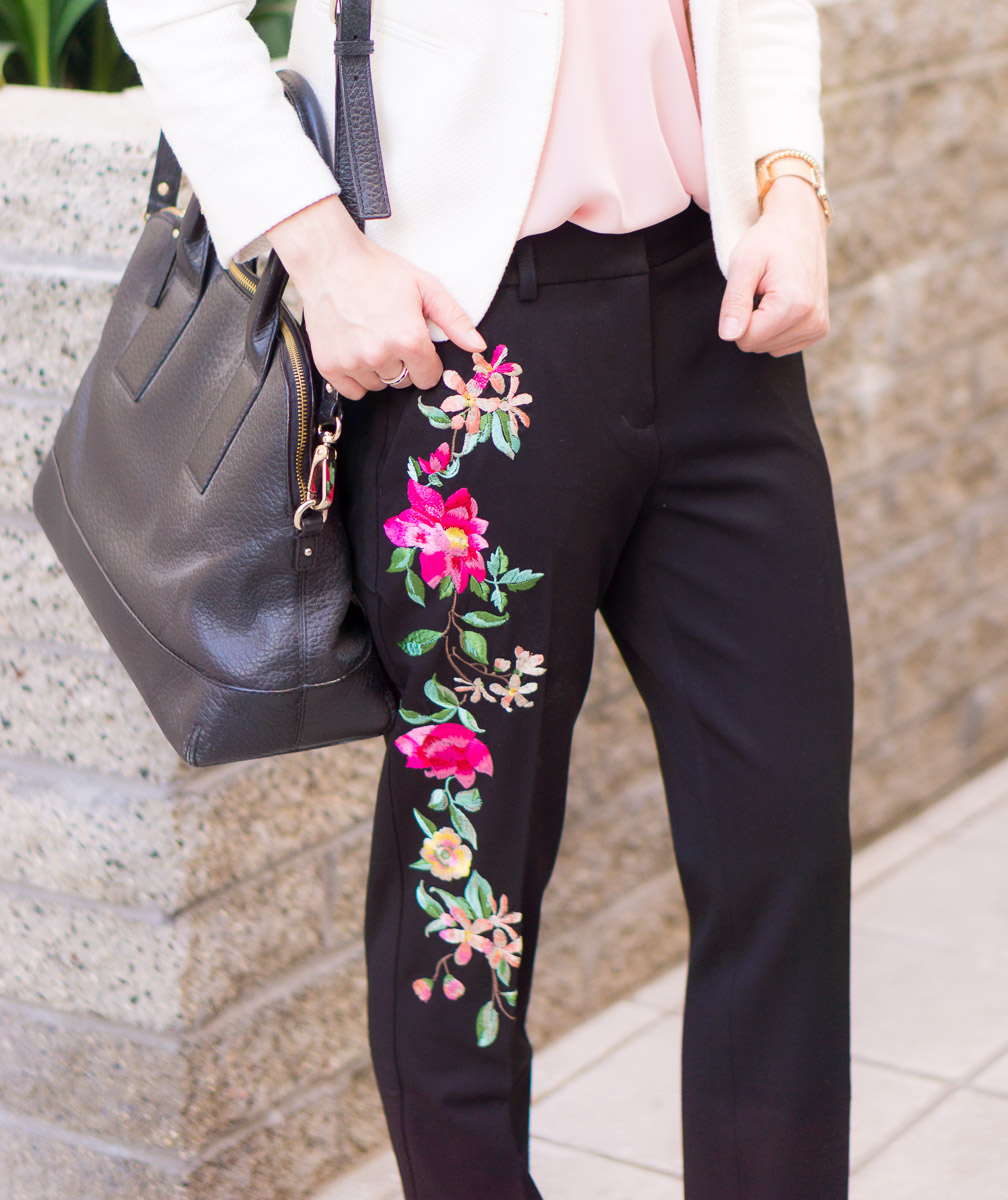 For sizing, there were no petite sizes in this pant style and my friend picked up a 00 Regular. These fit me surprisingly well and were just slightly too long on me. I opted to cuff the hem underneath for these photos- which does cut off a portion of the embroidery detailing. The inseam is 27 inches on these pants.
What work outfits are you most excited about as we enter spring? Comment below please!
---
Found this post helpful? Click the teal sharing buttons to share with a friend today!
My goal in 2018 is to reach 10,000 new women to inspire them to feel confident each day! 
---
Follow my updates on Social Media & Subscribe to Emails
Twitter | Facebook Page | Instagram | YouTube | Pinterest
Sign up to get my 2018 Winter Style Challenge // 25-Piece Winter Capsule (it's free)