Today I am discussing 3 Reasons Why I Love Wrap Dresses for Work! I believe a great dress is an investment piece that you will love and wear for years to come. 

*Updated Fall 2017: New wrap dress styles in stock with some on sale. Shop them HERE, HERE or HERE 
3 Reasons Why I LOVE Wrap Dresses for Work:
It can be customized to your figure. The tie waist allows me to easily wrap it once or twice around and tie it to fit my figure. My classic wrap dress is ~7 years old! I was probably smaller back then and my BCBG MAXAZRIA jersey wrap dress fits me in a size X-Small. NO petite sizing required. NO tailoring required. That is truly a miracle when I talk about petite work clothes!
It is machine-washable. If you've read my "About" section you know I avoid dry-clean only clothes. This jersey wrap dress is machine washable in cold water. It has held up well over the past 7 years with regular washing with no pilling or color fading. (such a bonus when you go out to Korean BBQ and all your clothes smell of the amazing BBQ aroma afterwards and all you have to do is throw them in for a quick wash)
Unique prints to show off your personality. I chose a classic wrap dress in ivory and black but there are so many unique colors and prints available today. Fit the print to your personality and truly love the piece you invest in!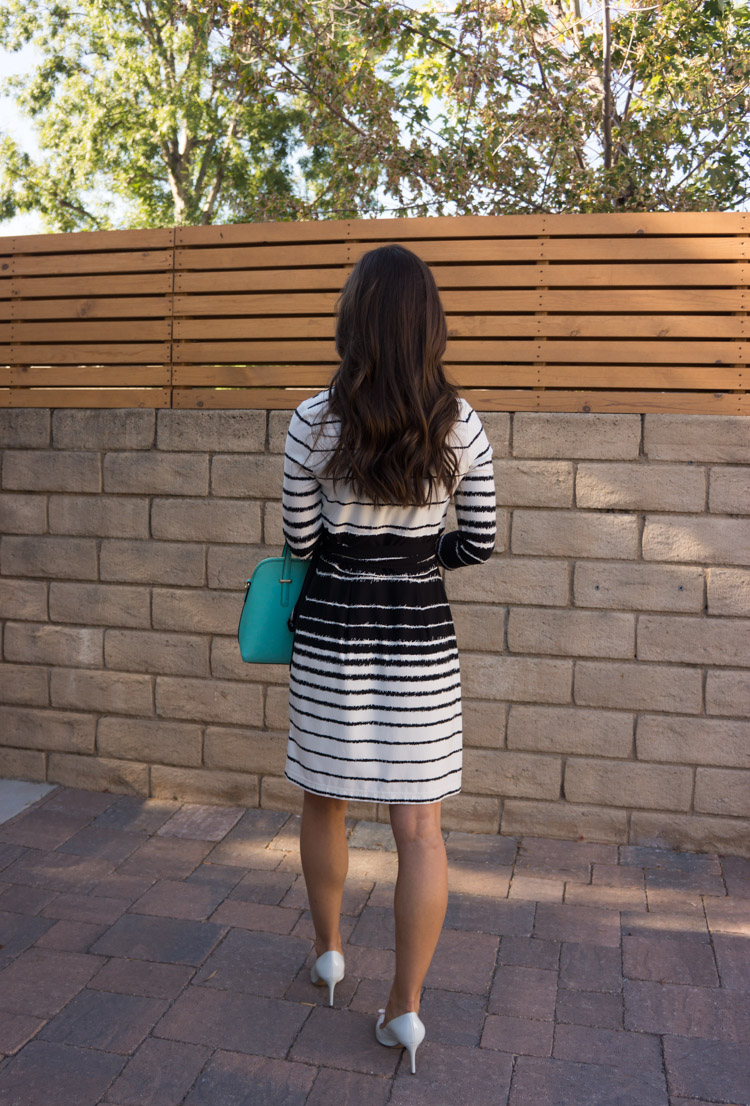 Many wrap dress are V-neck in style and although this is very flattering, it can be a little low-cut for the work environment. I solve this problem by first wearing my regular nude-colored bra and then wearing a Gap Body black pullover bra over it. This prevents me from wearing a bulkier camisole while giving the illusion of it.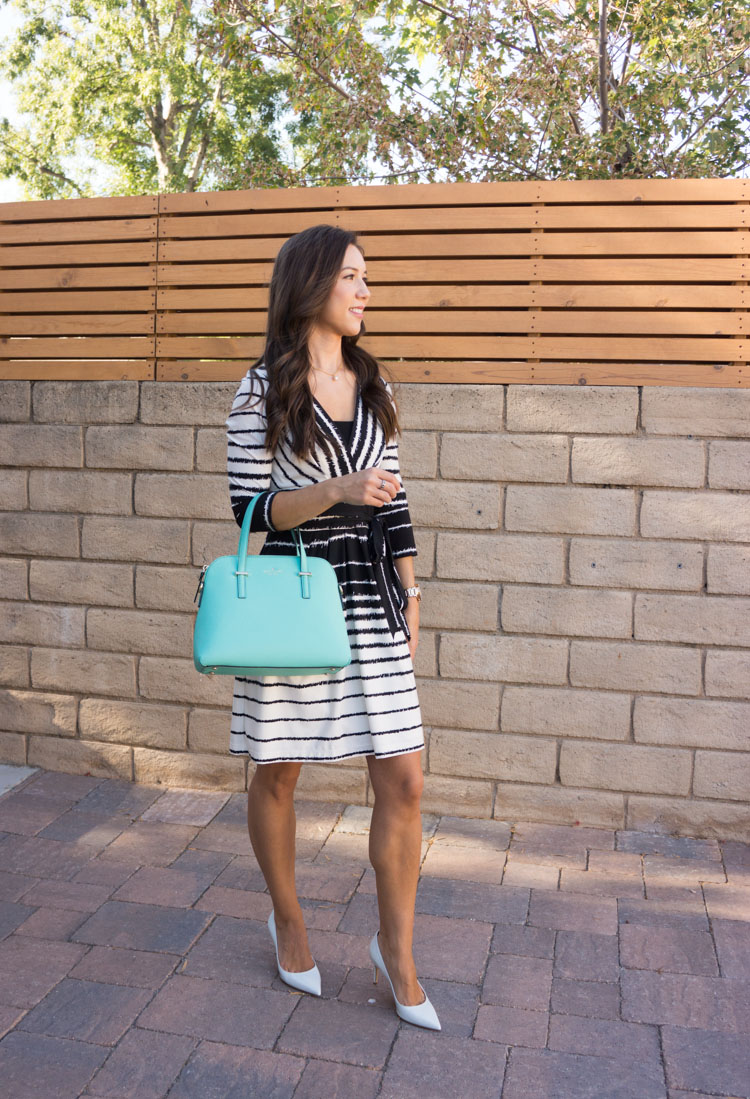 Currently available BCBG MAXAZRIA jersey wrap dresses: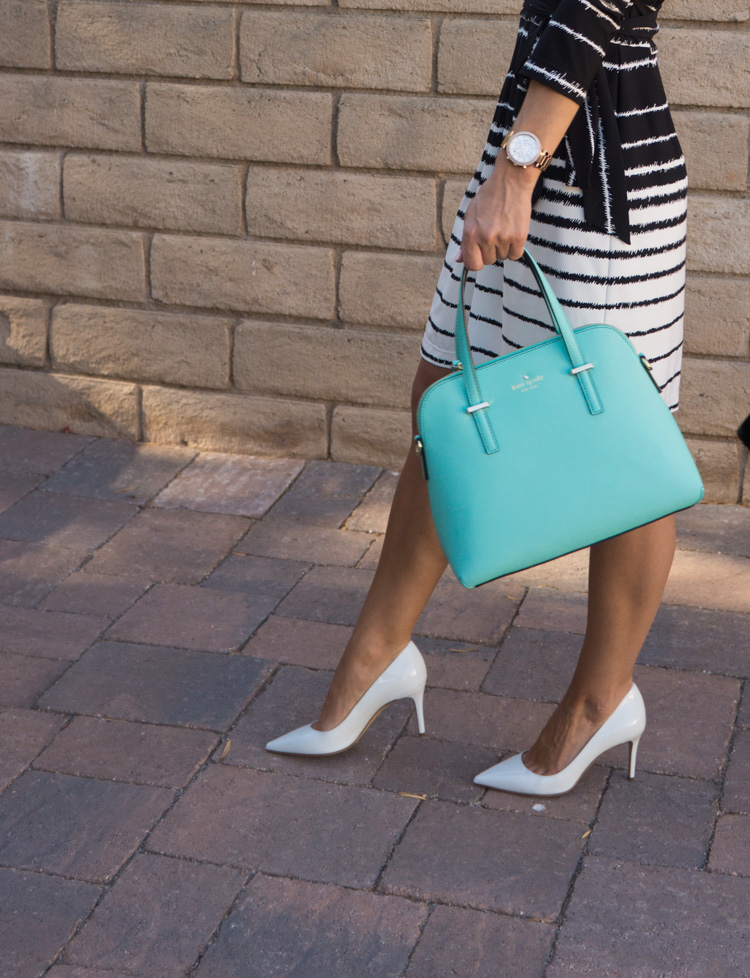 BCBG MAXAZRIA jersey wrap dress (old); M. Gemi Proprio Heels in Crema di Menta size 35.5; Kate Spade Cedar Street Maise Handbag; Michael Kors Parker Watch in Rose Gold 39mm or here; CND shellac (review HERE)
To add a pop of color for summer, I paired my dress with my beloved Kate Spade Cedar Street Maise Handbag and M. Gemi Proprio Heels in Crema di Menta size 35.5 (see blog review HERE). This is a versatile handbag that also comes with a strap for easy wear as a crossbody or shoulder bag.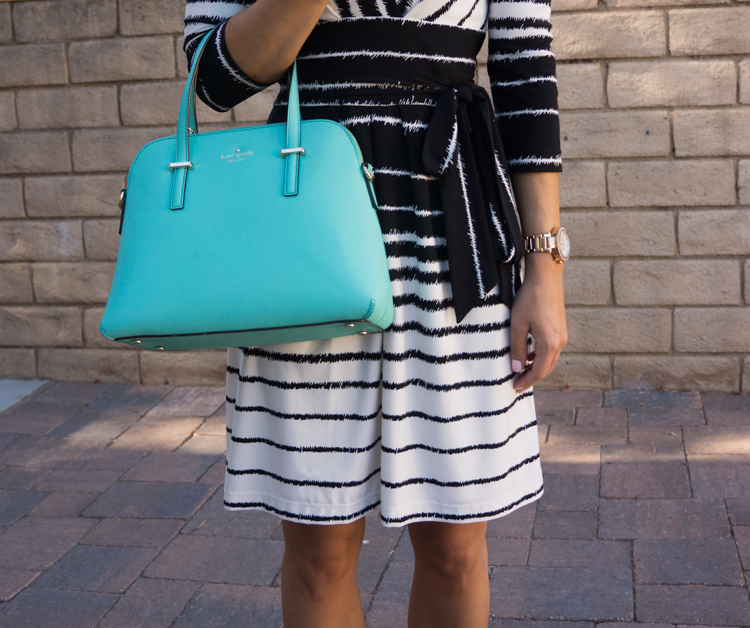 Do you own any wrap dresses? What prints catch your eye? As always, thank you for reading. I hope you visit again soon!
Ready to put together your Work Wardrobe? Click below for my Top 5 Essentials for Work for FREE
Pin these images to save for style ideas later!
Follow my blog with Bloglovin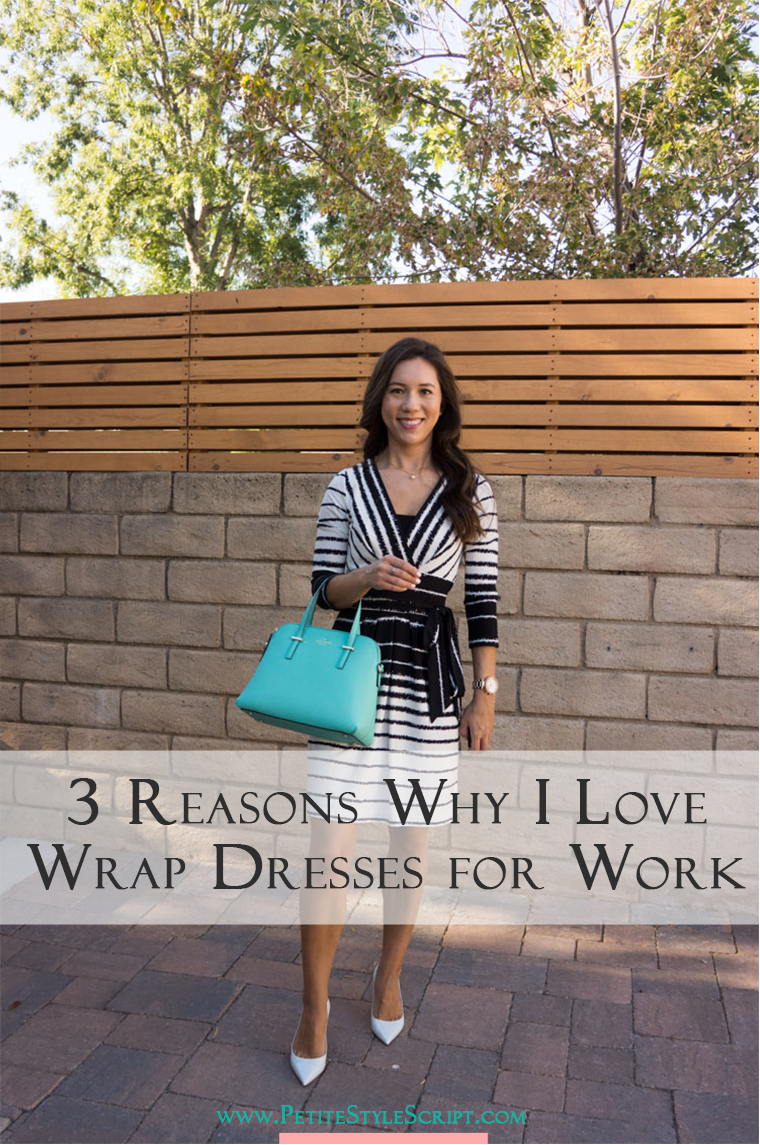 Sign up to get my 2018 Winter Style Challenge // 25-Piece Winter Capsule (it's free)