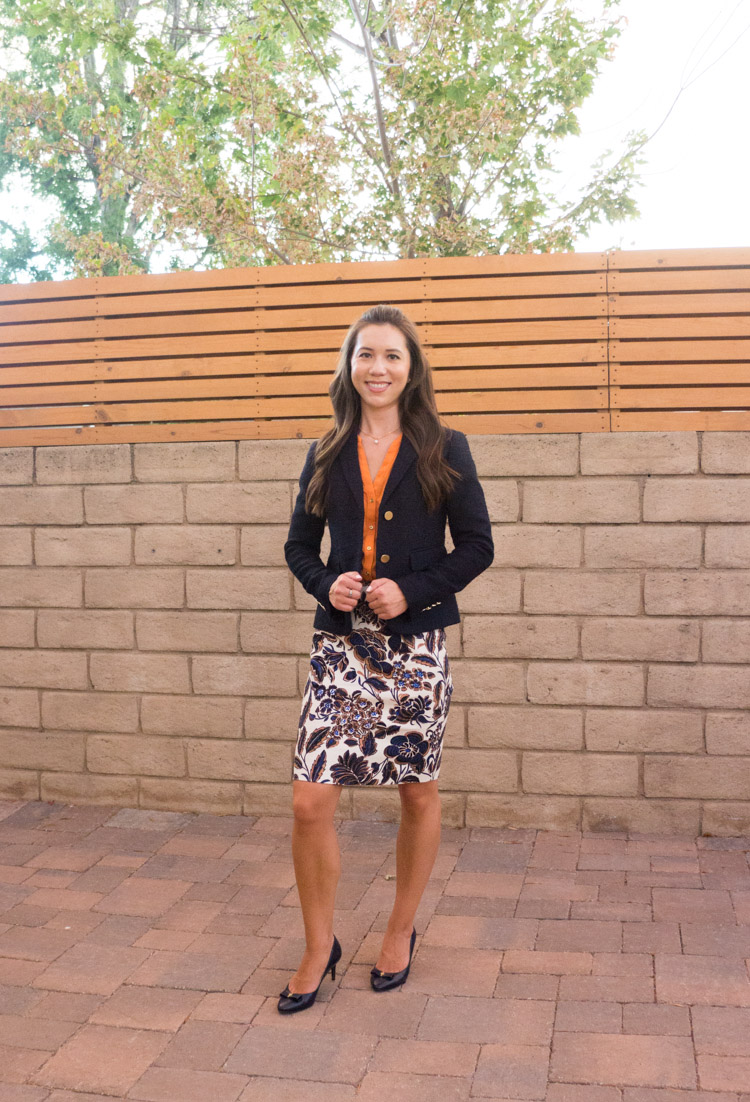 When your workweek needs a pick-me-up, I look forward to bringing color into my work outfits. I love Ann Taylor for petite-friendly work skirts. I own 3 pencil skirts from here and they are all have a fun design or color scheme. This one I posted on Instagram recently (@petitestylescript) and love its beautiful floral print and hint of orange.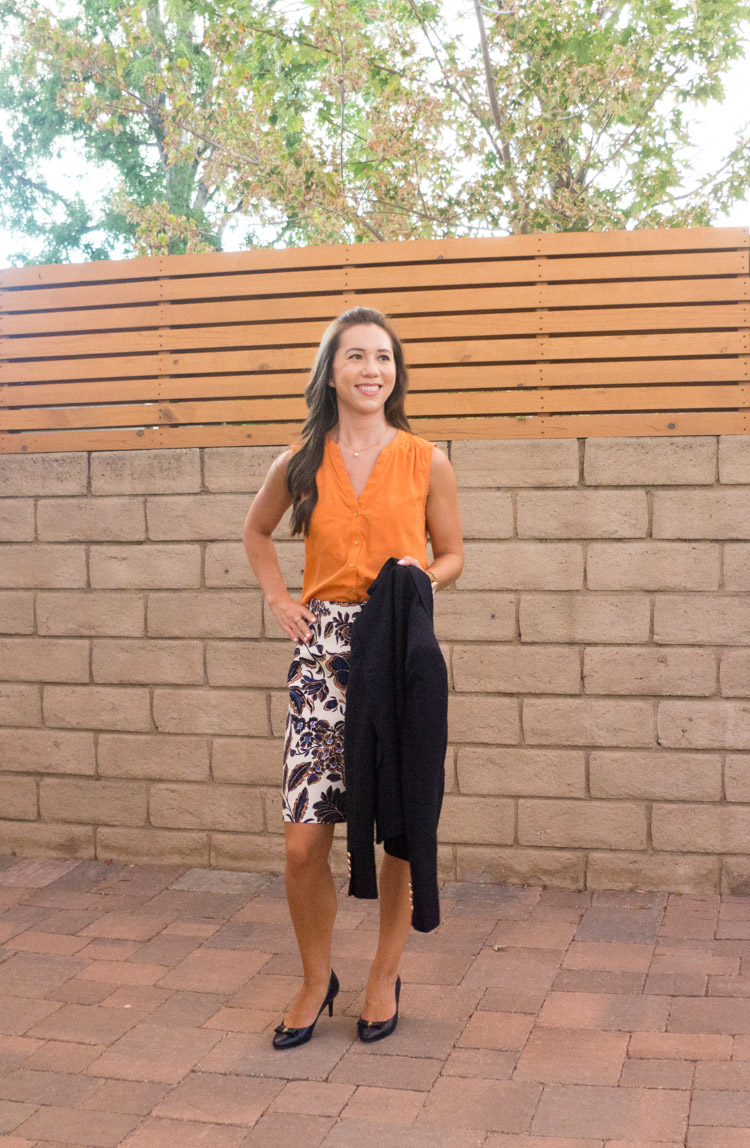 Ann Taylor Floral Pencil Skirt, Petite 00 (tailored, old); Ann Taylor Textured Double Button Blazer, Petite 00 in Navy Blue; Banana Republic Orange Sleeveless Blouse, Petite X-Small (old)
Why not a solid-colored skirt?
Although solid colored pencil skirts are versatile, I can honestly tell you I don't own any. I own enough solid colored dress pants (see Classics Banana Republic Sloan Slim-Fit Pants) and believe skirts and dresses should bring a little extra to an outfit.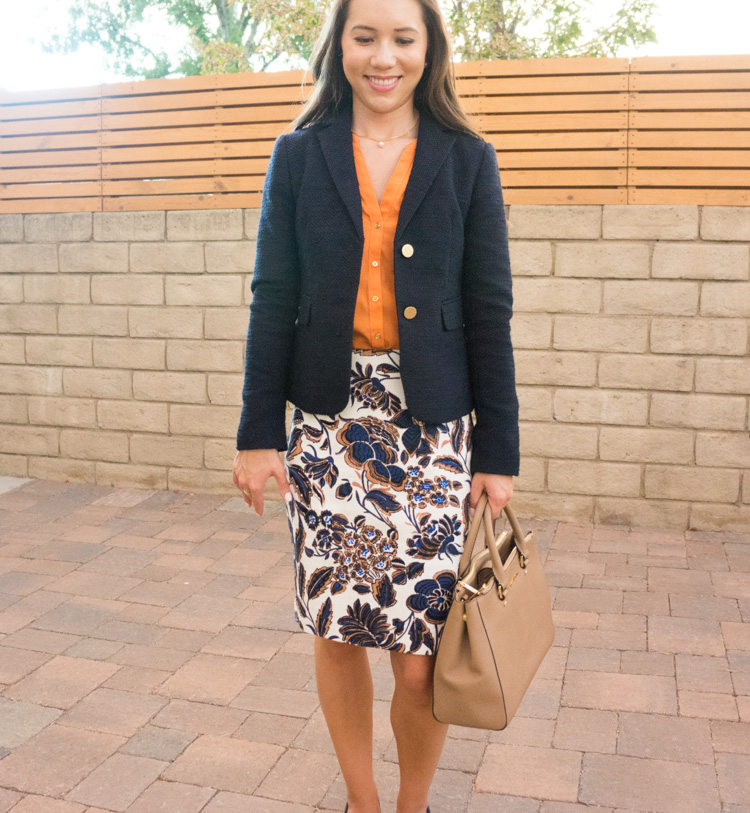 What about the fit?
This Ann Taylor pencil skirt is a Petite 00 and unfortunately all of my AT skirts have required tailoring. I like to wear the skirt higher on the waist and therefore, each skirt requires tailoring of ~1-2 inches in the waist and slimming through the hips to the bottom to give it that awesome silhouette. Remember to walk around in the skirt after your tailor has pinned both sides…too much slimming can result in difficulty walking or stepping up stairs.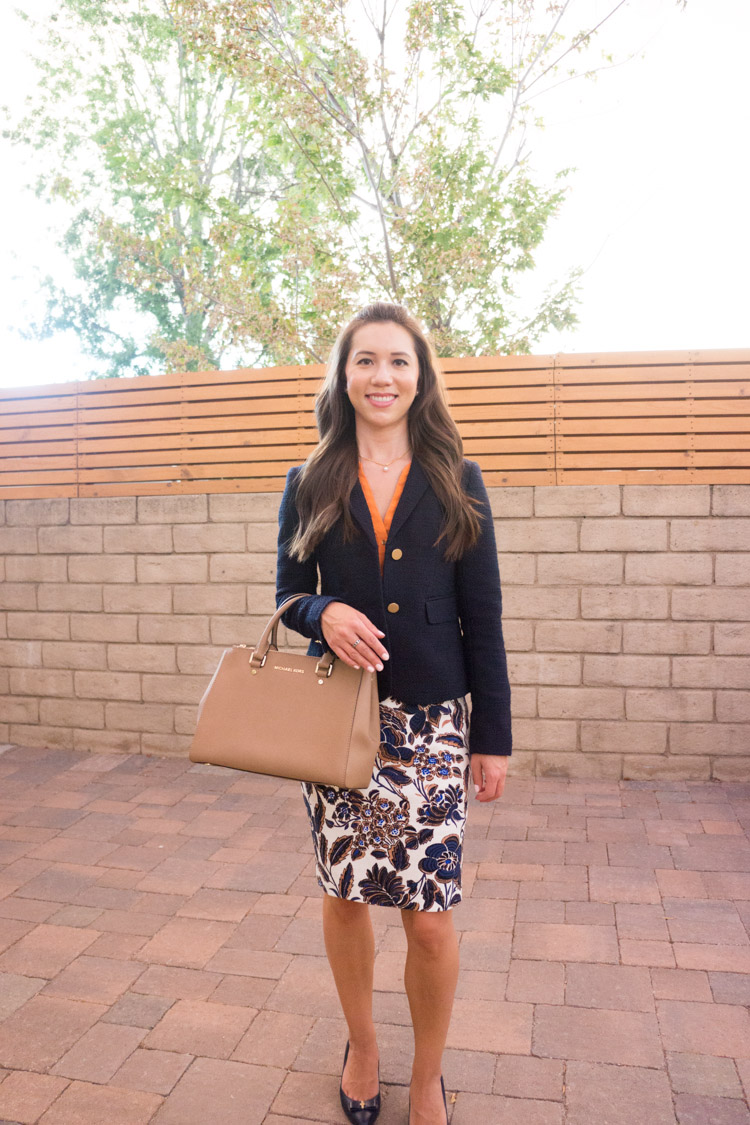 Fabric and care
All 3 of my Ann Taylor skirts are lined. This further showcases the quality of Ann Taylor and removes the stress of a white skirt exposing undergarments. The skirts are technically "dry-clean" only and honestly I have never dry-cleaned them. They do not wrinkle and if I need to refresh one of them, I use Febreze and my Joy Mangano My Little Steamer® Go Mini® Hand Steamer (in teal of course).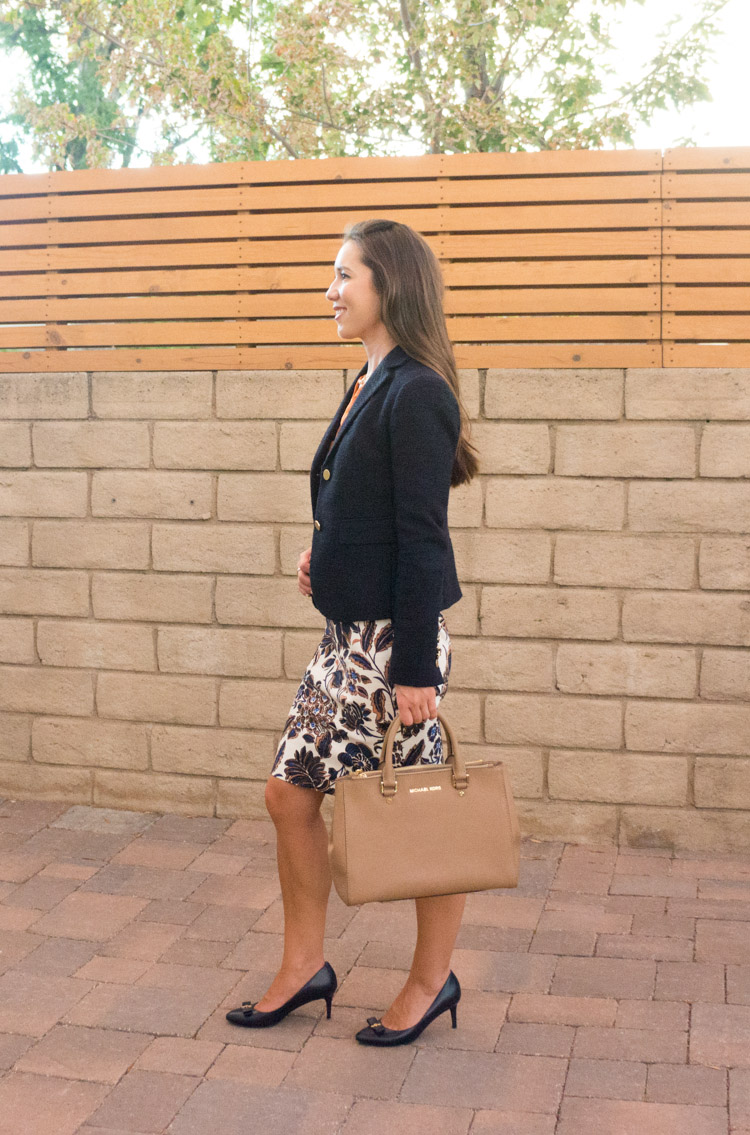 Bringing the outfit together
I paired this skirt with a wonderful orange sleeveless blouse and topped it with one of my versatile Ann Taylor Blazers. This is the two-button design from 2015 that will hopefully be coming back again; it features the same fabric as the current Ann Taylor Textured Single Button Blazer.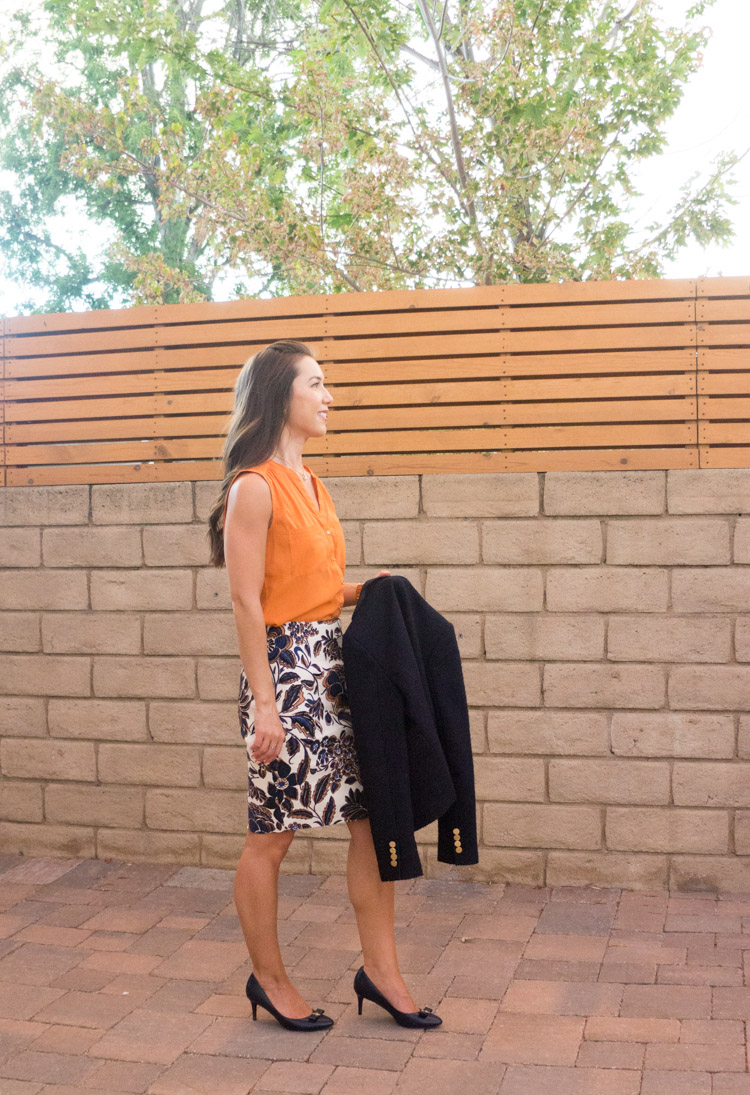 Cole Haan Kelsey Detail Waterproof Pump in Navy Blue; Michael Kors Sutton Saffiano Leather Medium Handbag in Dark Khaki; Michael Kors Parker Bracelet Watch 39mm in Rose Gold
Finally, my Cole Haan Kelsey Detail Waterproof Pump (2.5 inch, 65 mm) in Navy Blue completes the look. I prefer heels to flats when wearing pencil skirts and this heel height is perfect for the academic or hospital setting I work in.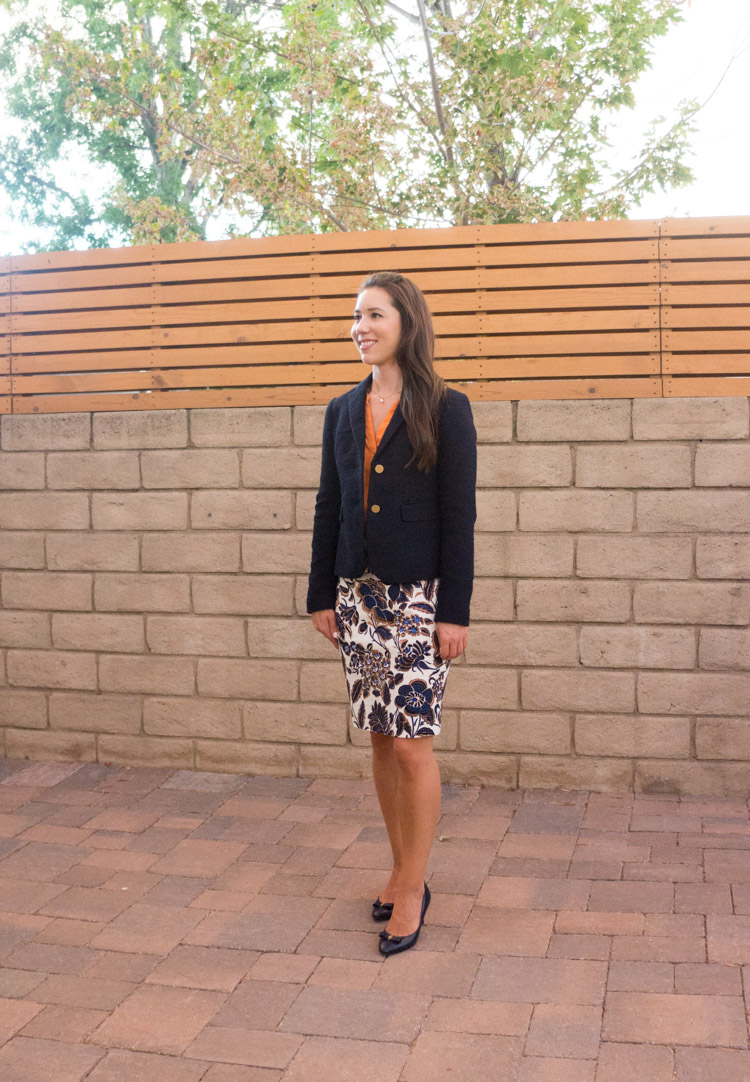 What are your favorite brands for work skirts? Do you have colorful work outfits? As always, thank you for reading. I hope you visit again soon!
Ready to put together your Work Wardrobe? Click below for my Top 5 Essentials for Work for FREE
Pin these images to save for style ideas later!
Follow my blog with Bloglovin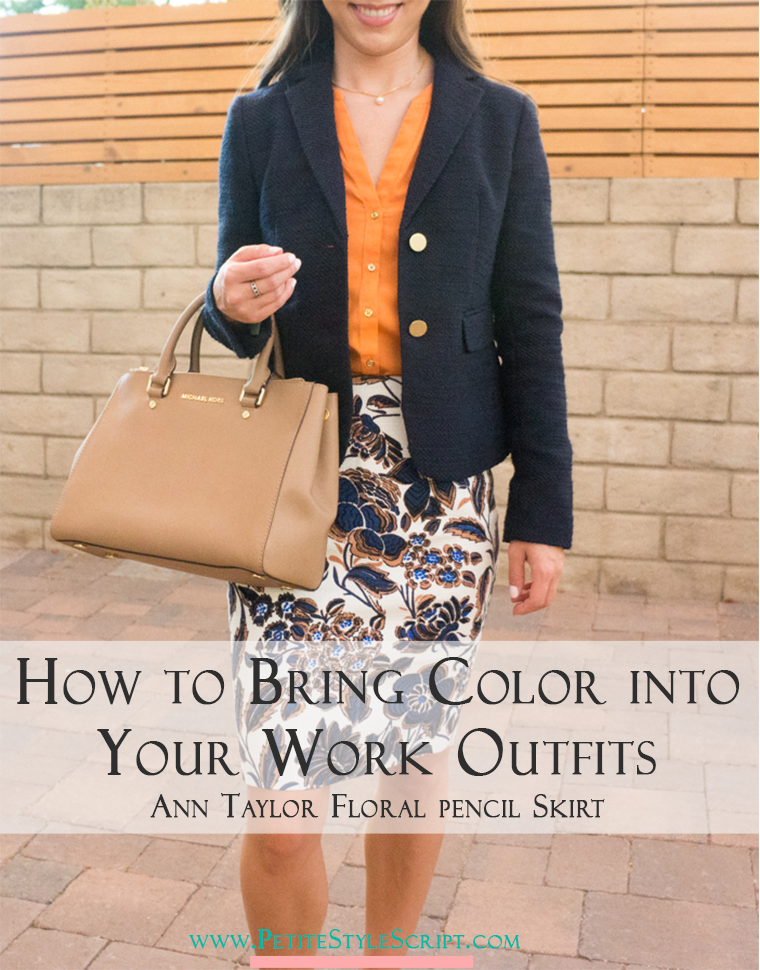 Sign up to get my 2018 Winter Style Challenge // 25-Piece Winter Capsule (it's free)