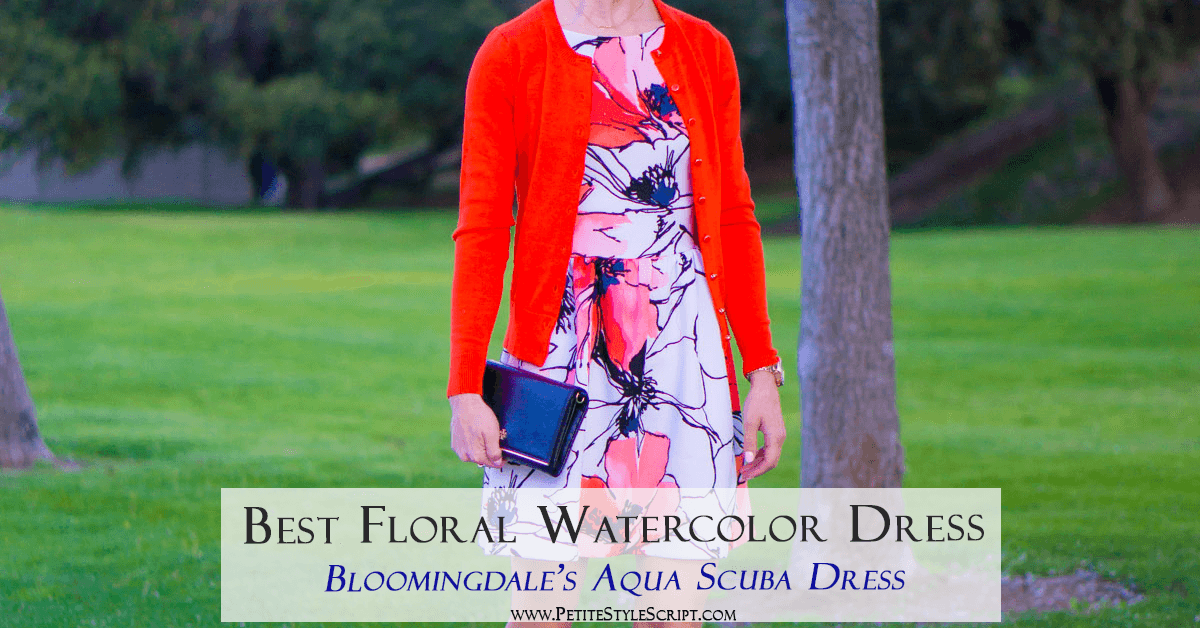 Best Floral Watercolor Dress
Spring is in the air! That means flowers, warm weather, and sunny skies. That also means we can bring out our floral print outfits to transition into summer!
Last week I discussed Bloomingdale's exclusive Aqua brand with a perfect petite work dress. Today, I have on my favorite floral watercolor dress and guess where it's from?! Let's talk about the best floral watercolor prints available today and why they are perfect for spring and summer events!
Note: This post may contain affiliate links; full disclosures HERE.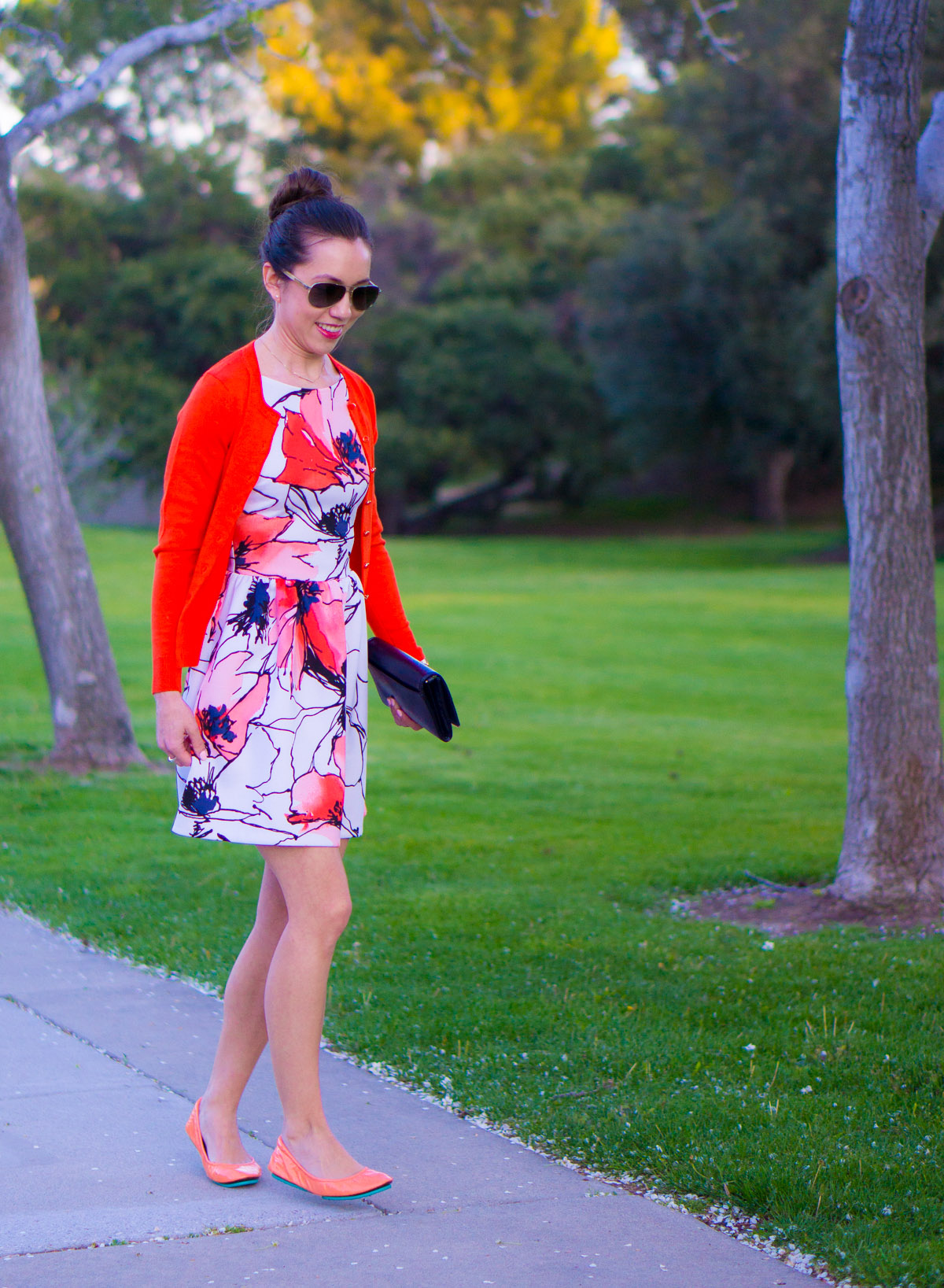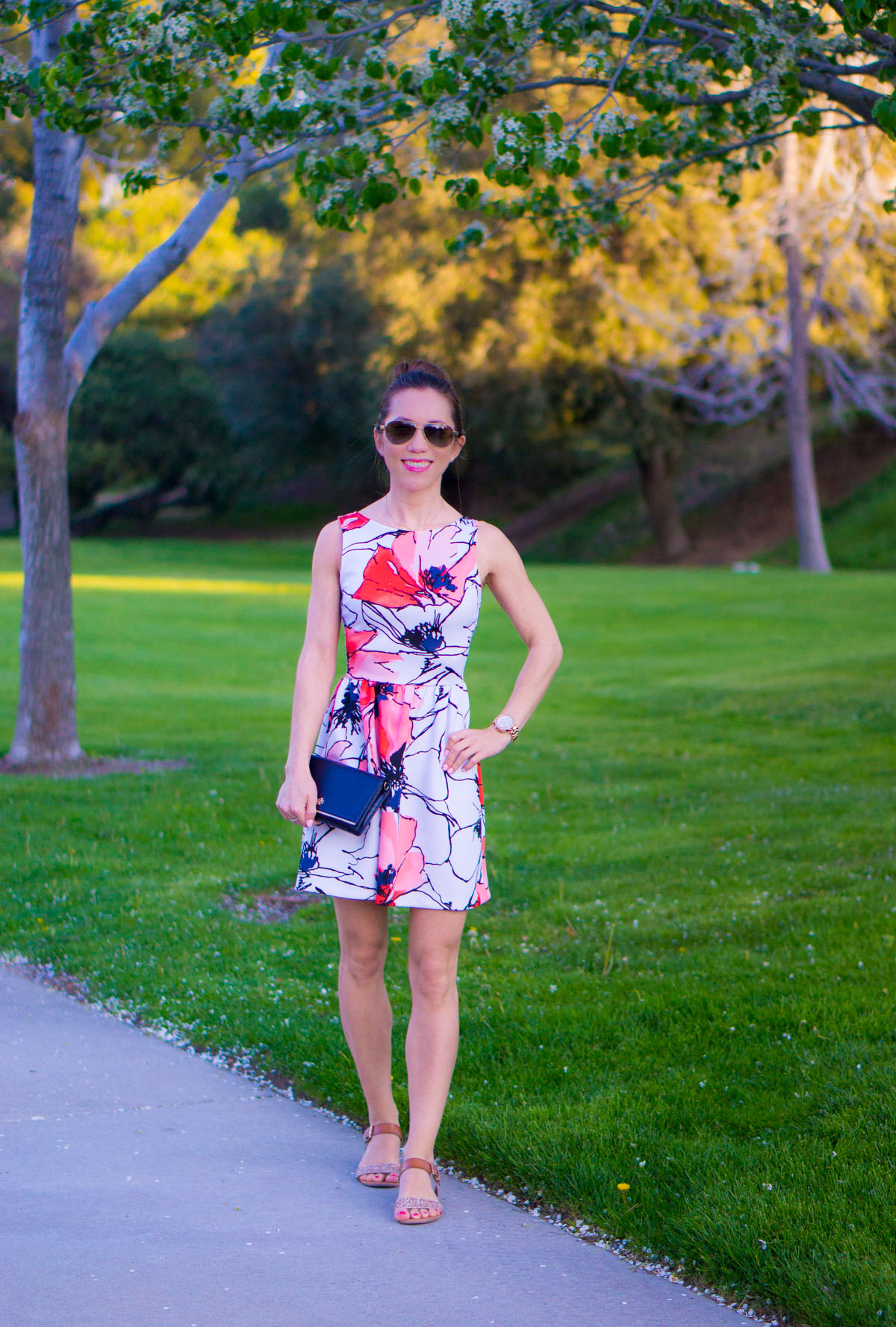 Outfit Details: Bloomingdale's Aqua Scuba Dress XS (similar here, here or here); Tieks Coral Ballet Flats 6 (my review here); Target Lakitia sandals 5.5; Tory Burch Robinson Chain Wallet (my review here); Banana Republic Factory cardigan; Aerie backless bare bra; Sheecs Sockshion; Goody Spin Pin Hair (requires 4 for my hair)
Best Floral Watercolor Dress
Floral watercolor prints are gorgeous! They come in a variety of vibrant colors and cuts that are flattering on anyone.
Here are a few of my current favorites: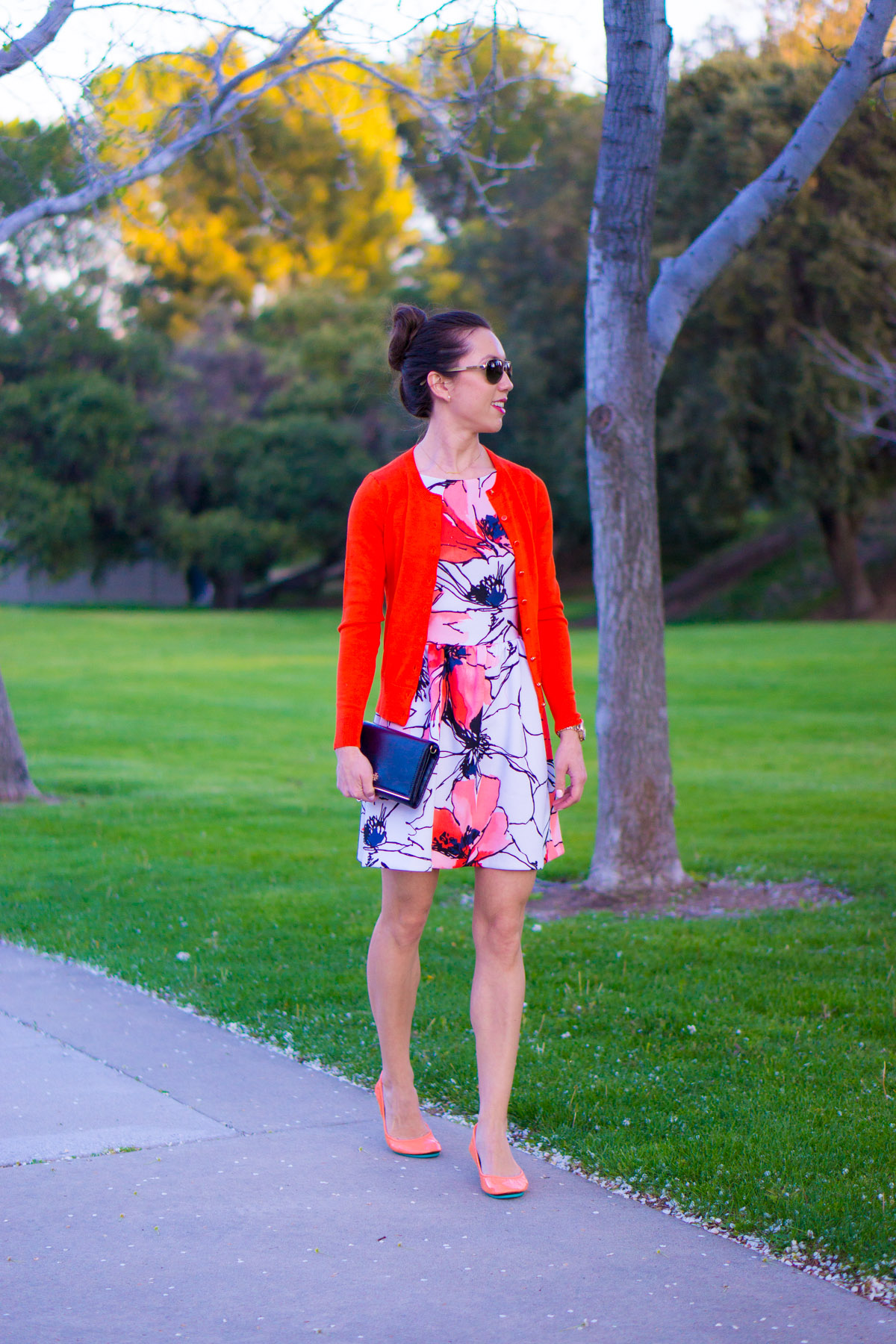 What one do I have on? I picked up Bloomingdale's Aqua Watercolor Scuba Dress ~2 years ago after Jean from @ExtraPetite recommended it on Instagram! It is a gorgeous and vibrant coral orange color with navy and white accents. Many of you may not know, but coral/orange is one of my favorite colors (besides teal/mint green)! Of course I jumped at the chance to purchase this floral watercolor dress when it became available in Size XS.  As I've mentioned in my previous posts wearing Bloomingdale's exclusive Aqua brand (read first post here or work dress post here), size XS fits well on my petite-frame WITHOUT alterations or tailoring. Reminder, my full measurements are on my About page here.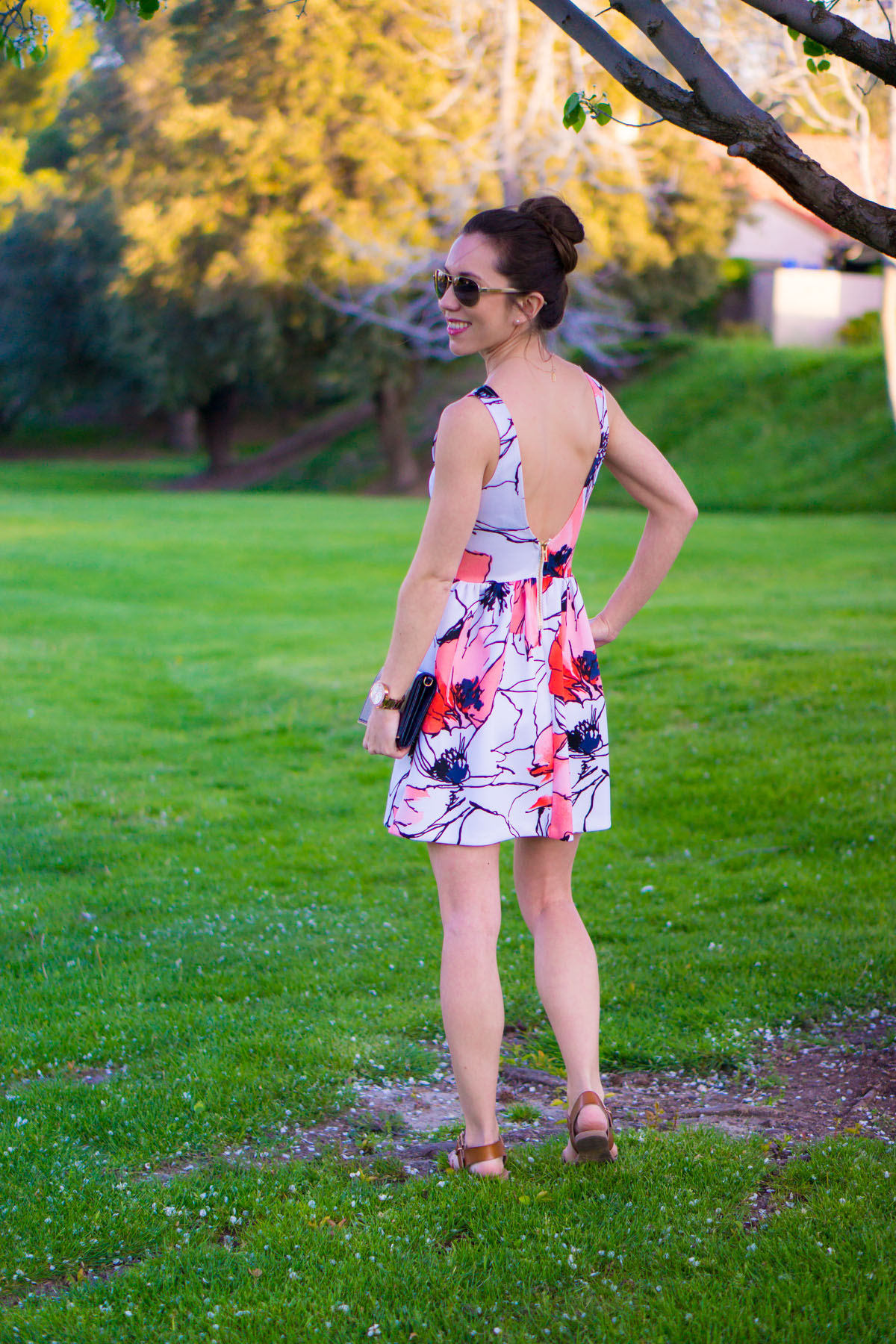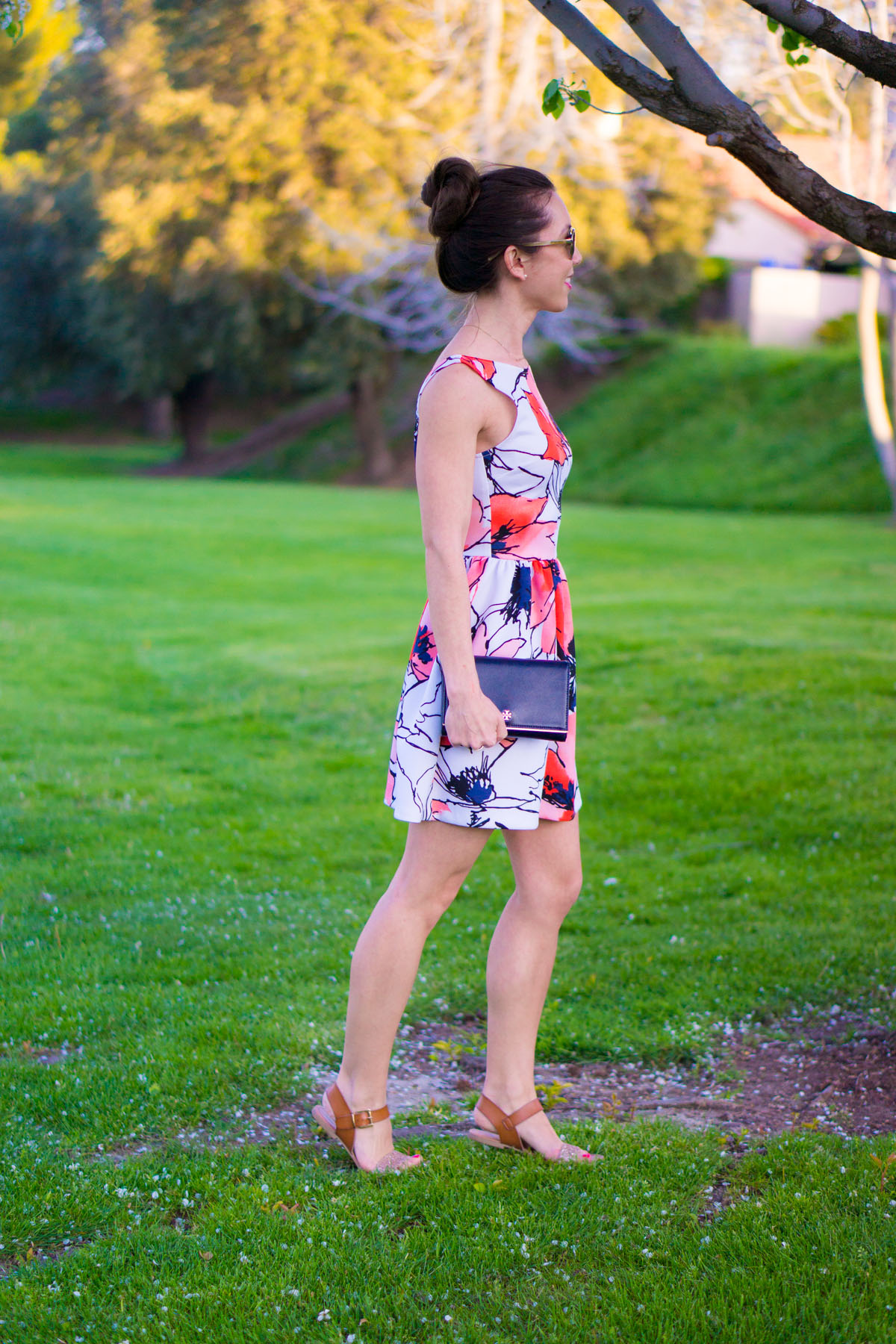 A few things to mention about these floral watercolor dresses…
These spring/summer dresses are shorter in length compared to other Aqua brand dresses. As you can see from the photos, the dress comes well above my knees and would not be work appropriate. The dresses also feature exposed zippers and a variety of cuts. The one I'm wearing has a low cut back which works well for spring and summer. Other designs have higher cuts in the back and crisscross features.
The material on many of these floral watercolor dresses is a scuba-like fabric. Technically speaking it is a polyester/spandex blend, and feels thick to the touch. There are pros and cons of the scuba-like fabric – it is soft, self-lined because of the thickness and comfortable to wear all day. On the flip side, it does not wear as well as other fabrics and needs more delicate washing (hand wash or dry clean).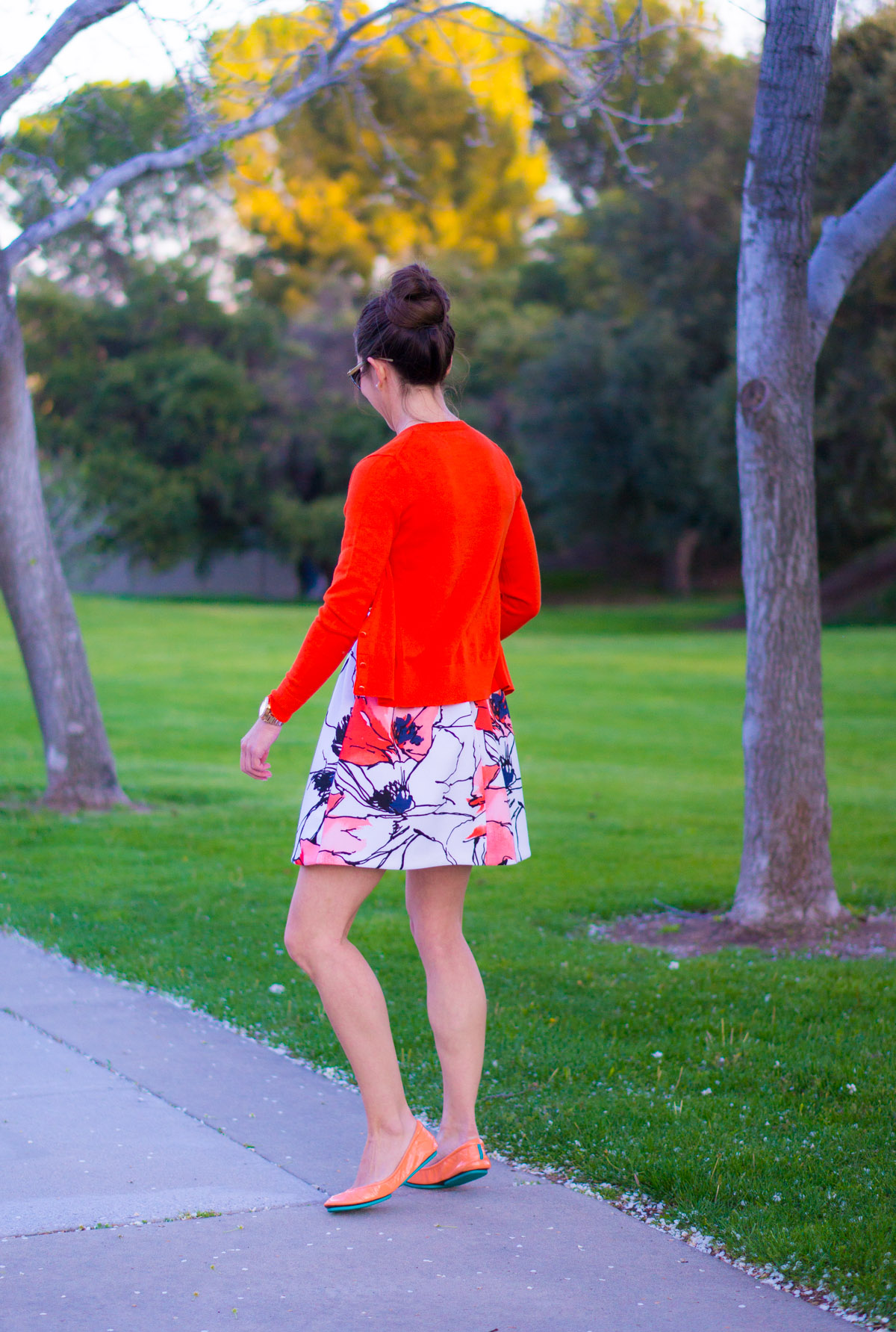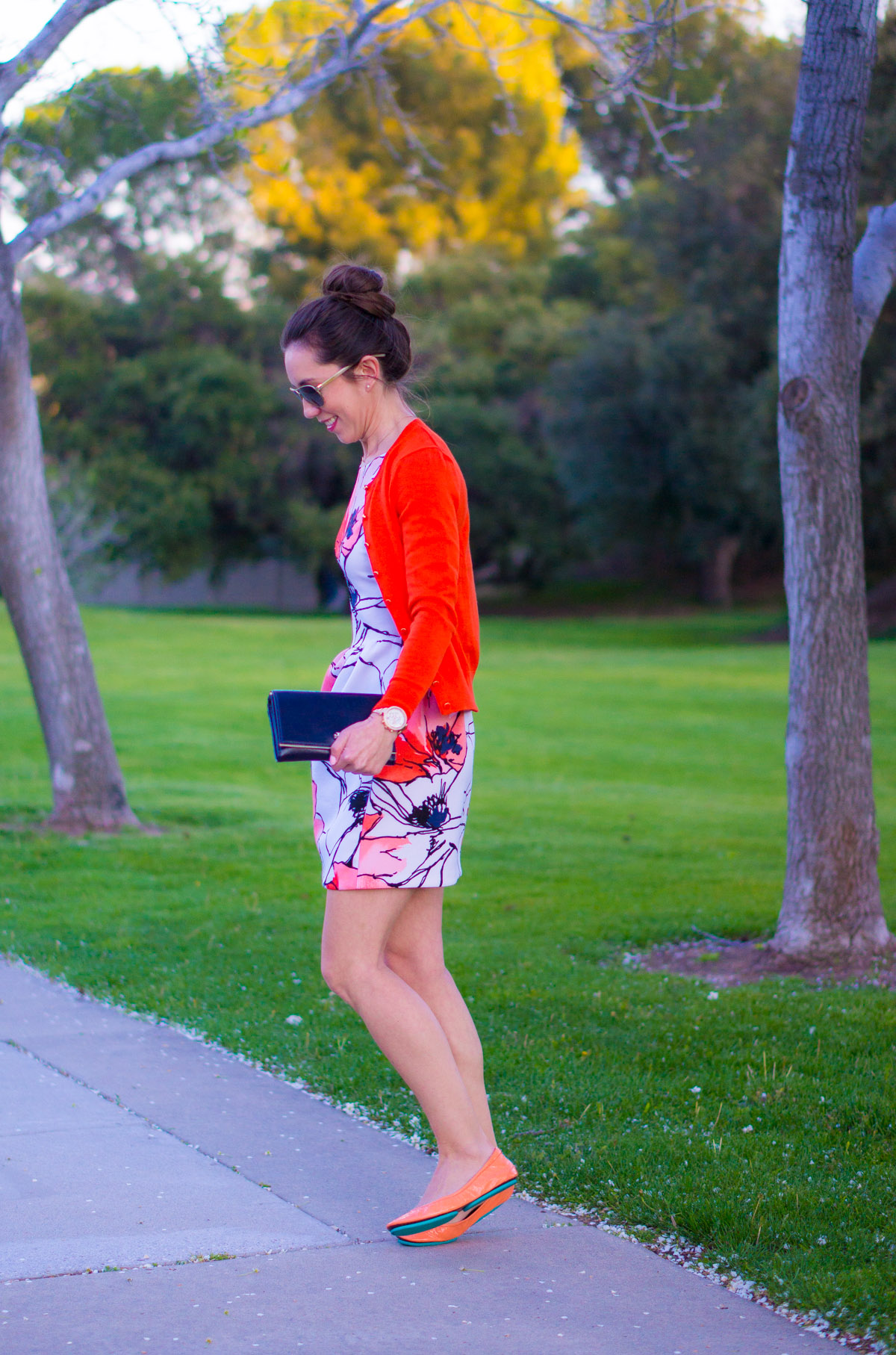 Where to wear these floral watercolor dresses?
Vibrant floral print dresses are go-to wardrobe essentials for days at the local botanical gardens, brunch by the beach and exploring the Getty Art Museums. I've also worn this floral print to graduation events, family spring/summer photos and date night.
How to style these floral watercolor dresses?
My favorite addition to this floral print dress is an equally vibrant/bright cardigan! My favorite cardigans came from Banana Republic Factory years ago and they make perfect layering options for dresses. I'm styling my orange one with this dress. Other options would be navy or white with this dress if the vibrant color scheme needs to be toned down a bit for a particular occasion. My other favorite cardigan is from NIC+ZOE and is available in a bright coral color or navy as well! (read my review here)
And you know I LOVE my Tieks by Gavrieli ballet flats (all your questions answered in my previous post here). And pairing my bright coral patent leather ones with this dress is a must! I also love these casual Target Lakitia sandals (shop here) with floral dresses.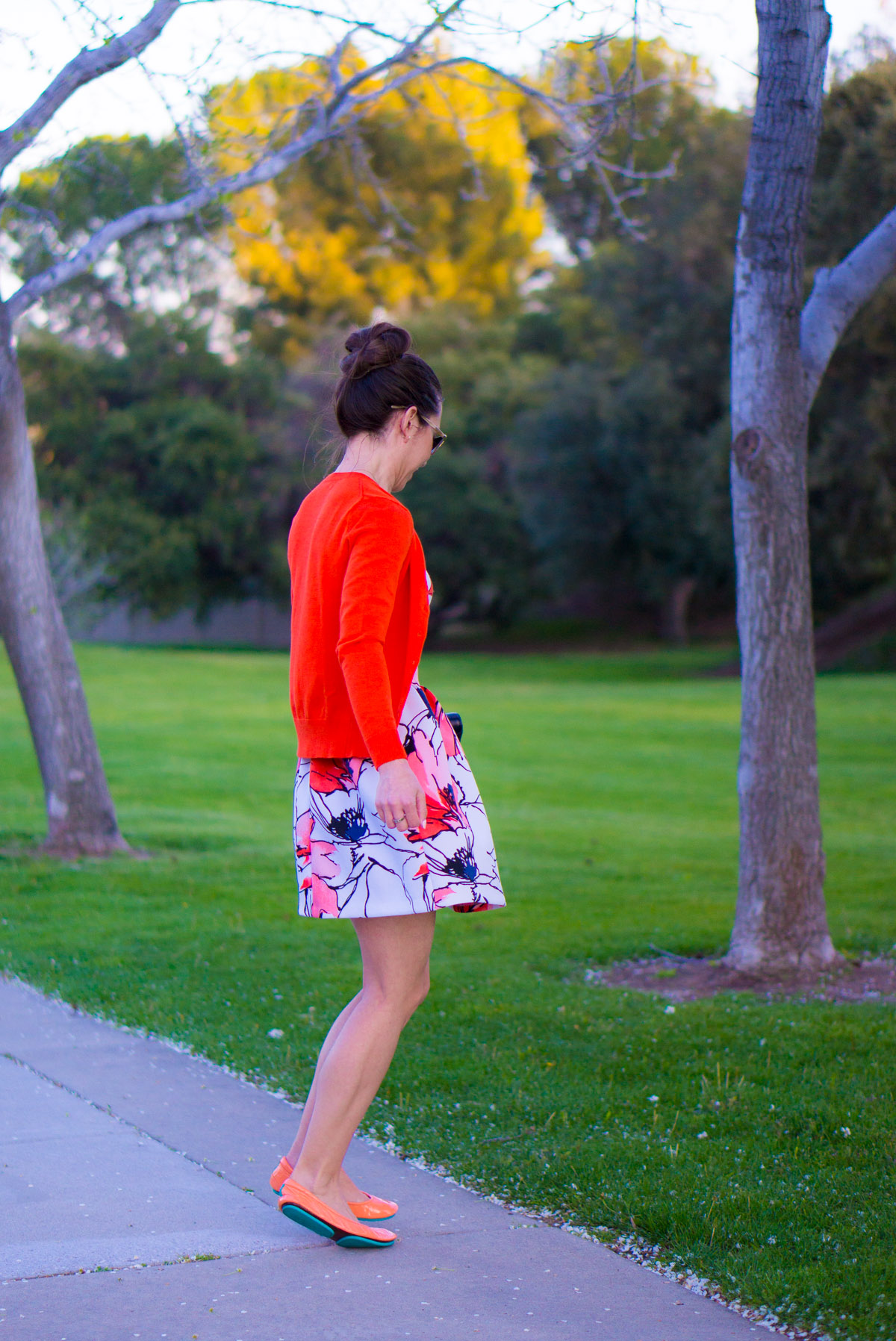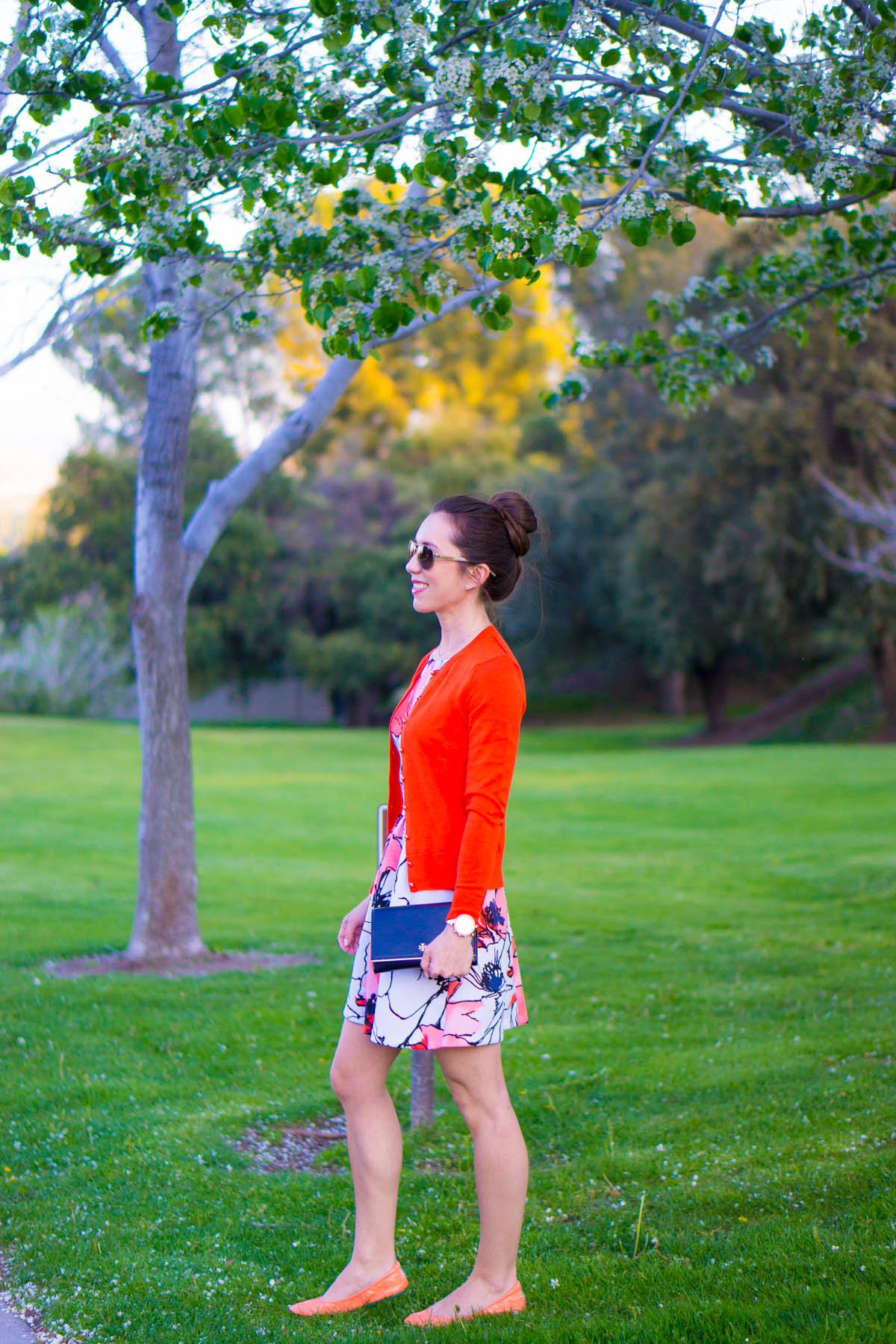 Do you own any floral or floral watercolor print dresses? Please leave a comment!
And if you think your friends would find this post helpful, please click to share via my teal Social Media Buttons! As always, thank you for reading.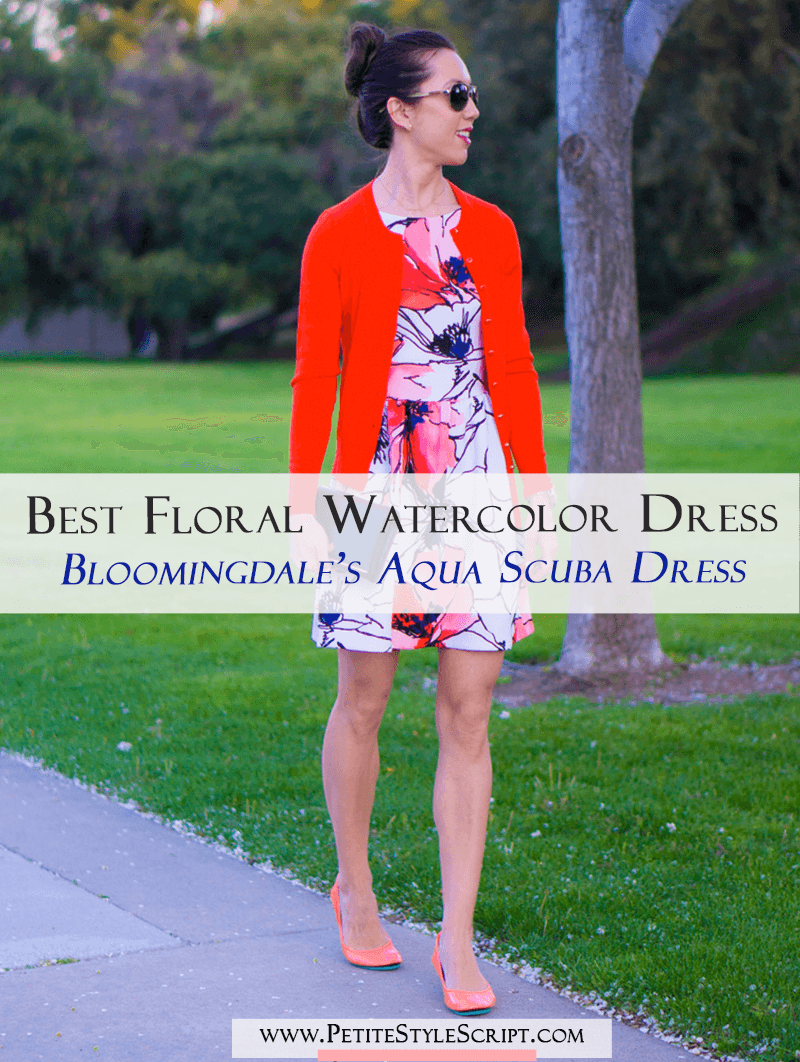 Sign up to get my 20-Piece Capsule Wardrobe Starter Kit + Shopping List (it's free!)