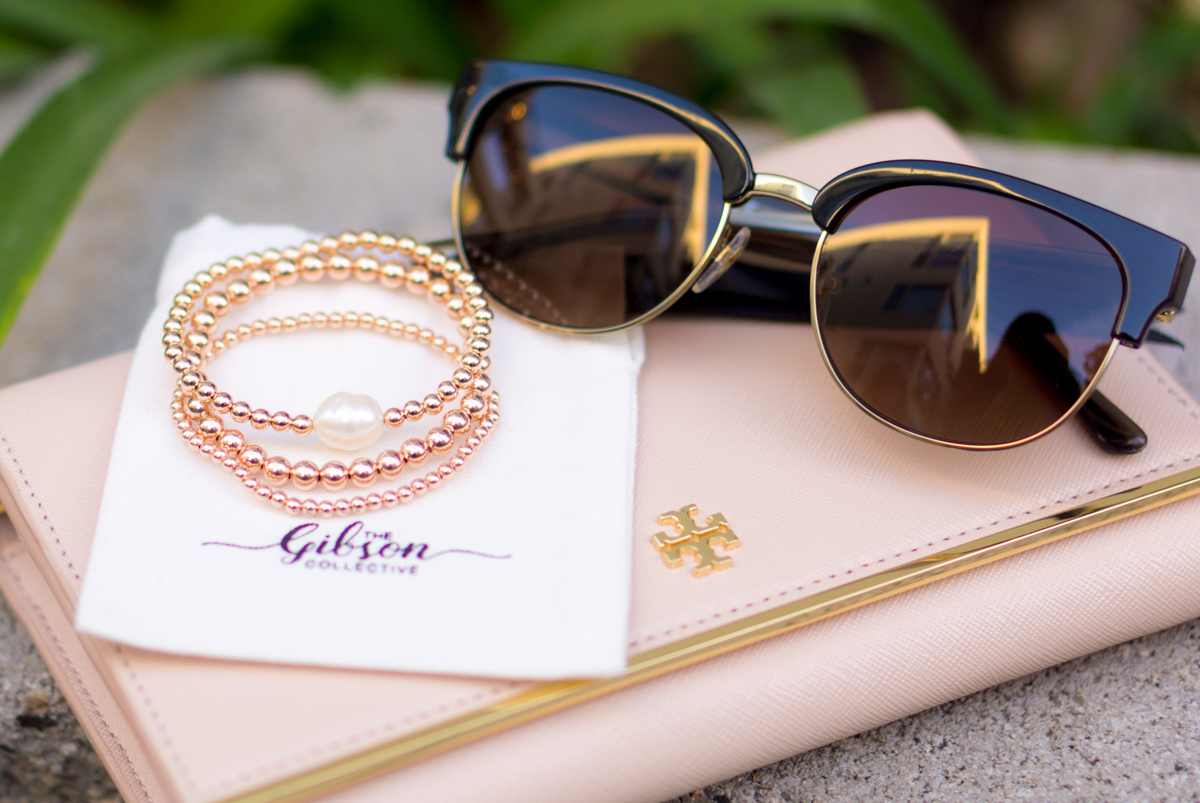 Beads + Pearls // Bracelet Stacks for Holiday Gifting
The Gibson Collective Bracelet Review
Can you believe it's already a week into December?! Holiday shopping is well under way and today, I'm excited to share a new company that offers the perfect holiday gift idea! The Gibson Collective is a lifestyle brand of meaningful and empowering jewelry – plus, it's as durable and resilient as all of us! Special discount code below – scroll.
Note: This post may contain affiliate links; full disclosures HERE. This means, purchasing an item through one of my links may earn me a small commission without affecting your own purchase. Thank you for supporting Petite Style Script & helping it continue as an educational resource. 
Shop the post (click image):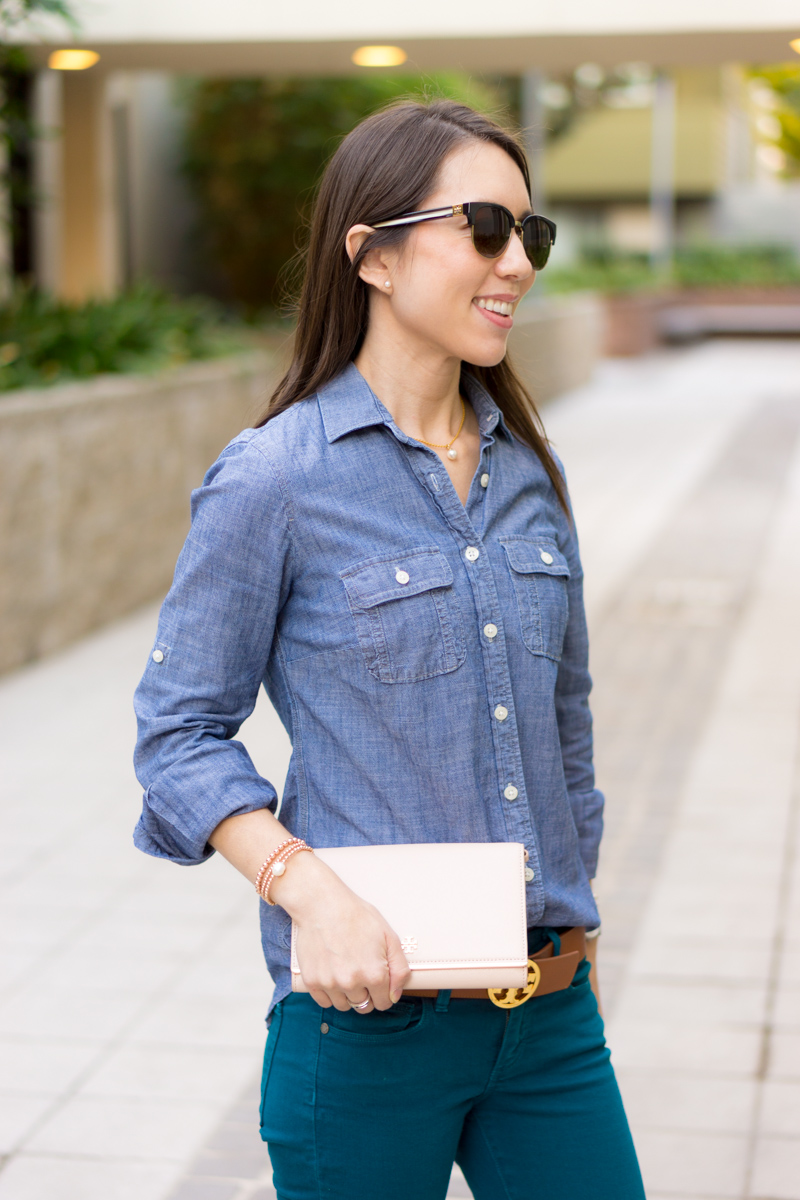 Outfit Details: The Gibson Collective Judith, Farah & Coco bracelets c/o; Simple necklace; Tory Burch polarized sunglasses (exact on sale or similar); Tory Burch wallet clutch (exact & my blog post); Paige Jeans size 23 (old, similar or similar lower price); Tory Burch belt (exact & my blog post); J. Crew Factory Chambray Top XXS (similar or similar & my blog post)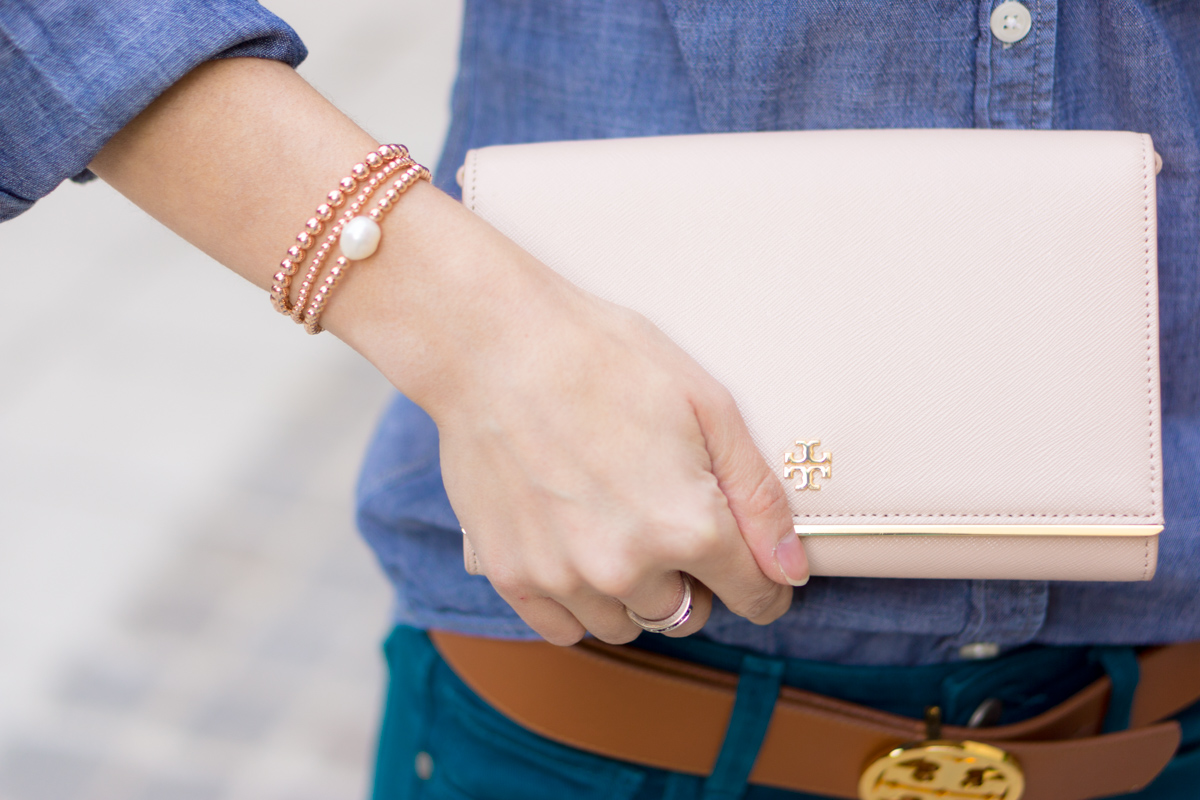 5 Reasons I love The Gibson Collective Bracelets
1. Sizing
With petite-wrists it can be VERY difficult to find bracelets that fit my wrist. My wrist measures just under 5.5 inches now (yes, I actually knew I lost weight on the Whole30 Program when my watches became loose around my wrist!). Sizing starts down to 6.25 inches and The Gibson Collective also offers custom sizing orders! I opted for the custom order and followed the instructions on the Wrist Sizing Guide page to find my perfect size – 5.5 inches + 0.5 inches = 6 inch custom size!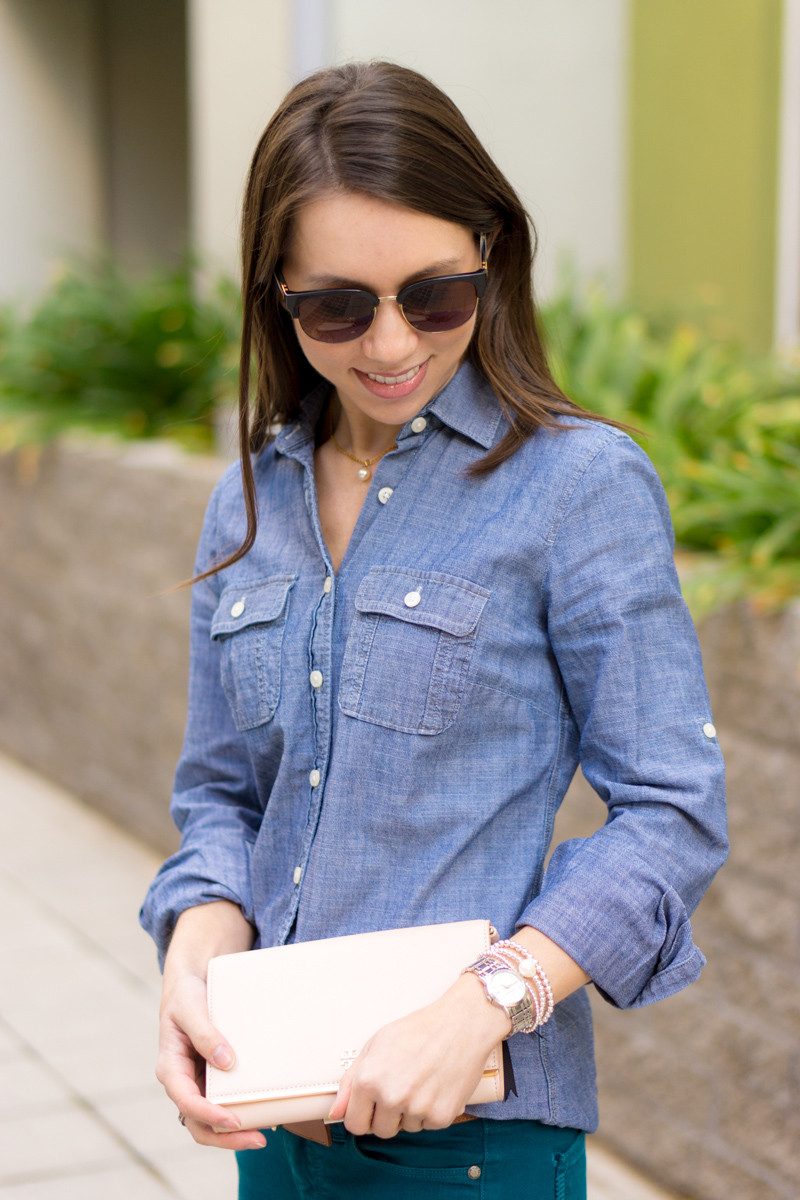 2. Color Options
I own 3 different watches (investment pieces) that are silver, gold and rose-gold. I like to coordinate my bracelets to match my watches since I wear a watch everyday. The Gibson Collective bracelets come in 3 color options – 14k Rose Gold, 14k Gold or Sterling Silver. I chose Sterling Silver to match my beloved Burberry watch (I've had since 2009, similar here on sale) and 14k Rose Gold to coordinate with my Michael Kors watch (similar here on sale).
3. Stackages
The bracelets are designed to easily stack with one another – also known as stackages. Each bracelet has a simple and classic design to easily coordinate with one another. You can mix and match the colors, the bead sizes, bead shapes, gemstones and pearls! The Gibson Collective has even put together popular Stackages to help you shop – check them out here.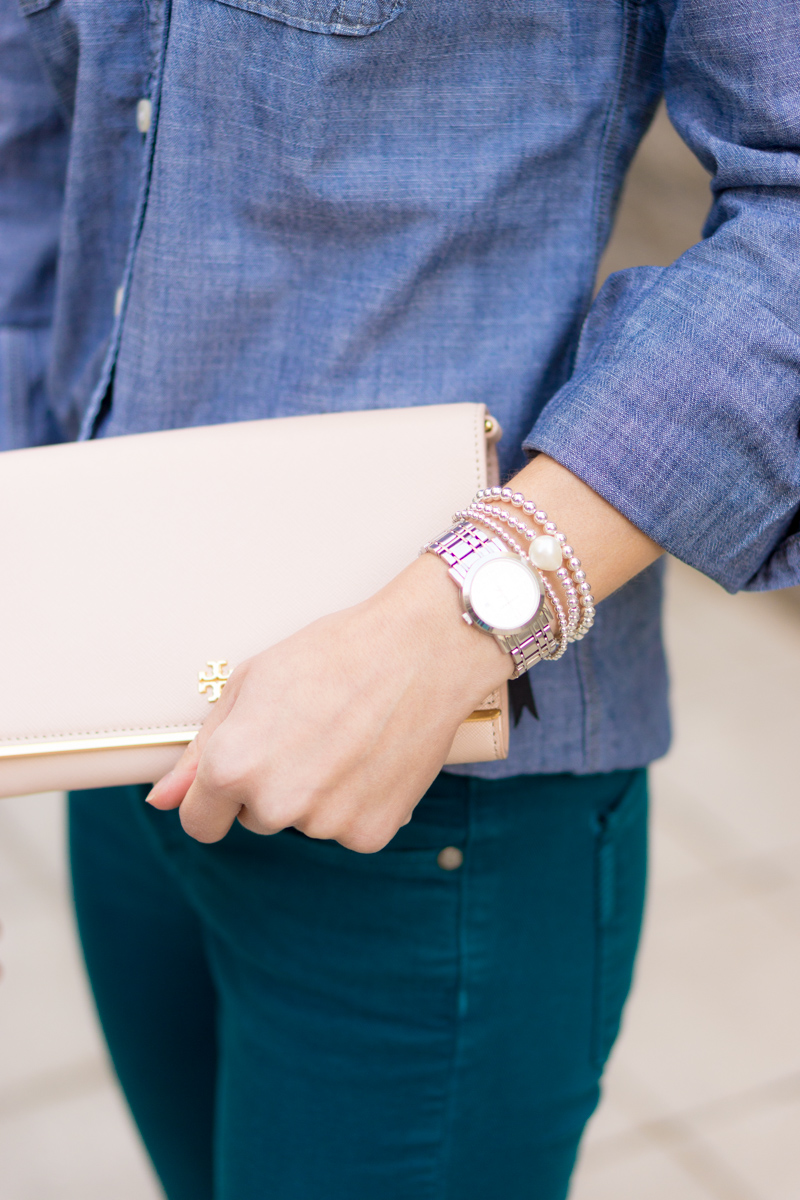 4. Bead Sizes
Each bracelet is designed with beads ranging from 2 mm to 8 mm. This truly caters to everyone's style with this large range of options. The various bead sizes also help with stacking the bracelets together – putting a few different sizes together into one stackage! I chose bracelets that are 3 mm (Judith), 4 mm (Coco) and 5 mm (Farah).
5. Meaningful & Empowering
Each bracelet is designed to be meaningful and empowering to YOU! You decide what you like (or gift to a loved one or BFF) and go from there. We are all independent with our own personalities – curate the perfect bracelet stackage for YOU! It will be an investment piece that you'll love for years to come! Perfect for my KonMari lifestyle (read more here about this philosophy).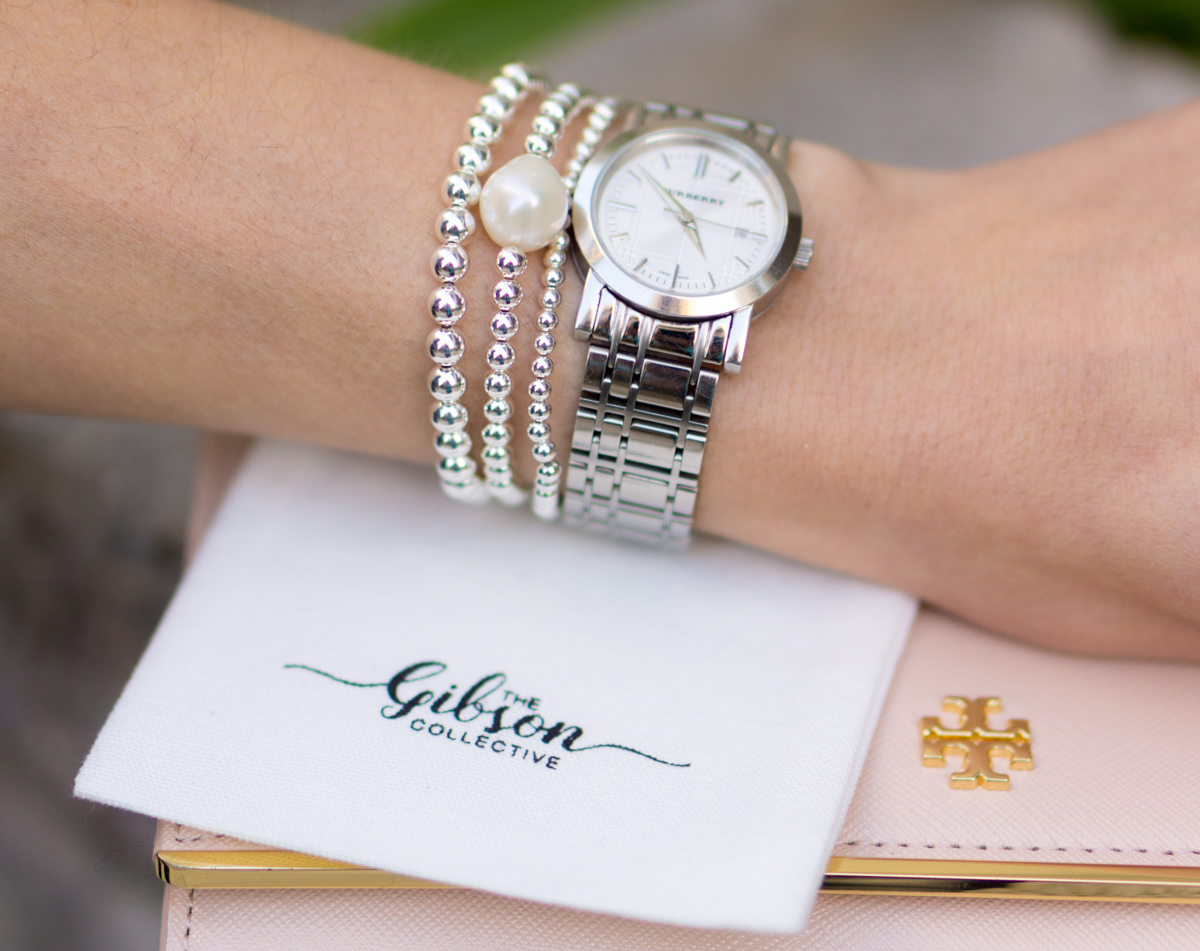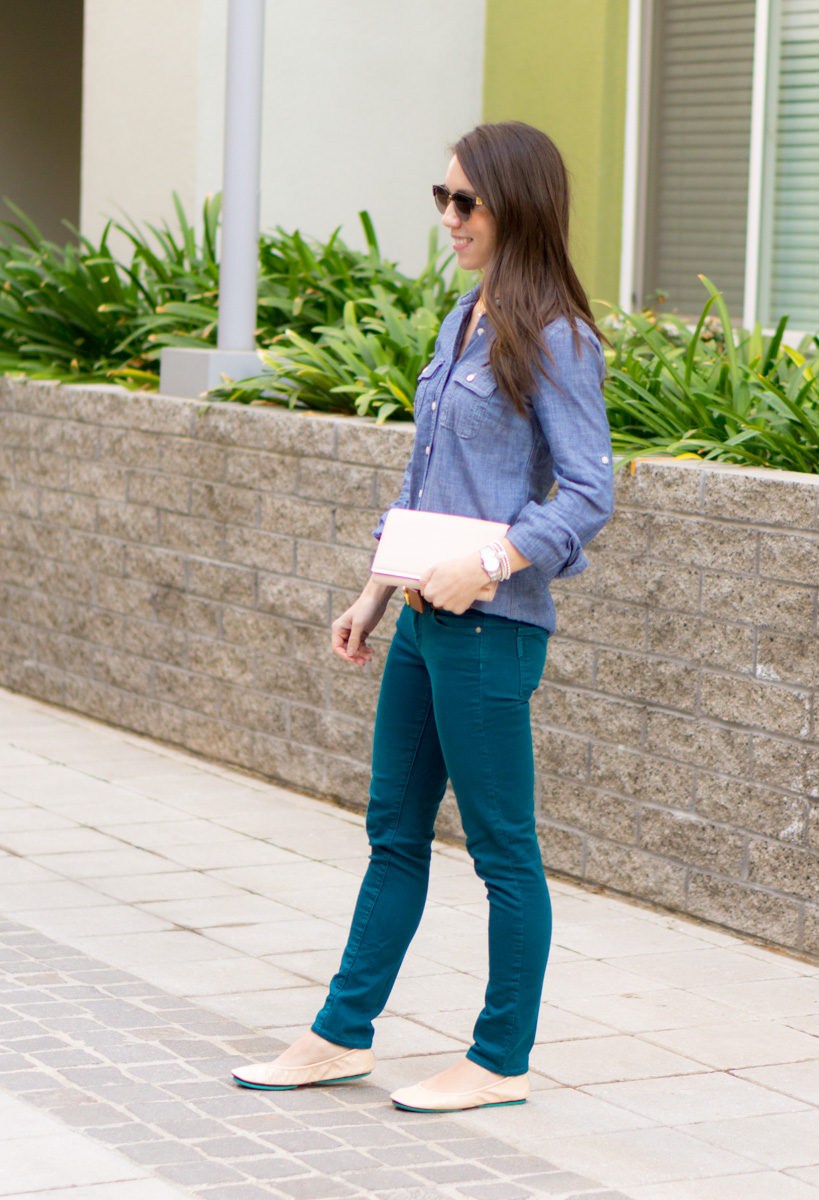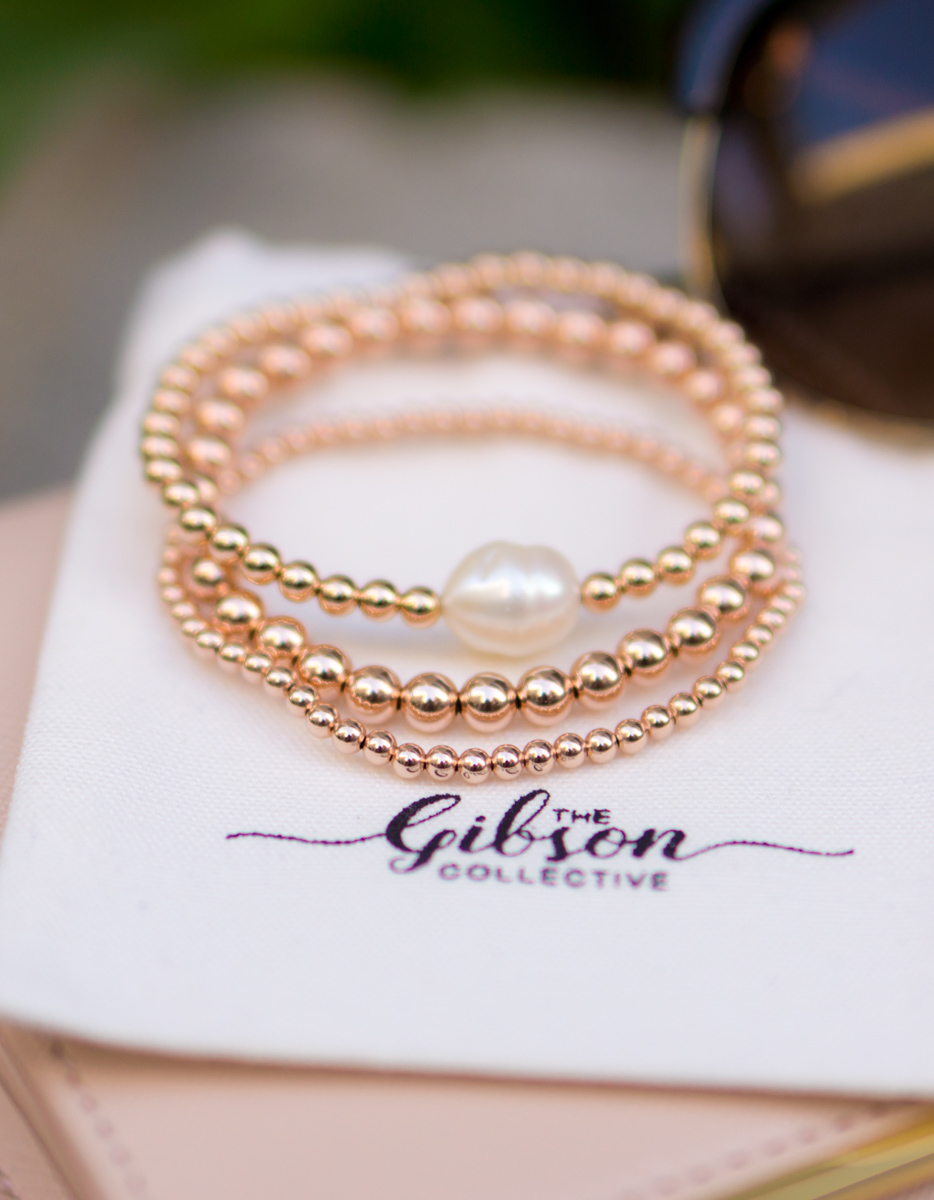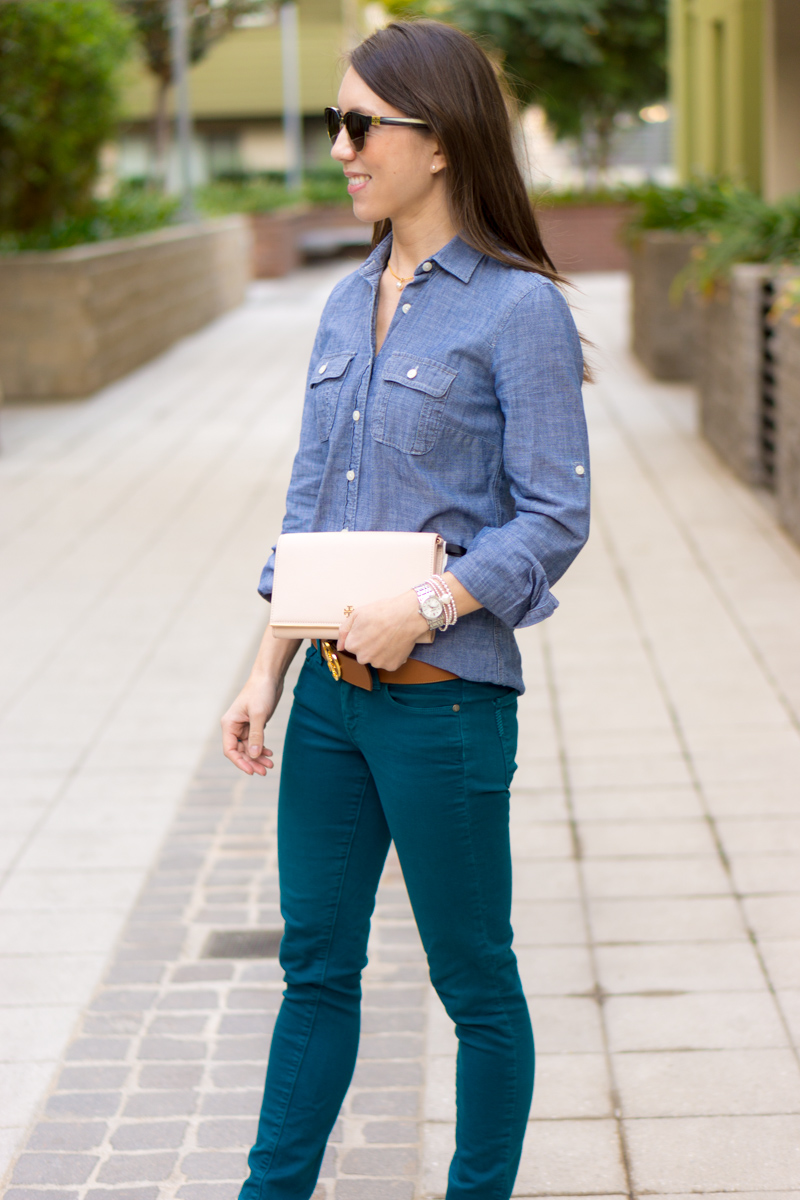 BE INDEPENDENT, BE YOU, BE A GIBSON GIRL!
Discount Code: 
As a thank you, The Gibson Collective is generously offering 10% off to my loyal readers! This is perfect to pick up a set for yourself or gift to a friend or loved one!
Enter code: JESSICA10 at checkout
What bracelets are you interesting in gifting (or receiving) this holiday season? Comment below please.
---
Thank you for reading! My goal is to reach 1,000 more women by the end of 2017. Help me achieve this goal. Share this post using the teal buttons.   
Follow my updates on Social Media & Subscribe to Emails
Twitter | Facebook Page | Instagram | YouTube | Pinterest
Sign up to get my 2018 Winter Style Challenge // 25-Piece Winter Capsule (it's free)