Burberry Daylesmoore Wool Coat Review
As winter is winding down I want to take a moment to highlight a wool coat I picked up this season that I am absolutely in LOVE with! I had been eyeing this Burberry Daylesmoore Wool Coat for awhile (especially after my favorite blogger, Jean, review it HERE), I saw it again on the Gilmore Girls Netflix season on Rory, and I had a camel/black classic coat on my Wardrobe Essential list of things to purchase for years!
Why did I finally break down and purchase the Burberry Daylesmoore Wool Coat? Let me explain in this review.
Note: This is not a sponsored series by Burberry or Bloomingdale's. All opinions are my own. This post may contain affiliate links; full disclosures HERE.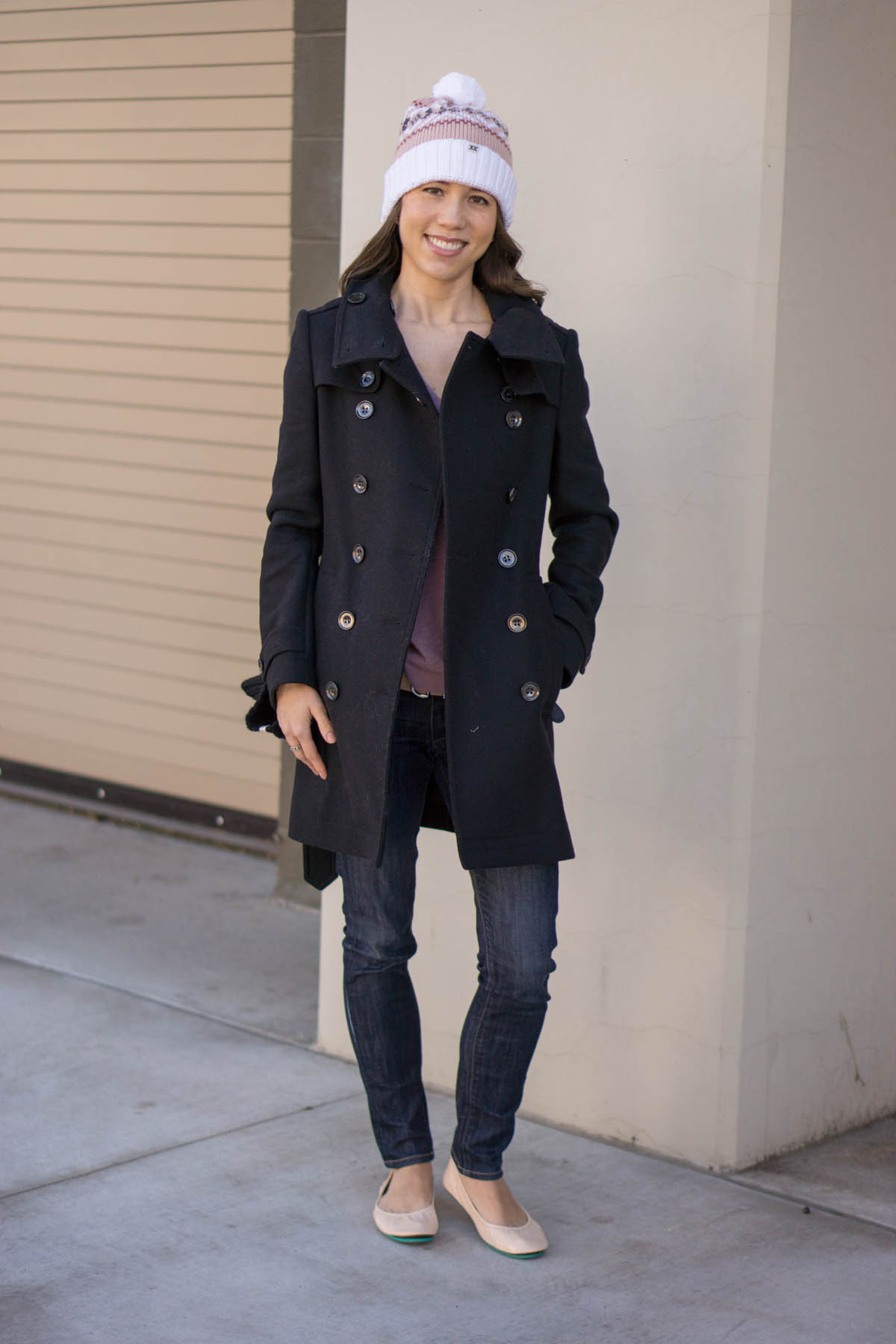 Outfit: Krochet Kids Becks hat Black Snow c/o or Krochet Kids Becks hat Pale Rose c/o + Krochet Kids Dakota Scarf Red c/o + Burberry Daylesmoore Wool Coat Size 2 (got on major sale at Bloomingdale's!) + Madewell Tee XXS + Paige Jeans Size 23 + Talbots Reversible belt (my review HERE) + Tieks Ballet Flats Nude Patent Size 6 (my review HERE)

Why do I love this Burberry Wool Coat?
Wardrobe Essential: a wool coat is a wardrobe essential.

I already discussed the J. Crew Lady Day Coat and how a wool coat in general is a wardrobe staple in anyone's closet – read more HERE
But I didn't purchase the J. Crew Lady Day coat in classic camel or black colors and was in need of one of both of these colors in a winter/fall coat
Camel & Black – why are they so classic? They are neutral colors and go with anything! Versatility is a must in anyone's wardrobe, right? They are also very chic colors.

Petite-friendly Fit: Burberry is excellent for their petite-friendly fits.

Burberry sizing actually runs a little small, especially in this Daylesmoore Wool Coat
Like Jean, I also opted to size up to a Size 2 in this Burberry coat
I tried on a Size 4 as well but it was too long in the sleeves and just a little too bulky looking
I did not have an opportunity to try on a Size 0 but I knew it would be too tight after looking at the Size 2 fitting
Size 2 fits well in the Shoulder Width, Sleeve Length and will allow for some layering underneath
See the photos for comparison of Size 2 versus Size 4

Different ways to wear it!

Collar feature: can either wear it open collared (most of these photos) or buttoned up collar to keep you warm!
Belt feature: see more info about this below
Pockets: see more info about this below, so versatile with open AND zippered pockets
Buttons: there are several buttons on this coat to wear it open, half buttoned or full buttoned

Gilmore Girls – Rory – wore it during the Netflix Winter Season! It was such a classic wool coat on Rory & she styled it wonderfully in the versatile camel color!
When you find Gilmore Girls Rory's winter coat that was featured on the Netflix 'A Year in the Life' = Smiling ear to ear!
Click To Tweet
Burberry Size 4 – see arm length difference compared to Size 2 I purchased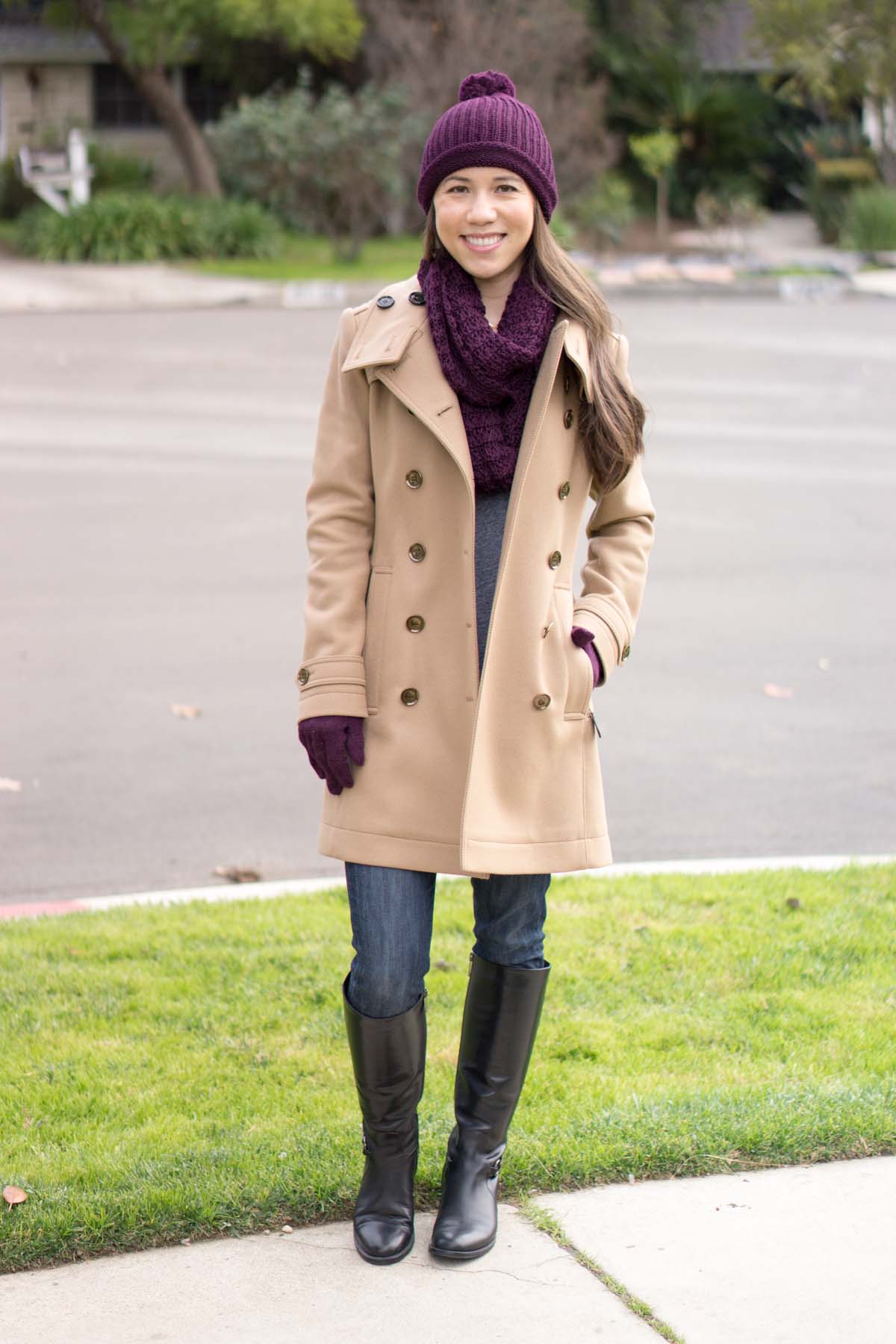 What to look for in a Winter Coat? 
Like I alluded to in the sizing section above, it is always important to try on a winter/fall coat with the outfit you plan to wear it with – that means if you plan to wear bulky sweaters or a few layers in the winter season, make sure to bring these with you and try on while sizing a winter coat
Tailoring/Alterations: a few simple changes can be made to a coat for a perfect fit. Being petite, tailoring and alterations are always a concern and consideration when making a purchase, especially an investment purchase such as this one. The easiest change to make to this coat is the location of the belt loops. You can move them up to your natural waist if they are too low. I opted to not move mine since I think they fit well on me. Jean did have hers moved up – her post HERE. Another change could be the arm length which is more complicated.
Pockets: Coat pockets are SO important and so often overlooked. I look for pockets that are USE-able! It seems so obvious but many wool coats do not include this feature. This Burberry wool coat offers 4 pockets! On each side there are open pockets to use (very deep may I add) in addition to zippered pockets on each side. This means you can keep you hands warm and toasty in the open pockets while still carrying a few essentials in the zippered pockets (without losing the items!).
Belt: A belt is always a nice added feature of a coat. Especially on petite-figures, it is nice to belt up the coat to show off our natural waist and (small) figure!

Outfit: Burberry Daylesmoore Wool Coat Size 2 + Aquatalia Boots Size 6 (or similar on sale HERE) + Talbots opaque tights Small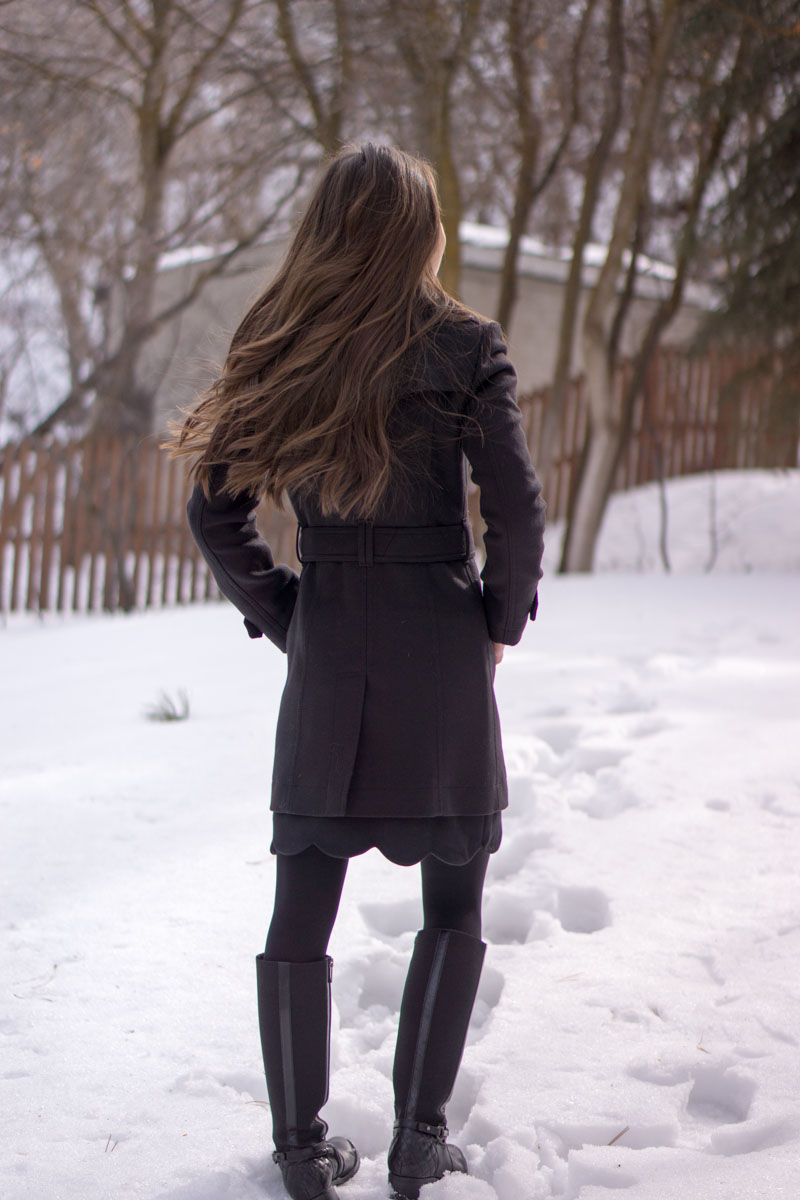 Why I invested in this Burberry coat?
Now, let's be honest. Burberry is not an inexpensive brand.
I know that. And I have previously discussed on my blog how I have NEVER purchased ANY item valued over $500 before
So, what did I spend on this Burberry Daylesmoore Wool Coat? Did I break my rule
NO!
This coat usually retails for ~$1100. I spent <$450 on each coat. NEW. At Bloomingdale's. Thank you for the amazing winter sales and loyalist offers Bloomingdale's!
Remember, a wool coat is an investment purchase. You will have it for YEARS to come! That's why I was willing to make this significant investment. Plus, it was on my list of items to purchase and I literally waited years to make the purchase knowing it was the best one for me, my budget and my wardrobe goals.
Also, we can't forget about investing in

QUALITY over quantity

. Burberry is known for their quality style, design and fabric!
I would like to take a moment to thank my local Bloomingdale's store (Sherman Oaks, California) and their Burberry specialist, Brigette. She worked with me to find my perfect size and after realizing what a great deal it was, helped me locate the Daylesmoore in a second color! I was able to purchase the black color at my local Bloomingdale's store and have the camel color shipped from a New York City store (the last one left in the US at the time!). Bloomingdale's offers an amazing Loyalist Program as well. If you haven't joined it, I highly recommend since it does offer amazing perks throughout the year.
To celebrate Bloomingdale's Loyalist Program turning FIVE, they are giving new loyalists $25 off! – get $25 off a purchase of $100+ using my referral link!
Celebrating Bloomingdale's Loyalist Program turning 5! Join now for $25 off your first purchase!
Click To Tweet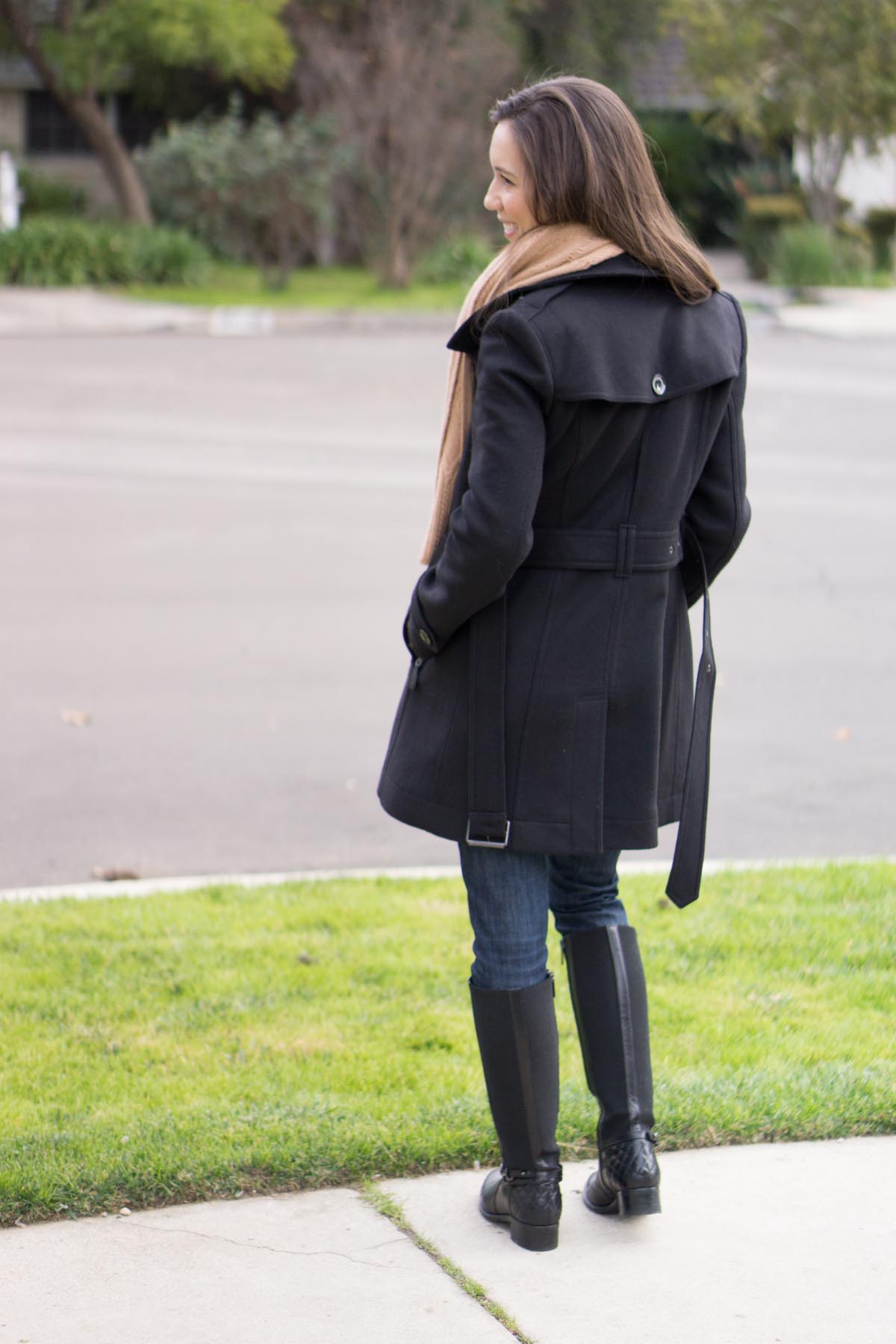 Outfit: Baby Alpaca Waffle Knit Hat Wine c/o + Baby Alpaca Tech Gloves Wine c/o + Baby Alpaca Waffle Knit Infinity Scarf Wine c/o (my review HERE) + Burberry Daylesmoore Wool Coat Size 2 (got on major sale at Bloomingdale's!) + Madewell Tee XXS + Banana Republic Jeans Size 24P + Aquatalia Boots Size 6 (or similar on sale HERE)
Camel or black color? What is your favorite?
Click To Tweet
What is your favorite wool coat? Let me know in the comments please!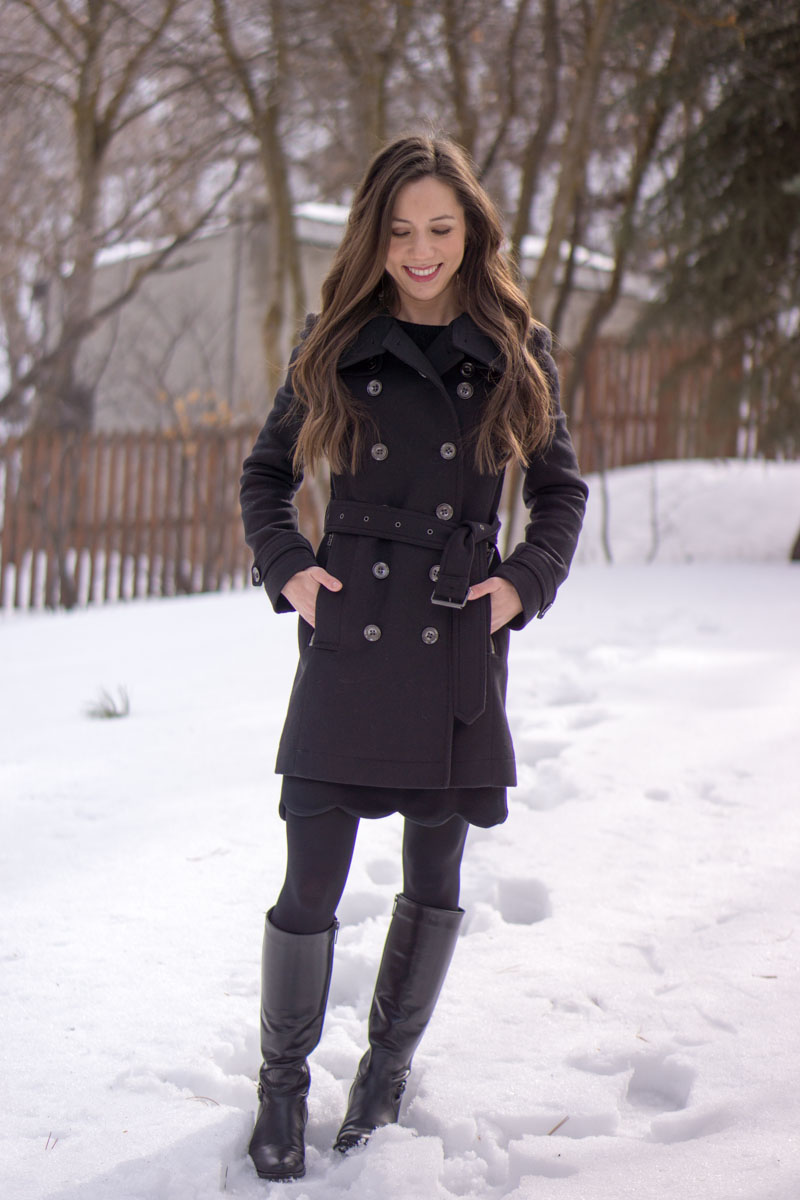 If you found this post helpful, please consider sharing it with friends via my Teal Social Media Sharing Buttons!
Be sure to sign up for my email list BELOW for future updates & other style advice! Don't worry, I'm not into spam,  rarely send more than 1 email per week and you'll have access to subscriber-only content, style tips and freebies.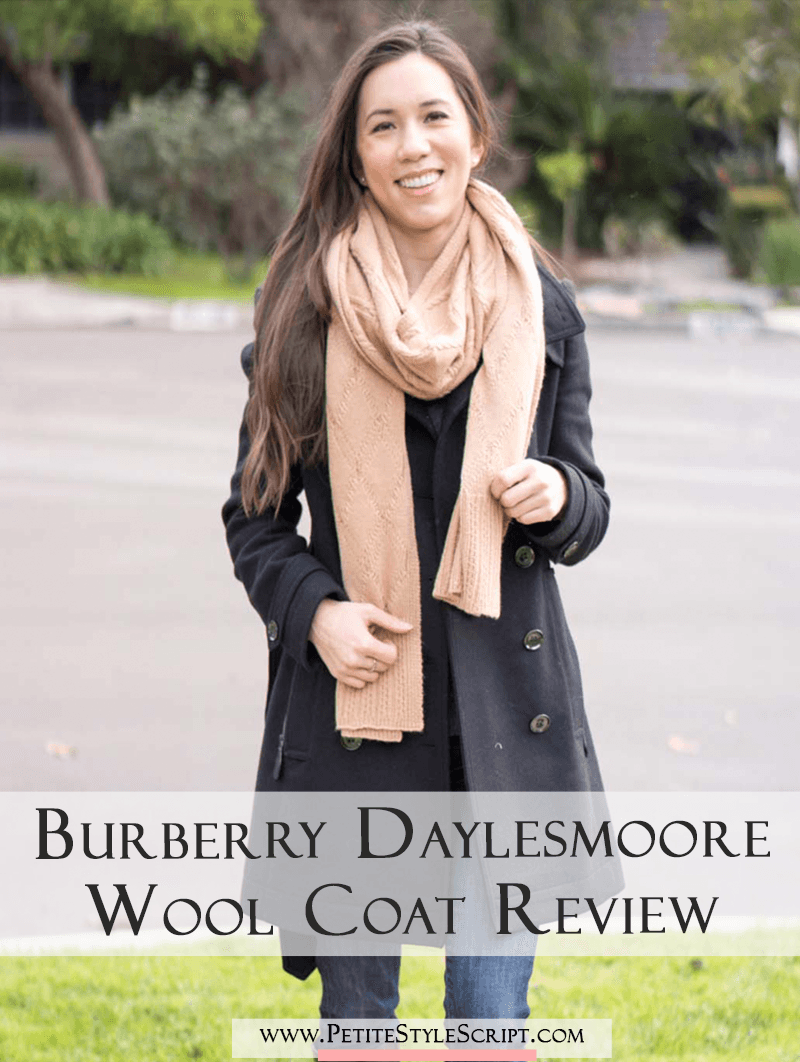 Sign up to get my 20-Piece Capsule Wardrobe Starter Kit + Shopping List (it's free!)