Tieks Mother's Day Gift
Giving Thanks to Mom: Mother's Day with Tieks by Gavrieli Ballet Flats
Mother's Day is a special time of year. I am lucky to call my mom my biggest advocate, supporter and best friend. To celebrate and give thanks to my mom, I have created several Mother's Day posts you will see either on my blog or social media leading up to May 14th, 2017! Please join me in saying thanks to your mom this season!
To start off my Mother's Day posts, I'm talking about my #1 Gift for Moms…Tieks!
Note: This post may contain affiliate links; full disclosures HERE. Please note, I am and was a loyal Tieks by Gavrieli customer years before I started writing this blog – this is NOT a sponsored post.
Also see my previous post talking about Tieks Ballet Flats with all your questions answered and How to Wear Ballet Flats Comfortably All-Day Long + No-Show Sock Options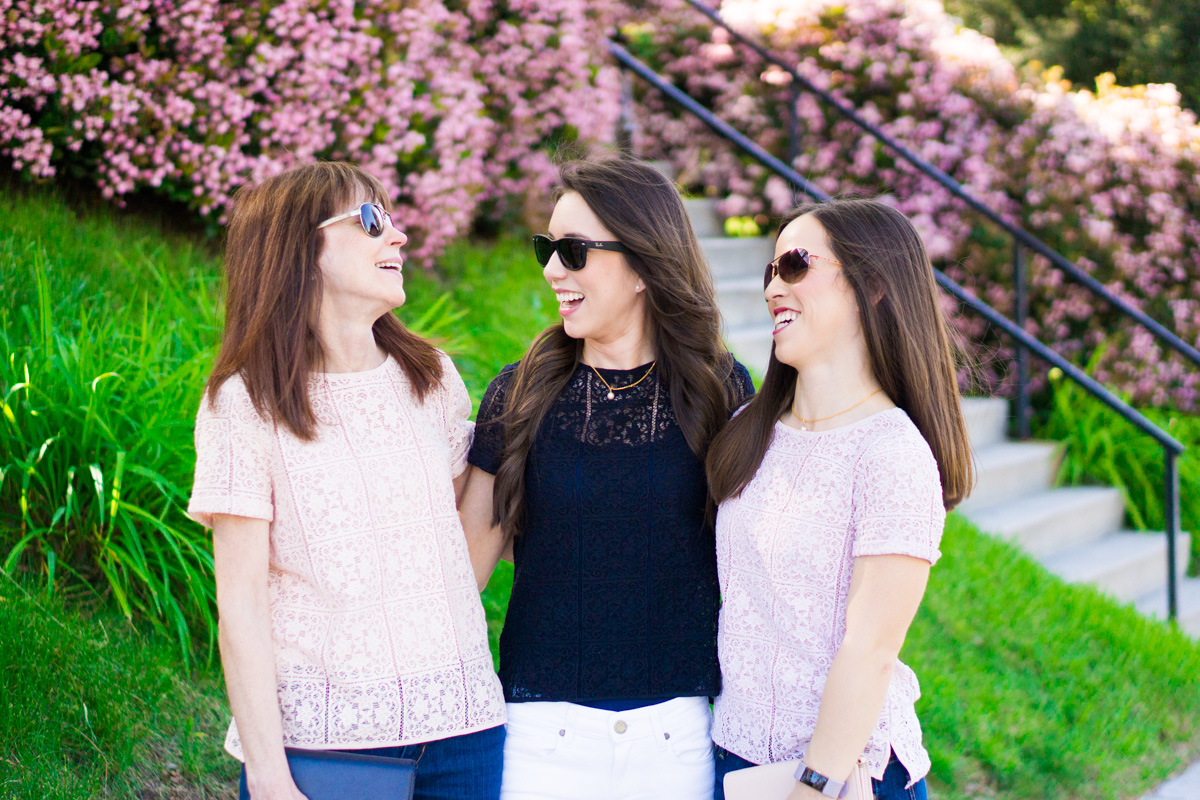 Before we get into why Tieks are the best Mother's Day Gift, let me first introduce you to my mom. Growing up, my twin sister and I were fortunate to have our mom around all the time. She was the first one to wake us up, cook every meal for us, bake us treats for after-school snacks and drive us to and from our countless activities – gymnastics practices, piano lessons, soccer practice, and the list goes on. When my sister and I left for college, we moved across the country to attend the University of Southern California (USC) together for our bachelor degrees. We both stayed on to complete doctorate degrees at USC – devoting several years of our lives to living thousands of miles apart from our parents. Finally, this past year, our parents joined us in California!
My mom devoted so much of her life to my sister and I. We have become strong women from her leadership. To give thanks, we are celebrating together in Tieks ballet flats!
Thanks mom! You are a strong woman & role model.
Click To Tweet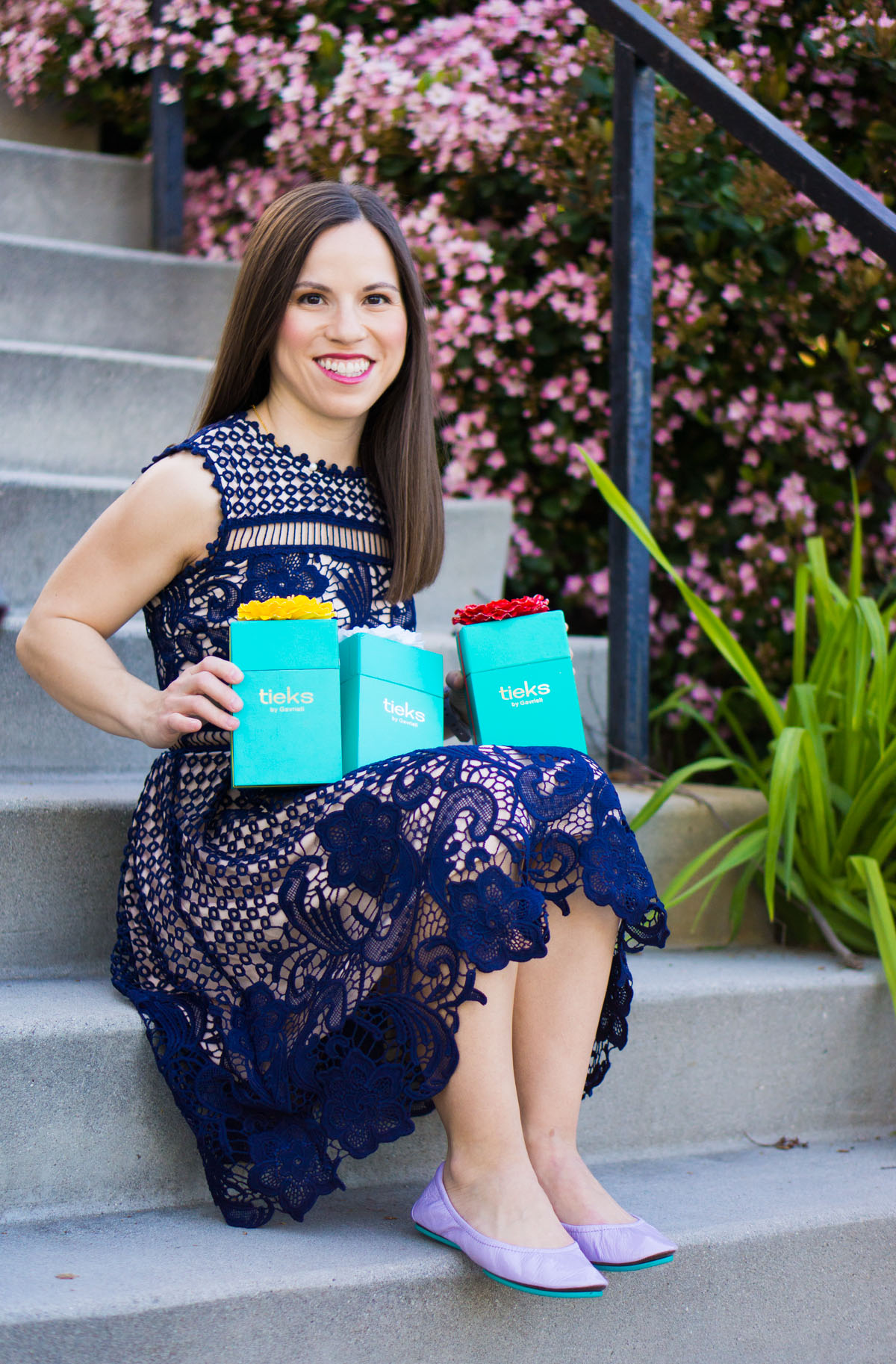 Outfit: Aqua Dress XS (my review here); Sheec SockShion (20% off with PSSVIP20)
Many of you know I am a LOYAL Tieks ballet flats customer! I purchased my first pair of Tieks ~4 years ago and now the only ballet flat brand I own is Tieks. Feel free to head over to my honest Tieks Review Post and get all your questions answered about these ballet flats along with 4 videos!
Despite my addiction to Tieks and the fact that my twin sister and I own several pairs of Tieks ballet flats together – my mom never owned a pair. Living in the Midwest previously, she always thought they were not practical and encouraged us to invest in ourselves and not worry about her.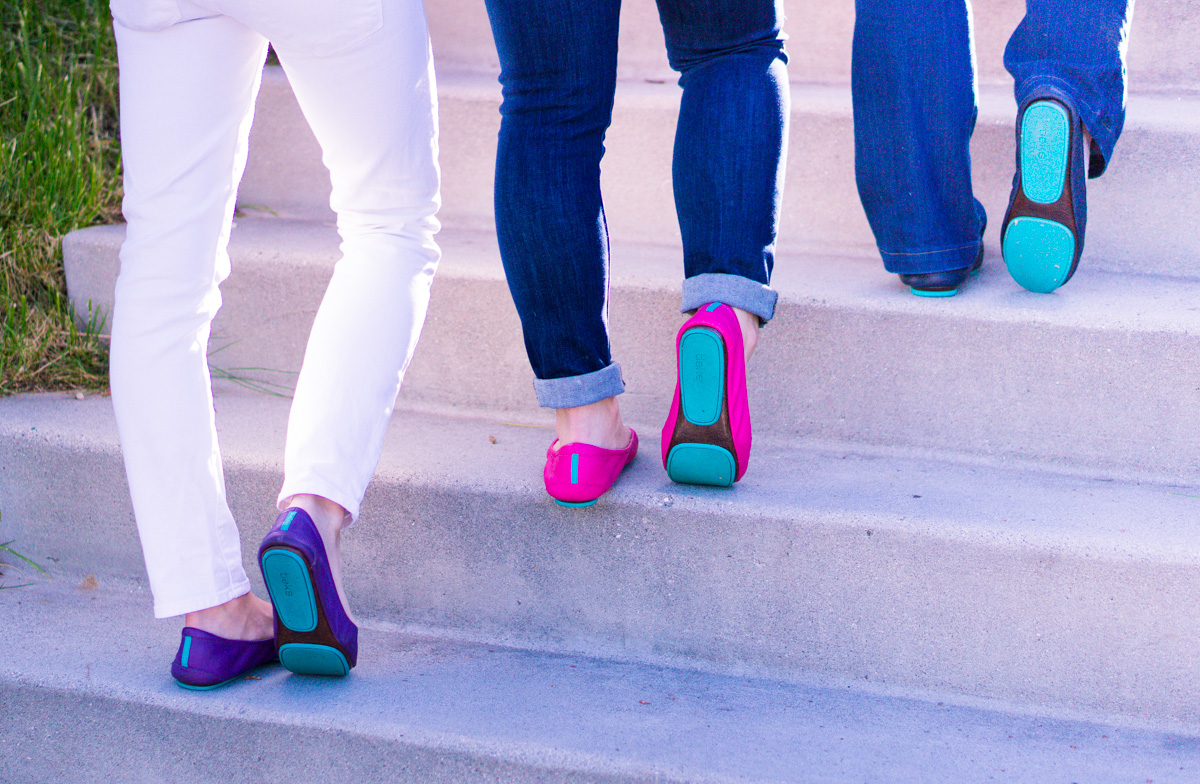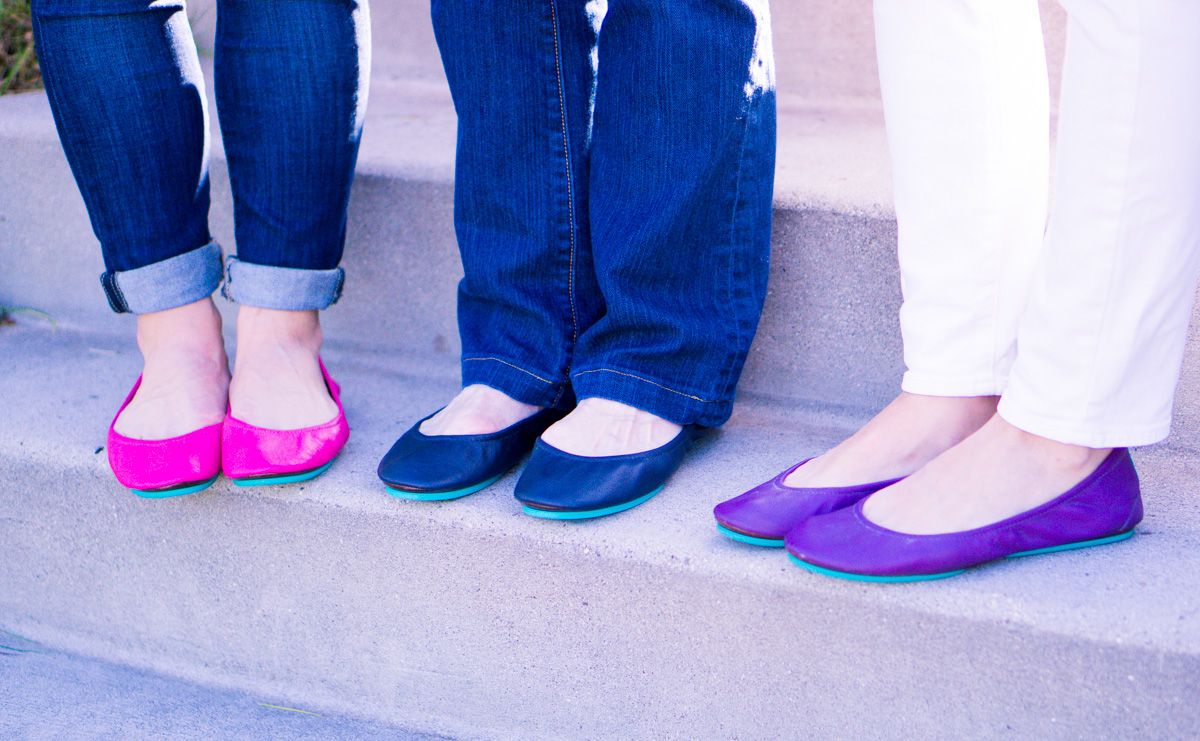 This year we decided to change that – to thank our mom she received her first pair of Tieks ballet flats in the classic navy design! When we first told her we were going to get her a pair of Tieks, she honestly was overwhelmed by the color choices! After a couple weeks (yes I said a couple weeks!), she decided on the classic navy color. She wanted something neutral that would go well with any outfit. My mom wears a size 7.5 in most shoes and like many others – we ordered a size 7 and size 8 in Tieks to compare the sizing. She was able to squeeze into the size 7 but it was obviously very tight – and the size 8 fit perfectly! Overall, she sized up just like I do in Tieks (size 5.5 to Tieks size 6).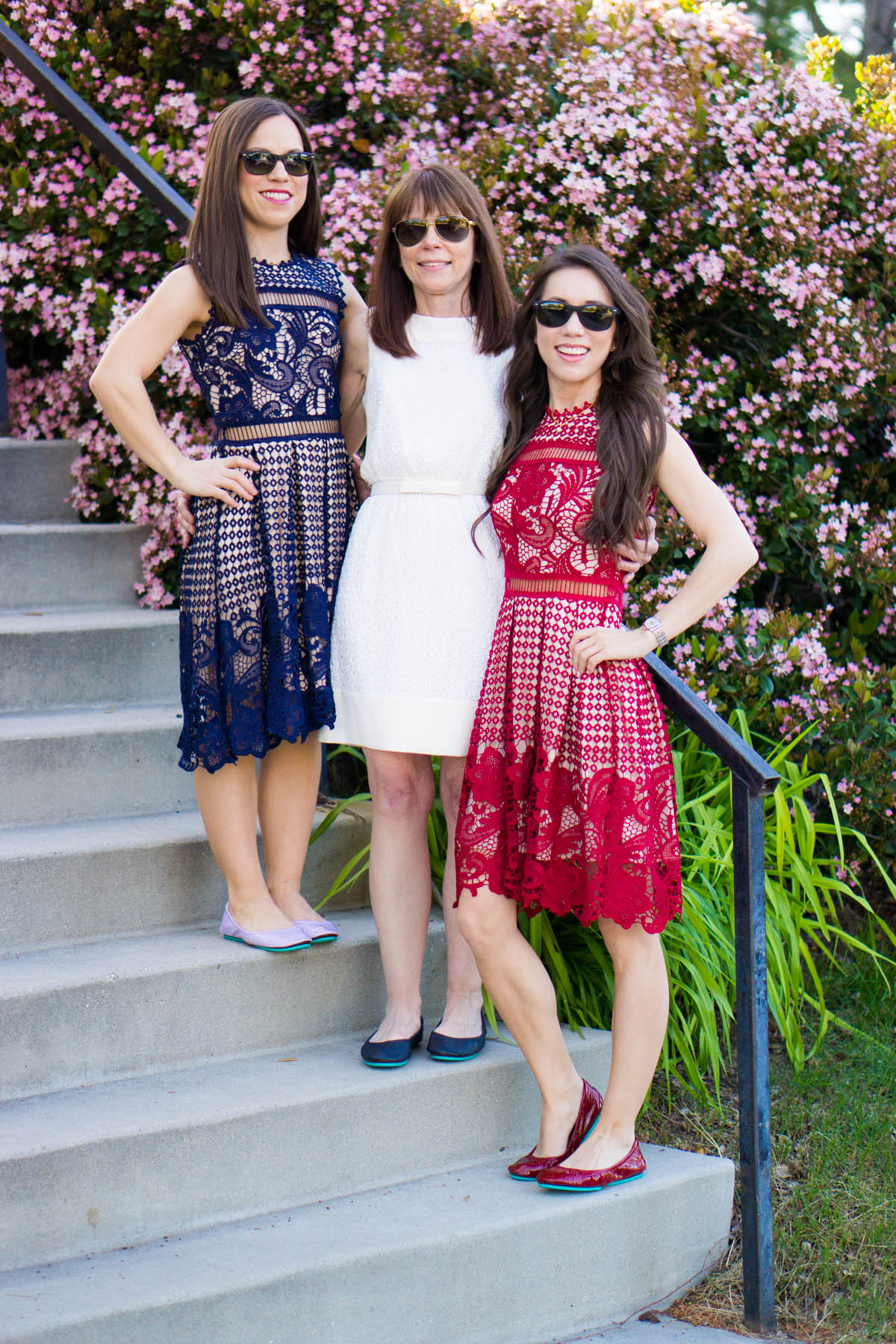 Why are Tieks the perfect Mother's Day gift? 
They are timeless! They cater to any age! They are wardrobe staples! They have 50+ designs! They match anyone's style! They are investments that will last years! They are easy to travel with! And the list goes on!
My favorite reason why Tieks are my #1 Mother's Day Gift? They are perfect for any age! Whether they're for your mom, grandmother, great-grandmother, aunt, or godmother! My second reason? They have 50+ designs so no matter what style your mom has, she is sure to find a perfect design she loves. Plus, if your mom doesn't live close by, Tieks will be the perfect travel buddy – folding easily into the pouch that comes with every pair!
What can you do this Mother's Day with Tieks? 
Purchase an e-gift pair! Purchase a gift card! Purchase the exact pair she wants!
With a few different options, my absolute favorite is e-gifting a pair of Tieks ballet flats! Tieks by Gavrieli has made it so simple to gift your mom a pair! Learn more about e-gifting on their Frequently Asked Question page HERE. If your mom already loves Tieks or has a Wish List started, ask for a copy of the Wish List – maybe subtly to see options for year-round gifts (Mother's Day, Birthday, Christmas/Holidays, etc). There is also a "Share Your Wish List" button at the bottom of a Wish List.
Tieks are my #1 Mother's Day Gift!
Click To Tweet
Bringing in my personal stylist business and creativity from Petite Style Script, I assisted my mom with a few outfits to start off her style with her new Tieks ballet flats! Of course we started where I like to with every client, her own closet. No need to purchase new clothes if you can shop your closet and rejuvenate pieces. (more information on personal stylist consultations or to try my Style eCourse – click HERE)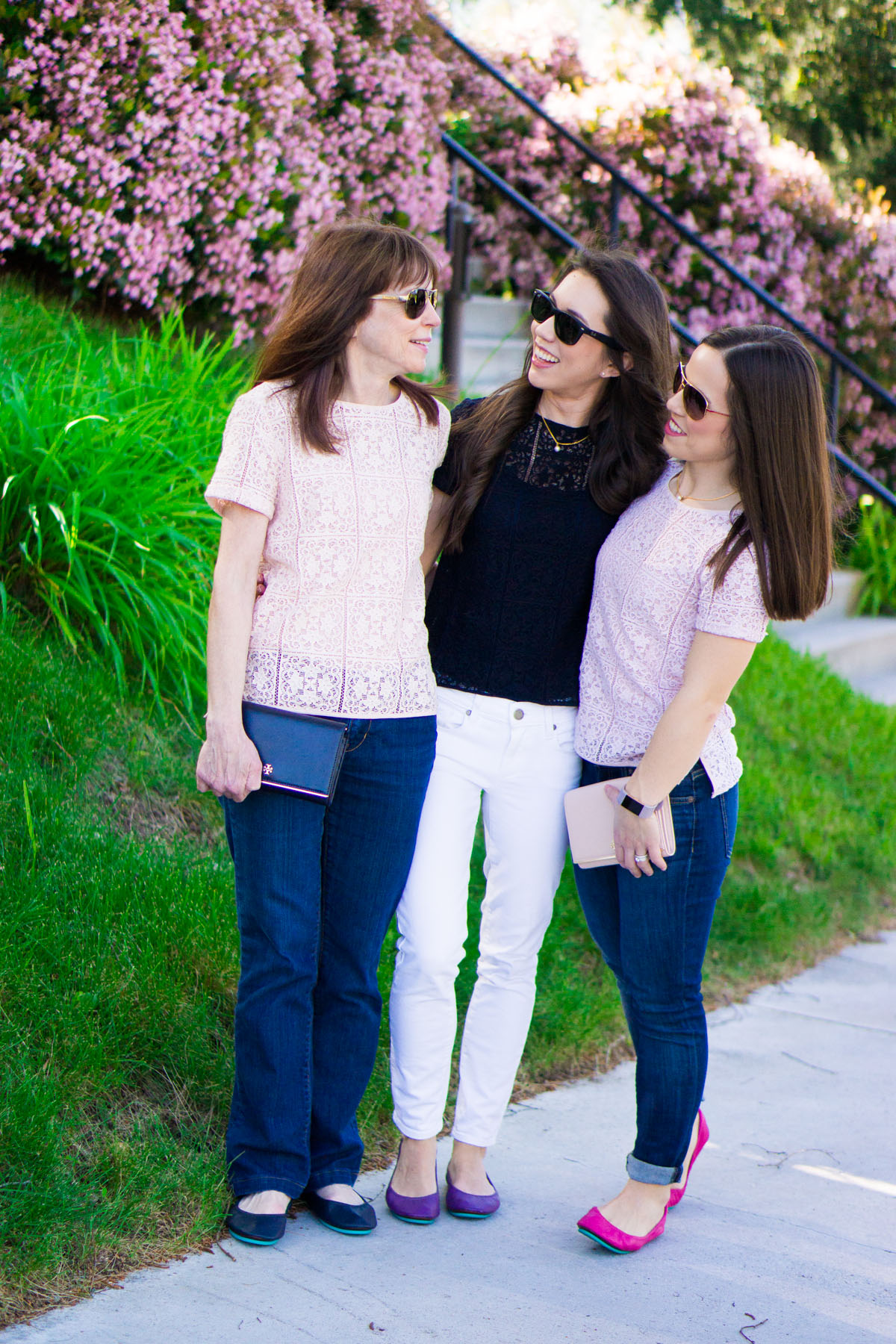 Outfit Details:
Mom: Ivory Dress (similar HERE, HERE, HERE or HERE); Lace Top (similar HERE; HERE or HERE); Camisole; Sunglasses; Belt (reviewed HERE); Wallet Clutch; Leather Protectant
Me: Red Dress (also seen HERE or HERE); White denim (reviewed HERE); Wallet Clutch (reviewed HERE); Watch; Sheec SockShion
Sister: Navy Dress; Jeans; Pearl Necklace
My mom had a gorgeous lace top from Ann Taylor I had gifted her a couple years ago (the matching one to my own favorite lace top from AT!) along with a favorite pair of jeans for a casual outfit.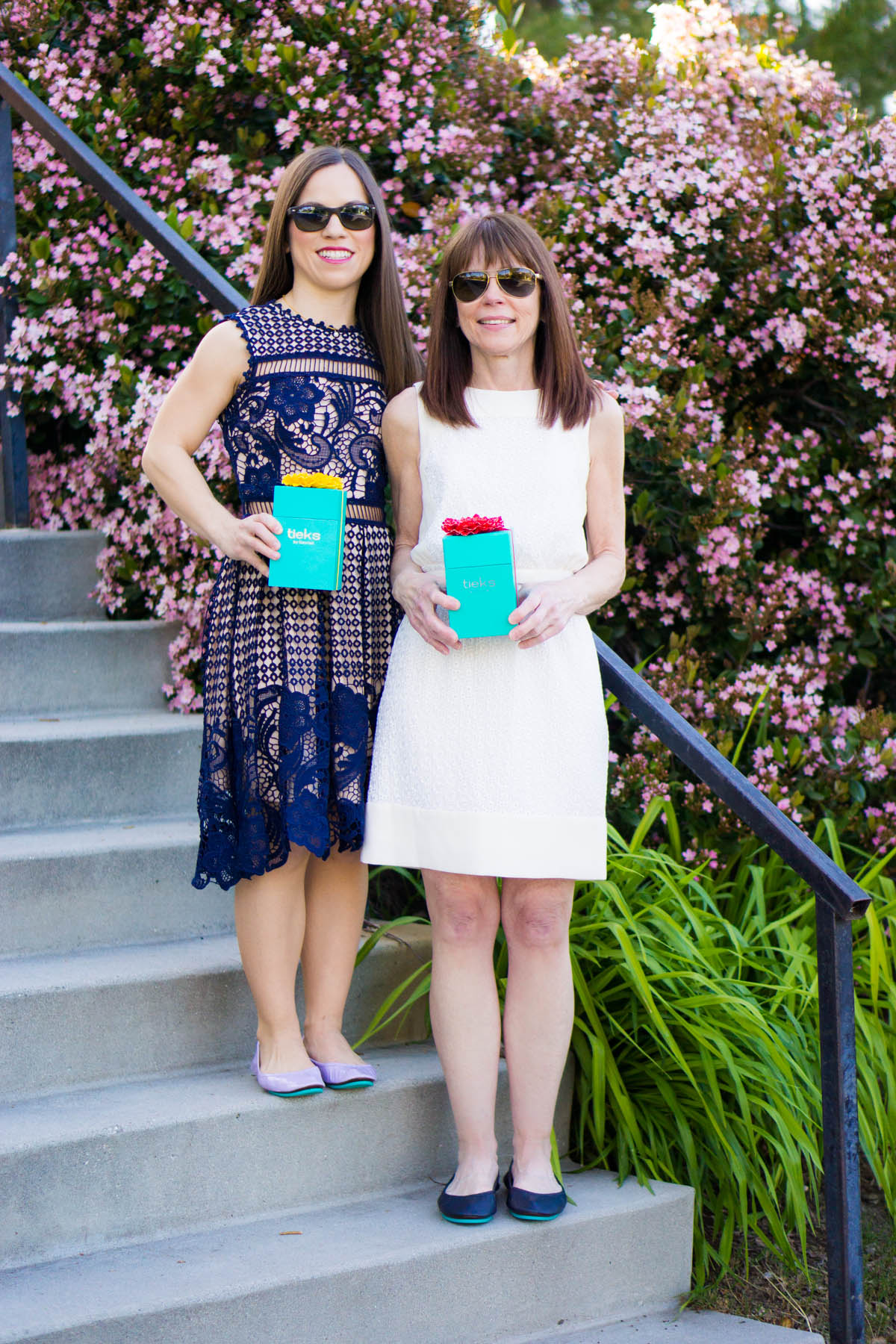 To dress up a little more for a girl's day out at brunch & at the local botanical garden, my mom wore an ivory dress that featured a bow belt to accentuate her tiny waist. This was also another closet find…a dress I previously had even worn myself to a graduation that my mom, who is also very petite, fit into perfectly. Dress by BCBG.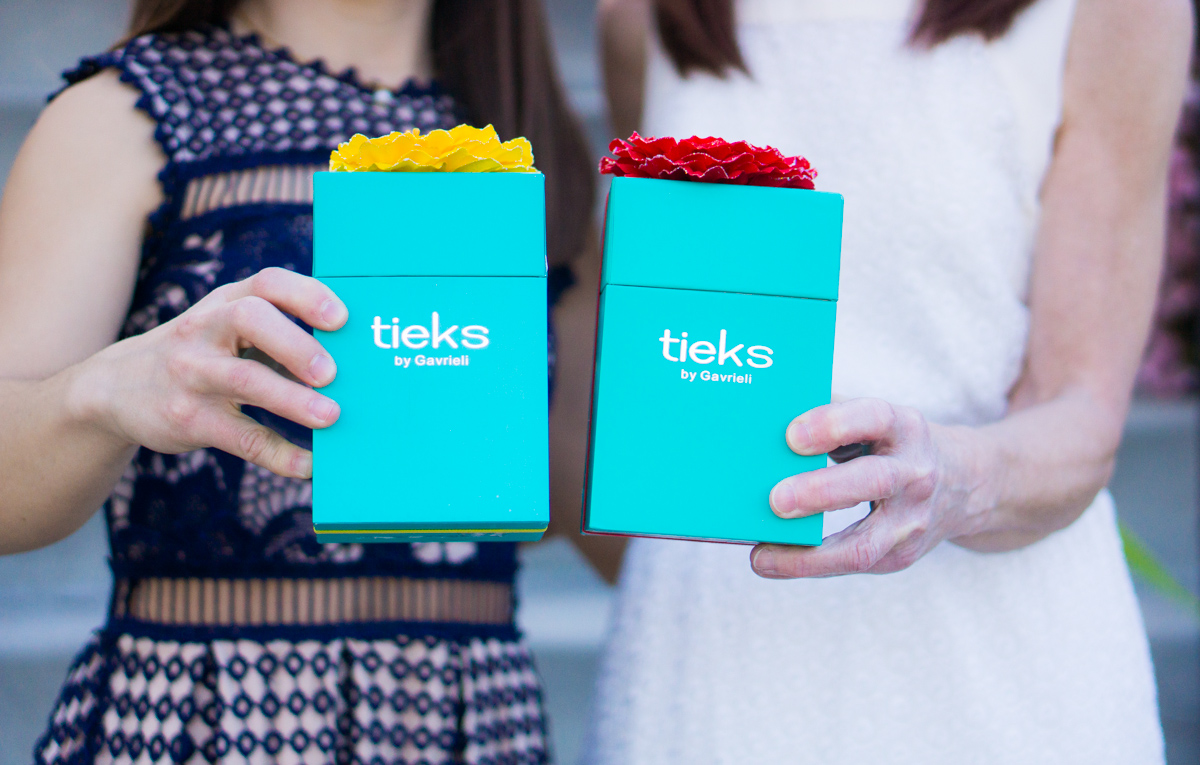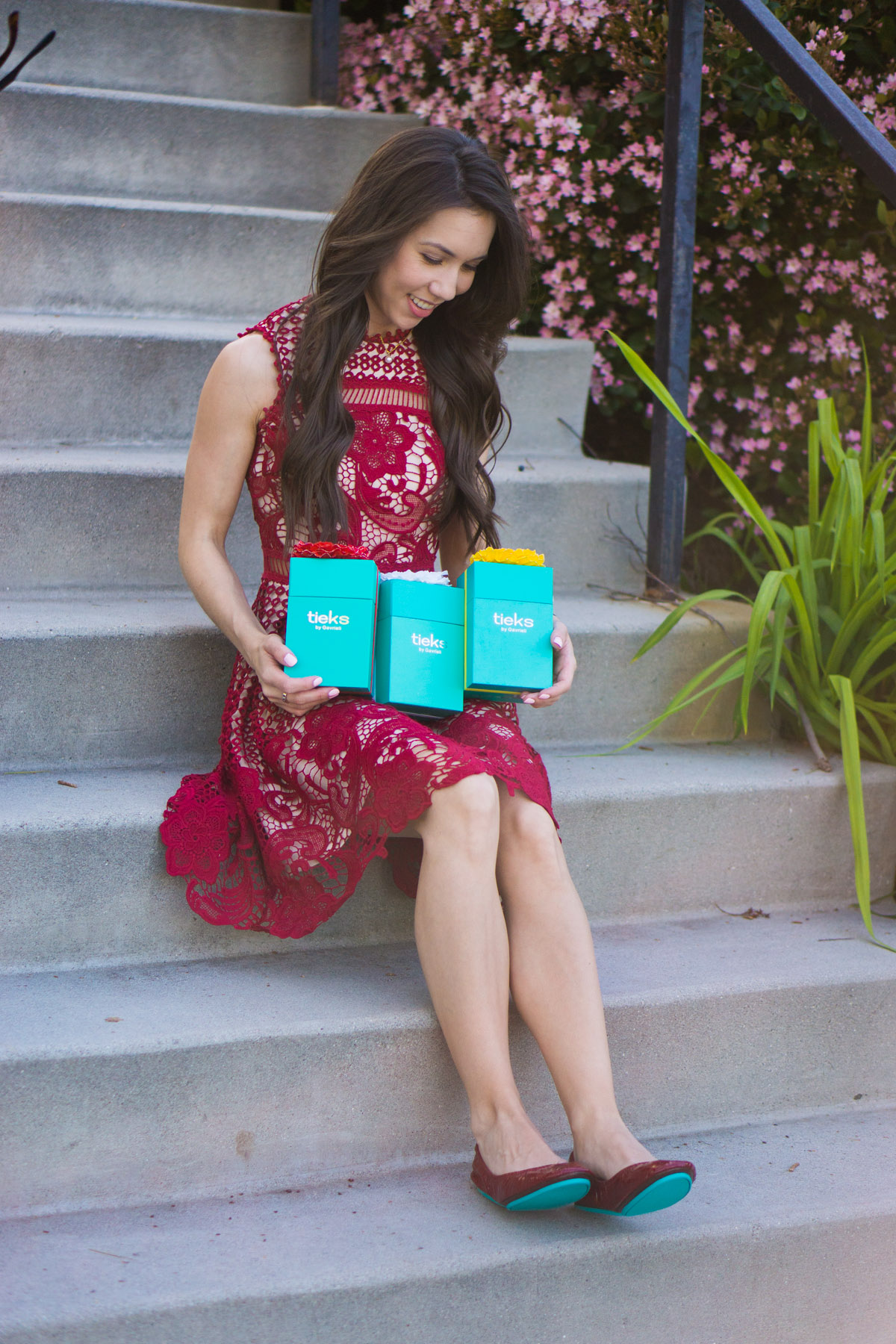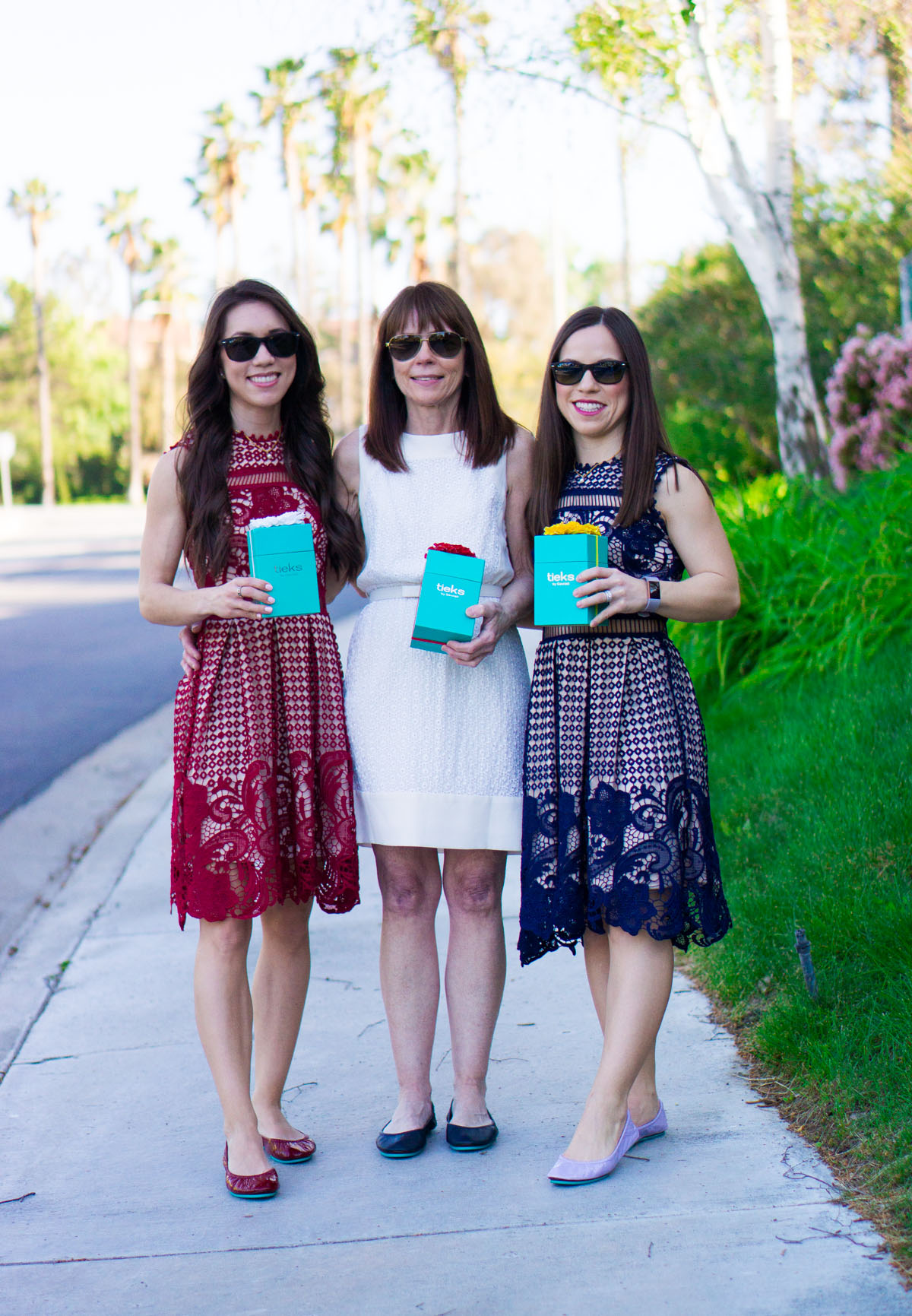 And of course we had to snap a few photos together celebrating our mom's first pair of Tieks ballet flats! (well…maybe more than a few!) And to have fun showing our twin outfits, my sister borrowed a few clothing pieces from me – my Bloomingdale's Aqua Lace Dress you've seen quite often on my blog/Instagram and one of my wardrobe staples in an Ann Taylor lace top & matching Loft camisole.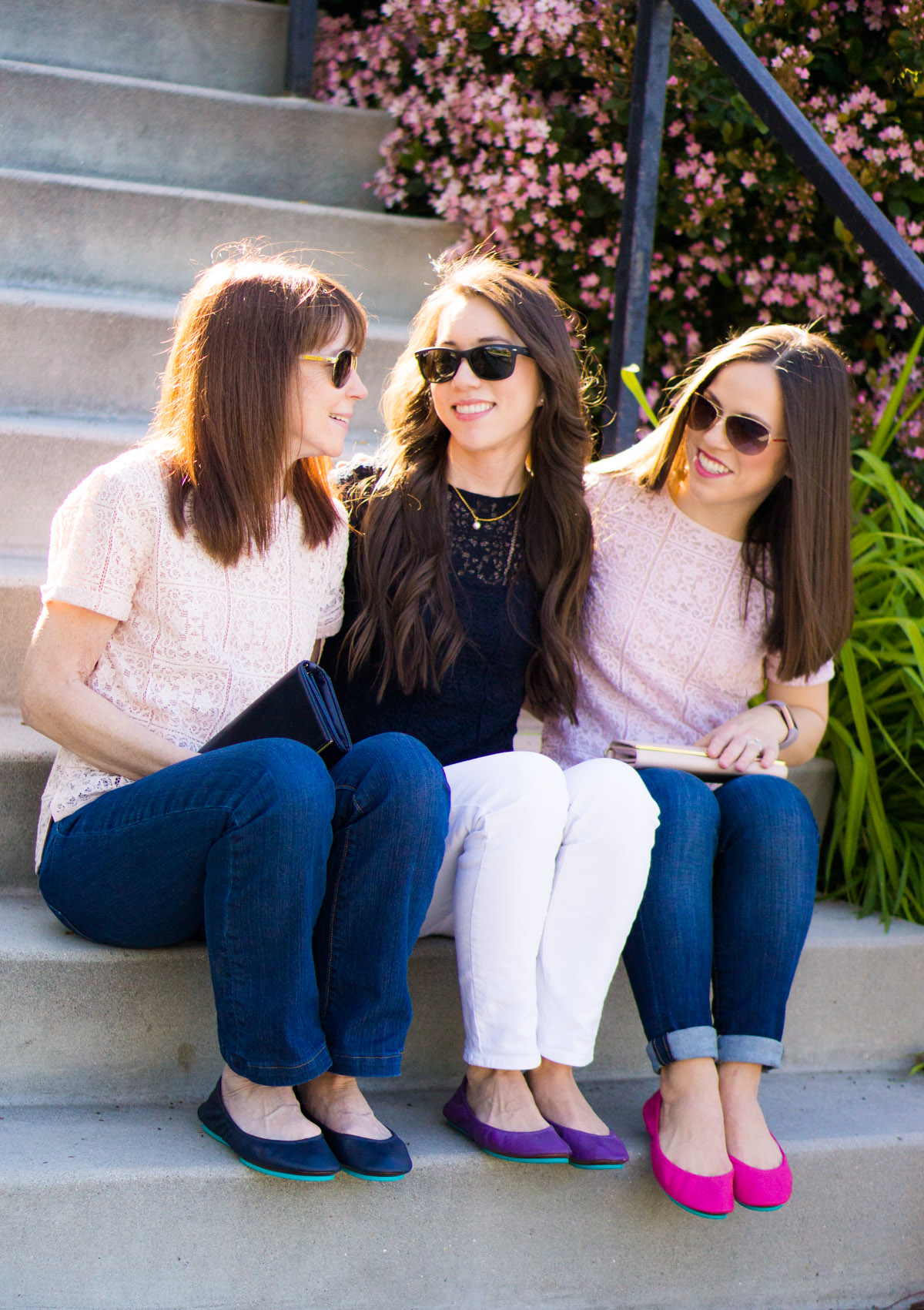 Looking for more Mother's Day Gift Inspiration? Head over to my Holiday tab to browse more recommendations! – Mother's Day Gift Ideas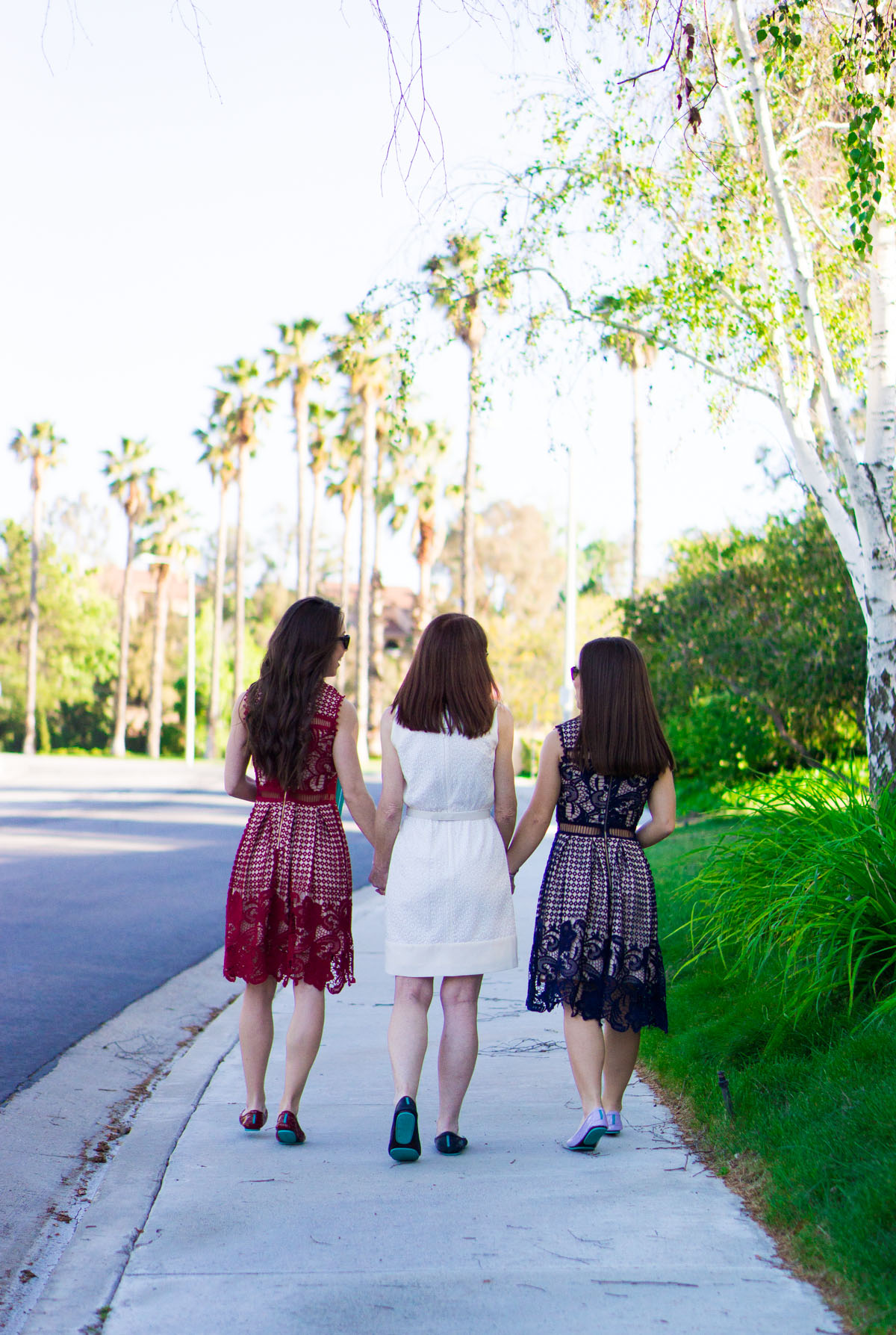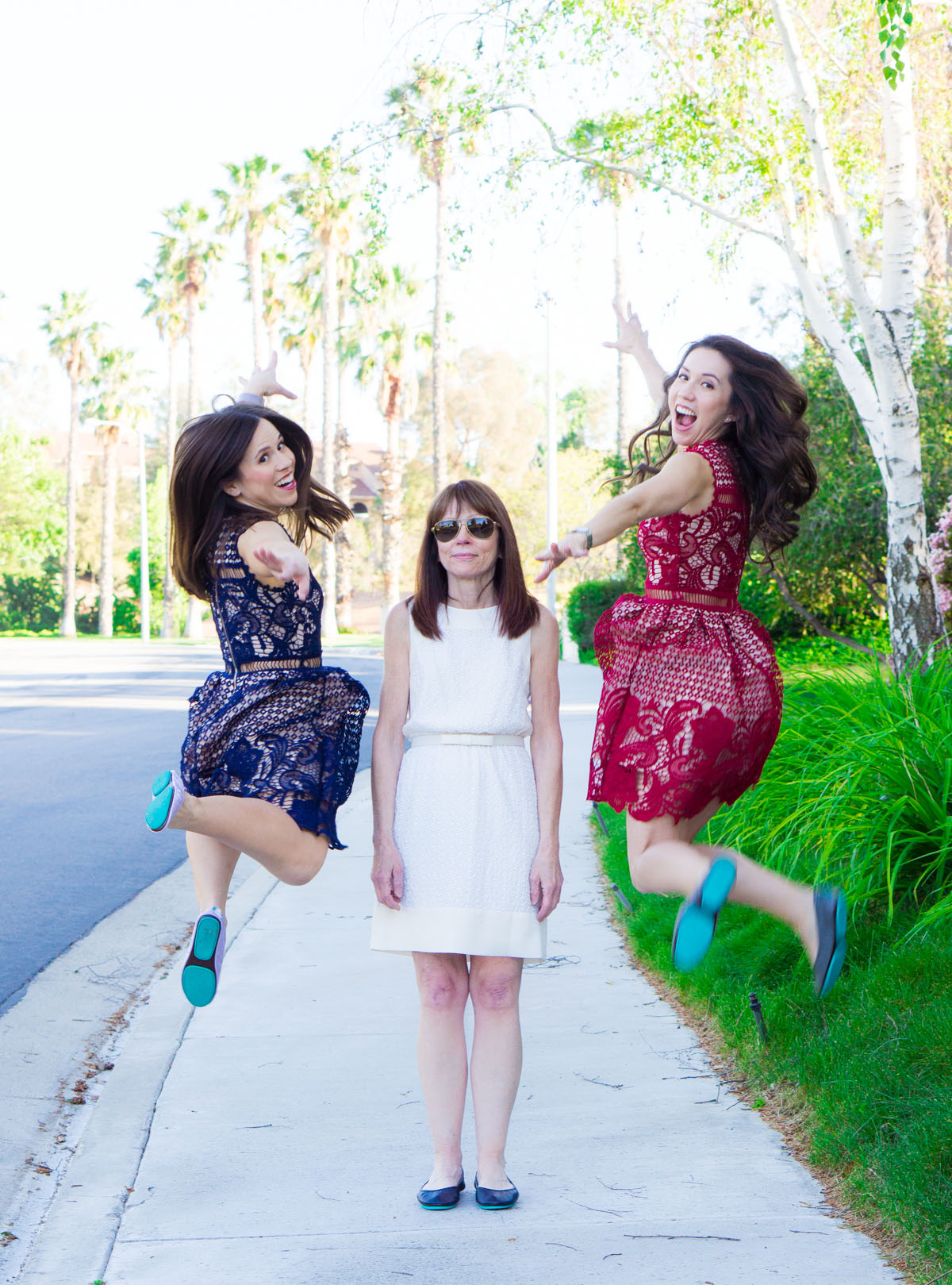 Are you thinking about getting Tieks this Mother's Day?! Have more questions about Tieks ballet flats – first check out my full list of questions/answers here, How to Wear Ballet Flats Comfortably or leave a comment below. Always happy to help!
Sign up to get my 20-Piece Capsule Wardrobe Starter Kit + Shopping List (it's free!)